TiverBuilt is a digital design and construction company founded by Lindsay Prichard-Fox in 2018 that specializes in providing single-source BIM services to the residential and small-scale commercial building market.
Based in New York, their objective is to infuse the traditional construction approach with digital building technology to create a more efficient, collaborative, and friendly building process.
After such a heavy and unpredictable year, it's important to reflect on the little things that brought joy in 2020. One of those things came in December in a holiday package the TiverBuilt team calls "GingerBIM."
Showcasing the creative elements of BIM
GingerBIM is something TiverBuilt Founder and CEO Lindsay Prichard-Fox created, leveraging Revit and Enscape technology. TiverBuilt transformed their client's 3D Models into gingerbread houses as a fun way to spread holiday cheer and showcase the creative elements of Building Information Modeling (BIM) and Enscape technology. Moreover, it was a fun experience their clients could have with their homes.
"For me, the culture of the holidays already has a connection to construction," said Lindsay. "My daughter and I love building gingerbread houses. After building our latest one, she said, 'This needs to be in Revit, mommy!'"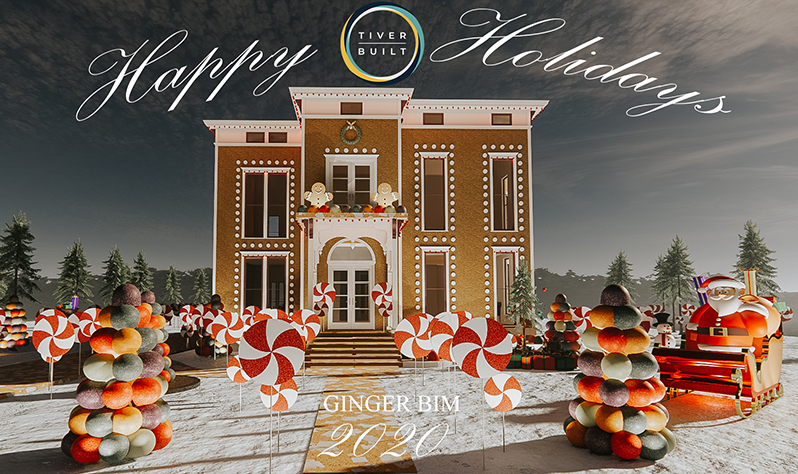 "GingerBIM was just a fantastic symphony of having fun playing with tools and materials and creating an experience that people wouldn't expect. 2020 was far beyond anyone's expectations, and I wanted to spread GingerBIM cheer to end the year. We built it in Revit. But, like all of our BIM projects, it was supported by the flexibility, ease, and speed of the Enscape experience," explained Lindsay.
Discovering real-time rendering as a student
Before founding TiverBuilt, Lindsay spent time as a student of interior design and construction management. During her studies, she realized she needed to solve two significant problems in the construction industry to accomplish her goals – visualization and quantification.
She says "I first came across Enscape at Autodesk University 2018, I have an Oculus VR headset and wanted to be able to walk around my designs. I asked the Lumion reps if their platform offered virtual tours. While their rendering capabilities are beautiful, Lumion didn't offer the functionality I needed, and they recommended that I take a look at Enscape."
"The Enscape team walked me through the process, and I was sold. Using an Enscape and Revit workflow is seamless. Enscape helps with visualization, and Revit, when used in a particular way, helps with quantification. The workflow empowers me as a designer and my client's ability to make decisions quickly, it was just what I needed" she explained.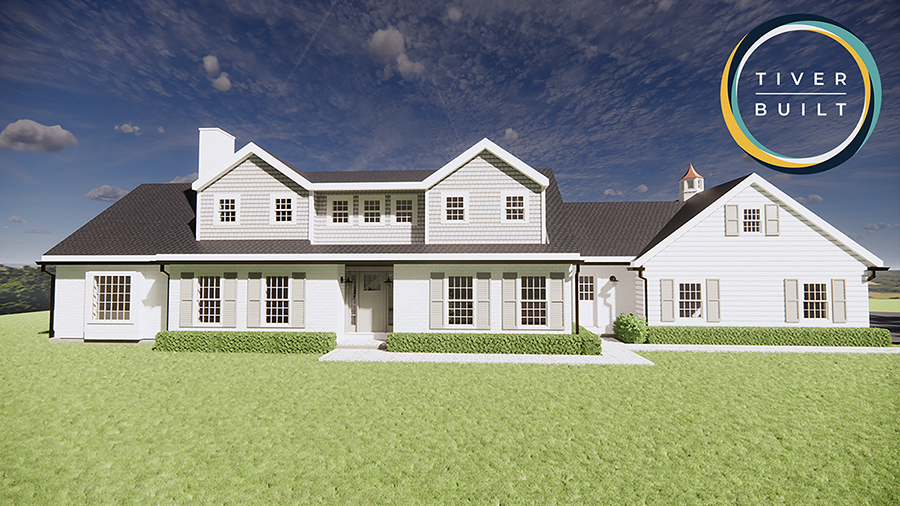 Proving how fun designing can be
When Lindsay founded TiverBuilt, she faced a lot of preconceived ideas about Revit and BIM that she did not agree with. She wanted to prove that this method of design doesn't need to cost more, that it does not need to take longer, and that the amount of time you invest in this process pays off exponentially. For the industry to adopt a systemic change, TiverBuilt would need to show how fun designing using these platforms can be.
"I am passionate about infusing the industry with new talent and perspectives," said Lindsay. "My education in Revit started at a community college in the interior design class. For me, BIM software feels very game-like. We build digital replicas of structures; my kids love watching me work."
The Revit to Enscape workflow is an ideal way to appeal to a new audience. An audience that is often unsure of where to invest their education dollars. The visually rich experience of BIM and real-time rendering feels tangible, so young people looking for opportunities in the AEC industry can feel more confident investing their time and money into this career path.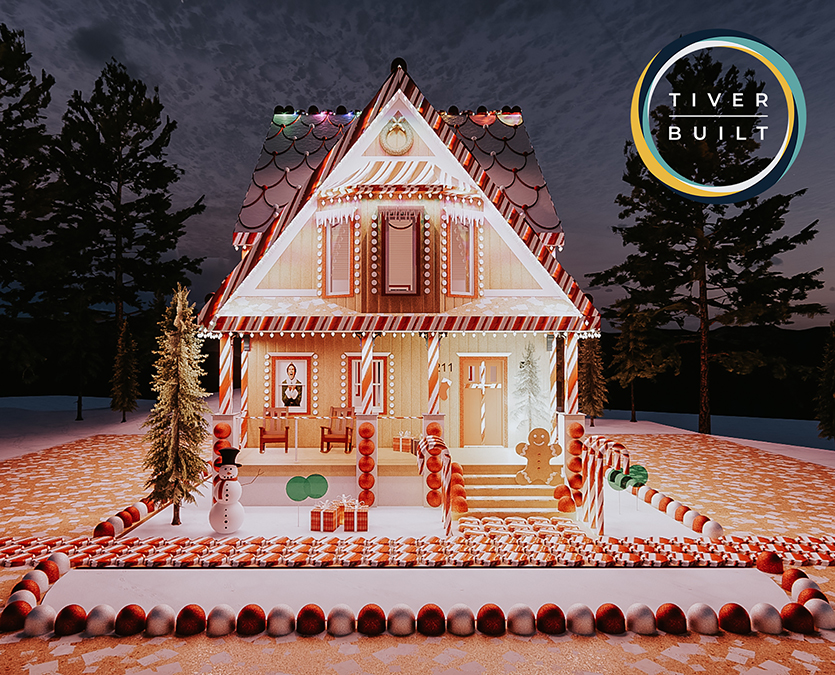 Using Enscape as the visualization tool of choice within the business
Enscape was chosen as TiverBuilt's visualization tool of choice from the get-go because it allows clients to be immersed in their design.
"Before founding TiverBuilt, our research showed that owners often move to the construction phase unsatisfied with the design on their construction documents," Lindsay said. "We don't design for paper sheets, we design for construction. We design to create amazing spaces for our clients."
Unlike a static rendered image method, with Enscape, there is a visual-rich experience manifested from the same file used to generate the construction documents. BIM powered by Enscape ensures we have a single-source system that is flexible, open, and fluid throughout our design phase.
"Our tag line is 'Confidence built into every project.' We can do this because of Enscape," she added.
The immersive render experience provided by Enscape ensures that we can feel confident that our clients are happy and satisfied with what's on their construction documents. Our clients make design choices and selections with confidence, with less fear that their design fees will inflate, and face expensive changes during field construction.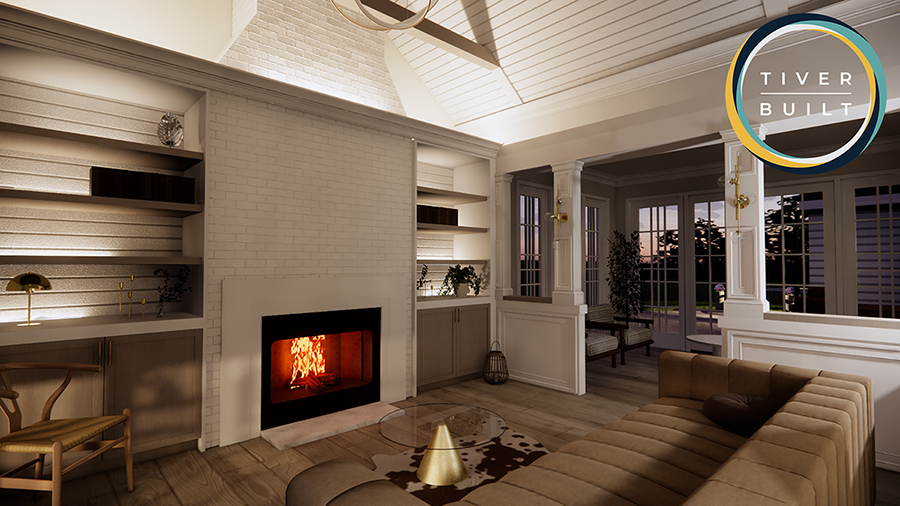 "Even now, I am asked by clients how much it costs to make a design change, and I explain that our pricing structure is based on the access to the model. If changes need to be made and it's within our scope, then there are no extra costs. They're blown away by this, and I love when people have this reaction, and that makes for a really positive experience," commented Lindsay.
"We look at construction as a foundation for building strong communities. Good design powers construction, with Enscape we are able to build better."
And, above all else, Enscape inspires! How else would GingerBIM come to be?
Keep a lookout for GingerBIM 2021!