The role of software in today's architectural practice is as essential as pen and paper.
With all the software options, along with pressure to do more with less on increasingly complex projects, firms must embrace a carefully curated combination of tools and workflows to remain profitable and stay competitive. Failing to do so leaves the door open to other firms and even other industries to erode repeat client commissions and miss out on new work due to lack of qualifications related to Building Information Modeling (BIM) and software in general.
As the AEC industry continues its slow but constant transition from CAD to BIM, we are seeing a whole new suite of tools and workflows emerge thanks to this data-rich common language forming the foundation of today's digital practice (remember, the "I" in BIM stands for information).
Once a firm, and eventually the entire industry, is fully committed to BIM, we can further leverage this rich dataset for additional tasks and even services such as visualization, analysis, post-occupancy evaluation, and facilities management.
In this article, we will consider the value of BIM and the essentiality of real-time visualization in support of world-class architectural design.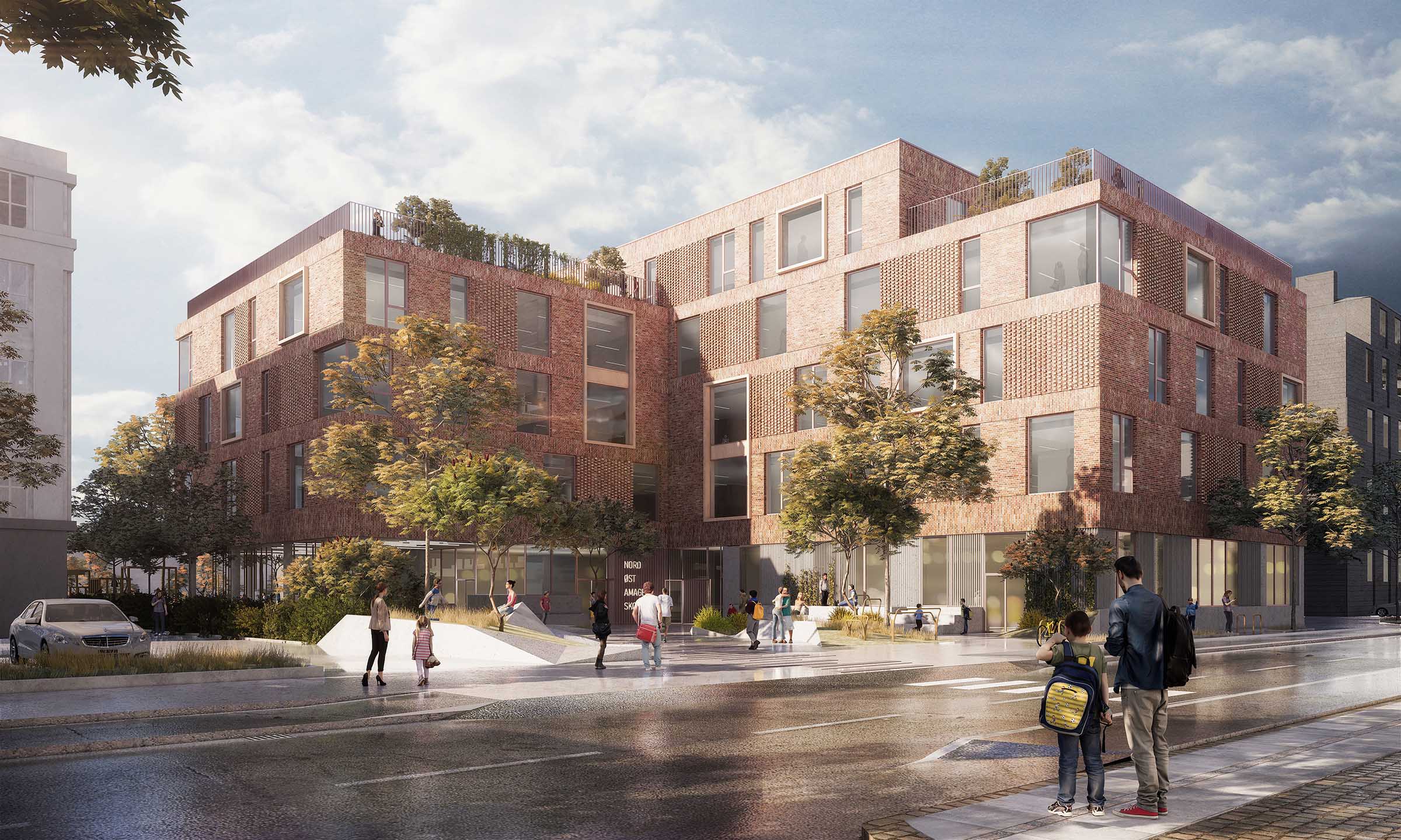 Enscape rendering credit: Vilhelm Lauritzen Architects, Nord Architects, Lasse Herbo Madsen

The value of BIM

The AEC industry has not yet fully embraced BIM. While I, and perhaps many reading this, have worked in a firm that has only used BIM for years, there are still many that do not. Some firms use a combination of CAD and BIM on specific projects, or even a hybrid on a single project. And still, others only use CAD (Computer-Aided Design, typically comprised of 2D drawings composed in separate files). As it happens, I have a short meeting later this week with an architectural firm, where a recent student of mine now works, to talk about transitioning to BIM.
With this in mind, it is worth highlighting the intrinsic value BIM offers our industry. While not perfect, and still evolving, BIM strives to maintain a single source of truth. Key data and tasks are not copied or exported and developed in silos or dead-end efforts where the results are disconnected from the primary model/drawings/deliverables.
Enhanced coordination, simulation, and automation are also possible with BIM. When architects and engineers work in 3D together, there is more opportunity to coordinate using clash and visualization tools. BIM also streamlines simulation tasks such as lighting/daylighting, energy modeling, and embodied carbon, to name just a few. It is also possible to create custom programs or scripts to automate design and documentation tasks.
While none of this is easy and cannot be accomplished overnight, implementing BIM is ultimately worth the effort. The result is a more productive, consistent, and technically proficient firm ready to engage in a competitive industry with significant challenges to tackle.
What is real-time visualization?
Before we dive into why real-time visualization is essential for BIM and architectural design, let's quickly look at what we mean by this term.

Real-time visualization allows you to view your model as an accurate and realistic 3D visualization, as you design, in real time. It is also sometimes referred to as real-time rendering or architectural rendering. It helps not only the architect or designer but also the client to better understand how a building will look and function in real life.
While BIM platforms are 3D, they aren't what most people describe as visualizations. Instead, they are tools for design authorship and the collection of critical information necessary to construct a building. 3D visualizations, on the other hand, are about communication, and specifically communicating designs in a way that makes them tangible, in a visual, immersive, and experiential sense, before the building exists in a physical sense.
Roderick Bates, Head of Integrated Practice, Enscape
With one of the industry's leading real-time visualization plugins, Enscape, you can view your rendered project instantly from within your modeling software. So as you design, you can see how your ideas and changes impact your project and can easily export and share a range of rendered views with others.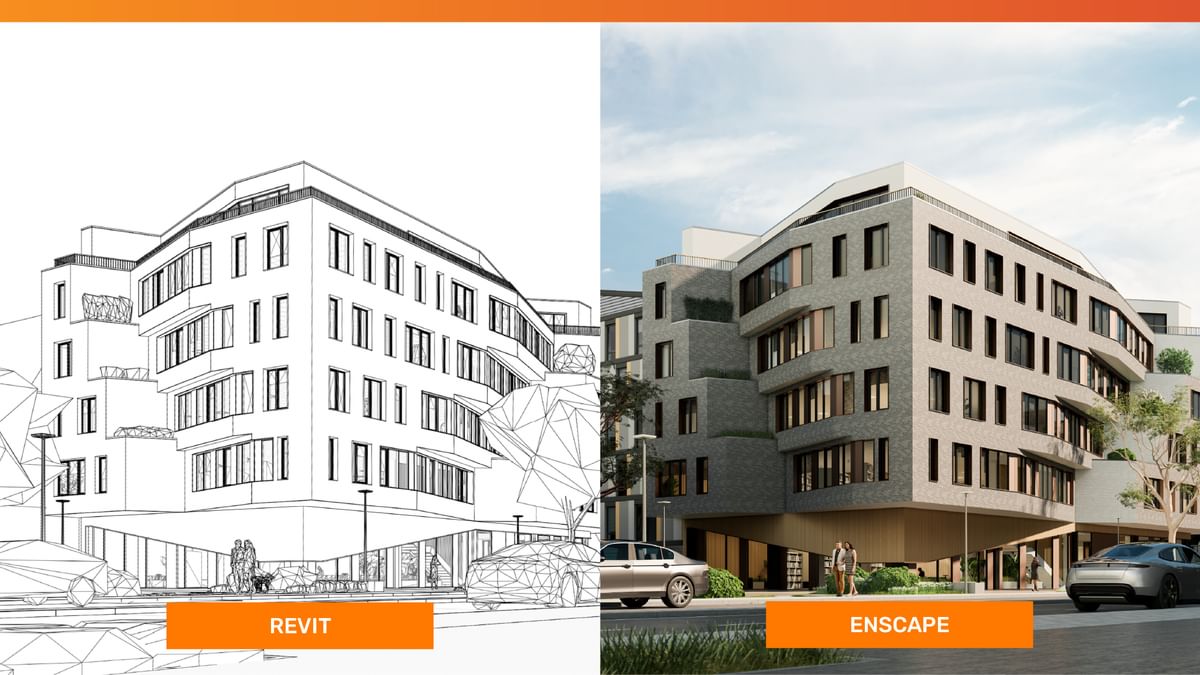 The necessity of real-time visualization in architecture
With the general understanding of BIM and its value to the industry, let's turn our attention to why real-time visualization is so essential in today's contemporary architectural practice. At a high level, consider the following that depicts use cases across all phases of an architectural project:
PROJECT ACQUISITION
Objective:

Presentation leads to project commission.

Real-time visualization used to:

Create photorealistic images in print-ready resolution; create cardboard panoramas for better imagination; highlight previous work through virtual reality.

Other software:

Adobe Creative Suite, Microsoft Office.

PRE-DESIGN
Objective: Explore site and guide data collection.
Real-time visualization used to: Visualize space planning progress; sample 3D room layouts; showcase previous projects.
Other software: Microsoft Office, dRofus, Egan Space Planning.
SCHEMATIC DESIGN
Objective: Produce design solutions.
Real-time visualization used to: Check schematic design immediately; visually check 3D energy and lighting model for problems; compare design options in virtual reality.
Other software: Autodesk Project Fractal, Autodesk Insight, Dynamo Studio, Trimble Sefaira

DESIGN DEVELOPMENT
Objective: Choose and adjust design.

Real-time visualization used to:

Let all involved people explore the project easily via standalone (.exe). Use still renders, animation, panoramas, or cardboard for instant contextual feedback.
Other software: Libraries and additional collections, Elum tools, AIA 2030 DDx research, FenestraPro
CONSTRUCTION DOCUMENTATION
Objective: Merge and check all details.
Real-time visualization used to: Brief subcontractors before being on the construction site using 360o photosphere; visually review for design flaws using walkthroughs and virtual reality (e.g. glass door into toilet room).
Other software: Structural analysis software, Trane Trace 700, Tally, Bluebeam.
CONSTRUCTION ADMINISTRATION

Objective: Oversee and coordinate construction (changes).
Real-time visualization used to: Explore changes and identify conflicts; present to potential tenants with virtual reality.
Other software: Newforma, Procore, Sage, Bluebeam, Solibri.

FACILITIES MANAGEMENT
Objective: Use, repair, and maintain a building.
Real-time visualization used to: Hand standalone (.exe) over to clients for project retrospection and visualize concealed equipment.
Other software: Maximo, Archibus, ROAST, FM Systems, BIM 360 Ops, Autodesk Project Dasher.
As you can see from the above use cases, real-time visualization can be used in all stages of design and is thus an integral part of the architectural design workflow.
Coordination among disciplines
To solve human comfort and health issues as well as technological and environmental challenges, buildings are continually becoming more complex. In addition to architects, structural and MEP engineers, projects can have many specialists, such as:
Food service
Aquatics
Acoustics
Envelope
Civil
And more
Visualizing a combined version (also referred to as federated version) of all these models can significantly increase the level of coordination and overall design team understanding of the final design solution. Consider many coordination efforts do not have to do with physical elements clashing with each other. Rather, visual alignment of outlets, door and window heads, sightlines, and more are optimally reviewed using real-time visualization.
See this related post: Convey Mechanical, Electrical, and Plumbing (MEP) Design with Enscape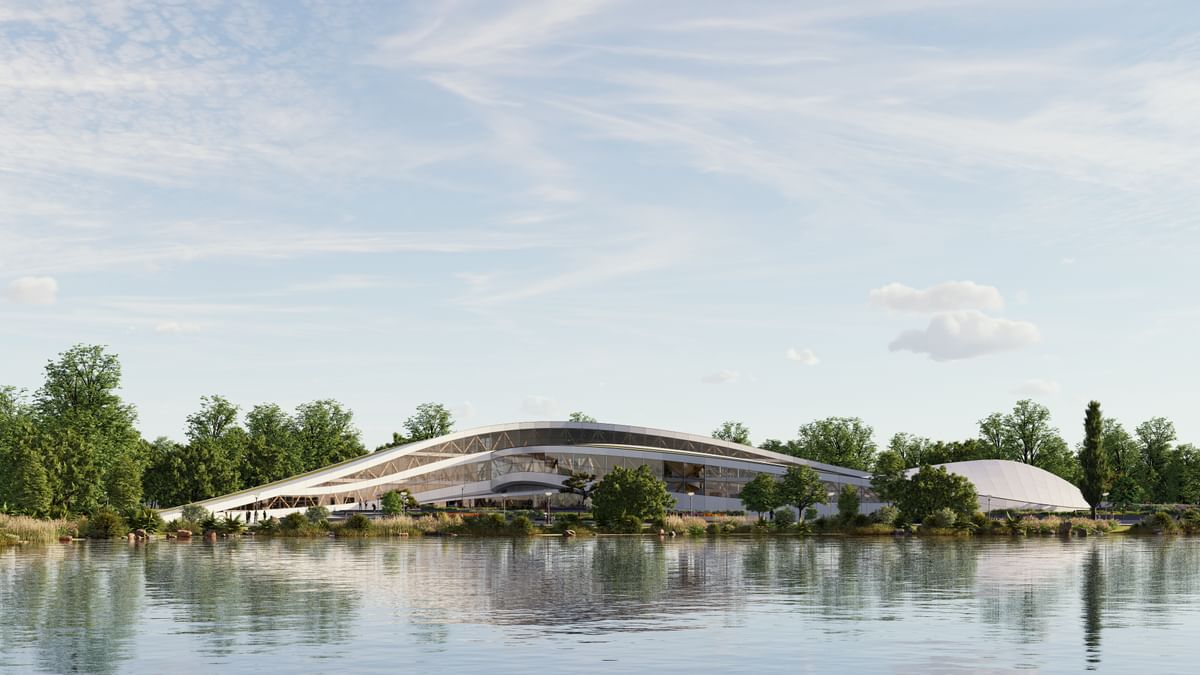 Enscape rendering credit: Samir Mujovi, Architect and 3D Artist, Enscape
Unique access to the design solution
Using real-time visualization offers more democratized access to the project. Here are three high-level categories we will consider:
Visualize

Present

Immersive
Visualize: Many designers and architects now visualize their designs continuously using BIM and real-time rendering. It is possible to keep Enscape open, while working all day in Revit (for example) to more easily navigate the model to verify the accuracy of the 3D geometry and materials.
Present: Sharing on-screen visualizations with the entire design team and project stakeholders has never been easier. Whether presenting live from the design platform, creating a video, sharing an exported EXE, or a URL to a published web-hosted model, the opportunities for everyone to see and comment on the design progress have never been simpler.
Immersive: The use of virtual reality to convey design intent empowers the client like never before. With significant investments and future business culture and profitability tied to the success of a new architectural project, getting the design right and making sure the client understands it is of the utmost importance. VR allows the client to explore parts of the design that are important to them or areas they do not fully understand. Contrast this with static renders and scripted videos that may not cover areas of interest/concern.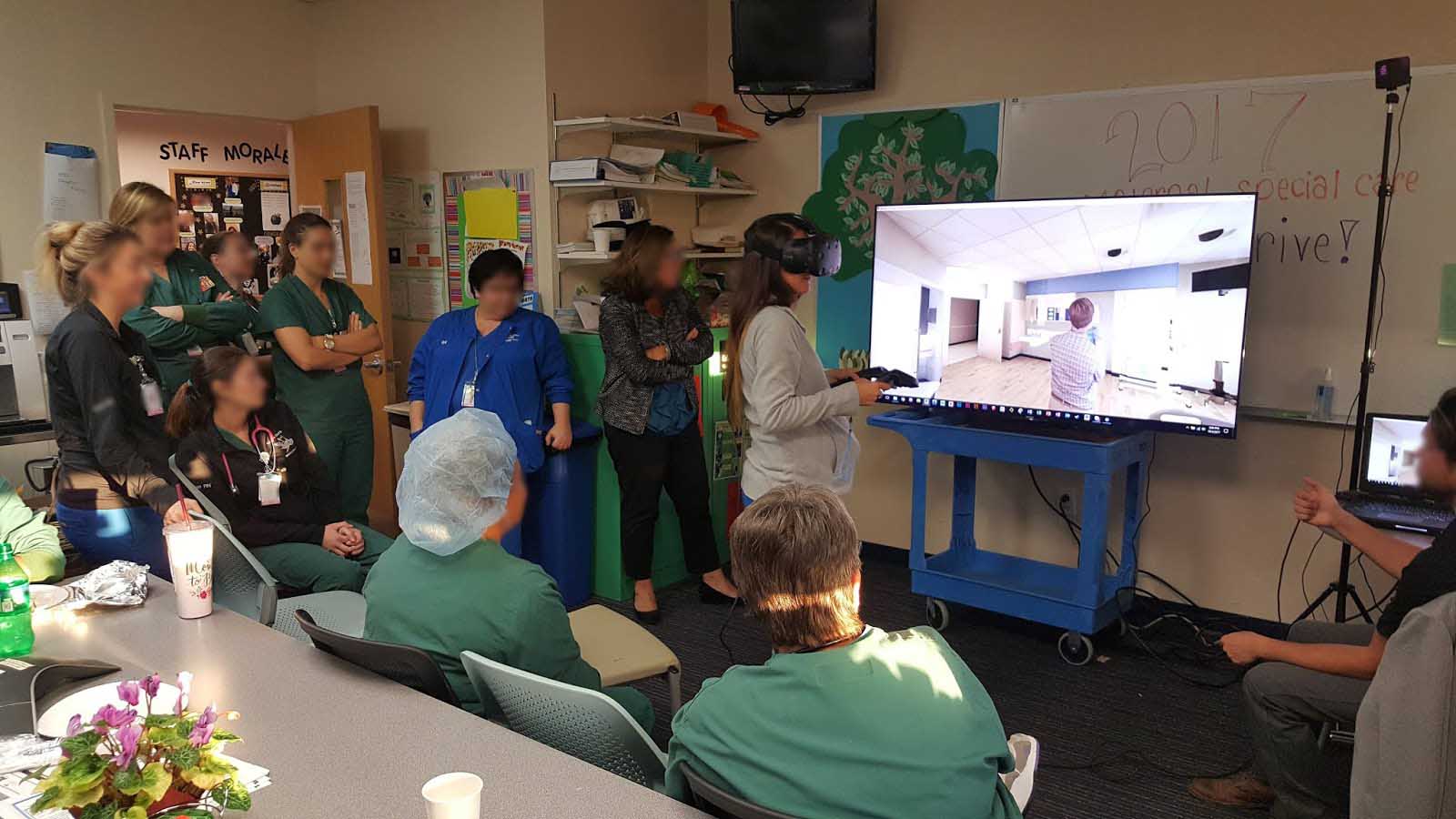 Image courtesy of Jeffrey A. Pinheiro, AIA
Exploring lighting
Using real-time visualization offers seamless access to interior and exterior shadow studies. Understanding daylighting at various times of day and year is very important. From managing passive design strategies such as solar heat gain and natural lighting distribution, to comfort issues like glare, Enscape offers an early glimpse into these crucial design outcomes.
The increasingly realistic rendering capabilities of Enscape – including building materials, vegetation, and lighting/shadows - that our teams can employ at every stage of the design process generate excitement and understanding from our clients as they are able to see the design come to life.
Brandi Rickels, AIA Partner, Lake|Flato Architects

Enscape rendering credit: Lake|Flato Architects and ICON
Conclusion
When firms are all-in on BIM, there are so many additional opportunities that present themselves without a lot of extra overhead. Diminished are the separate efforts (sometimes outsourced) for visualization, analysis, and automation. And, for real-time visualization, the cost of Enscape is incredibly reasonable compared to all the other tools on the market, including the cost of the BIM platform itself.
Real-time visualization is a leading companion to BIM, as it benefits the design team during the design process, it benefits the client and stakeholders in better/more quickly understanding the design solution and can even help during construction when making final material and product selections.
For many firms, the use of real-time rendering has become so integrated on every project, it does not make sense to itemize an extra cost for visualization when developing project fees. Thus, all projects benefit from a rich, high-quality visualization experience.
If your firm is committed to BIM, are you taking advantage of real-time visualization? If not, why not? If you are currently considering the implementation of BIM in your practice, be sure to consider Enscape to catapult your investment in ways everyone in the firm will quickly appreciate.

Enscape has a free trial anyone can download to see what the excitement is all about. And, for those who are not using BIM yet, check out the free sample files you can open and see how easy it is to navigate the model and just how amazing things look!