By day, Alexander Culler is an Architectural Designer at Skidmore, Owings & Merrill LLP (SOM), and by night, he is the creative mind behind Arch Hero.
Arch Hero is a Chicago-based ideas studio that focuses on elevating the banal for humor and entertainment. Alex sees it as an outlet for creative expression and storytelling while allowing him to exercise the skills learned at his day job.
Using the real-time rendering skills developed at SOM, Alex created Blocksburg, a virtual township where its citizens enjoy eternal sunshine and a space to thrive.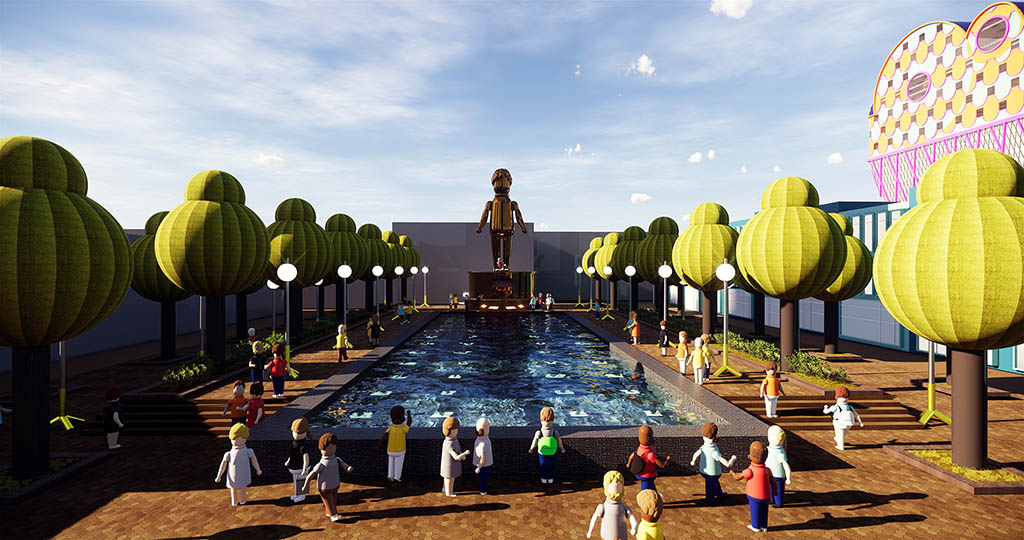 An outlet for creative expression
Alex began Arch Hero in 2015 with a grad school colleague, Danny Travis. They were entering the second annual Architecture Fairy Tales competition and needed a name to call themselves.
They chose the 'Arch Hero' moniker because it represented the type of work the duo were interested in creating – playful and narrative-driven. They didn't want to take themselves too seriously. They wanted something that could act as an agent for explaining things they learned in design school to a broader audience. Still to this day, that core interest has remained true to the type of work Arch Hero creates.
"So often in the architecture profession are we laser-focused on how the building works or what it looks like—a lot of the work for Arch Hero is more concerned about what the people who visit these spaces are actually doing."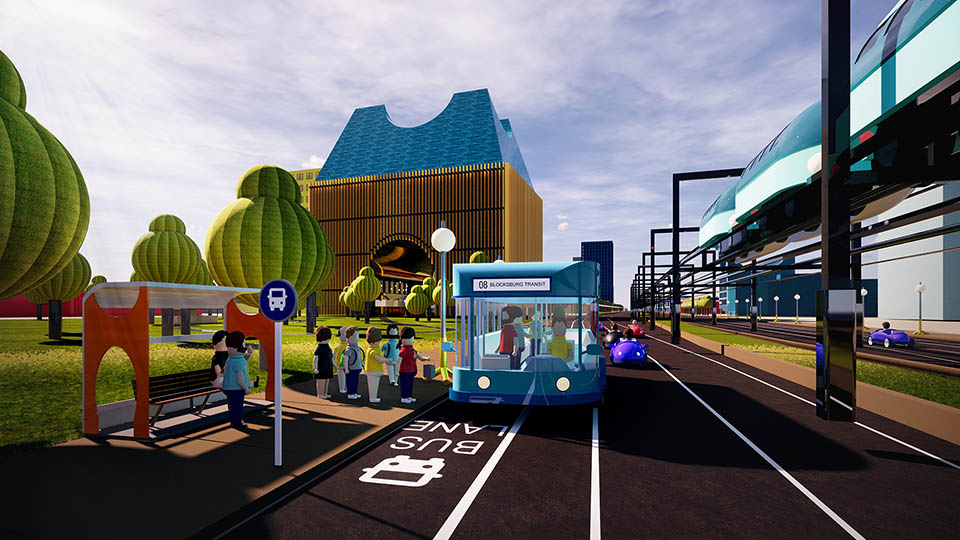 A lot of projects within the Arch Hero universe are connected. The developed library of the scale figure entourage that comprise the world of Blocksburg (affectionately dubbed 'Dumpies') found new life as their leg geometries went on to spawn the 'PlantPants' product line.
"Ideas come from everywhere, but often it is the most mundane facets of life that become inspiring," explained Alex. "For example, Queue was born out of a daydream I had while commuting on the Chicago El. I thought to myself, where are all these people going? What is their story? Why is it so crowded?"
Testing the capabilities of Enscape
Alex first used Enscape in 2017 when it was adopted at his office to trial a walkthrough for a large-scale development project. He advised that it was the first real-time rendering experience for many of his colleagues. It was an exciting discovery that significantly improved the rendering workflow and changed the way they work.
"The speed in which Enscape can process renderings, particularly for such a large model, is a boon for workflow, whether you are striving for photorealism or something more stylized. The real-time rendering makes it super-efficient to test out several materials and texture options and see how they look."
As he had started developing the 3D model for Blocksburg with Rhino during the same time, it was a natural step to test it out in a real-time environment.
"Using Enscape for Blocksburg served as a tech demo to learn the capabilities of the software. Walking around in an immersive environment, especially one that strived to be stylized rather than realistic, was a groundbreaking moment.
"My favorite feature is the asset library—I love checking for updates and particularly browsing the seemingly mundane objects such as pastries or a Kitchen-Aid mixer. These sorts of details can go a long way to producing a rendered image or walkthrough with an extra layer of reality and life."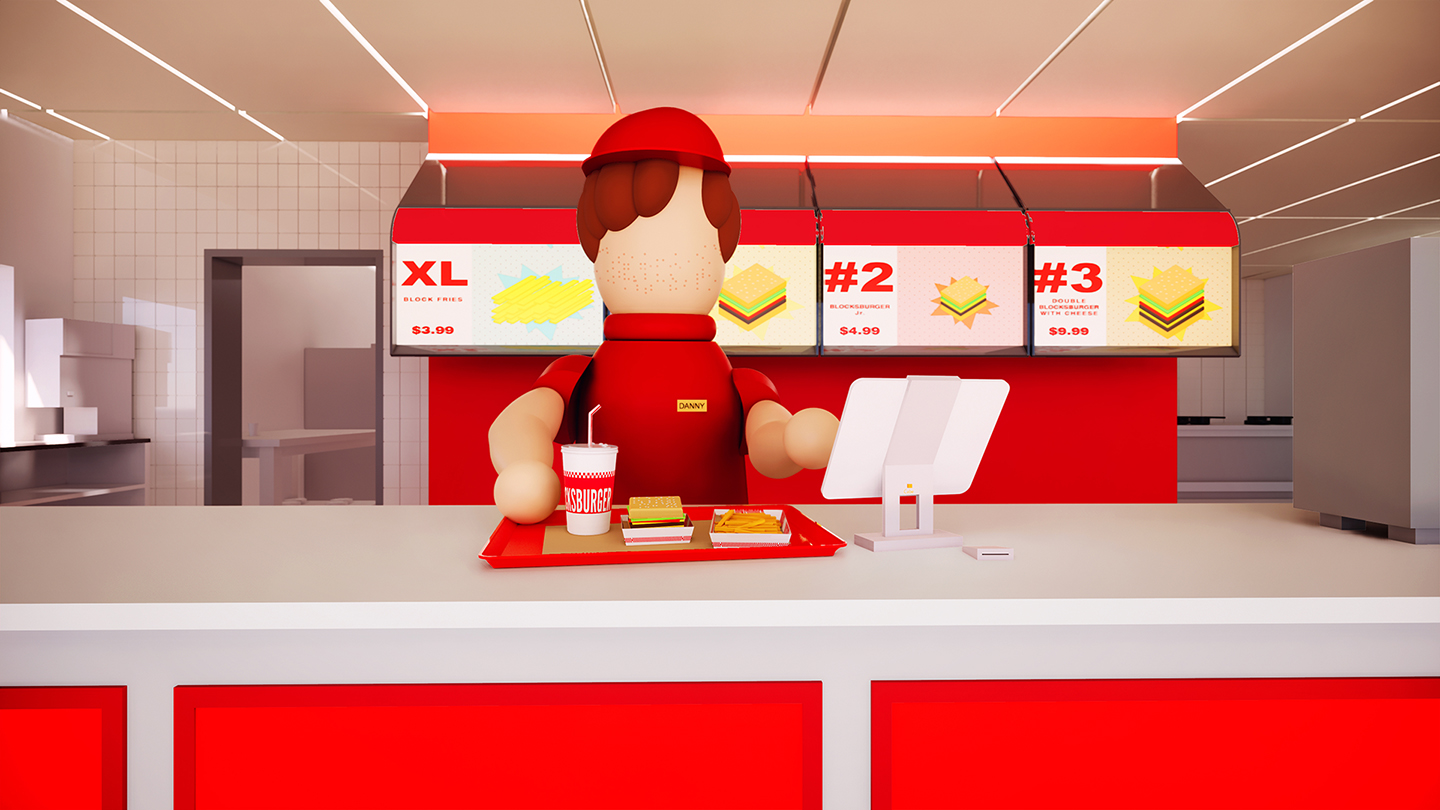 Unwinding with 3D modeling
Blocksburg was created during a period when Alex spent a lot of time at his day job working on large-scale, mixed-use, urban developments in locations worldwide. After working on enough of these projects, he eventually adapted the workflow to accommodate an idealized cartoon version.
"It was a way to unwind, almost like doodling, but in a 3D modeling environment. The residents of Blocksburg were predestined, as a 2D library of cartoon characters created years earlier but now implemented in 3D for the first time.
"From there, the project found life trying to create a series of buildings that maintained as much character and personality as the entourage themselves."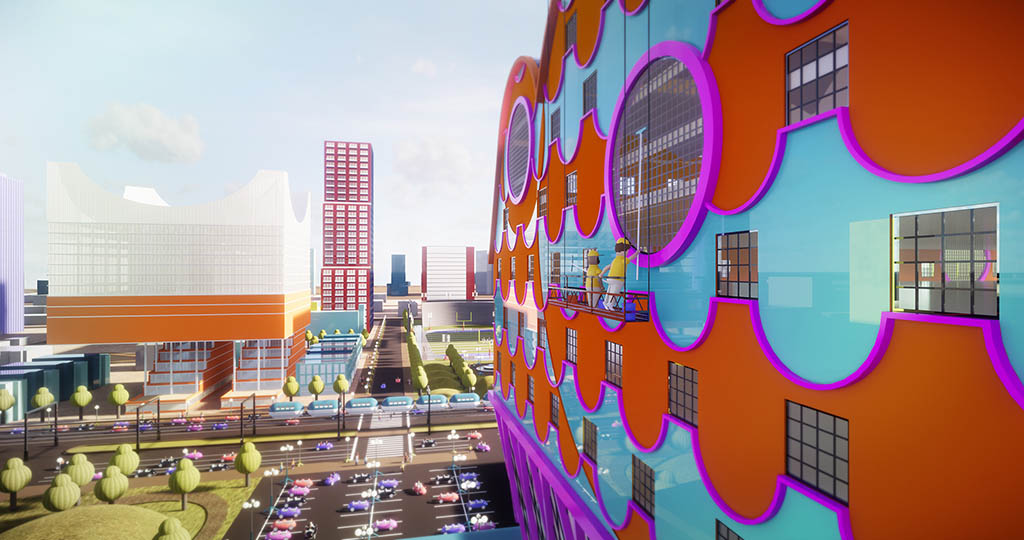 Blocksburg reflects Alex's lived experience to an extent. The initial site model base for the city was built up using a Chicago neighborhood as a scale reference, and it has evolved beyond that in its current state.
"Some features such as the scale of the blocks and density of the buildings maintain a Chicago character. The inclusion of an elevated train is undeniably a reflection of the Chicago El."
Having fun with real-time rendering
Before the pandemic, SOM would host a 'take your kid to work day' each summer. It was an opportunity for Alex to demo Blocksburg using a full VR setup.
"I don't have kids of my own yet, but it was a lot of fun to watch the reactions of the kids who participated, especially with the many crashes into walls."
As for the future of Blocksburg, Alex explained, "I have been brainstorming expansions for Blocksburg recently—something with a wholly different character than the current incarnation. I am leaning towards something like 'Blocksbluff,' a mountain suburb with stunning views. I think changing up the geography of the development would lead to a lot of fun new design opportunities."