Best Practices: Asset Library
Best Practices: Asset Library
Time and again Enscape users have asked for a way to more quickly spruce up their projects with 3D models. Adding models to your project is a great way to take it to the next level and really impress your clients; it can make all the difference during a presentation. But carefully considering the composition of your scenes can be time consuming – and that's assuming you have already found your models. Enscape's Asset Library takes all the effort out of locating models for your project.
The handy tool saves you time by delivering 3D-ready models of people, vegetation, furniture and more for your projects in Revit, SketchUp, Rhino and ArchiCAD.
The Enscape-ready assets can be added to your project in seconds, simplifying your workflow immediately. You no longer have to spend extra time searching for the right tree or figure: they are now right at your fingertips.
How to Use the Asset Library
Let's take a look at all of the features included in the Asset Library. The Asset Library can be opened via the Enscape dropdown menu or via the Asset Library icon, depending on your CAD program.
The Asset Library will open in a separate window and show all available assets grouped by category. Click on a category to see the available assets. When you hover your mouse over an asset, you will see its name and a short description. At the top left you can also search for specific assets by name.
The main view of the Asset Library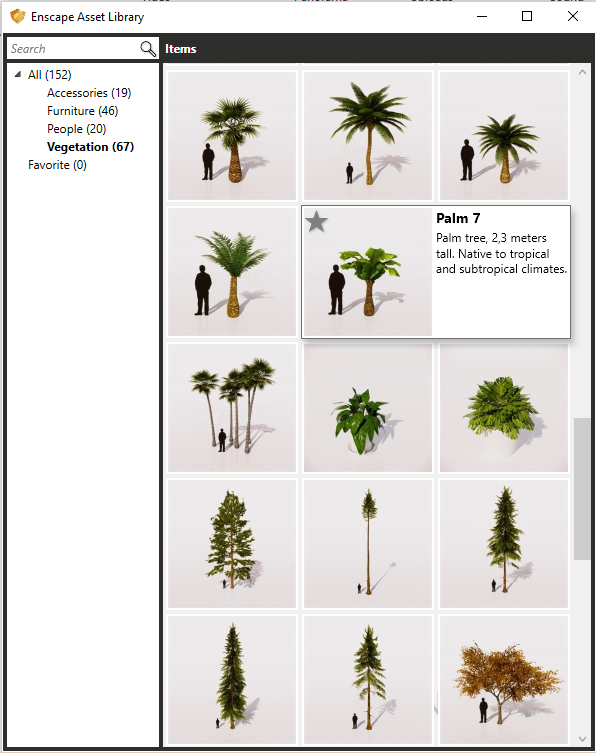 Hover over the asset to view a description
You can also favorite your assets, so that they appear together in the Favorite category. To add an asset to this category, simply hover your mouse over the desired asset and click the star in the left corner. The asset will automatically appear in the Favorite category. Any favorites will be saved after you close your CAD program. Click the star again to remove an asset from the Favorite category.
TIP: When browsing the selection of trees, keep an eye on the figure standing next to it. This way you can gauge the relative height and size of the tree before adding in to your project. If the assets are too large or small, you can scale them. In SketchUp and Rhino, the assets can be scaled along any axis. In Revit you can scale assets uniformly by increasing or decreasing their height. It is not currently possible to change the size of the assets in ArchiCAD.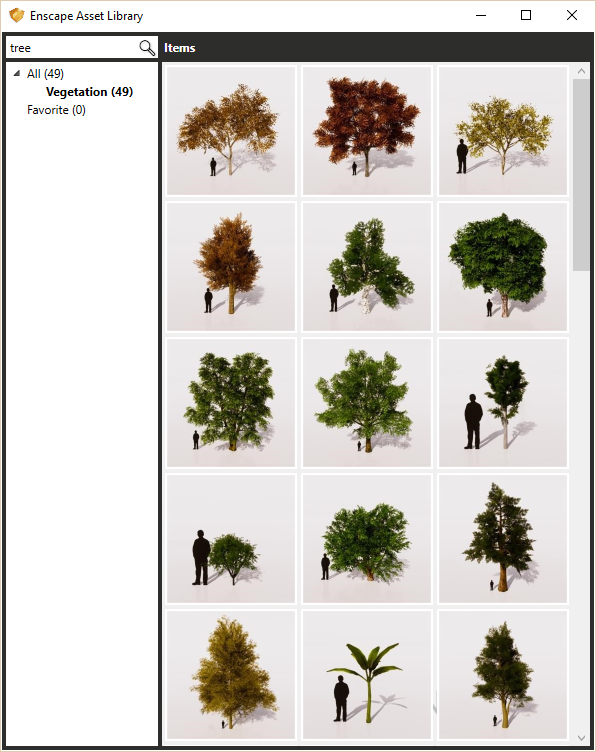 Find assets by name in the search bar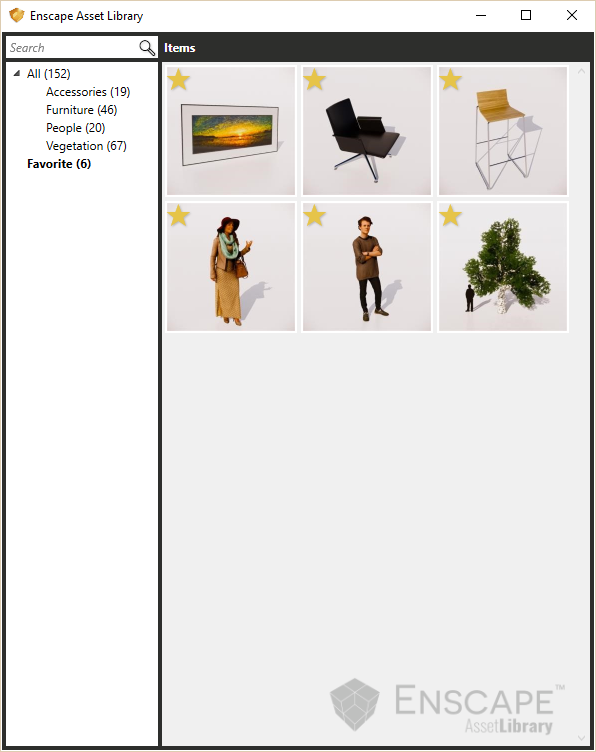 Favorited assets are grouped together
Select an asset to place in your project simply by clicking on it. While you are placing the asset in you CAD program, the Library window will minimize, and return when you have finished the placement. You can also press the Esc key on your keyboard at any time during placement to abandon the asset and return to the Library window.
Best Practices in Revit
Let's take a look at how to place your assets in the different CAD programs. We'll start with Revit. The easiest way to add an asset in Revit is to place it in a floor plan view. Select the appropriate level and the asset you want to place by clicking on it. The Library window will automatically minimize and your cursor will allow you to place the asset. Just click once to place the asset exactly where you want it. The Library window will open again and you will see the asset in Revit, represented as low-res geometry.
TIP: When you place assets in a floor plan view, the elements might automatically be hidden. If this is the case, simply unhide the "Planting" category and all of your assets will be visible again.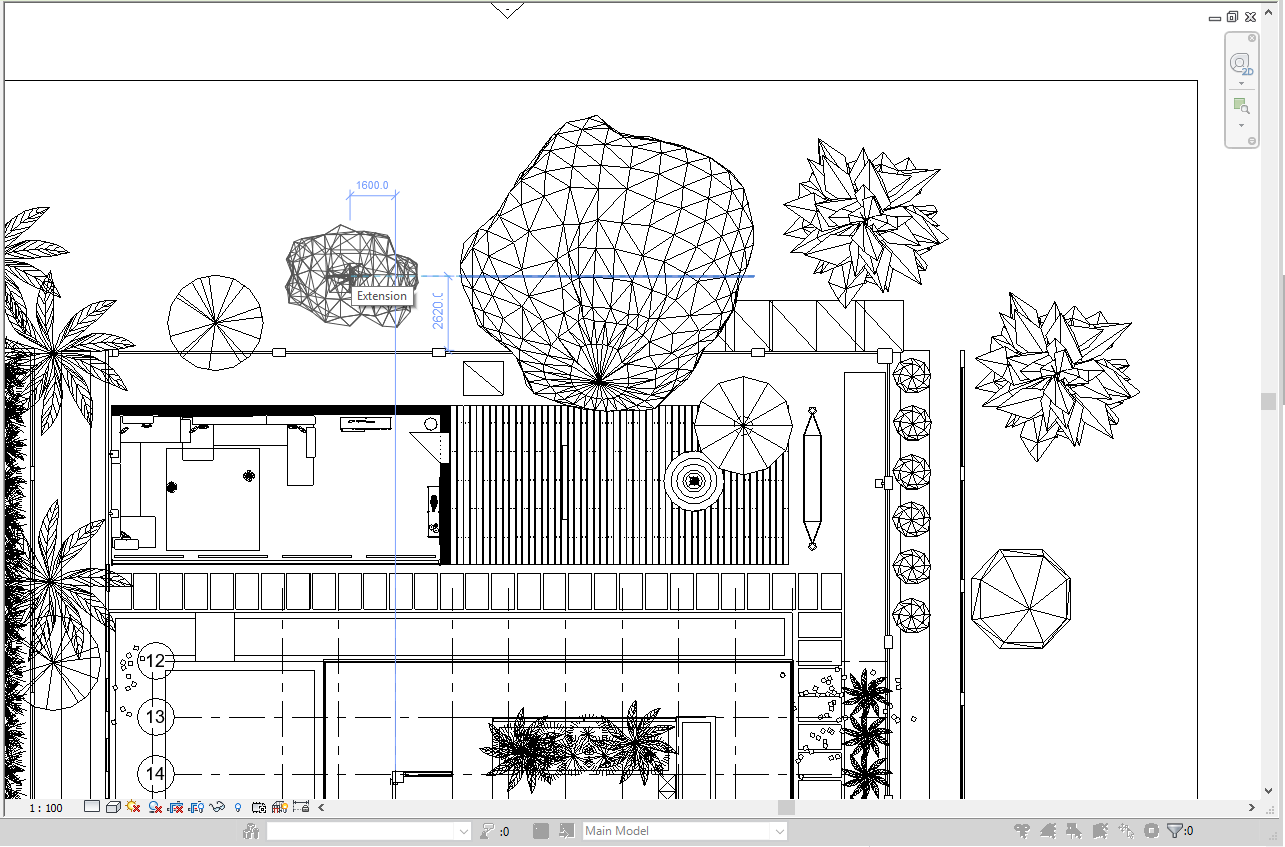 Click just once to add an asset to your floor plan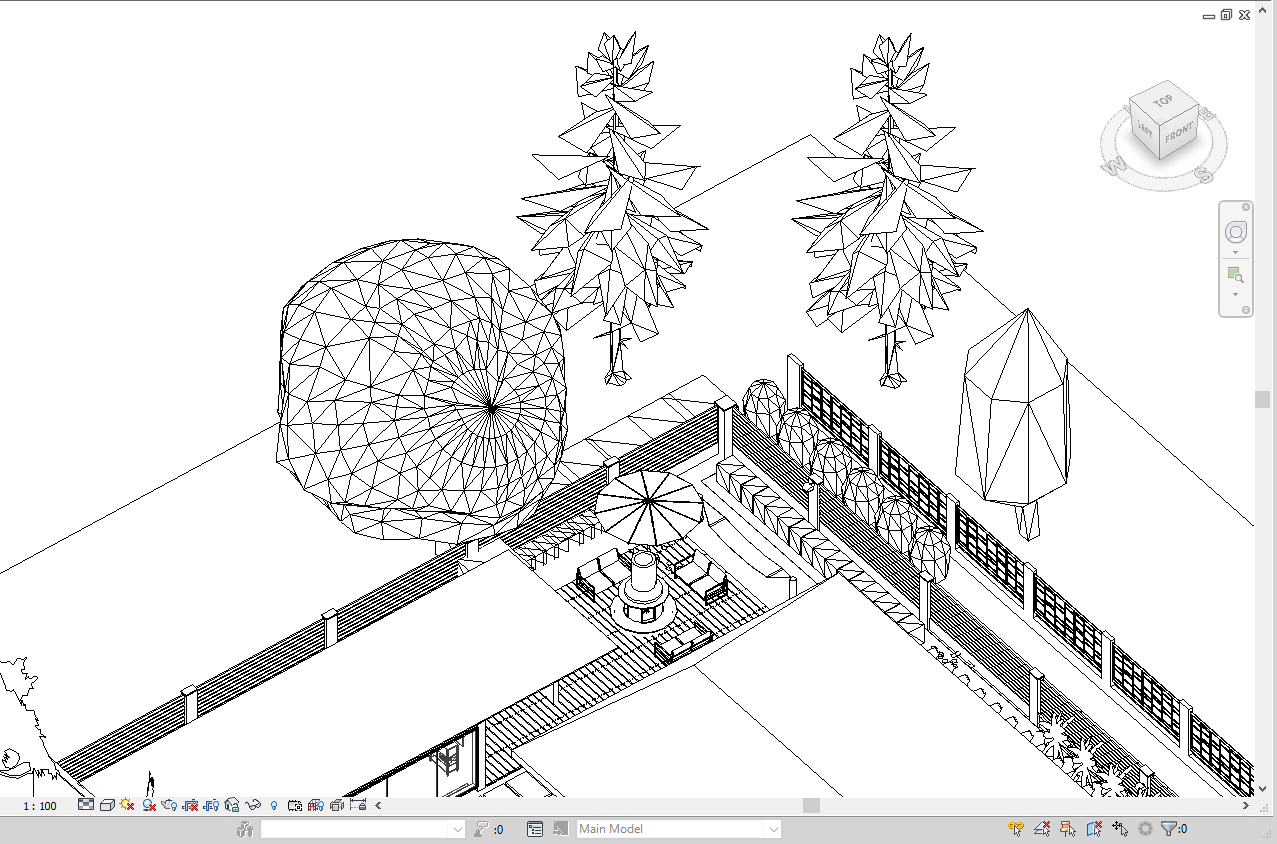 The vegetation will appear as low-res geometry
Now it's even easier to add great looking vegetation to your model. Two clicks and you can immediately see how the tree or flower fits into your model. With the models currently available, you can create welcoming gardens of every kind.
Turn a remote terrace…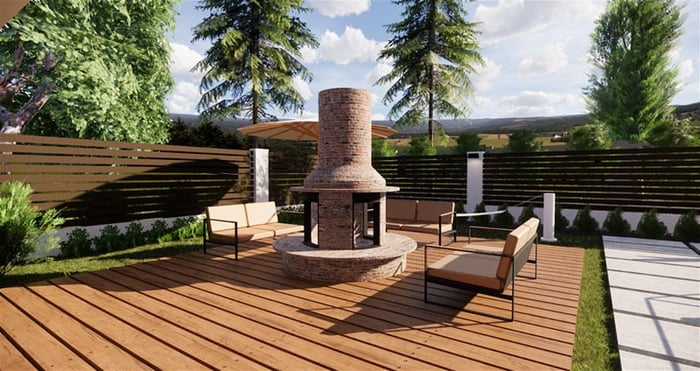 ...into an intimate place to linger.
The great benefit of the Asset Library is how quickly you can create scenes like the one above. Being able to add assets with two clicks streamlines your workflow and saves valuable time. I added around forty assets around the terrace to create a more comfortable, grounded scene. You want your client to be able to picture themselves in the scene; by adding some vegetation and a preset Enscape horizon, you might be able to convince them you've just taken a photo of the already-built project.

Update: Animated vegetation is now available in Enscape! Learn more here.
Best Practices in SketchUp
It's just as painless to place assets in SketchUp; I'll demonstrate using some people assets. Select an asset from the Library window and place it with one click on the desired face. If Live Update is enabled, the asset will immediately become visible in the Enscape window. The asset will be shown as a white, low-res figure. After you place an asset in SketchUp, you will be able to continue placing the same asset in a batch. This is a great way to add many assets subsequently and keep your project size small. Pressing the Esc key will recall the Asset Library window.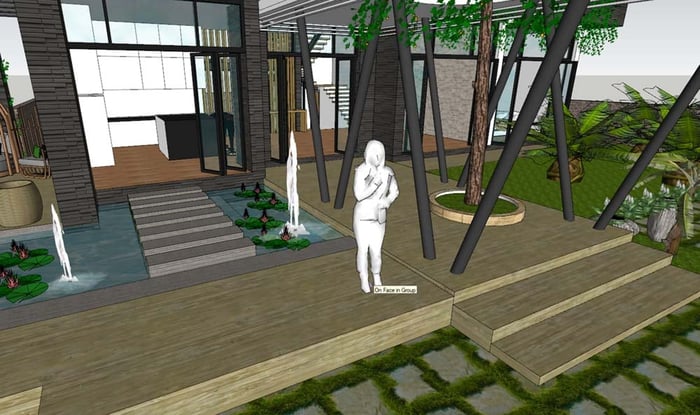 Place an asset on a face with one click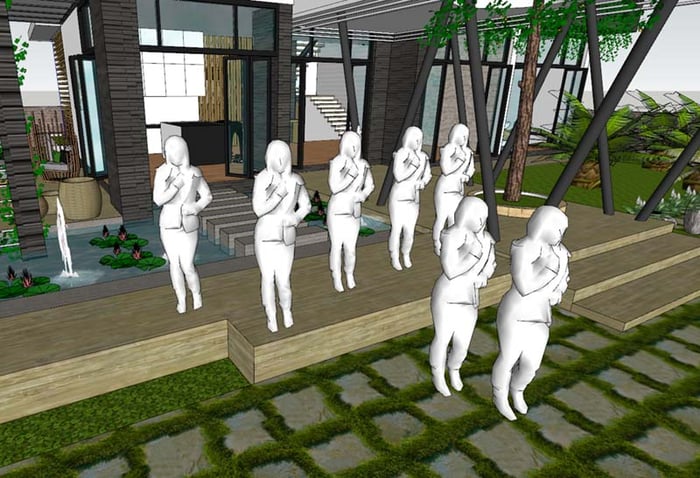 Continue clicking to place more of the same asset
Previously Enscape offered 10 RPCs, which were only available for Revit. The new library, however, expands this number to 18, and makes the figures available in all four supported CAD programs. Use them to really bring your scene to life. No matter which program you use, Enscape assets can take your scene from empty to bustling.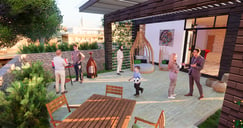 Combine different assets to make your scene dynamic.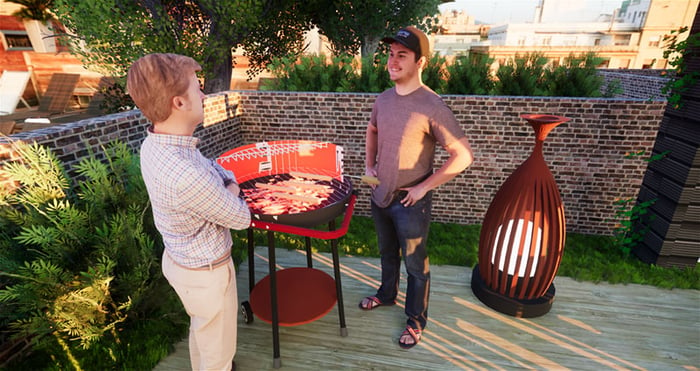 Carefully arrange figures to mimic real-life interactions
Best Practices in Rhino
In Rhino, you can place assets in any of Rhino's Viewports. Play around and decide which one works best for you. Select the asset from the Library window by clicking on it. Rhino will ask you to select a target surface, or alternatively you can press the Enter key to use the base plane. After that your cursor will allow you to place the asset on a surface by clicking once.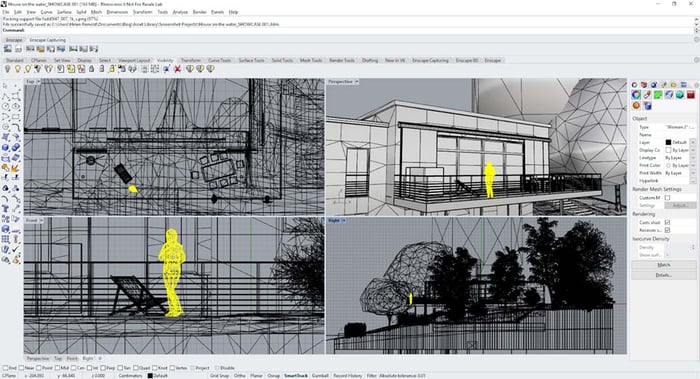 Assets in Rhino are shown as low-res geometry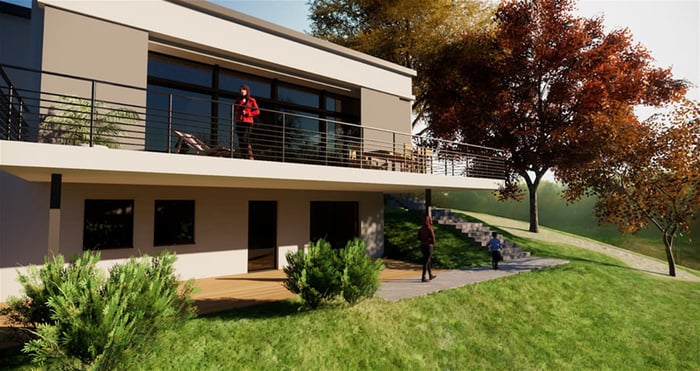 A fall morning created in Rhino
Combine different assets to create specific scenes and evoke certain feelings. You can use the more autumnal trees available in combination with more heavily dressed assets to create a fall scene. The more specific you can make your project to your client and their wishes, the more likely they are to fall in love with it.
Best Practices in ArchiCAD
In ArchiCAD, you can access the Library through the Enscape dropdown menu or via the ribbon. Open the Library and select the asset you want to place in your scene. The cursor will change to allow you to place the asset; click once to add it to your scene. In ArchiCAD, the assets are represented as orange, low-res geometry. You can also rotate, elevate or drag the asset after it has been placed using the native ArchiCAD Move functions.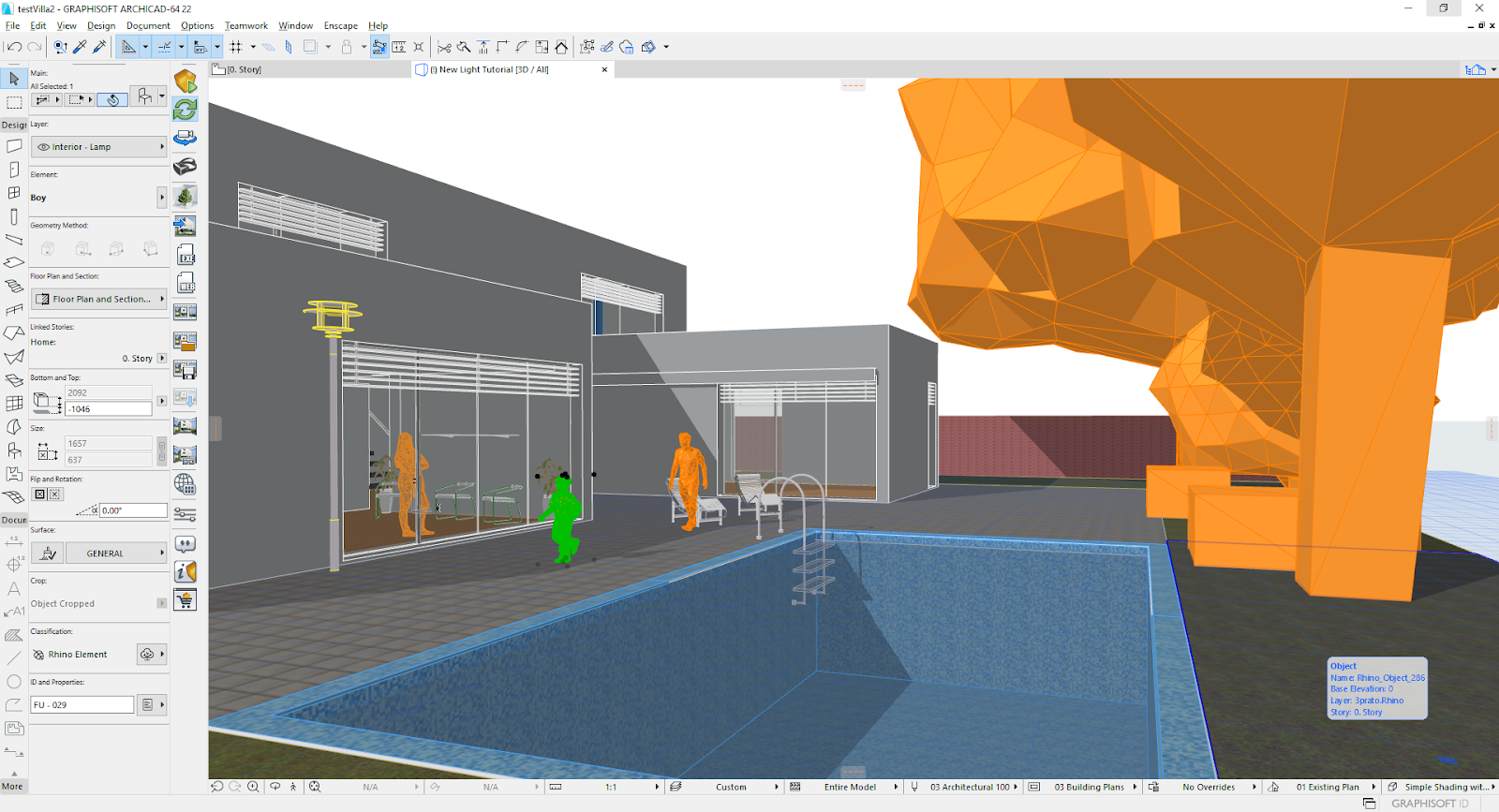 Enscape assets represented in ArchiCAD view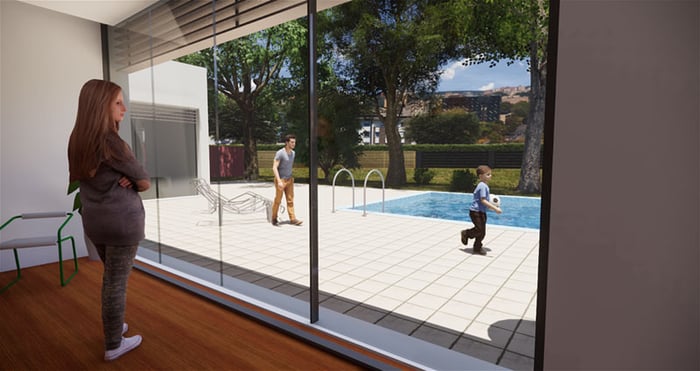 Mix and match assets and backgrounds to create scenes.
Conclusion
A stunning Enscape project results from the combination of several different aspects, but the icing on the cake are assets. The goal of rendering your project is to make it appear as realistic as possible, and most scenes just don't feel real until they are filled with items, people and plants. The Asset Library makes this step easier than ever. Just a few clicks and you can transform your project and convince your client.
Now that you've seen how easy it is to use the Asset Library, you might already be impatient to try it out yourself. The wide array of people and vegetation already available is only the beginning. Future versions of Enscape will expand the Asset Library to cover more categories and include more assets. What would you like to see included? Get in touch with us and let us know which assets you can't live without.


Bio:
Helen Reinold is the Head of the Educational Program at Enscape. Since joining the company in 2018, she has worked as part of the support team and regularly contributed articles to the blog. She strives to not only solve users' problems, but also elevate their experiences and results.
Subscribe to Our Blog
Get the best tips and articles delivered straight to your inbox!