Viewport Studio, an award-winning architectural and design firm with offices in London, Singapore, and Los Angeles, is helping to bring confidence to diners and restaurant staff, with the design of a new socially-distanced booth.
The booth, called 'La Cabina' has been created in collaboration with Italian sustainable textile experts i-Mesh, lifestyle brand Trussardi, and Equilibri Furniture and will roll-out at a Milan-based restaurant in September 2020.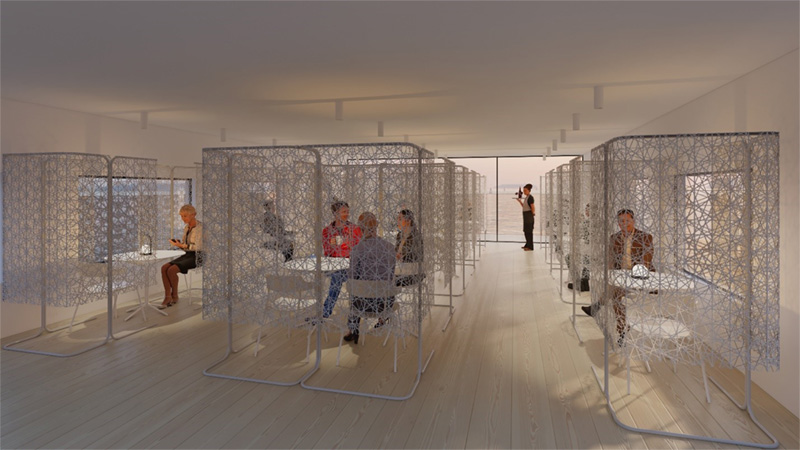 The simple modular frame system helps to physically distance customers at restaurants and bars, and uses waterproof and flame-proof fabric that prevents the spread of viruses such as COVID-19. It's also easy to remove the fabric and to clean it.
Due to the quick turnaround required, Viewport Studio chose to use Enscape because of its ability to render instantly within their design program and the speed at which videos could be created to help design and communicate the solution.
"We had a very tight deadline as the project was in Italy, and the Italian government was re-opening restaurants & bars at a certain date, so we had to be ready by then. So we knew we had to use Enscape because of its speed." said Gautier Pelegrin, Director at Viewport Studio.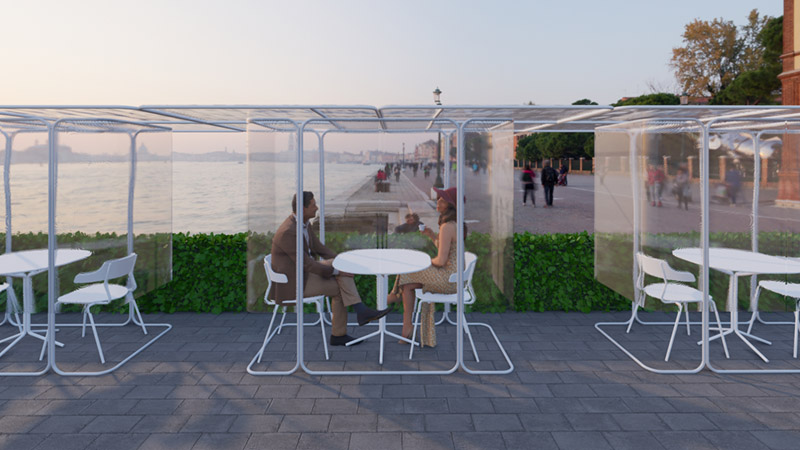 With sustainability in mind, one thing that Viewport Studio was keen to develop, was a solution that could easily be adapted into a standard divider so that they were not creating a temporary wasteful object.
Being able to quickly compare different materials in Enscape certainly helped in the early design stages of the project.
"One of the challenges with this design was the materials we are using, it had to change from COVID-19 "resistant" to another material later in its life, being a textile that would shade the user from the sun. So, the transparency, blurriness, visibility, and therefore privacy of the users was key in designing. By using Enscape, the instant change in materials helped defined boundary, distances, and shapes." explained Gautier.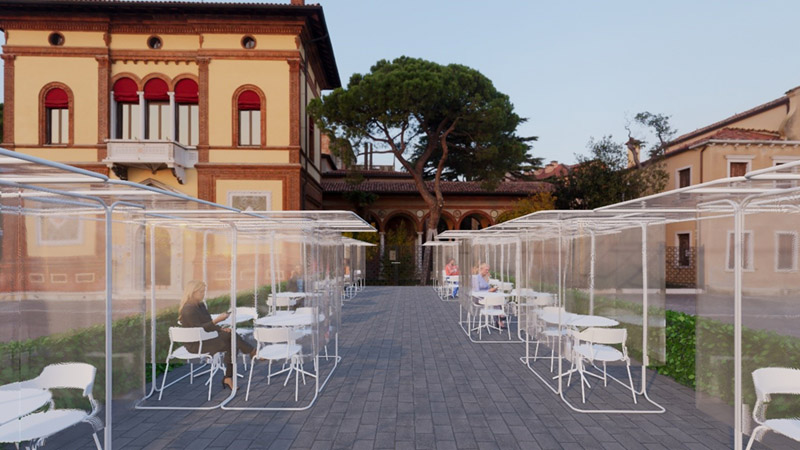 As for communicating design ideas to the client, video proved to be an important tool that was utilized by Viewport Studio.
"The video was the main actor in our conversation as a back and forth dialogue showing different materials and how the light affected them help the client choose a pattern motif."
I asked Gautier how Viewport Studio found using Enscape to create a video to help showcase how the booth interacted with the Milan restaurant:
"Very straightforward, no slow down or lag in rendering, a very smooth creation from timing the video to exporting it, mostly because of the ease of positioning the camera"
La Cabina will launch at The Trussardi Alla Scala Restaurant in Milan, Italy in September 2020.