Architectural rendering is the process of creating a realistic image of a future building or space. Rendering software takes a project designed in a modeling tool such as Revit or SketchUp and transforms it into a 3D visualization.
It is an increasingly popular way for architects and designers to communicate their vision to clients and contractors and make faster design decisions based on how a space will look and feel in reality.
This article will answer the most common questions asked on the topic of architectural rendering. It will also outline the benefits, and provide examples of the different types of renders that can be produced with very little effort using real-time rendering technology.
What is architectural rendering?
Architectural rendering is the process of producing visual outputs that illustrate a future building or space. These outputs, such as images or animations, can be highly realistic and detailed, accounting for all aspects of the physical design or just impressionistic depictions of the design concept.
This process can also be referred to as architectural illustration, architectural visualization, 3D rendering, or 3D visualization.
Using rendering in architectural design doesn't just give architects helpful visual references as they work on a concept, it also enables them to market their design to clients, solicit feedback for design refinement, and keep projects moving forward.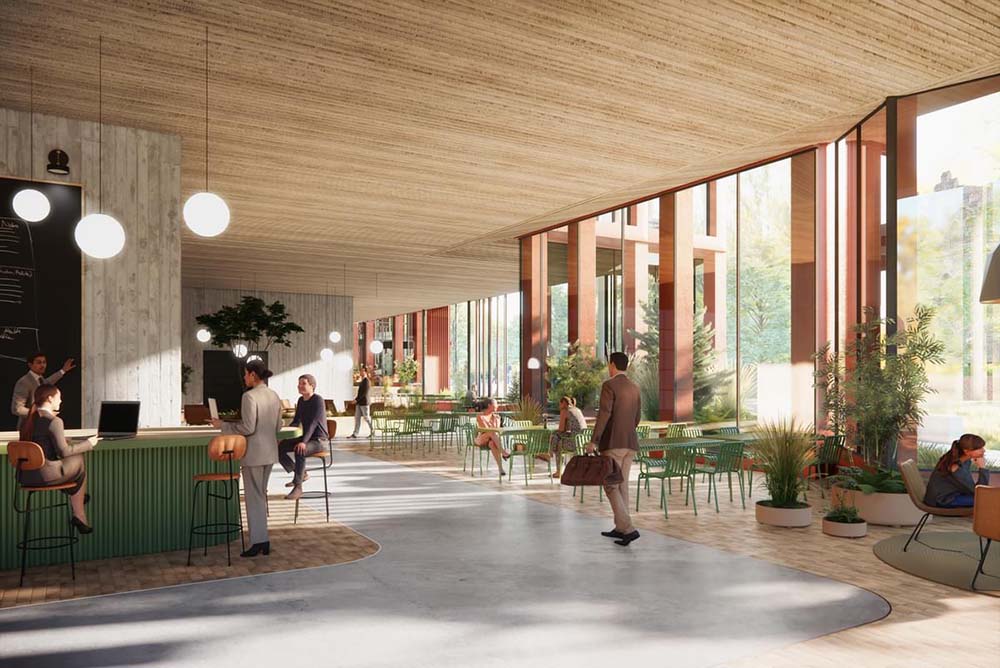 Enscape rendering courtesy of Vilhelm Lauritzen Architects and Liljewall Architects
The process of rendering can be found in a variety of disciplines, from manufacturing to engineering. Developing images that give a comprehensive view of designs is widely utilized in visualizing new products, equipment systems, machinery, and even to visualize entire landscapes.
Types of architectural renderings

An architectural rendering can take many forms. It can be, for example, a still image, a panorama, a standalone rendered image of a building, or an architectural walkthrough. With some real-time rendering tools, it is even possible to explore a project in virtual reality with a VR headset.
These different formats can depict different views of a design: exterior, interior, orthographic, and aerial. These perspectives can give critical insights into how a design is composed and how it will manifest in the real world.

3D architectural renderings, in any of these points of view, are particularly helpful for clarifying the way a design makes use of space, allowing architects to craft optimal layouts and spot potential problems.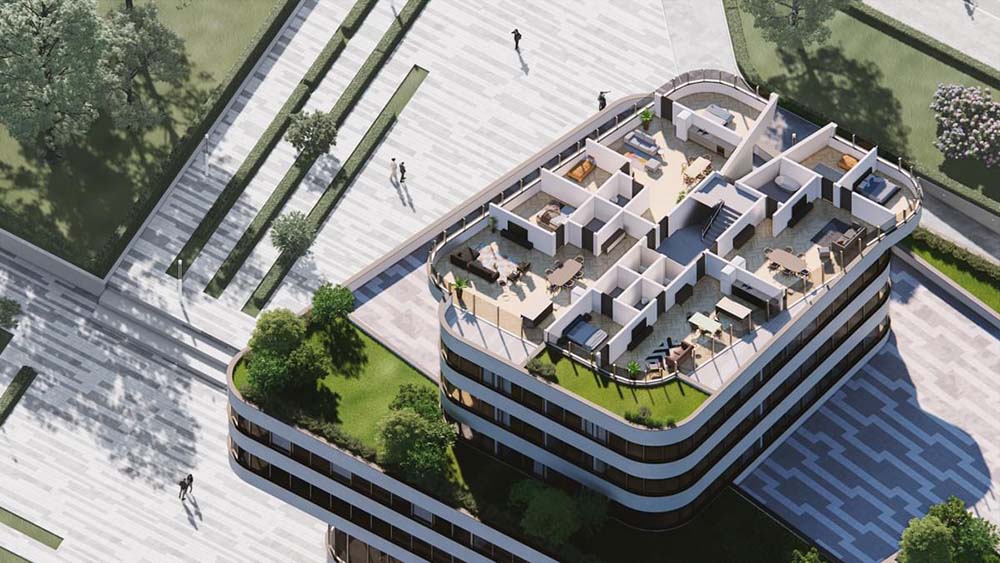 Example of an orthographic projection rendering
Architectural rendering styles
Different rendering styles can be produced with the help of architectural rendering software.
White mode

: All materials, except transparent ones, are rendered white. Particularly useful in the conceptual stages of design when the viewer should focus on the main concepts rather than the details.
Light view:

Displays how much light will hit a surface through the representation of a heat map.

Sketch style

: When the weight of outlines is increased to give the effect of a sketched image.

Photorealistic: The most realistic type of rendering. Typically when lighting, shadows, materials, and 3D models are added and refined to create a photorealistic image.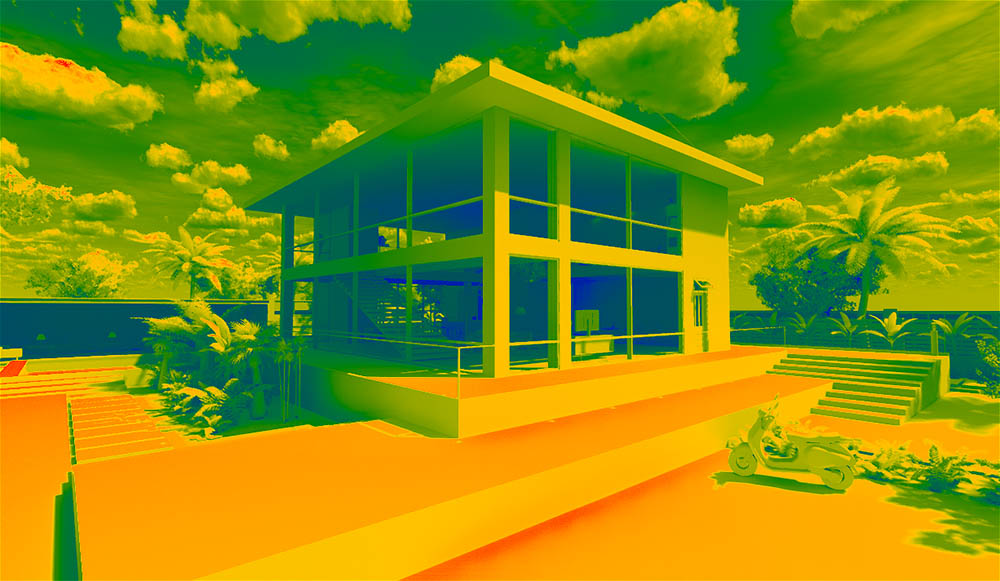 Light view mode in an Enscape rendering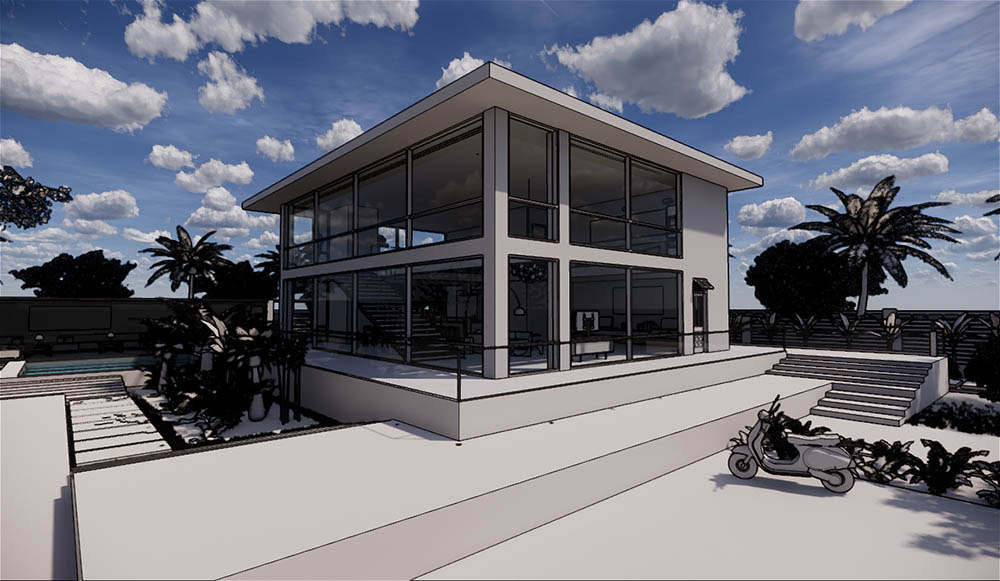 White mode and sketch style combined
How are architectural renders created?
Architectural renderings are typically created from a project modeled in software such as SketchUp, Revit, Rhino, Vectorworks, or Archicad.
Through rendering software, these projects are converted into an image that is more true-to-life and easier to understand. Sometimes the images are so realistic it's hard to tell if they are a visualization or a photo of the finished building.
With real-time rendering software, a render can be created very easily, often by clicking a button that automatically converts a model into a 3D visualization. Various elements can then be adjusted, such as cloud coverage, sun settings, lighting, 3D assets, and materials, to achieve the desired visual effects.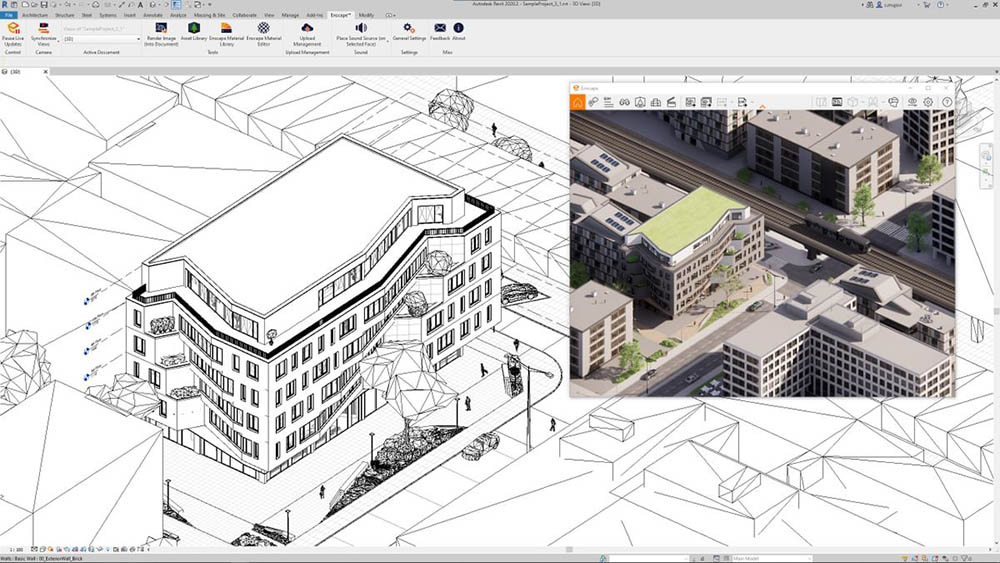 Example of a rendering created with Revit and Enscape
What do architects and designers use to render?
Different types of renderers are available to architects and designers, and it's important to understand the difference before deciding which is best for you.

Offline renderers

Offline rendering engines, such as V-Ray, can produce strikingly realistic renders. They are typically used toward the end of the design process when there is a need to create renders of the highest visual quality and accuracy. These renderings are often used for competitions and marketing purposes.
Sometimes a visualization specialist or studio is used to make use of the full artistic and photorealistic potential of this software.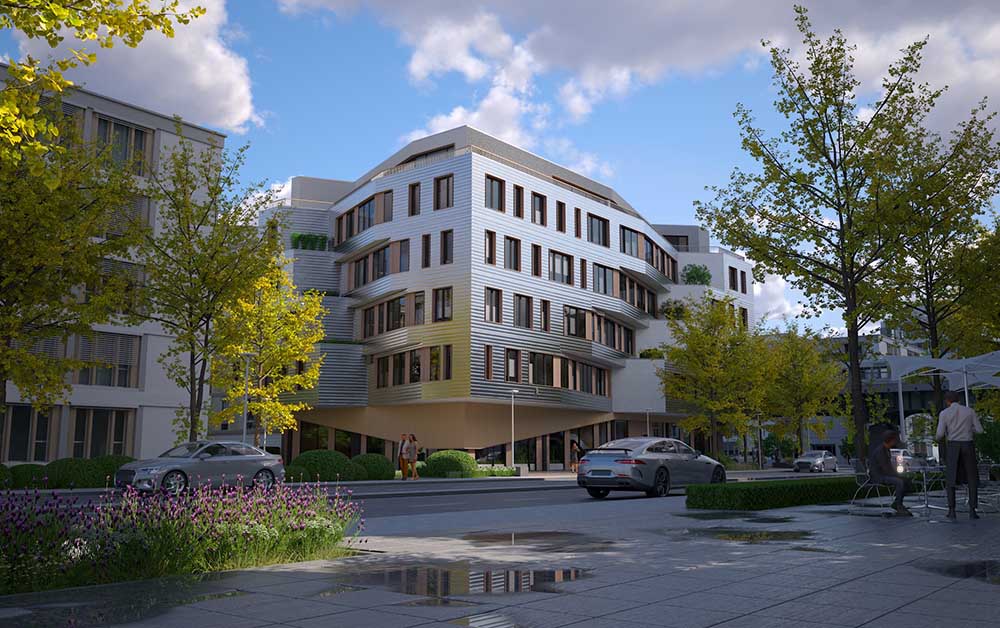 Example of a rendering created with V-Ray

Real-time renderers
The other types are typically known as real-time rendering engines and provide the fastest way to create architectural renderings. Not all work in real time as we at Enscape define it, though 😉.
Most require additional steps in the visualization workflow. For example, if any changes are made within the rendering software itself, then these are not replicated in the source model. They have to be manually added, leading to a duplication of work that can slow down the design process.
Enscape, on the other hand, is a real-time rendering plugin that is 100% integrated into the design application. As you model, you can see your project as a rendered 3D visualization that you can navigate and explore.
Any changes made in Enscape (such as adding materials or assets), are synced back to the CAD or BIM model in real time, saving you having to manually make those changes to your original project. This is particularly useful as you can work with a single source of truth and don't need to worry about version control.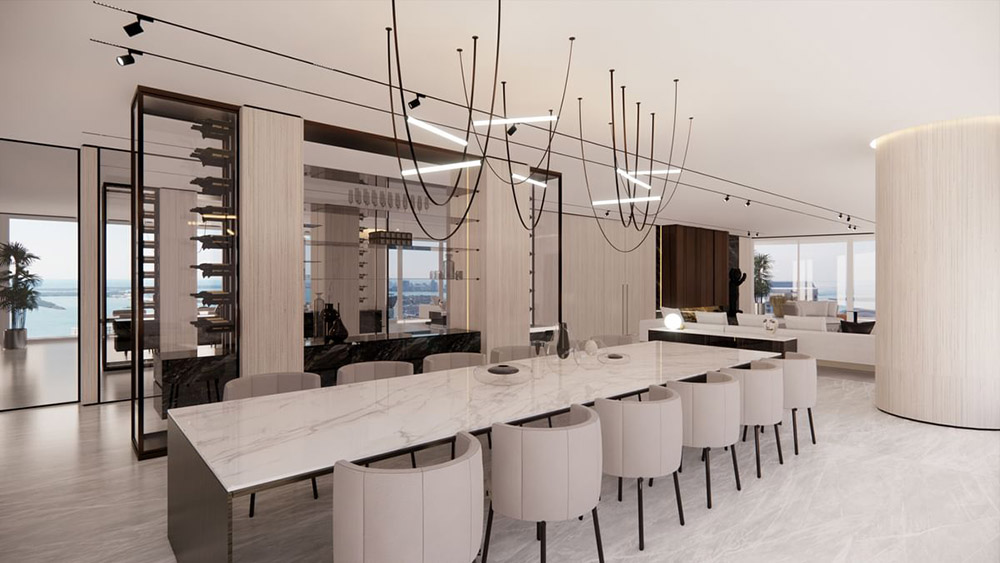 Enscape rendering, courtesy of Adriana Lacruz of Lacruz Design Studio
3D architectural rendering examples
Archviz and 3D visualization communities such as CGarchitect and the Enscape Forum are filled with examples of architectural renderings. It's hard not to find inspiration in these spaces!

Here are a few examples of renderings produced with the real-time rendering software, Enscape.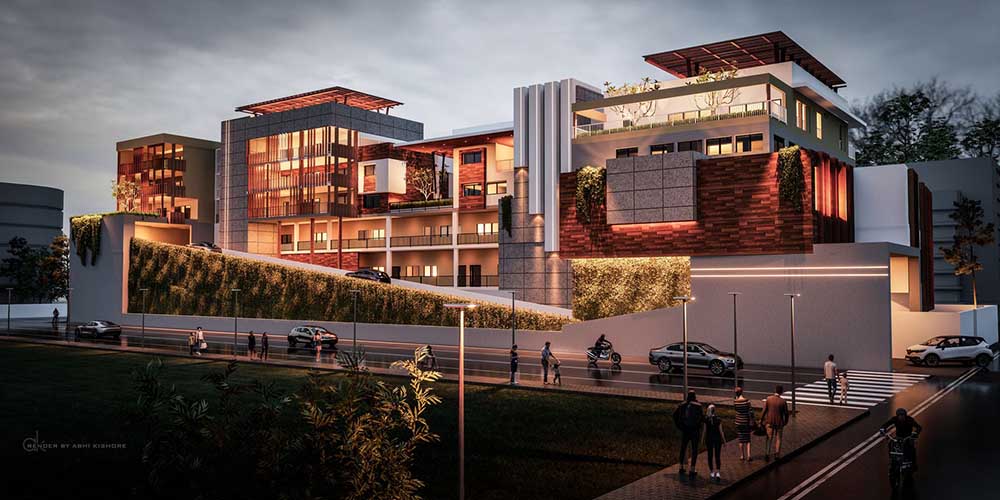 External rendering courtesy of forum user @Abhi Kishore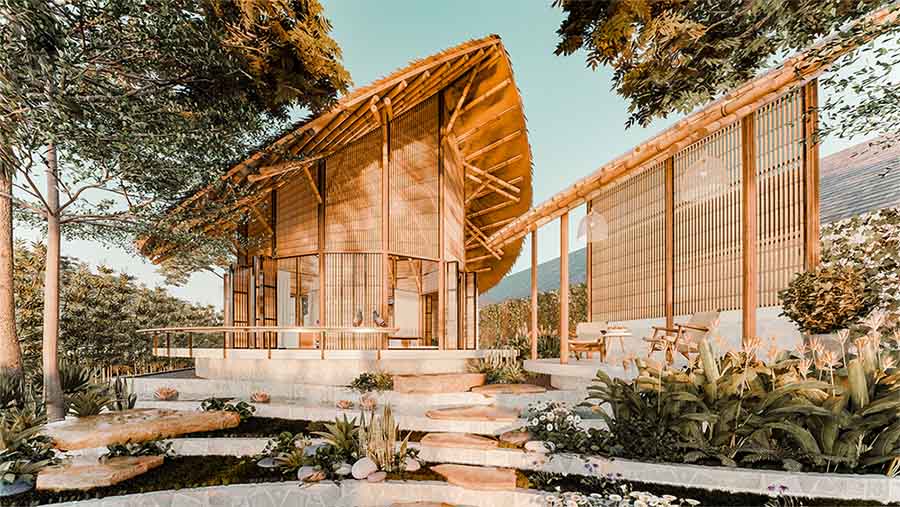 External rendering courtesy of forum user @VAN-NHUT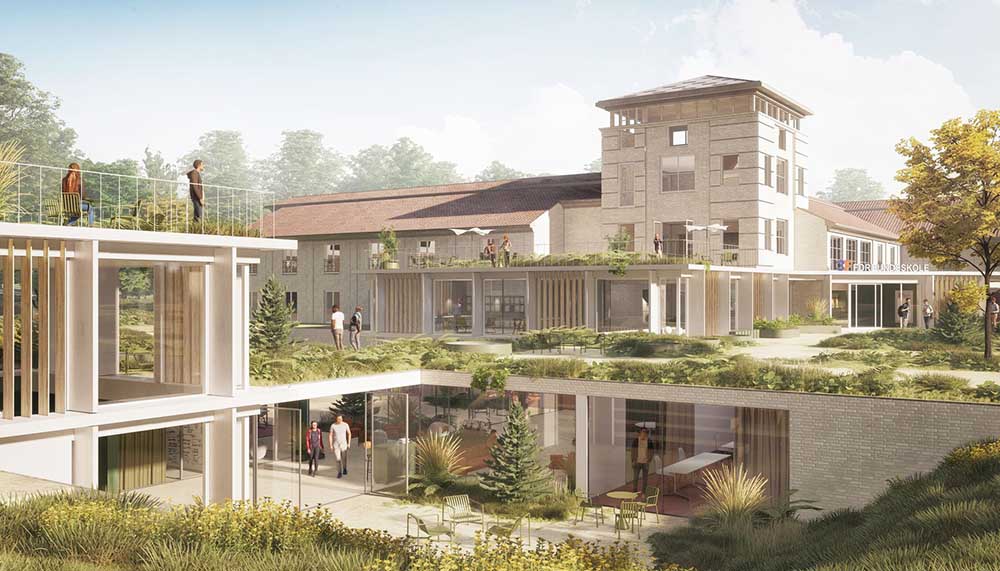 External rendering courtesy of forum user @Herbo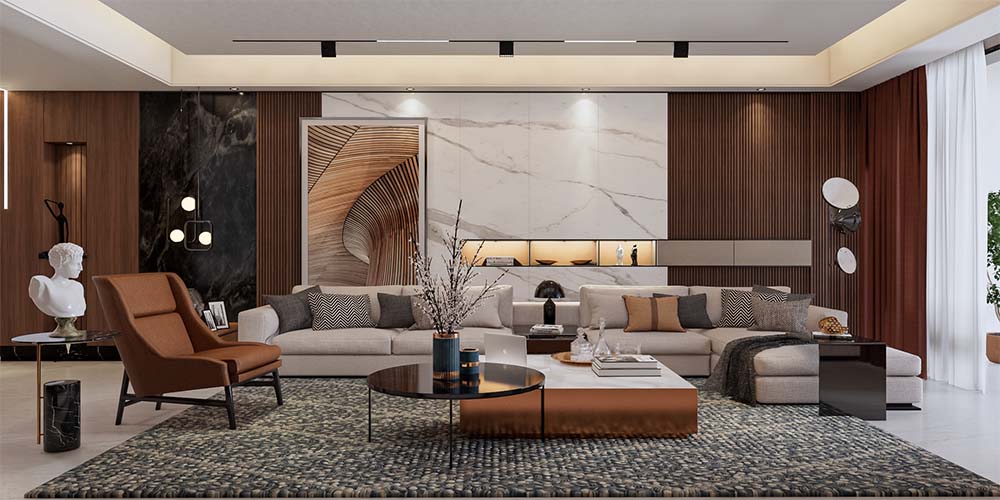 Interior rendering courtesy of forum user @Joel Guerra
What happened before architectural rendering?
Before architectural 3D rendering software came along, images were created by hand (and some architects continue sketching today - it's a beautiful skill!).
Specialized artists would use traditional mediums such as pencil and paint to translate a project's blueprints into scenes that could give a good impression of the finished construction.
It took a great deal of skill and knowledge for these artists to be able to accurately capture the project's various features, including dimensions, proportions, textures, and lighting. The expertise required to create quality drawings made it so that the job usually had to be outsourced, adding significant time and costs to an architect's project.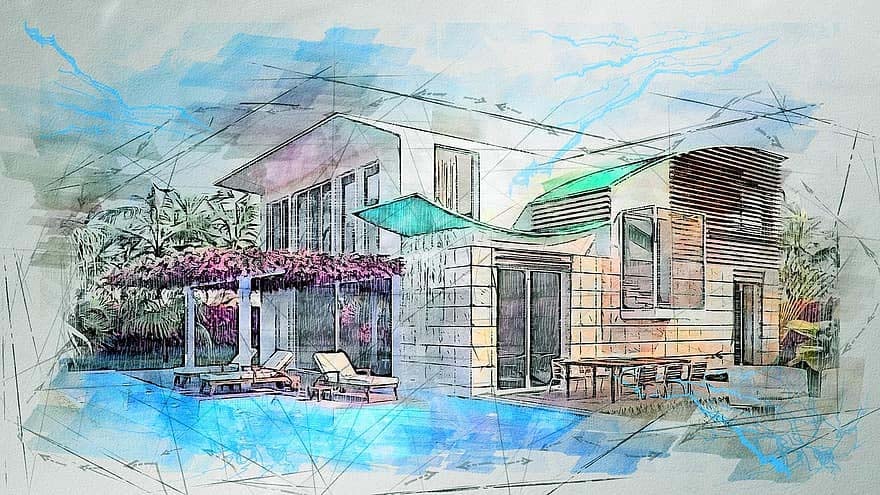 When the initial rendering programs arrived, it could take hours to render a single image. The need for expertise was a barrier to adoption, and few professionals had the familiarity or know-how to work successfully with these programs.
Technology has since evolved, and now it's possible to create an architectural rendering with the click of a button. Ease of use and an intuitive interface allows architects to DIY their renders and get stunning results in just a few seconds. Best yet, architects can go far beyond traditional methods with the creation of videos, panorama tours, and explorations through virtual reality.
Who does architectural rendering?
With today's real-time rendering solutions, anyone can create architectural renderings. The job no longer requires refined skills and expertise. While it certainly helps to have the aid of specialists when developing the finalized images for project presentations and marketing purposes, drafting preliminary images during the active design process is something that can be done without outsourcing or in-house specialists.
Any member of an architecture team can compose a building rendering using intuitive software that walks them through the process and automates even some of the most complex aspects of imaging. This frees up teams to speed through design work, making reference imagery available without the outsourcing delays that used to slow down the process.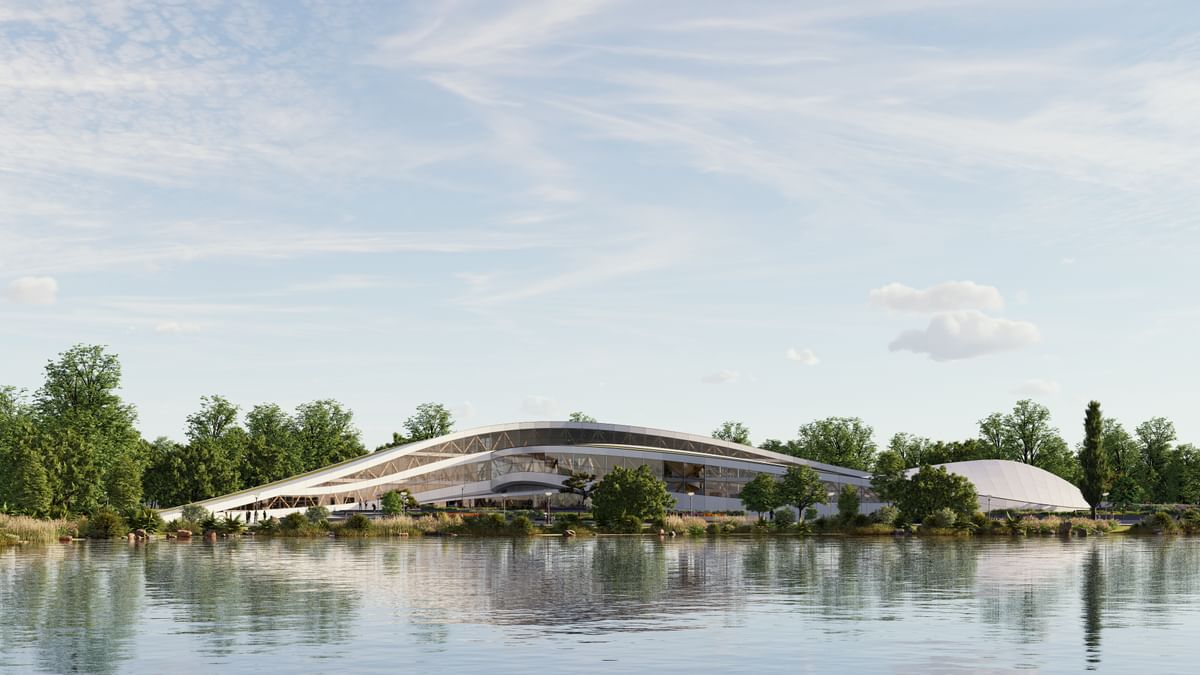 An example of a rendering created in Enscape
What are the benefits of architectural rendering?
Using modern technology to create architectural renders brings so much to the table. And when you choose a real-time rendering solution, additional benefits to the design process can be enjoyed.
The benefits of architectural rendering in real time include:
Efficient ideation: Visualizing a rendered project enables architects and designers to quickly test and develop different ideas.
Rapid rendering: Using a real-time rendering solution means that images, animations, panoramas, and entire project files can be exported at speed.
Clear communication: Architectural renders empower architects and designers to clearly demonstrate their design intent, helping to win client confidence and gain faster approvals.
Let's take a deeper look into some of the benefits of architectural rendering.
1. 3D architectural renderings help you demonstrate value to stakeholders
Having fully detailed, explorable 3D renders means architects don't have to leave anything to the imagination. Clients and investors can get a complete view of proposed designs, enabling them to understand what the project will accomplish and how the design and specifications are justified.
This helps firms win projects they're submitting proposals for and also helps to improve communication and collaboration with clients. Project stakeholders can have a clear representation of what they're getting before the first brick is even laid.
For projects that require community approval, 3D architectural renderings can be a great tool for showing the general public how a project can enhance their community's beauty and functionality. People can clearly visualize how they may interact with the place in their daily life and see the value in their taxpayer investment.
2. Improve project efficiency
Rendering software that works within a BIM or CAD program allows architects to render as they design. It's the fastest and most efficient way to design, iterate, visualize, and generate all types of renderings.

3D renders can give a much fuller picture than typical drawings, and architects can fast-track project decision-making as a result. Stakeholders and contractors can more easily assess and determine what should be done when they don't have to imagine the result. It's a system that dramatically improves project efficiency.
3. Identify issues not apparent in architectural drawings
Rendering programs use advanced algorithms to produce the most realistic effects for architectural renders. Sunlight angles and intensities can be accurately simulated and even automatically modified in response to the addition of cloud cover, time of day, and surrounding vegetation.
Interiors appropriately reflect the lighting conditions as they would be in real life, allowing architects to optimize their designs for daylight exposure. They can spot when lighting is too strong (causing issues with occupant comfort and energy efficiency) or too weak.
The interactive quality of real-time renders allows troubleshooting for other aspects of design, too. Where a standard drawing may not indicate any issues, a virtual walkthrough may reveal that a layout doesn't work as well as anticipated or detect clashes that could seriously disrupt the construction process.
What is the easiest way to create architectural renders?
Enscape has earned a reputation as one of the industry's best tools for empowering architects to make their own high-quality renders. The user-friendly software doesn't require expert knowledge; it's easy to use, simplifying the creation of architectural renderings and virtual experiences (just check out some of these independent reviews of Enscape!).
By working directly inside design modeling tools such as SketchUp and Revit, Enscape provides architects and designers with a fast real-time rendering solution. The rendering window is right there beside you, so you can take a screenshot as you walk through your project and instantly create great-looking architectural renderings.
Try it without risk to see how it can make a difference to your design workflow!