Real-time visualization has become an essential part of the design process for firms and designers across the globe. Communicating your design effectively in a visualization more often than not comes down to the little details: the true-to-life materials, custom 3D models, or the 360° virtual tour that transports your client into their future building.

So, where do you start looking for the resources you need to enhance your visualizations? The choices can often be overwhelming – so we have put together a list of resources for finding or creating 3D models and materials, and other helpful 3D visualization tools, many recommended by top Enscape users.
High-quality 3D models at your fingertips
Bringing your visualization to life often comes down to the models you populate your design with – finding the right 3D models for rendering can make or break an image. But with all of the projects on your plate, you probably don't have hours to invest in finding the right car, couch, tree, or streetlamp your design needs. Luckily for all of us, there are excellent collections of high-quality models right at our fingertips – here are our top picks.
TurboSquid
At TurboSquid, you will find over 800,000 high-quality 3D models for sale. Across a comprehensive set of categories, you will find a model for every situation and project – from animals and nature models to interior design elements and furniture to vehicles, food, and industrial elements. The models and bundles are individually priced, so you can shop only for what you need. The interface makes it simple to find exactly what you are looking for: you can filter by price, file format, poly count, and even for models specifically created for real-time rendering. TurboSquid also has a large selection of free models available if you want to try some out before purchasing a paid model. Check it out – there's something for everyone!


CGTrader
CGTrader is a 3D model marketplace and community, offering a variety of paid and free 3D models. The models are created and sold by freelance designers, companies, and 3D modeling hobbyists. The models are sold individually or in bundles, and the site offers frequent sales or discounts. You can find a large variety of file formats and also filter by price and poly count. CGTrader also has collections of lower-poly 3D models created specifically for real-time use. With literally hundreds of thousands of models to choose from, you'll likely find what you are looking for – but on the outside chance that you don't, you can use CGTrader to contract a freelance 3D designer to create the model you are dreaming of.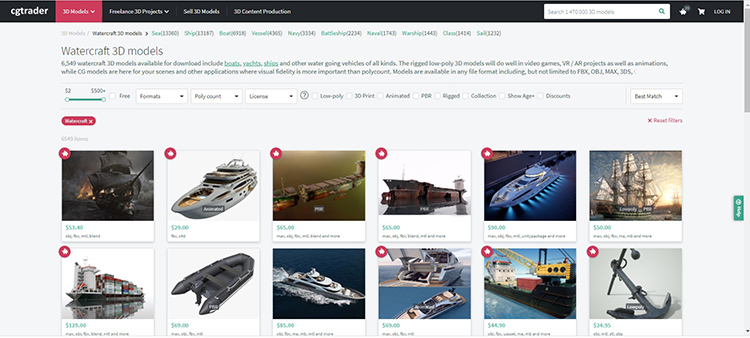 Quixel Megascans
You've probably seen models from Quixel Megascans before without knowing it. Since 2011, this environment-scanning company has complied a database of hundreds of thousands of scans, which are regularly used in film, television, and video games – for example, in the 2018 Marvel film Black Panther and in the video games Red Dead Redemption 2 and Cyberpunk 2077, just to name a few. In fact, the models are literally award-winning: the 2016 live-action The Jungle Book won the Oscar for Best Visual Effects for its rainforest environment, created using Quixel scans. With plans starting at $19 a month, you can use this high-quality database to create truly cinematic visualizations.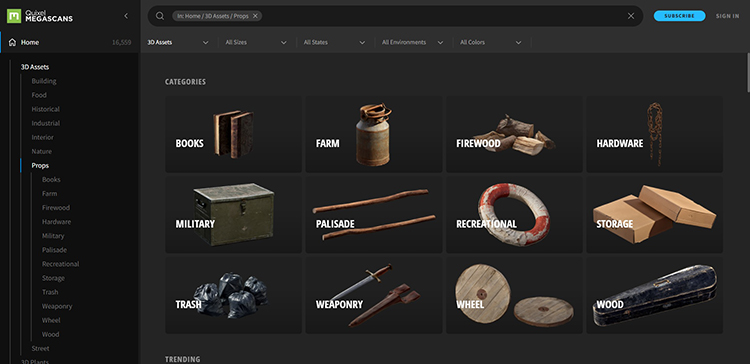 Globe Plants
As the name suggests, Globe Plants is a model library specializing in plant and tree models. When you are designing and creating visualizations for a local client, it is imperative to include the correct plant species for your region. Globe Plants helps ground your visualizations in reality by providing a wide selection of vegetation for every region on earth. You can purchase curated bundles or buy only the specific plants you need. If Globe Plants doesn't have the species you are looking for, you can order custom models directly through the site, which are produced to be render-ready. And best of all: they already have a large collection of models specifically curated for use with the Enscape Custom Asset Library.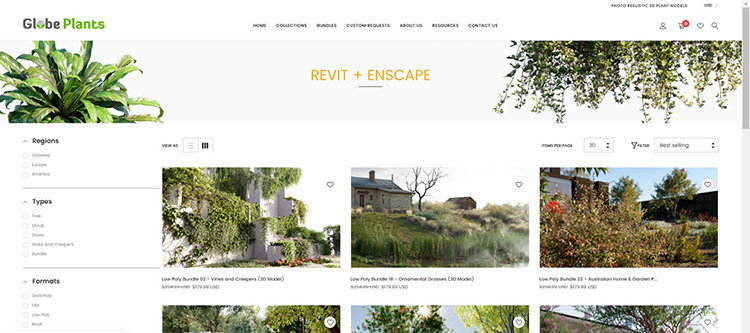 Enscape Asset Library
If you are using Enscape's real-time visualization plugin, then hopefully, you have already come across the Enscape Asset Library. This hand-crafted library comes with a large variety of 3D models that are ready to drop straight into your project file and your renderings themselves. The models are high-performance, yet low poly, helping to keep your model light and giving you the high-end look you need for realistic visualizations.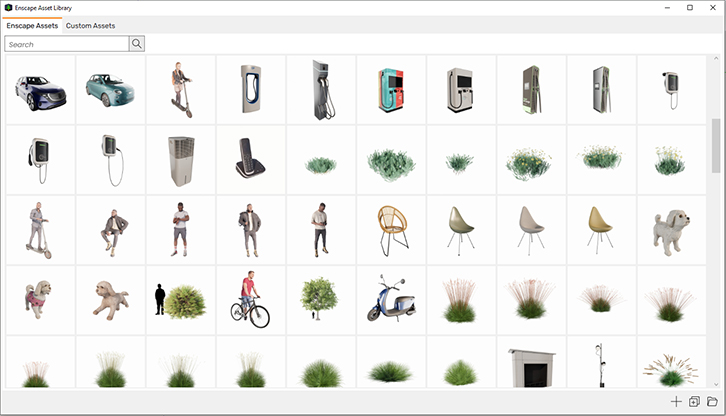 Creating your own custom 3D models
Downloading the models you need is quick and easy, but sometimes you just want to roll up your sleeves and create exactly what you need. If you are more of a DIY-er, check out the top programs recommended by our users. While the programs certainly have a high learning curve, investing some time to learn to build your own custom 3D models gives you the freedom to get as creative as you want!
Blender
Blender has been around since 1994 is considered one of the premier free and open-source 3D modeling programs available. You can use it to create 3D models and export them in a wide variety of file types, including FBX, DXF, and OBJ. You can also use it to prep existing 3D models for use with the Enscape Custom Asset Library. The Blender website offers extensive documentation of the program's functions and features, and you can find support in the community-created tutorials and in the discussion forum.

Autodesk 3ds Max
3ds Max is a 3D graphics program you can use to make animations, games, images – and of course, 3D models. With versions going back as far as 1988, it has been among the industry standard programs for 3D modeling for decades. It is currently only available for Windows but is available in 8 languages. There are also a large variety of plugins available for 3ds Max to make modeling even easier. It's obviously pricy, but there is a trial available if you want to test it before committing to a subscription.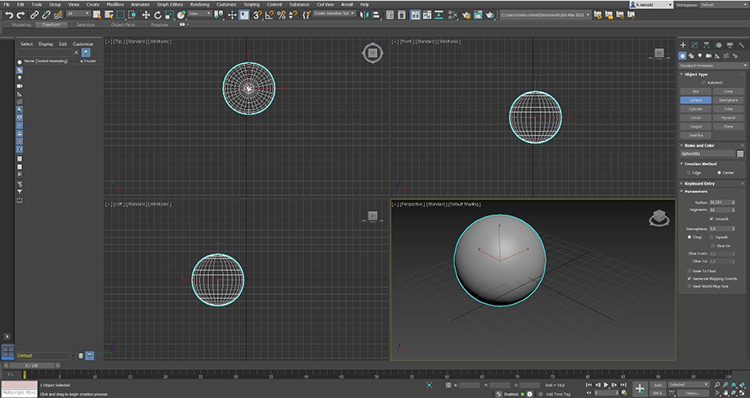 Autodesk Maya
Often compared to 3ds Max, Maya is a graphics application used to create custom 3D models. The program has been widely used in video game and film production, with then-parent company Alias|Wavefront receiving a Technical Achievement Oscar for their development of the software. It has been used in films such as Avatar, Finding Nemo, Avengers: Infinity War, and The Lord of the Rings: The Two Towers. Maya is available on Windows, Linux, and OSX, and has a similar price-point to 3ds Max. However, there is a cheaper, light version of the program available called Maya LT.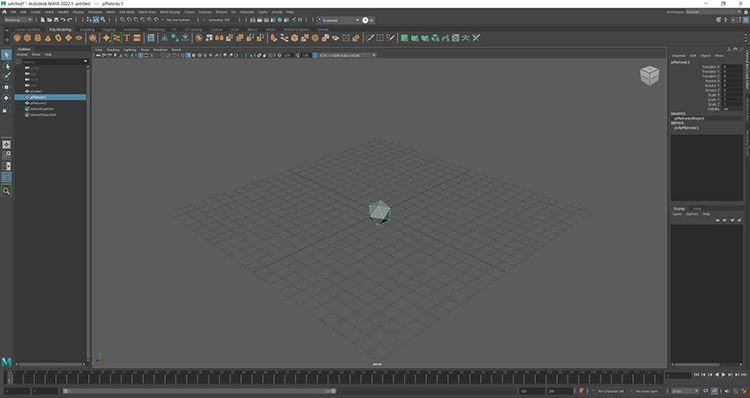 3D rendering materials and textures
Always a hot topic for visualization, materials, and 3D textures are the foundation for making your renderings look true-to-life. It's a topic we've covered before and will certainly cover again – for a look back at the sites we have previously featured, check out these popular blog posts:
Let's take a look at two new resources for rendering materials and textures that we have not featured before.
ambientCG
ambientCG currently offers over 1500 free materials for download, with new materials being added frequently. Each material download includes all necessary PBR maps, and is available in a variety of resolutions. The large collection includes all standard categories of materials like wood, tile, stone, metal, fabric, and more. All of the materials tile seamlessly. The materials are available completely free of charge under the Creative Commons CC0 1.0 Universal License – that means you can even use them for commercial projects.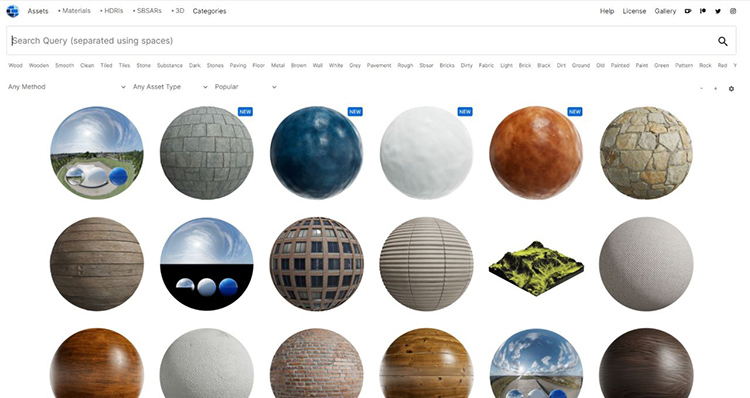 A23D
A23D grew out of A2 Virtual Reality, a firm active in the fields of virtual, augmented, and mixed reality. They took the high library of materials they created for their own use and now make it available on the basis of a paid subscription. Each material comes with multiple maps and is available in various high resolutions. Their pricing plans range from $6 to $19 a month, which grants you access to over 40,000 high-quality textures.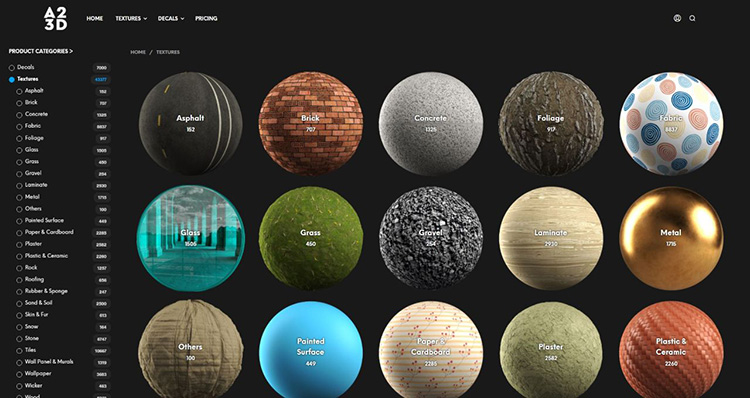 Creating your own custom materials
If you are feeling creative, or if you would like to have more control over how your materials appear, you might consider creating your own materials from scratch. Custom materials can make all the difference if you are trying to match your visualization to a real-life scene or area. There are many tools out there you can use to create your own materials – let's take a look at a few of them.
Adobe Substance 3D Designer and Sampler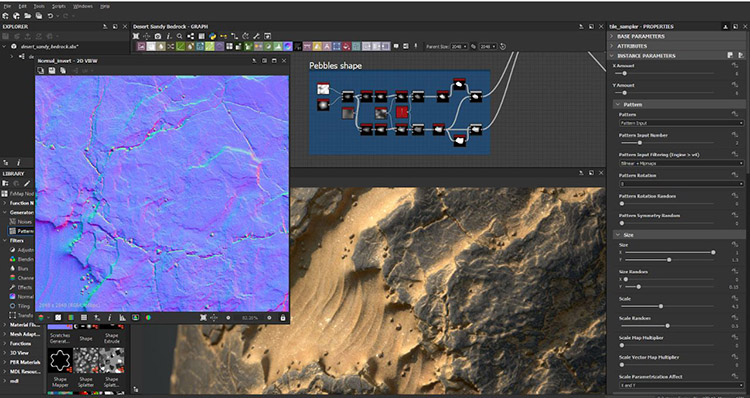 Adobe Substance 3D Designer
Substance 3D Designer and Substance 3D Sampler are two different programs you can use to create your own custom materials and textures. There are some significant differences to take into account, however. Enscape Applications Engineer Kaj Burival describes Substance 3D Designer like this: "It's node-based visual programming - you use all sorts of base pattern inputs, tons of math, and you create real materials from scratch. Like magic." Designer is highly specialized and comes with a steep learning curve, but if you are able to put in the time, the results can be stunning.

Substance 3D Sampler is the simpler cousin of Designer. Instead of authoring the material completely from scratch, it allows you to take a photo of an existing surface, say the fabric from your couch or a tile from your bathroom floor, and quickly turn it into a seamless, tileable material with all necessary texture maps.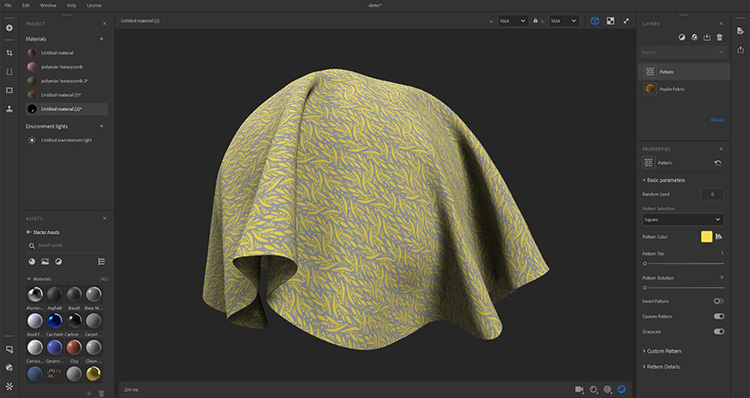 Adobe Substance 3D Sampler
It also offers free filters to add to your materials, and lets you export in exactly the resolution you need. If you don't have time to learn Substance 3D Designer, but you have a camera, you might give Substance 3D Sampler a shot. For a more specific breakdown of the differences between the two programs, take a look at the extensive documentation provided by Adobe here.

Material Maker
If you're generally interested in learning how to author your own materials from scratch but don't want to invest in an Adobe subscription right away, you might consider trying Material Maker. Material Maker is a free PBR materials authoring tool that has many of the same functions, and in many ways works just as well as Substance 3D Designer. You need to register an account, but after that, it is free to download. There is a tutorial directly on the homepage to get you started and extensive documentation available as well. There is even a subreddit and discord server where you can connect with other users to talk about your work and find tips and tricks.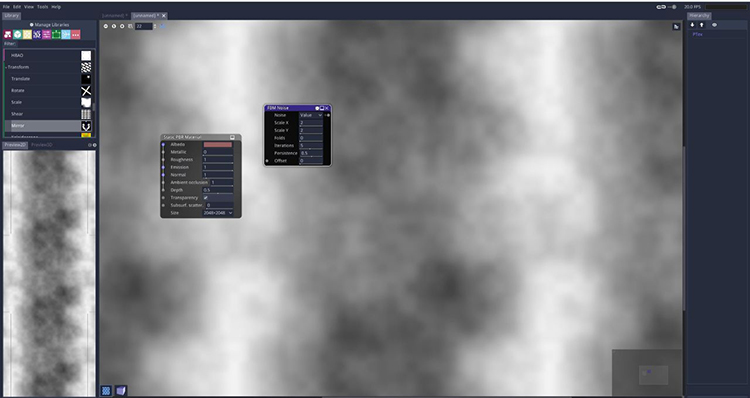 Honorable mention: Blender
We already mentioned Blender above when discussing creating your own 3D models, but it deserves a quick mention here as well. Blender can also be used to create your own custom materials and has a feature set similar to Substance 3D Designer. The biggest difference: Blender is free.
Other useful design and 3D visualization tools
Rounding out our list of useful design and archviz resources are some tools and programs recommended by Enscape users to make managing your CAD or BIM design as smooth as possible.
Skatter for SketchUp
It will come as no surprise to many that Skatter tops our list of useful SketchUp extensions. The wildly popular and widely used Skatter has been a favorite of SketchUp users since its launch in 2016. Created by architect Thomas Hauchecorne and renowned 3D artist Ronen Bekerman, the plugin allows you to essentially paint your project with any model in just a few clicks. Whether you need to cover the area around a building in vegetation, create a crowded street, or populate a room with objects and furniture, Skatter makes it easy to place your models.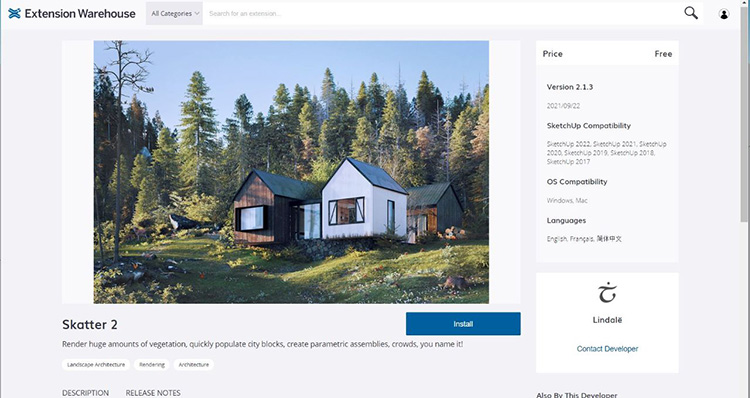 Transmutr for SketchUp
From the same team that brought you Skatter comes another essential tool for SketchUp users: Transmutr. You may have models you want to add to your SketchUp project but can't because the file format is not natively compatible. Transmutr allows you to convert different model formats for use in SketchUp. You can also use it to create proxy models, keeping your project light and increasing your performance. It also has many other great features, which you can find in detail here.

Lands Design
Lands Design is a landscape design plugin for Rhino – it helps you to quickly create gardens, forests, or green spaces around your project and create renderings with Enscape. If you need to add a specific, existing area or terrain to your project, you can also use Lands Design to scan and import the area by picking a location on a satellite map. If you still need some models to fill up the landscape you create, Lands Design offers more than 8000 2D and 3D plants as well.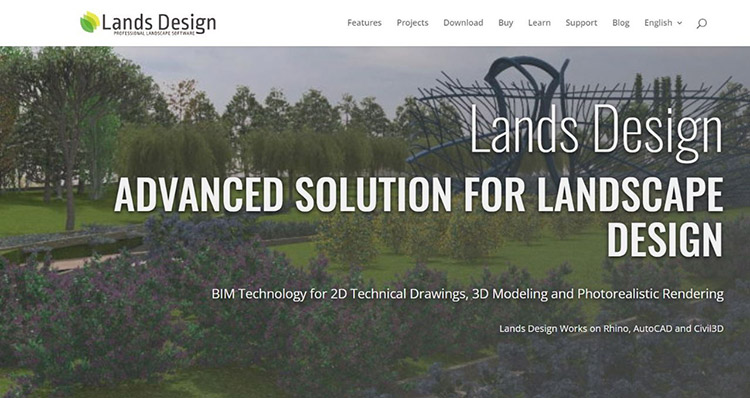 3DVista
3DVista is a multimedia software package you can use to create highly interactive 360° virtual tours. Using media such as 360° panoramas, videos, embedded sounds, and clickable hotspots, you can create an immersive environment that you can share online or offline. It is compatible with panoramas from all 360° and DSLR cameras, so you can also create tours that mix real spaces with visualized projects. Their YouTube channel has a wide variety of videos to get you started.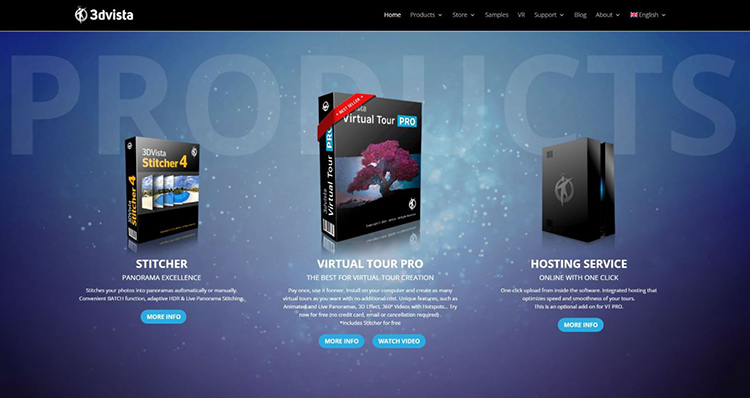 Conclusion
The archviz resources on this list come highly recommended, but they are just the tip of the iceberg – once you start looking, you will find new and exciting programs and websites that can help you enhance your 3D visualizations.

Haven't found what you are looking for yet? Head over to our Forum and start a conversation with real-life Enscape users. Is there a website you love that didn't make our list? Share it with us here!