For many industries, the COVID-19 pandemic has brought serious challenges. The field of architecture is no exception. In Q2 of 2020 alone, 70% of firms saw their billings drop according to a survey run by Appleseed Strategy. Countless developers had to postpone investments, businesses halted expansion plans, and private owners set their projects on the backburner.
Naturally, this downturn has been felt the most by small architecture firms, who rarely have the financial cushion that large corporate enterprises enjoy.
Architect Victor Body-Lawson, principal of a 12-person firm, has seen this himself: "We had a lot of projects in the pipeline in the proposal stage before the pandemic, and some of those projects have actually been put on hold. I'm hoping that they'll come back around."
If you're also a part of a modest team, you know that staying competitive has been especially difficult, since the clients who are active right now want to feel confident in the stability of their chosen firm. This has put pressure on many small firms to rethink their positioning. To attract new leads, they need a way to stand out and appear as a strong choice despite the tumultuous circumstances.
So how can this be accomplished? With real-time rendering and visualization, you can quickly add value to your workflow and attract new business. See how this transformative tool can help small architecture firms work more efficiently and make their best case to clients, even in today's chaotic climate.
Get the edge with leading tech
If you're a small architectural firm, chances are you can't compete with the giants in terms of resources. But you can impress with affordable tech that gives clients better proposals, better designs, and better results.
Teams that leverage a real-time rendering plugin such as Enscape can offer an industry-leading design process that many other firms can't deliver. Clients who are looking for easy and in-depth involvement will find Enscape-powered firms especially appealing, as the software makes it possible to not only share design previews and renderings without friction, but also to create renderings with an unmatched degree of realism and insight.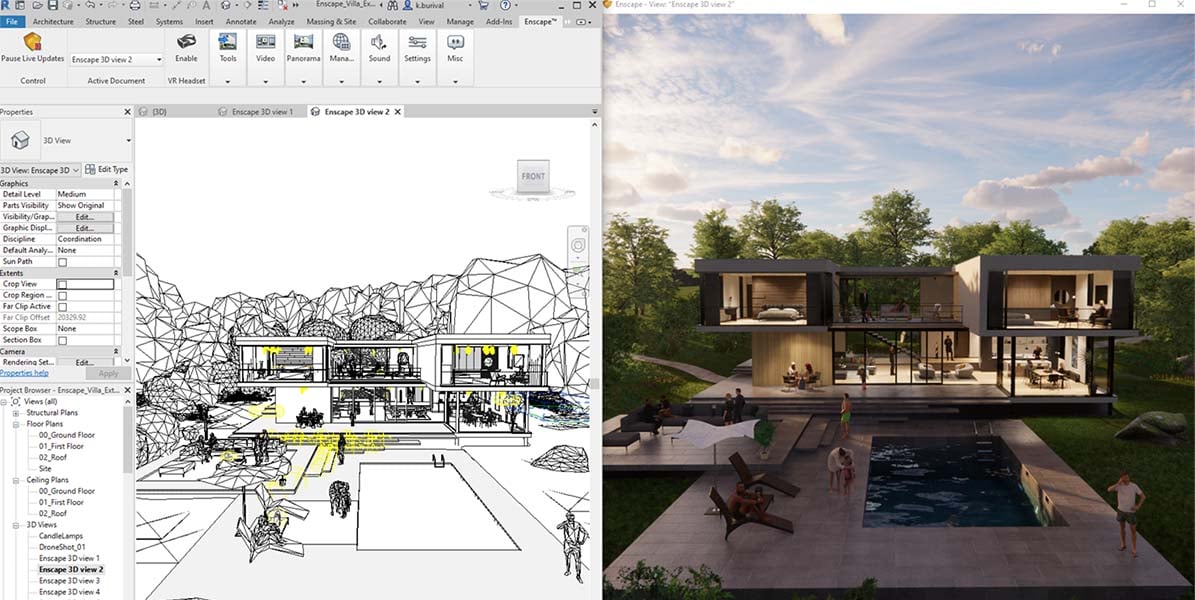 From life-like settings and effects to highly-immersive experiences like virtual reality walkthroughs, Enscape makes it possible for clients to fully envision their designs before a single brick is laid. And with the program's real-time rendering capabilities, they're also able to see changes as they're made, allowing for an unbeatable level of insight and experimentation.
Through these tools, your firm can provide clients with greater involvement, more informed choices, and more accurate expectations of their designs.
Collaborate with ease
It's not uncommon for modestly-sized firms to combat the idea that their low staff numbers make them less capable of handling big or complex projects. But the truth is, a tight-knit group that has established a well-synced collaborative flow can often give a project more thought and attention.
This dedication and level of teamwork should be emphasized in your marketing, as should any tools you use to make it possible. If you use Enscape's real-time rendering plugin for example, its intensive collaboration features can be highlighted to demonstrate how your firm achieves a superior workflow. The software's collaborative annotation tool allows teams to point out problems, make suggestions, explain design choices, and submit change requests, all within the same project design hub.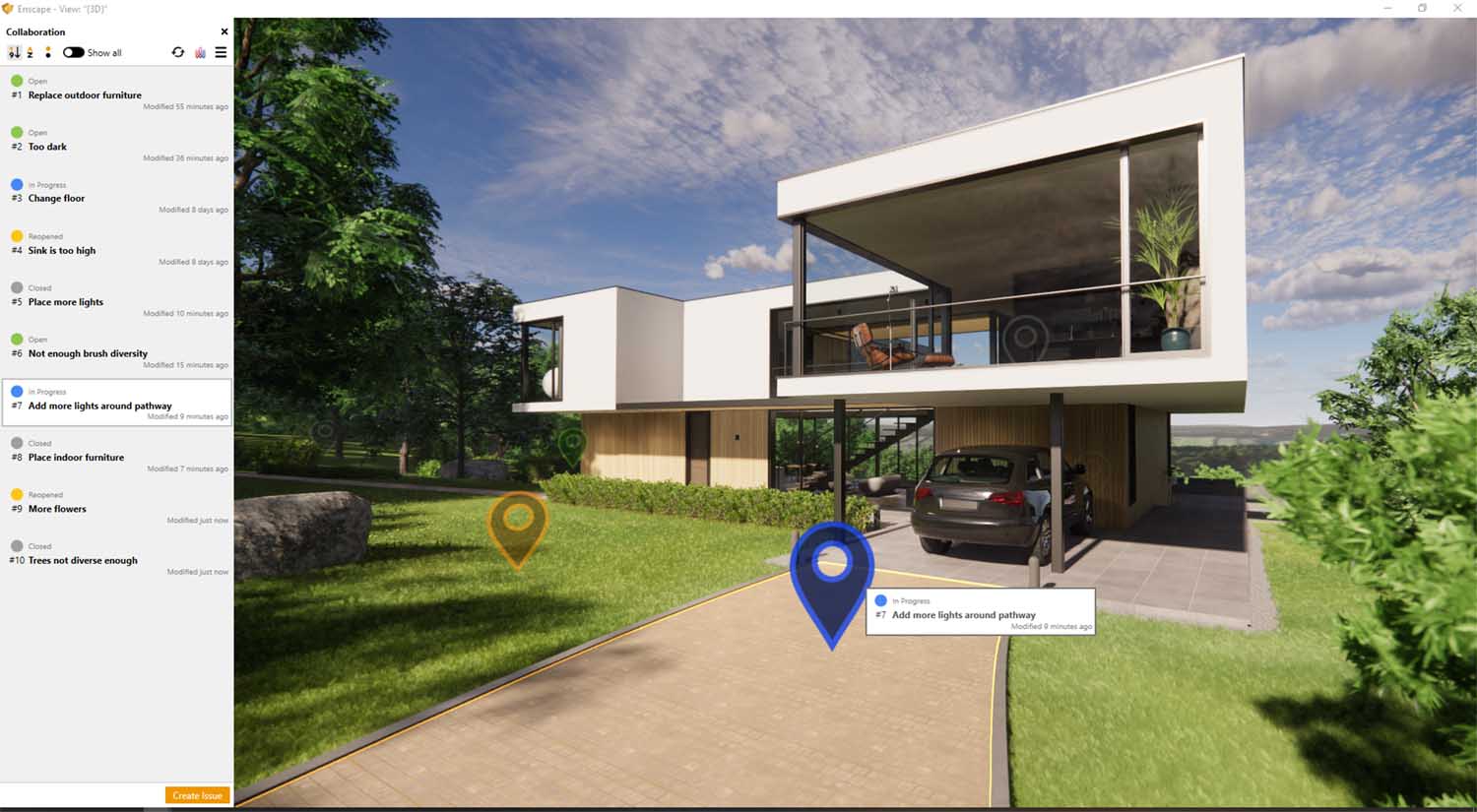 On top of this integrated collaboration feature, Enscape also allows you to export your entire model in a number of different formats for your clients to explore, including web and EXE standalone and panorama files. This makes it easy to share your rendered model with your clients wherever they are based, helps them to truly grasp your design intent and provide more informed feedback.
Knowing that your team has the ability to streamline the design process, collaborate with ease, and avoid information mix-ups can give clients confidence in your ability to deliver.
Success story: Surviving a tough market with real-time rendering
To help architectural firms survive and even thrive at this challenging time, it's not surprising that many are turning to real-time rendering with the depth of value it offers.
Steven and Kylie Garubba set up their small business, Criterion Workshop, as a result of the pandemic. They regularly use Enscape's real-time rendering tool to help visualize their designs and bring their projects to life. It has even helped them win a small city proposal during COVID-19. Read their story here:
"In April of this year (during one of the highest spikes of COVID-19 cases here in New York), a small city outside of NYC teamed up with local non-profit organizations to look for ways to keep their downtown economies stimulated in a very short time span while also serving a vibrant community which had been thriving just before the shutdown.

We were contacted by local architect, Joseph Thompson Architect, to design a convincing proposal for the city to vote on which would allow outdoor COVID-compliant dining. Our Enscape rendered design proposal to convert a small side street near a popular coffee shop into a pocket park with lighting, greenery, and properly spaced seating arrangements helped the city get the votes and funding they needed for the project. Visit this link for more information on the project.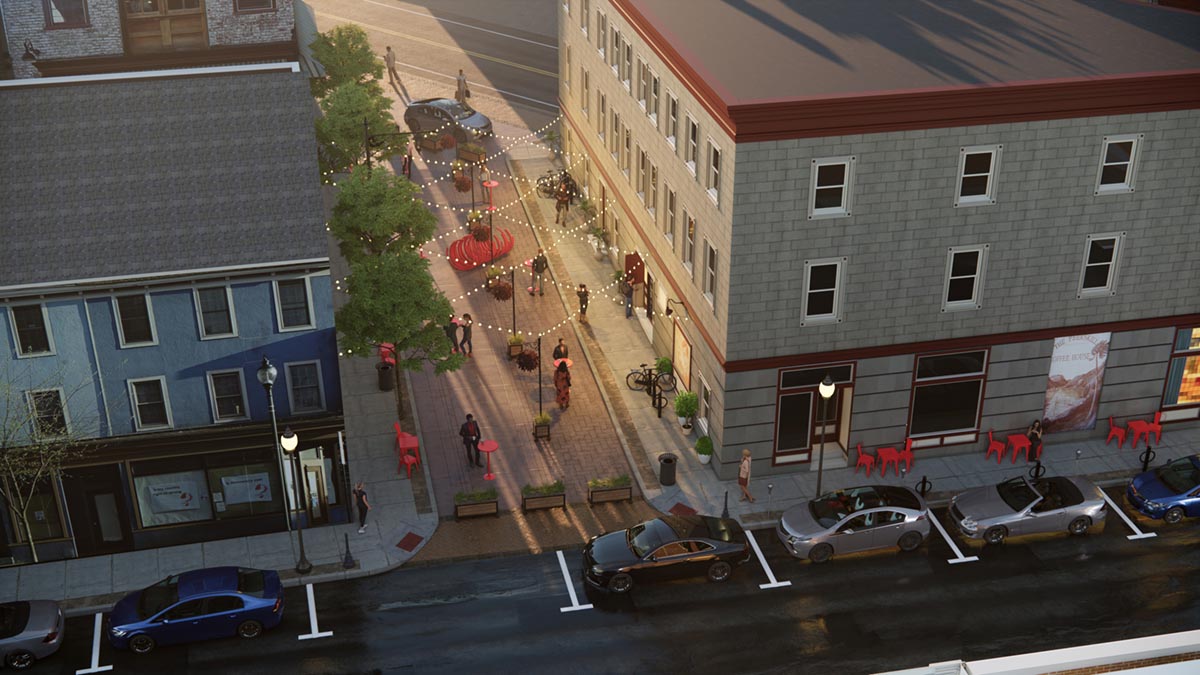 Esther Street, Peekskill proposal by Criterion Workshop (rendered in Enscape)
Real-time rendering with Enscape has helped our small business stand out and really make a name for ourselves in our field, especially during the COVID-19 shutdowns that halted the construction field. Many clients chose to have renderings done of upcoming projects to better understand design decisions ahead of constructing them with the downtime that was created from the pandemic.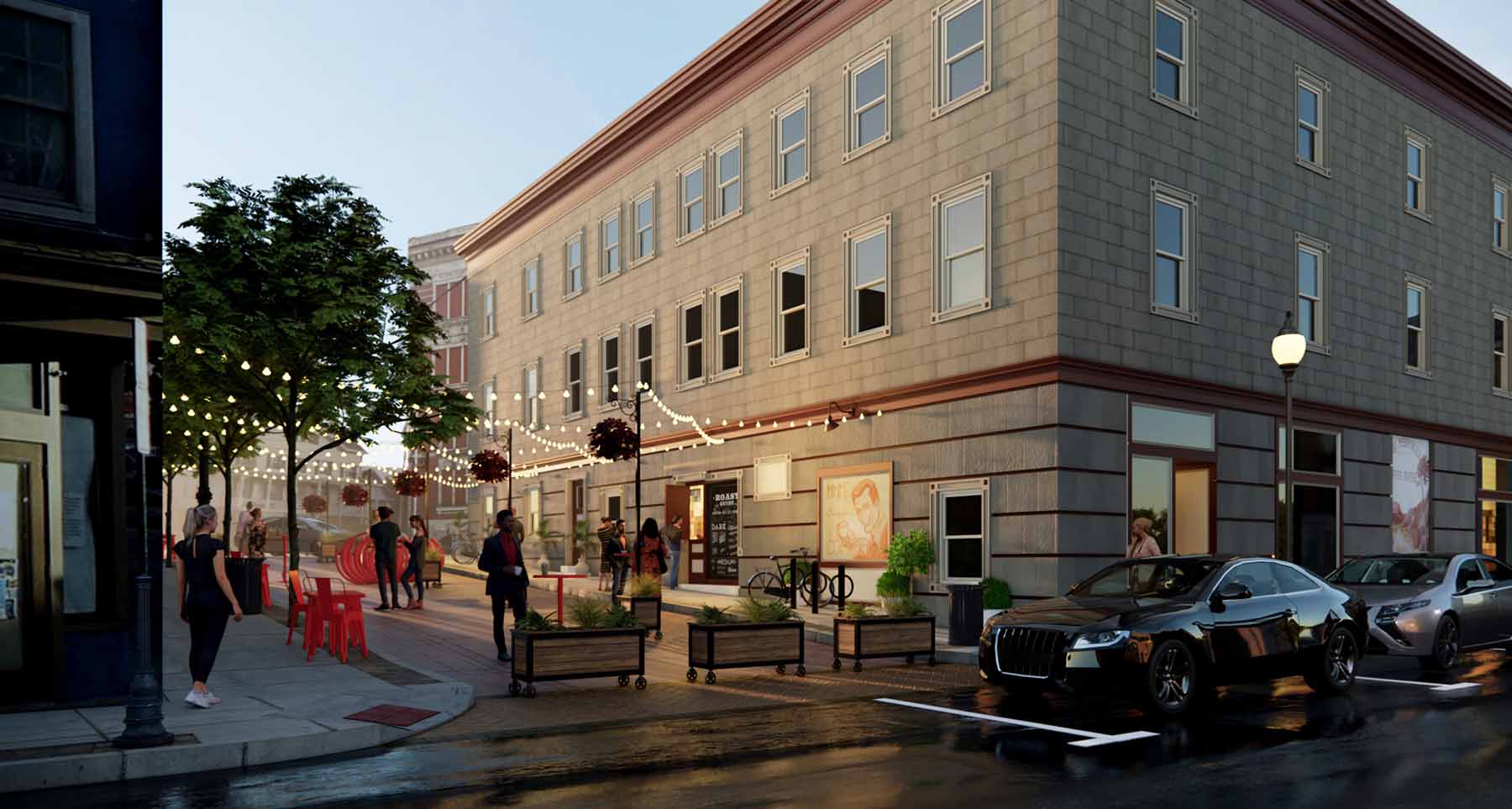 Esther Street, Peekskill proposal by Criterion Workshop (rendered in Enscape)
In just a few short years, rendering went from painstakingly waiting hours for the computer to render each pixel, to real-time live editing a 3D model and rendering. This is super efficient for us as designers, as well as incredibly helpful for clients who ask for many tiny changes along the way.

Features like the panoramic links have been extremely convincing for clients to understand design decisions that we have made remotely without even needing to meet in person that they otherwise might not have gotten from just a still image render looking at one scene angle."
To connect with Steven and Kylie Garubba at Criterion Workshop, find them on Instagram and email criterionarchitecture@gmail.com.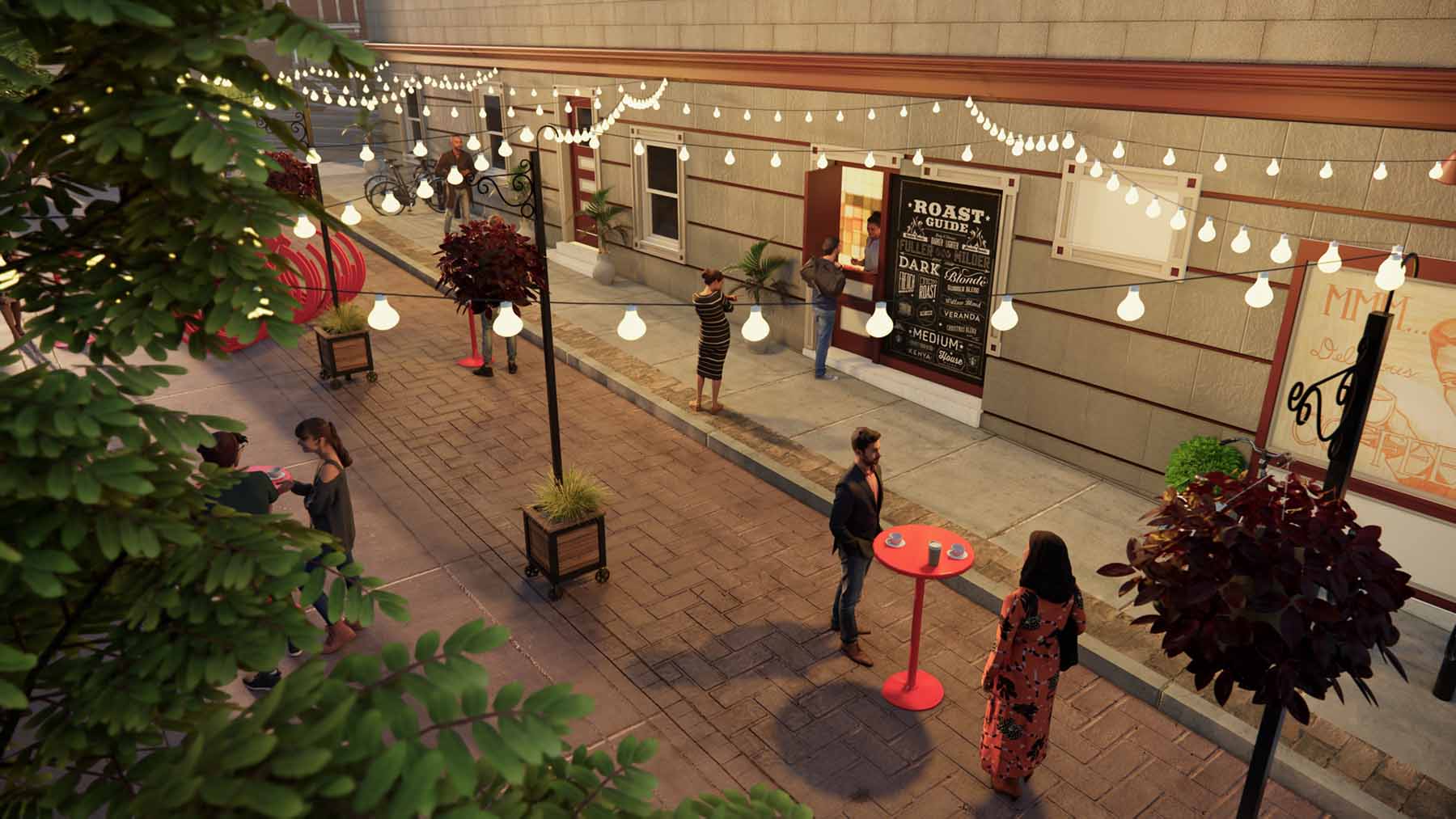 Esther Street, Peekskill proposal by Criterion Workshop (rendered in Enscape)
Boost your small architecture business with Enscape
Small architecture firms can stay competitive when they play to their strengths and seize resources that will make the biggest impact. As such, more and more small businesses are finding that Enscape is the real-time rendering and visualization tool they need to gain an advantage.
And with flexible licensing options available to you, Enscape provides you with affordable real-time rendering and virtual reality that can make a significant difference to your design workflows and how you communicate your ideas to clients.
Because Enscape is compatible with SketchUp, Rhino, Archicad, Revit, and Vectorworks, it's easy to integrate into your existing workflow. Try it for yourself without any risk using a 100% free trial.