Enscape + NVIDIA RTX: Even More Realistic Visualizations
Enscape + NVIDIA RTX: Even More Realistic Visualizations
Since its inception, Enscape has been known for its precision and simplicity, delivering offline-rendered image quality at real-time speeds. With its latest version, 2.6.1, released on November 12 2019, Enscape is now one of the first rendering engines for architects to support NVIDIA's revolutionary RTX technology, which sets the new standard for real-time rendering.
In this article, we'll look at how Enscape applied ray-tracing techniques in its real-time rendering engine in the past; how the addition of NVIDIA RTX technology now allows Enscape users to render with even more detail and accuracy than ever before, and what one renowned architectural firm thought when they tried out the impressive new rendering capabilities.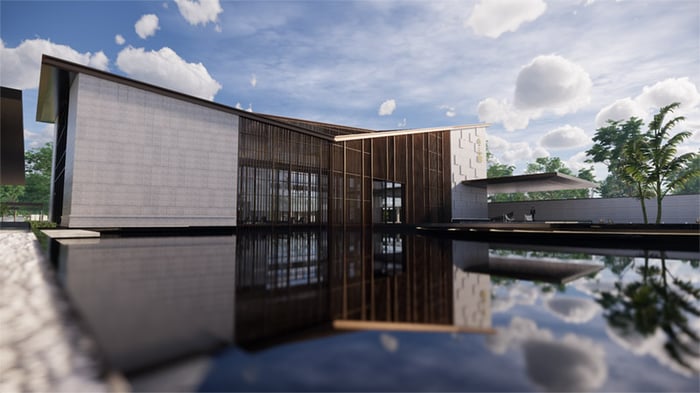 Achieve high quality reflections at any time of day. Project credit: tas_1985
Laying the groundwork
In contrast to many game engines, we here at Enscape already realized the value of showcasing ray traced lighting and reflection calculations and have done so in our real-time engine. Everything we see in the real world is a result of light interacting with the objects in our view. Ray tracing techniques emulate this effect: an algorithm simulates light rays, tracing them from the imaginary eye, or camera, to the light source. As this is fundamentally similar to how light behaves in real life, it can achieve amazingly realistic results.
It was, however, computationally taxing to run so many calculations in real-time. Tracing rays for every frame was resource intensive and required a great deal of optimization work in other areas. To achieve real-time framerates, it was necessary to partially scale back reflection quality during camera movement and the amount of geometry visible in reflections. But now, with the release of Enscape version 2.6.1, thankfully this is no longer the case.
Crisp, accurate reflections with one click. Project credit: tas_1985
Enscape + NVIDIA RTX = a winning combination
For Enscape, the advent of NVIDIA RTX technology means for the first time we will be able to achieve physically accurate reflections and diffuse, indirect lighting. RTX will dramatically enhance the Enscape experience, bringing about even better performance, light transport and reflection quality.
NVIDIA RTX allows Enscape to build on our current foundation, making it possible to ray trace more geometry in a higher resolution, at exactly the same frame rate. RTX's hardware acceleration provides us the ability to significantly speed up our lighting and reflection calculations. The faster Enscape can calculate, the more accurate the reflections and indirect lighting will be. The way you use Enscape will not change; the results you get, however, have the possibility of being more realistic, with no extra effort on your part.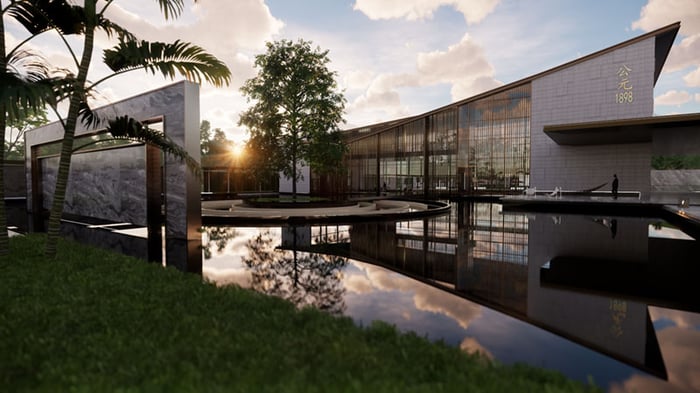 Flawless performance, even in your most epic projects. Project credit: tas_1985
Revolutionizing workflows for Turner Fleischer Architects
Fully realistic reflections have traditionally been an inherently difficult topic for real-time renderers. For developers, this has been complicated by the fact that glass is a highly important and often used design element; designers expect sharp and correct reflections. Now, RTX gives us the power we need to offer both the performance Enscape is known for and do so with highly realistic reflections.
This has come in handy for Toronto-based firm Turner Fleischer Architects. The renowned firm has always chased cutting-edge technology to convey their designs. As Turner Fleischer Principal Steve Nonis says: "Enscape has radically revolutionized the workflow and client offerings at our studio. The increased speed and enhanced quality of our renderings facilitates a totally new way for us to design, in real time, with immediate feedback. Design is always an iterative process, but Enscape has made it a dynamic one at Turner Fleischer: the tools we use can now keep-up with our creativity, allowing quick decision making and letting our clients instantly see the impact of their choices."
Trying out the new NVIDIA RTX technology with Enscape was a no-brainer. "With the addition of RTX to this mix, we can now add to the accuracy, quality and depth our visualizations, with accurate reflections, particularly on glass surfaces, bring static images to life," says Nonis.

The NOBU Project by Turner Fleischer Architects and Teeple Architects Inc.

Impressive reflections in this towering Turner Fleischer project
If you'd like to start creating your own realistic visualizations, try Enscape free for 14 days.


Bio:
Helen Reinold is part of the Customer Service team at Enscape. Since joining the company in 2018, she has also regularly contributed articles to the blog. She strives to not only solve users' problems, but also elevate their experiences and results.
Subscribe to Our Blog
Get the best tips and articles delivered straight to your inbox!