This article will show you how to change a material with the 'Replace with Enscape Material' function, available with Enscape 3.3 and above.
This is a significant workflow enhancement and will save you time having to import and export Enscape materials manually. Please note that at this time, this only applies to the pre-loaded materials that are available in the Enscape Material Library.
The Enscape Material Library and Material Editor
Enscape provides both a Material Library and a Material Editor. The library contains a selection of ready-to-use PBR materials and maps that you can import as native materials into your design application. You also have the option to edit them further to create the desired look for your project with the Enscape Material Editor.
Additionally, you are able to import materials from other sites, such as textures.com, but only to the Material Editor.
Once materials are in the Material Editor, you can assign them to surfaces in your project via your modeling software.
How to replace an existing Enscape material
For any existing material in your project, click on the three dots next to the material in the Enscape Material Editor and select 'Replace with Enscape Material'. This will open the Material Library, where you can browse and choose the Enscape material you would like to use to replace the original one with.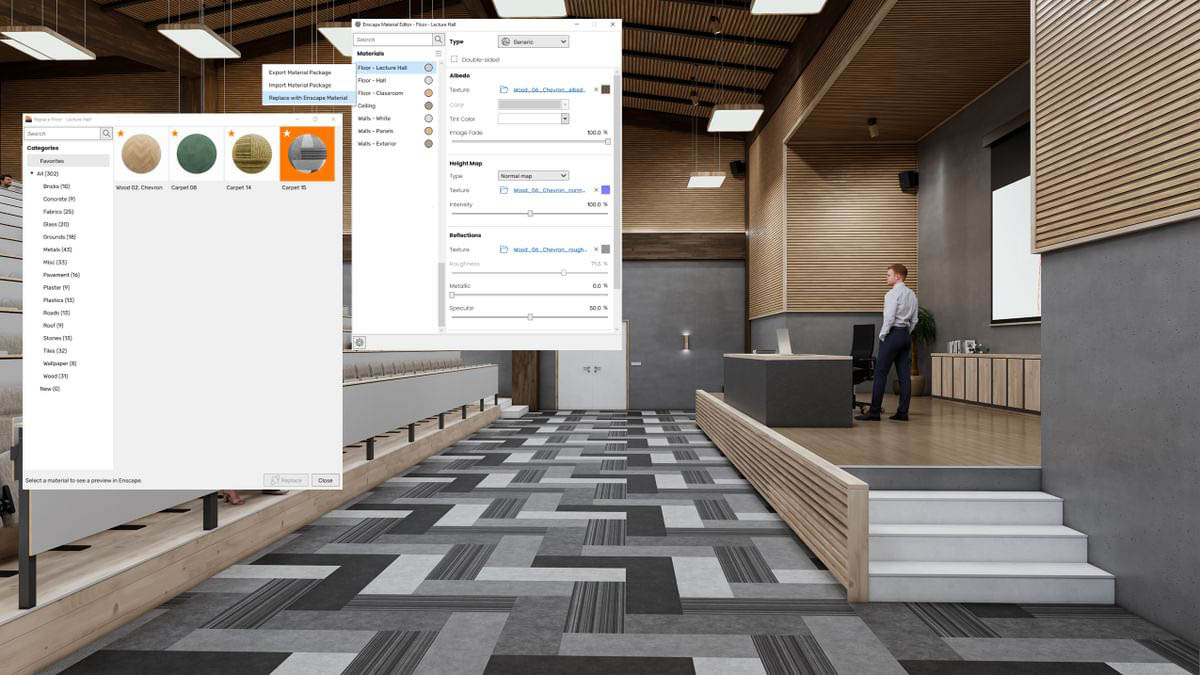 Click a material to see it represented in the Enscape visualization immediately. You can test different material looks at this point by simply clicking on a material you'd like to see in the rendering window. The material will update on any surface that had the original material assigned to it.
Once you have found one that you like best, click 'Replace'. The original material will stay assigned to the existing geometry and keep all the additional information it may hold. But its visual features will be replaced with the selected material.

Take a look at this short tutorial to see how it works!


More information on how to use materials in Enscape and your specific modeling tool can be found below:

Knowledge Base support articles:
Further reading: