What's unfolding in the AEC industry today? How are architectural technology's driving forces shaping the field, and what role are innovations like real-time rendering and AI playing?
In June 2023, Enscape and Architizer teamed up to probe these intriguing questions. Together, we reached out to 2,139 professionals within the industry through a comprehensive survey, seeking their thoughts and experiences. The survey aimed to shed light on the trends, challenges, and opportunities that are shaping the field, especially concerning real-time rendering and AI.
Architizer delved into the survey results and compiled an in-depth report to illuminate the insights and trends.

In this article, we will explore the key findings from the report, focusing on specific insights and takeaways that can guide practitioners and stakeholders in navigating the complexities of modern architectural practice.
Whether you are an architect, designer, engineer, or simply interested in the technological advancements of the AEC industry, these insights are sure to provide a glimpse into what lies ahead.
Who took part in the survey?
The Future of Architectural Visualization survey reached a diverse group of professionals, from freelancers to large firms, although it's worth noting the majority of the responses came from mid-sized and larger organizations.
Moreover, the survey had a global reach, with representatives from countries around the world, but the most substantial portion was based in the United States, comprising 73% of respondents.
Lastly, a significant majority of the participants, 92%, specialize in architecture and/or interior design.
This rich mixture of backgrounds and specializations helps to shape a multi-dimensional view of the industry, paving the way for more tailored strategies and innovations.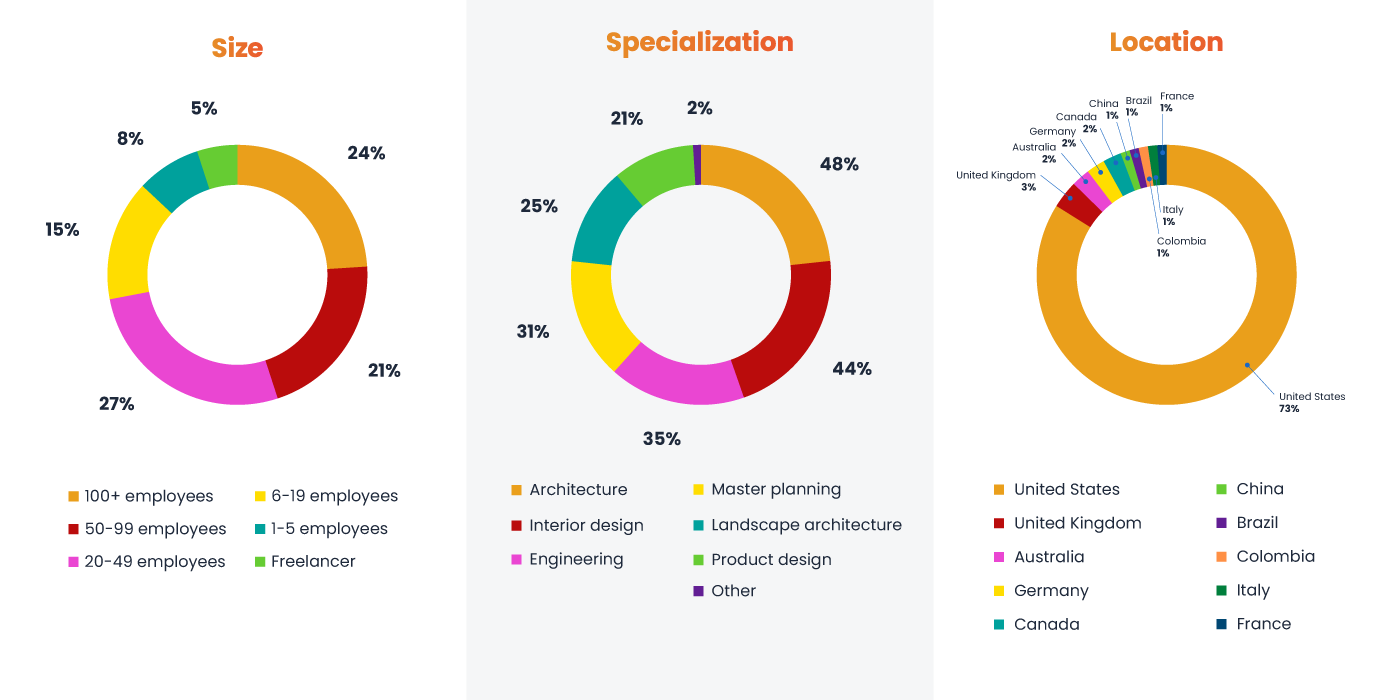 Key findings
From our investigation into the effects of real-time rendering and AI on the architectural process, our data revealed:
Over 75% of architects and designers use real-time rendering weekly, with 27% using it daily.
Significant benefits are seen in real-time rendering, leading to streamlined design processes.
Nearly half of the respondents chose the lack of integration between real-time software and design modeling software as their biggest challenge.
3 out of 4 firms produce their architectural visualizations in-house.
A combined 83% of professionals have returned to the office, either full-time or part-time, which may have impacted the adoption of new technology.
55% of surveyed participants are currently exploring or adopting AI-driven solutions.
The future projection indicates a likely dominance of real-time rendering and AI in architectural visualization.
With these insights in hand, we invite you to explore the detailed findings, shedding light on what architects and designers can glean and apply from these evolving trends.
1. Real-time rendering is an essential part of architectural workflows, enhancing speed and efficiency
More than 75% of designers utilize real-time rendering daily or at least twice per week across all firm sizes, with freelancers almost twice as likely to use it daily. In addition, nearly half of the respondents are looking to invest more in the next year.
Key benefits include speeding up the design process, quickly applying and reviewing material options, walking through models with clients, and instantly reviewing daylighting in 3D.
Challenges persist, however, with 47.8% of respondents citing a lack of integration with design modeling software as their biggest issue.
TAKEAWAY: Real-time rendering has become a critical tool in the architectural industry, not just for creating images but also for decision-making and collaboration. With increased investment and integration solutions like Enscape, its importance is set to grow and overcome existing challenges.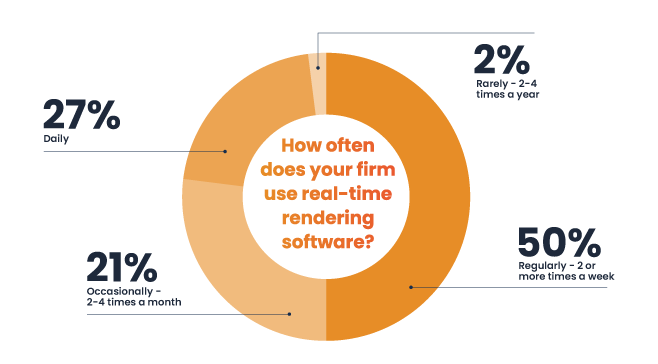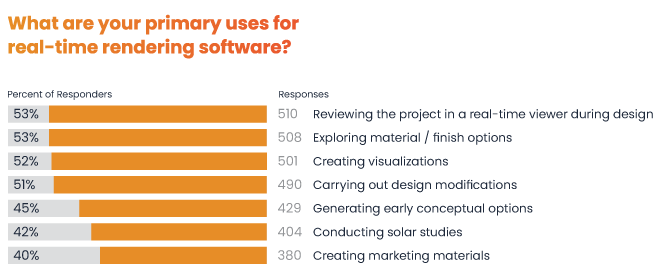 2. The return to office could be catalyzing the adoption of new technology
55% of respondents have returned to the office full-time, with an additional 28% part-time, a significant increase from remote working since the COVID-19 outbreak.
This shift may be due to the unique benefits of an architecture office, where specialized hardware is more readily available, knowledge sharing between colleagues is more common, and designers can conduct dynamic in-person meetings.
TAKEAWAY: While technologies like real-time rendering are accessible both in and out of the office, a centralized location appears to streamline the use of these tools and accelerate the adoption of new technology.
That being said, it's worth noting that there are firms who are embracing the hybrid work model and are adapting their technology strategy to better enable onsite and offsite collaboration: Enhancing Collaboration: Inside Lake|Flato's Wireless & Zoom-Enabled Workspace.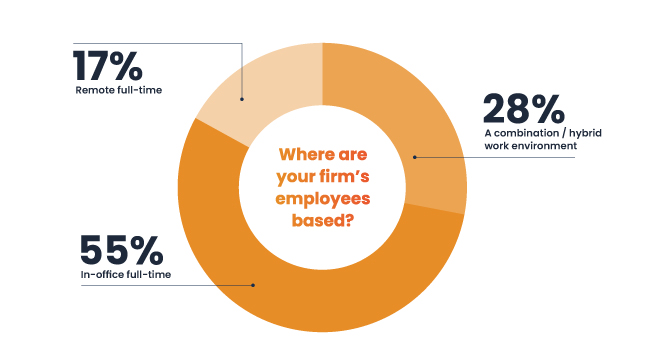 3. Architectural visualizations are mostly produced in-house
Over 75% of firms create architectural visualizations in-house, either by dedicated experts or designers. This practice is prevalent across different firm sizes, with outsourcing being relatively rare.
Even among larger firms, at least 25% require designers to produce their own visualizations, while freelancers and very small firms are more likely to produce visualizations in-house. A minority (8.8%) of respondents use a combination of in-house and outsourced services.
TAKEAWAY: The substantial preference for in-house visualization, including real-time rendering, underscores a significant trend in the industry. It highlights a requirement for architects to have a foundational understanding of visualization techniques, reflecting a shift towards greater autonomy and expertise within firms, regardless of size.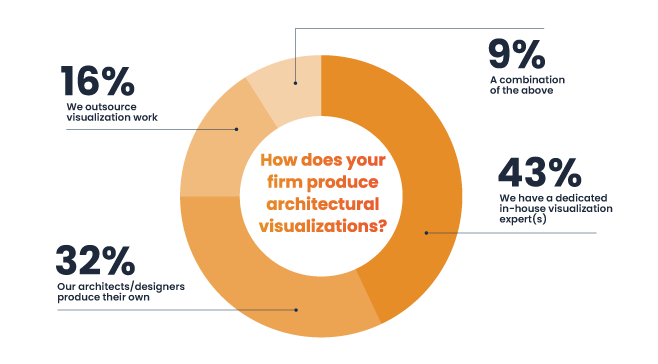 4. AI is quickly catching on in architectural visualization
AI's impact on architectural visualization is unfolding at a rapid pace, with 55% of survey respondents either fully embracing AI or actively experimenting with it.
What's even more noteworthy is the parallel between AI and augmented reality (AR) usage, with 19% utilizing AI for visualizations compared to a nearly identical 20% using AR — a technology that's been around for much longer, while AI has been widely available for only less than a year.
While adoption appears fairly consistent across various firm sizes, larger firms are leading the way, possibly due to greater resources, while smaller to medium-sized firms show a more cautious or even resistant stance towards AI integration.
TAKEAWAY: The rapid adoption of AI, especially among larger firms, signifies a disruptive transformation in architectural visualization. The quick uptake, even compared to technologies like AR, indicates AI's potential impact on the industry, promising efficiency, affordability, and a new frontier of capabilities.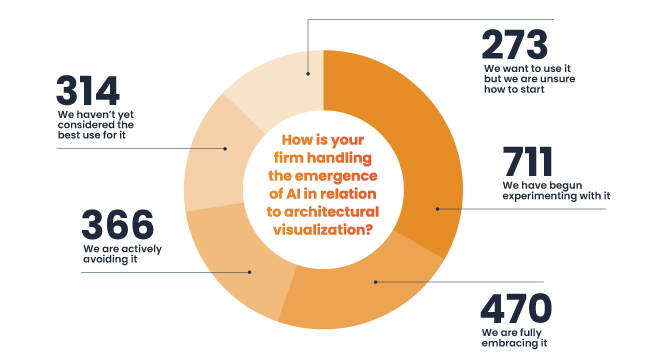 5. The future is likely to be dominated by real-time rendering and AI in architectural visualization
Real-time rendering and AI tools are emerging as the future of architectural visualization workflows. About 50% believe more intuitive and dynamic visualization tools will become available, with 37% intending to invest more in AI over the next year.
Larger firms are more active in embracing AI, with over 30% doing so, compared to just 8% in smaller firms with 5 employees or less. AI-assisted visualizations are expected to become more prevalent, right behind real-time rendering, which takes the top spot. Trailing them, VR and photorealistic rendering remain indispensable tools in the field.
TAKEAWAY: The industry's inclination towards real-time rendering and AI signals a significant shift in architectural visualization and design. Their combined rise highlights a likely path towards industry-wide standardization, reflecting the essential roles they will play in enhancing efficiency, flexibility, and innovation in the profession. The data reveals a clear trend that both real-time software and AI tools are not merely temporary trends but integral elements in shaping the future of architectural practice.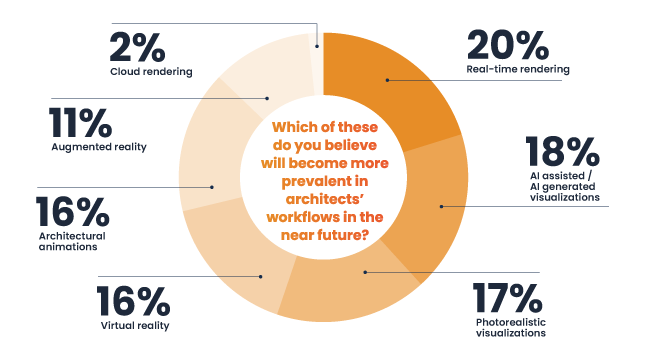 Overview
The survey conducted by Enscape and Architizer emphasizes the transformative roles real-time rendering and AI are playing in the architectural field. With a majority of professionals leveraging these technologies, they are fast becoming industry standards, enhancing efficiency, innovation, and responsiveness.
Real-time rendering is creating instant connections between design and visualization, while the rapid adoption of AI highlights a technological revolution in progress. Enscape, offering a seamless real-time rendering and VR plugin, is contributing to this transformation, empowering architects with user-friendly and interactive visualization tools.
These are not just temporary trends; they signify a significant shift in shaping the future of architectural practice, with tools like Enscape positioned at the forefront of this exciting evolution.


Interested in exploring these trends further? Dive into the comprehensive report by Architizer for an in-depth look at the key findings and insights.