It's always such a pleasure to announce when an idea from the Enscape community makes it into the big wide world.
And today is one of those days 😀.
Ray-traced colored sun shadows are now available in Enscape! And to help make those shadows really pop, we are launching support for the NVIDIA shadow denoiser to minimize noise along the edges of sun shadows, especially when there's camera movement.

These updates are available for free to existing users when downloading the new service pack.
What are colored sun shadows?
Well, the name kind of gives it away😉, but this new functionality allows users to view and render colored sun shadows in Enscape. That means that sunlight (not artificial light) that travels through colored glass will create a colored shadow, giving you the opportunity to unleash your color creativity!

When Ray-Traced Sun Shadows are enabled (General Settings, Rendering tab), semi-transparent geometry will cast shadows with the opacity and tint color contributing to the appearance of the shadow. The tint color can be applied in the Enscape Material Editor.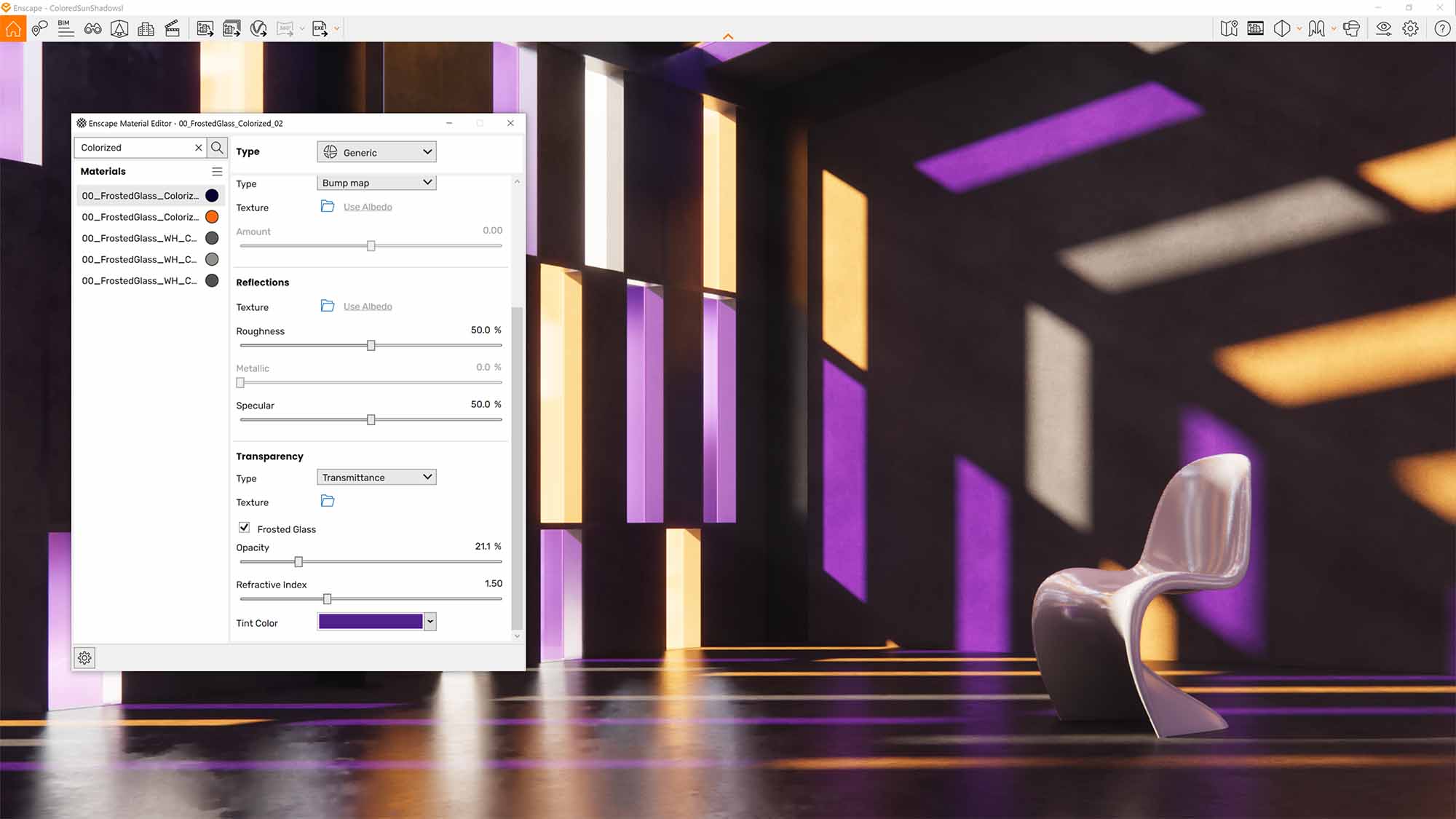 Colorful glass can give a very special atmosphere to a building, and light rays that travel through colored glass create amazing colored shadow effects.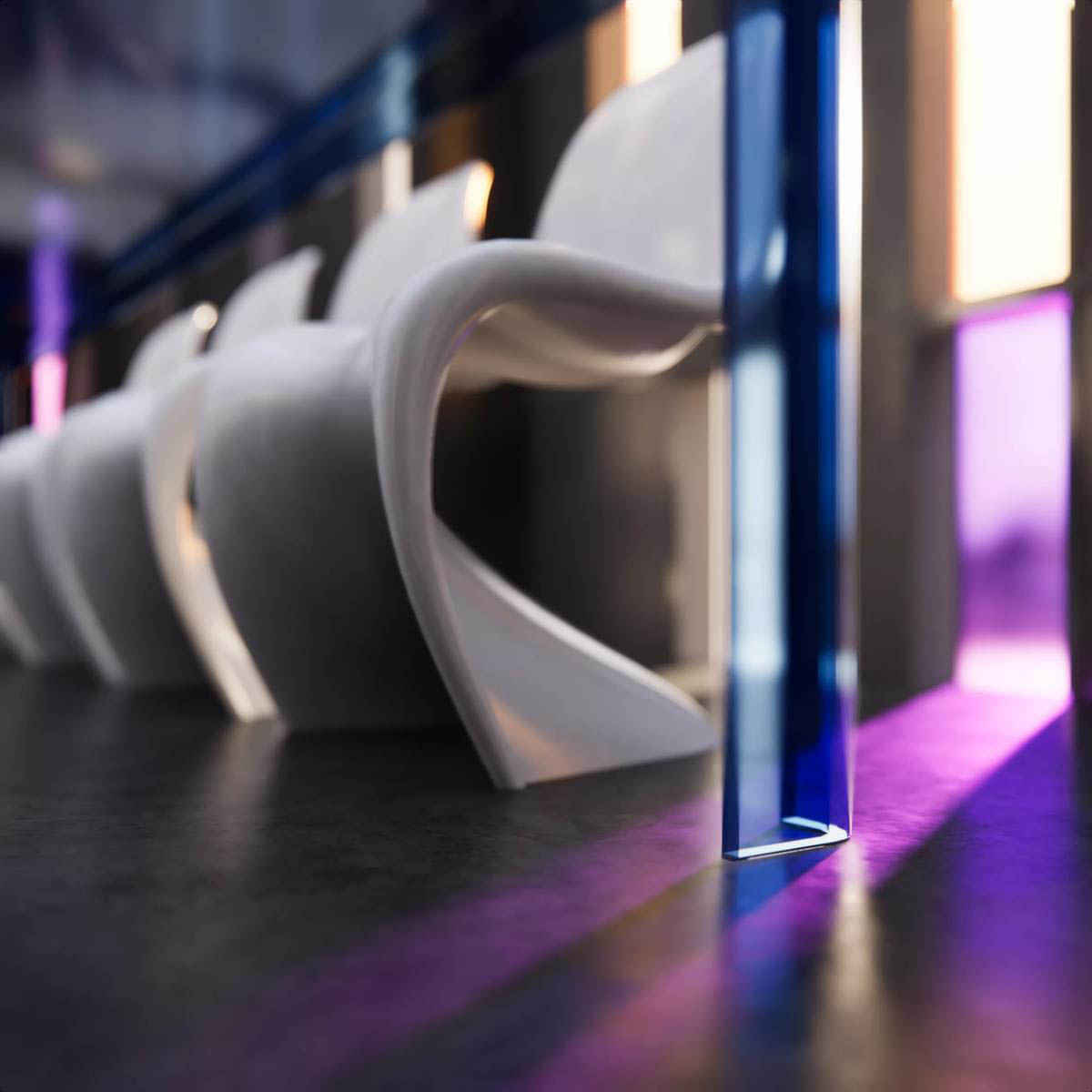 How colored shadows appear today (left) and before (right)
Will this work for stained-glass windows?
If you're looking to create a stained-glass window effect, you'll need to model the window geometry separately for each piece of glass with a different color in the pattern.

Just adding a texture map won't give you the right shadows, and unfortunately, there's no way around this at the moment (unless you switch rendering tools and use V-Ray to achieve this effect). It's something that we're working on, though, and we'll provide you with an update as soon as we have one.
Which graphic cards are needed?
Colored sun shadows work only on computers equipped with graphics cards capable of hardware ray tracing when 'Ray-Traced Sun Shadows' is enabled in the General Settings.
NVIDIA Shadow Denoiser
Once Ray-Traced Sun Shadows are activated in Enscape, the new NVIDIA Shadow Denoiser becomes accessible. This minimizes noise along the edges of sun shadows, particularly when there's camera movement.

Head over to the General Settings, and inside the Rendering tab, make sure to activate both Ray-Traced Sun Shadows and the NVIDIA Shadow Denoiser for optimal rendering outcomes.

Please be aware that this has an impact on your rendering performance, so if you're looking for speed, make this adjustment at the end of your workflow.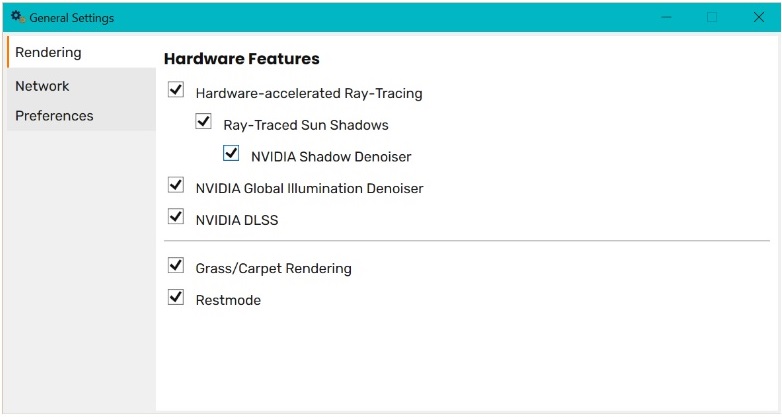 Oh, and one more thing
Download Enscape 3.5.3, and you'll see our sleek new logo in the Enscape toolbar and various windows. This logo will start to make its way onto our website, social channels, emails, and more in the next few weeks. We hope you like it!
Download Enscape 3.5.3
Download the Enscape 3.5.3 service pack (which is free to existing users), and start adding a splash of color to your renders!