Architectural rendering or architectural visualization as it's often referred to, is a process used by architects and designers to help illustrate their designs in striking reality.
Historically, 3D digital visualization has been a time-consuming process reserved for specialists. But with Enscape, it's different: you can instantly transform your models into high-quality visualizations and immersive experiences in real time.
Below, we explore a few reasons to use Enscape's architectural rendering software to create beautiful, ultra-realistic visualizations to help validate your ideas and showcase your projects.
1. It plugs directly into your design software
One thing that our users love about Enscape is that it's a real-time renderer that plugs into their CAD/BIM software – whether that's Revit, SketchUp, Rhino, Archicad, or Vectorworks.
The ability to seamlessly integrate into your design program makes Enscape accessible to anyone. No additional training is required, there's no need to export your files to a separate program or upload them to the cloud – everything that you see and change in your model is instantly visualized in Enscape.

2. You can see your architectural rendering in one click
Clicking the 'Start' button immediately transforms your model into a lifelike architectural 3D rendering.
By integrating directly with your CAD or BIM model, and thanks to some clever Enscape magic, you can quickly create renders with just one click. It's beautifully simple to use, which makes it a firm favorite amongst users.
What inspires me is the ease of use. I am impressed in how easy it is to open the render, see a material doesn't match the texture, color or finish required. I make the change in the material library in Revit, update the properties and images and snap! It's done! I view it in Enscape, as near to live as possible…
Pierre Venter – BIM Manager, BIM Initiative
3. You can quickly validate your ideas
Real-time rendering software allows you to render in the moment, allowing you to validate your ideas at any point during your design workflow.
With Enscape, not only can you walk through your design in a matter of seconds, but you can also put on your virtual reality goggles, walk around your project, test out your ideas and see how they would translate into reality.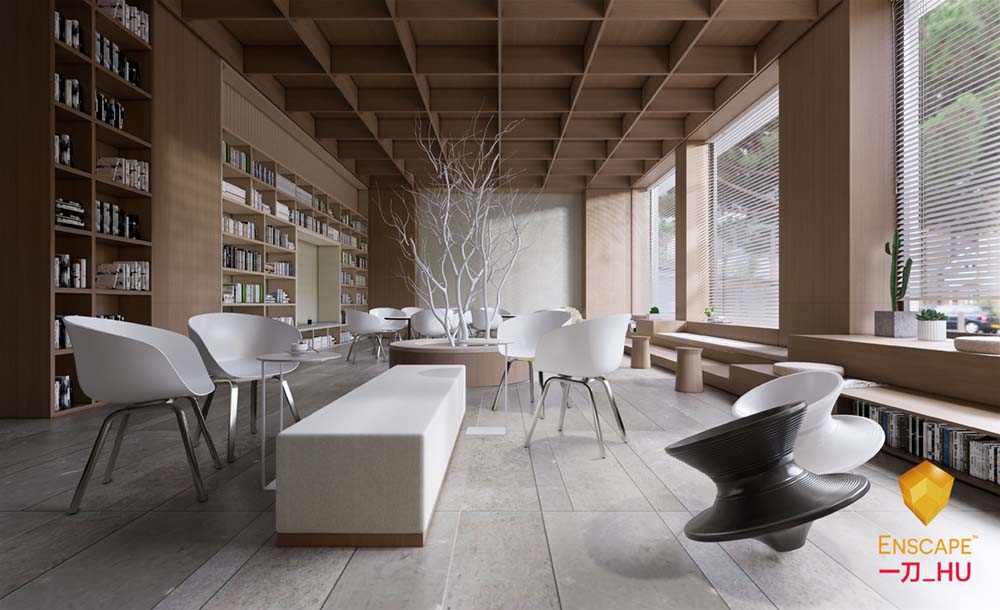 Image credit: Enscape user Jason_Hu
4. Enscape helps to shorten the trial and feedback loop
As an architect and designer, you understand the importance of receiving feedback to help you create better designs and better architecture.
By incorporating Enscape into your processes, you can accelerate your workflows by shortening the trial and feedback loop.
Being able to show an array of assets such as orthographic views, animations, panoramas, or architectural 3D renderings at various stages of the design process, can help to accurately communicate your design intent and ensure that everyone is on the same page.
Collaboration is improved, feedback is of higher quality and decision-making happens faster thanks to an improved understanding among all those involved.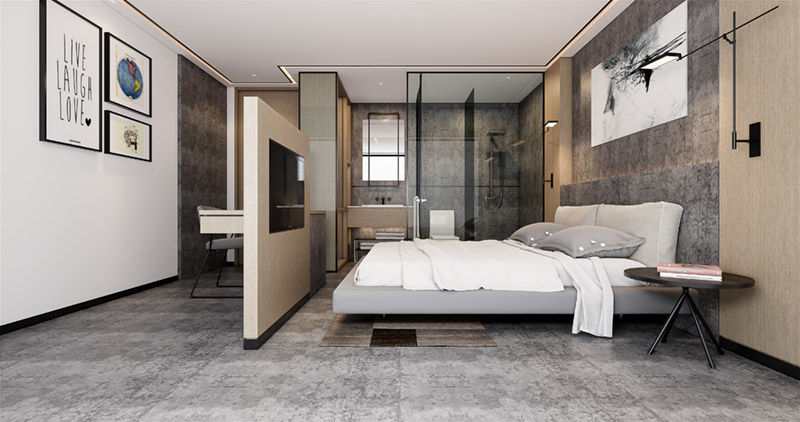 Image credit: Enscape user Jason_Hu
5. Virtual reality is included at no additional cost
A major step towards being able to experience a building before it's been built is through virtual reality.
VR provides you, your colleagues, and your clients with a full 360-degree view of your project. This helps everyone to perceive the actual scale of a space which is an invaluable aid when reviewing and even creating a design.
Since everyone gets to engage and experience a model in a lifelike simulation, it's easier to discuss details that may not be so easy to see and comprehend in another format.
And the beauty of a tool such as Enscape is that it's incredibly simple to use. You don't have to outsource the creation of your virtual reality experiences – instead, just one additional click in your BIM software, and your VR headset will start displaying your model in Enscape. It's that easy!

Check out this case study which explains how architect Jeffrey Pinheiro (The Revit Kid) is using virtual reality to conduct final inspections before construction even starts.
6. High-quality assets are included
To help bring your designs to life, you can choose from over 3,000 high-quality ready-to-use assets from Enscape's asset library (which now includes animated vegetation!).
We have a dedicated design team who love to create realistic accessories, people, vegetation, vehicles, furniture, and lights to name just a few of the categories. And this list keeps on growing!
These assets can be added to your scenes in seconds, helping to add context and take your designs to the next level.
7. It's the perfect companion to your design workflow
Enscape is a workflow-optimization tool that can accompany you at every stage of the design workflow, thanks to its direct integration into your CAD / BIM software.
We often hear from customers who love to design on one screen and visualize on another. With Enscape's simultaneous editing and visualization capabilities, you can visualize as you design and make changes to your model that can be viewed in real time.
I love the instant connection between your CAD app and the Enscape model, it just makes archviz a lot easier working with two monitors.
Yannick Douw - douwdesign.com
Plus with so many built-in features – you have the tools you need, right there when you need them. Whether you need to create still images or an animation, walkthrough your project to validate your ideas, add notes to your render or view BIM information – everything is in one place, providing you with one very powerful design and visualization workflow.
8. It's excellent value for money
If you're looking for rendering software that provides you with high-quality renders, that's easy to use and cost-effective, then Enscape could be the right tool for you.
Our pricing model makes real-time rendering affordable. You can choose from a monthly or annual payment plan and floating or fixed-seat licenses so it's easy to find a plan that works for you.
And the best thing is that no matter which plan you choose, you'll get access to all of Enscape's features!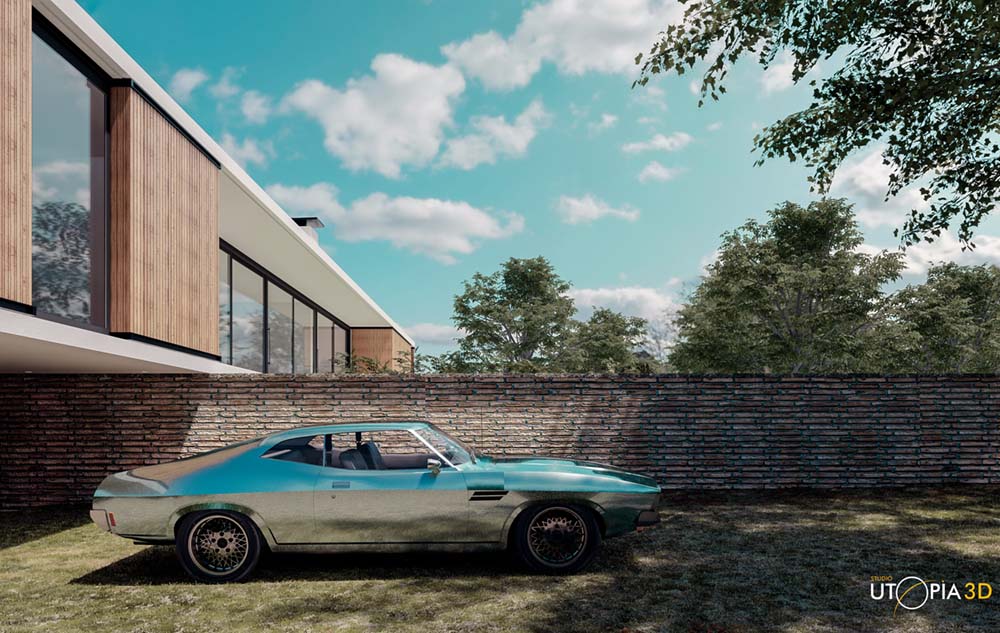 Image credit: Enscape user Elnata Fernandes
In Summary
Architectural rendering is becoming an integrated part of the architect's design workflow. And it's easy to see why.
As we've discussed here, there are many benefits to being able to produce your own 3D renders, as well as utilizing virtual reality to help validate your ideas, communicate your design intent, and wow your clients.
Every day, we're mesmerized by the beautiful visualizations that our users create and share with us (if you've not visited our showcase page before, I'd strongly encourage you to do so – truly inspirational!).
If you'd like to learn more about Enscape, check out our upcoming webinars and take out a free trial and give it a go!