Designing the World's First-Ever Commercial Spaceport
Designing the World's First-Ever Commercial Spaceport
How do you go about designing something that has never been designed before, like a spaceport?
Viewport Studio, an award-winning architectural and design firm based in London and Singapore, took on the challenge set by Virgin Galactic to design the world's first-ever commercial spaceport.
Read how unparalleled customer experience and real-time rendering helped to successfully deliver this major project.
Designing Something New and Unique

Viewport Studio were tasked with designing the interior of Virgin Galactic's commercial spaceport – the first of it's kind in the world.

The design theme was "elevating the human journey" and Viewport Studio took inspiration from the New Mexico desert, a beautiful environment rich in color and texture, where the spaceport would be located.
The project involved designing two floors of space which consisted of the ground floor interior, a restaurant, an office and spaceship control room. Since the space would be used by future astronauts and their family and friends, together with onsite staff supporting clients and pilots, it was critical that the Viewport Studio team considered the overall customer experience when creating their designs.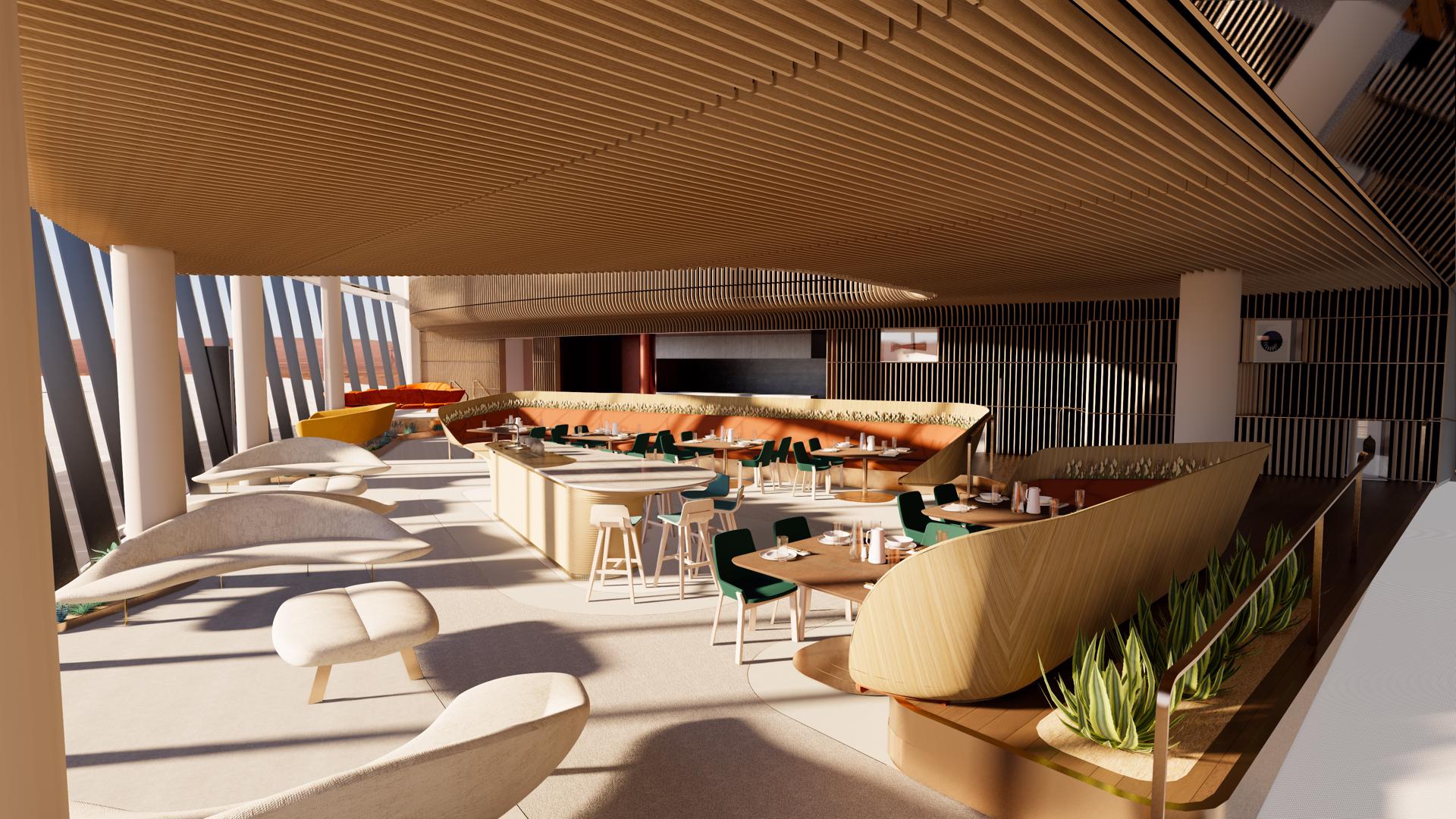 Using Enscape to Design in New Ways
Viewport Studio looked to Enscape to provide them with the cutting-edge technology that they needed to deliver Virgin Galactic's "Gateway to Space" project.
Not only was Enscape used to help the design team conceptualize and visualize their designs, but video walk-throughs enabled them to show the client exactly how the space would work and resulted in important changes being made.
"We mocked up the barista coffee station in the middle of the space to be the center of attention for daily function. However, after reviewing with the client and their head of service, we realized the staff will have a hard time reaching the customer on the other side of the table, so we amended its dimension," explains Viewport Studio Director, Gautier Pelegrin.
"In another instance, we used an exported walk-through on-site and it made the client understand the importance of the position of the machines around the barista station so that the station could be free of machines and used for evening events and assume a different role in the space."
Being able to collaborate with external consultants was also important to the team.
Using Enscape to create detailed and accurate mockups, Viewport Studio was able to demonstrate to consultants how they could maximize the use of lighting at the spaceport. This resulted in animated lighting attractions such as the astronaut walkway, with a mirrored ceiling made entirely out of interactive LED screens, which led astronauts and pilots down the walkway towards the spacecraft.
Successfully Using Virtual Reality In Client Meetings
With the "Gateway To Space" project, Enscape's virtual reality function became a regular feature of client meetings, since it helped to communicate design intent and reduce testing iterations by at least 20-30%.
"The VR function quickly became a staple of all our meetings. It enabled viewings of every single area of the project to the users of the space and it allowed us to check simple ergonomics of the bespoke furniture we designed.
"As your eye is naturally trained to detect abnormal proportions, we didn't have to worry about whether this sofa wasn't deep enough, so we were confident with what we gave to the manufacturers."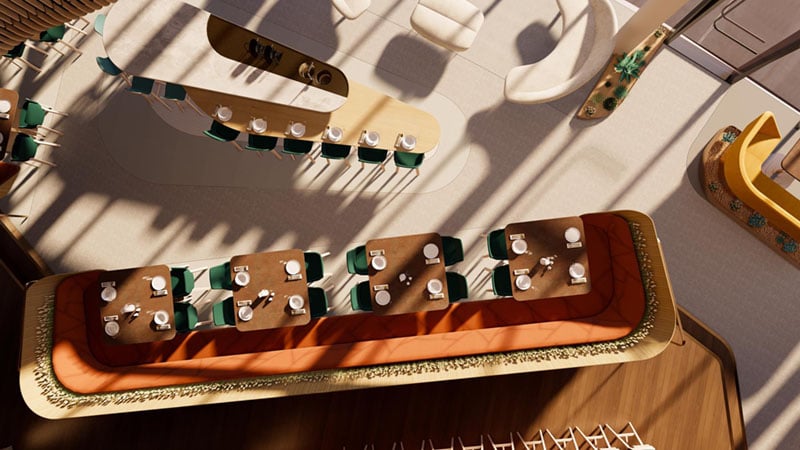 Delivering Unparalleled Customer Experience
By utilizing Enscape's features and functions including virtual reality, live visualizations, and walk-throughs, client presentations were better and design amendments could be made in the moment – which all contributed to faster decision making.
"Globally, Enscape supported us in testing, experiencing, and presenting our concepts to the client with a speed in producing media that we never experienced before."
Unparalleled customer experience is a value that is incredibly important to Virgin Galactic, and by using Enscape, Viewport Studio was able to offer their client their own enhanced customer experience.


Bio:
Gemma is responsible for the Enscape Blog, and loves to share educational and inspirational stories with our readers. If you'd like to get involved and contribute to the blog,
get in touch
with Gemma!
Subscribe to the Enscape Newsletter
Join 300,000 people and get the latest news and our very best content.
Blog posts
Release notes
Upcoming webinars
Latest announcements