The call for more variety in the Enscape Asset Library is always a popular user request, which is why we're happy to introduce a new asset package. But this isn't just any asset package 😉. What makes this one special is that the collection of people assets we're adding to the library is unique to Enscape—you won't find them anywhere else!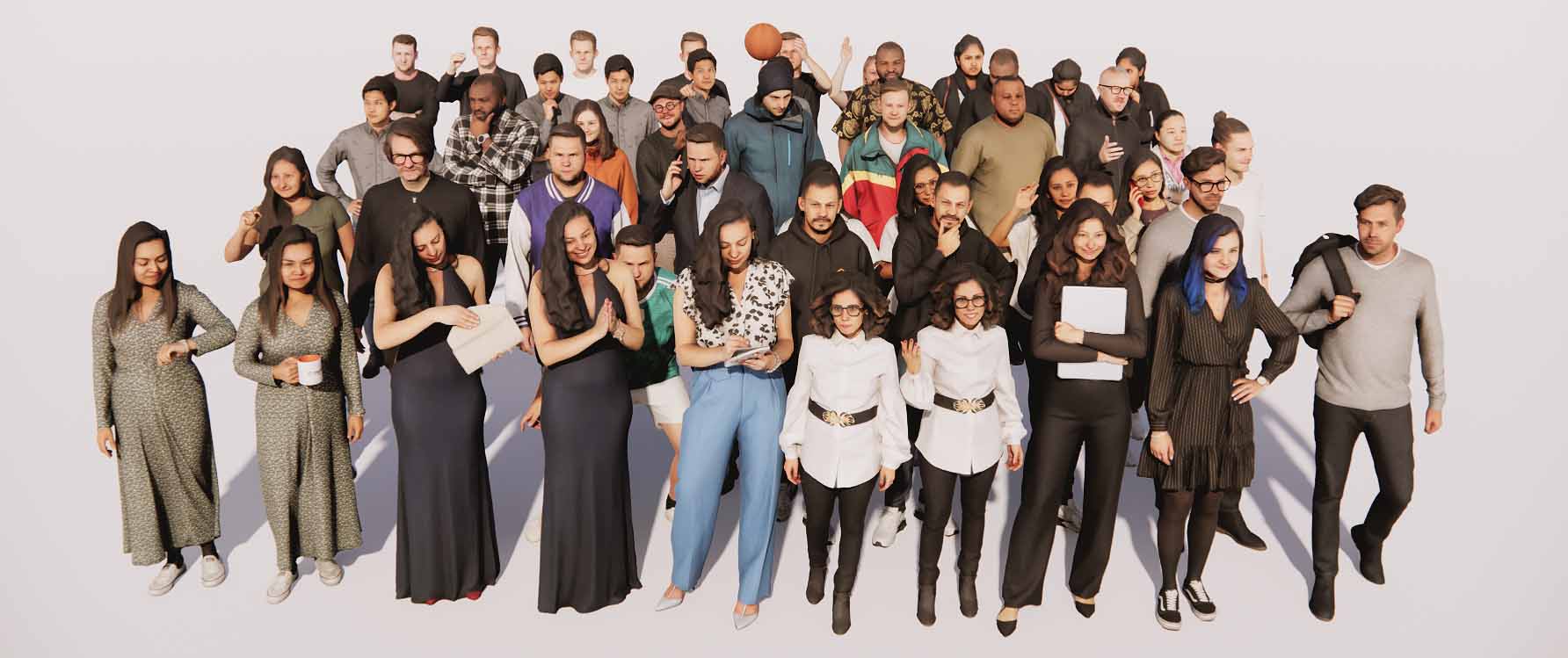 Exciting and innovative technology
Mid-last year, Enscape invested in a 3D scanner that lets us scan real-life people and turn them into assets. An exciting and innovative technology, the scanner enables our team of 3D artists to carry out requests for independent asset creation.


Our new 3D scanner lets us expand our asset libraries with high-quality content. The independent flexibility allows us to effectively respond to requests and helps everyone that takes advantage of our ecosystem. Additionally, our scanner is portable, we can use it directly at our tradeshow booths and other events.
Adrian Renner, Team Lead 3D Artists Virtual Reality


Liven up design scenes with unique people assets
The new asset package includes 53 people models. The focus was to have more variety in people assets. Now you can enjoy people in various poses, wearing different outfits and accessories, and with faces from around the world.

With this collection, you can elevate projects and presentations by:
You can access the new assets via Enscape and, in March 2023, in Chaos Cosmos as well.
They are under the People category in the Enscape Asset Library, marked with a "new" label, and can be found by using the "exclusive" tag. They appear automatically in older versions of Enscape and in any of the previews for Enscape 3.5 installed for Windows. Availability for macOS will follow shortly.

If you'd like to learn the best practices for navigating the Enscape Asset Library, we've got it covered in this article.
We value your feedback
This is just the beginning! We plan to gradually add more to this category of assets. If you have a particular asset request or general feedback, head over to the Enscape Portal and click on the "Submit an idea" button. We appreciate your feedback as it helps us develop our product and bring it to the level it needs to be.
Try for free!
If you're an existing Enscape user, you can start adding the new assets to your visualizations today—just make sure you're working with an applicable software version. Download the latest version of Enscape here.

If you're not using Enscape yet, you can take out a free 14-day trial to see why so many architects, designers, and visualization specialists regard it as the quickest and easiest way to empower their design workflows.