Since Enscape and Chaos came together to form a world-leading visualization company at the start of 2022, we've been working to envision and create the best possible design visualization experience for the AEC industry and beyond.
By bringing our complementary technologies and expert teams together, we're identifying ways to remove barriers within the design process and make visualization even easier and more accessible than ever before.
One significant milestone we are striving towards is to provide a unified visualization workflow to help design teams visualize and collaborate more efficiently and effectively. Today, we take one step closer to making this a reality with the initial release of Enscape to V-Ray compatibility with what we're calling 'the bridge', now available with V-Ray 6 for SketchUp, Rhino, and Revit.
Introducing Enscape compatibility with V-Ray
Architects and designers can now easily connect their real-time design workflow in Enscape with the photorealistic rendering capabilities that V-Ray is renowned for.

With V-Ray 6 for SketchUp, Rhino, and Revit, it's possible to transfer an Enscape scene to V-Ray, where further refinements can be made for even higher-quality visualizations. Nothing gets lost in translation, workflows are condensed, and designers can be confident that their designs will be illustrated as originally intended.

There is no longer a need to duplicate work and start a scene from scratch; now visualization specialists can see Enscape materials and all compatible Enscape assets within V-Ray. It's then possible to edit and swap these Enscape elements for V-Ray and Cosmos assets, as well as superior materials, to produce the high-fidelity renderings that are often required in the final stages of the design process.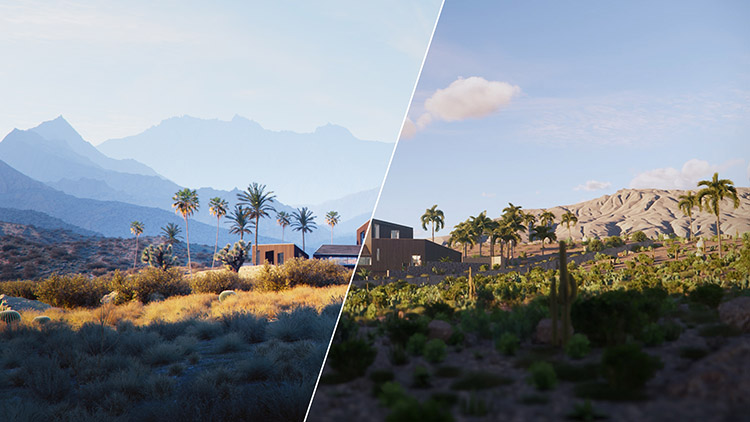 V-Ray on the left. Enscape on the right.
Improving efficiency and realism
Going from real-time design to photoreal is now even faster and easier with the new compatibility between Enscape and V-Ray.
Thanks to a simple handoff from one rendering tool to the other, artists can immediately see design decisions and Enscape data in V-Ray and quickly pick up where the design team finished.
Through providing a way to connect Enscape with V-Ray, specialists save valuable time, helping to speed up workflows, improve collaboration, and allow everyone to focus on doing their best work efficiently and at the highest quality.
Learn how to go from Enscape to V-Ray with these resources:
Visualizing the future
The initial iteration of the bridge is one-directional, meaning that data will only pass from Enscape to V-Ray. But this is just the beginning.
The evolution of architectural rendering and visualization will continue, and we're incredibly excited to be at the heart of it. We look forward to providing further ways to enhance the design workflow for our users in the near future. As we get closer to making those solutions available, we'll be sure to provide you with more information.
We hope you are also excited about our first steps towards creating a unified design and visualization experience for architects, designers, artists, and professionals within the AEC community and beyond. We'd love to hear your feedback and encourage you to join in the discussions on our Forum.