It's time to get your creative thinking cap on!
The Challenge of Tomorrow is an exciting architectural visualization competition brought to you by Ronen Bekerman, in partnership with TMRW.SE.
Below, we take a closer look at the competition, which is open until May 30.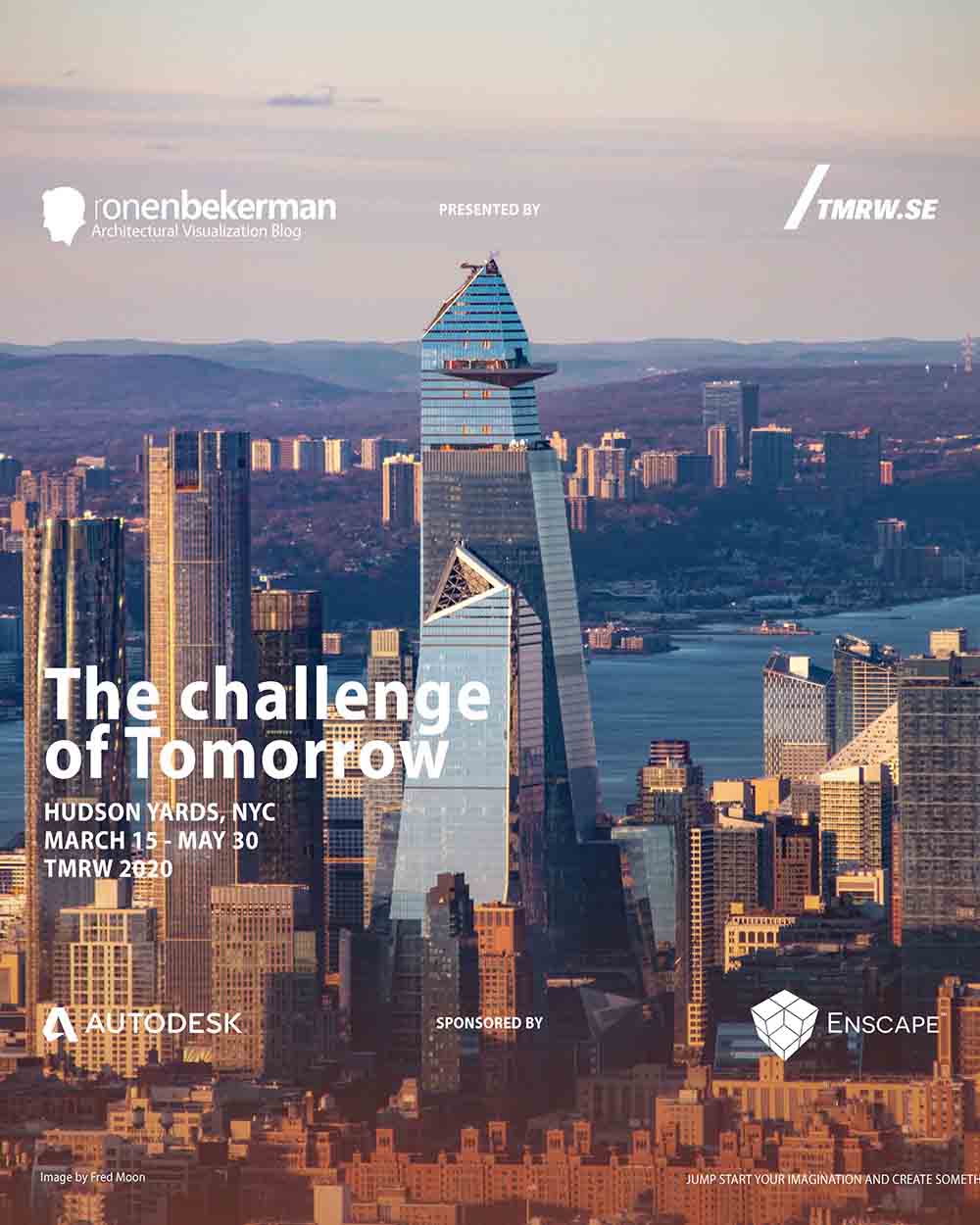 About The Challenge of Tomorrow - TMRW 2020
TMRW 2020 invites participants to design and visualize the architecture of tomorrow, set in 2040, within the context of the Hudson Yards in New York City.
Hudson Yards is New York's newest and largest development – a 28 acre LEED Gold neighborhood, home to a mix of residential, commercial, retail and public open spaces.
Challenge participants are requested to submit at least three still images that tell the story of their entry. There is also the opportunity to provide an interactive experience via VR.
TMRW 2020 provides a competitive, yet educational environment in which entrants are encouraged to engage and provide feedback to other participants. It also aims to challenge and inspire creators to showcase their best work, helping to push not only themselves, but the boundaries of ArchViz.
As always, I do this Challenge to spark innovation, raise the quality standards, and motivate our field to be better. With TMRW as a partner on this one, we're also looking for their potential next star 3d artist.
Ronen Bekerman – Co-Founder and Director of The Craft
Prizes include 1000 EUR cash prizes, two 5-year Enscape licenses and three 1-year Enscape licenses, plus the possibility of working for award-winning visualization studio, TMRW.SE!
The judging panel
Leading artists from the field of architectural visualization will judge this year's competition and choose the winners of TMRW 2020.

Entries will be judged based on categories including concept, story, lighting, materials, 3d modeling, technical skill, emotive qualities, as well as participation on the blog, showcasing progress and offering feedback to fellow participants.
The Jury Panel:
Keely Colcleugh - Director and Founder, Kilograph.
Tamas Medve - SORA Images.
Mengyi Fan - Director of Visualization, SHoP Architects.
Britton Wade Chambers, AIA - Senior Associate Principal, KPF Architects.
Andreas Landgren - Founder and president of Tomorrow.
Ronen Bekerman - Director and Co-Founder, The Craft.
Advice from last year's winner
Last year's winner, Nicolo Paolino, spoke with Ronen Bekerman about his journey before and after the competition and shares his tips to those entering TMRW 2020.
Paolino, who studied architecture and graduated in Milan, now works for Tomorrow Architects, who are based in Sweden. He recommends creating realistic renders but keeping things simple and paying attention to the competition rules.
…Well, since I haven't done any competition before, the first thing I told my self was to keep things simple. I needed to be competitive, so at least I had to follow all the rules…Of course, some things changed during the process, with new ideas coming up. I've also tried to set the views from the very early stage and stick with them, avoiding finding myself with too many options to choose from.
Nicolo Paolino – Winner of Tomorrow 2019
Read Nicolo's story and tips here.
How to register for The Challenge of Tomorrow
Registration is now open and you can sign up here. The challenge runs until May 30, and winners will be announced in June.
For further information on The Challenge of Tomorrow, including FAQs and competition rules, visit https://tomorrow.ronenbekerman.com/
Good luck!