I've been in the architecture business for close to thirty years and therefore understand many of the pains related to efficiency and accuracy in our industry. Developing presentation graphics has always lived on the edge of overkill in terms of cost and effort. But this has been tolerated, as the opportunity to impress the client and outshine the competition has its rewards. Now we can be competitive, more efficient and even more accurate using Enscape, which results in a tangible business advantage.
Let's explore ways to cut time and save money.
Conceptional rendering fading fast
In the recent past, we had to export our projects to a secondary software, which often required a separate effort to apply materials and entourage. And in some cases, when the design changed, all those steps had to be repeated. And then there was the mindboggling array of settings like 'caustics' and 'photons', and telling the software whether you are inside or outside of the building. Another problematic scenario involved sending the visualization work out to a freelancer, which introduced time delays in the feedback loop.
Times have changed and designers no longer need to wait for hours, or even days, to develop a single still image or animation. Rendering at the speed of now: with contemporary GPU technology it is possible to render in real-time, while designing at the same time.
Boost your workflow with faster iterations
The architectural studio culture has been notoriously characterized by long and late working hours to produce the best design solution in the allotted time. For instance, I worked on a music hall in conjunction with a world-famous architect who had a chef on staff as a perk for the long hours required of the design teams. Thus, any tool which has the potential of saving time in the process of designing a building is highly sought after.
The ability to iterate and validate design ideas has never been faster or more efficient than with Enscape. But don't take it from the company selling the software, or me—an outspoken proponent of Enscape. Rather, hear what other customers are saying about the value they are experiencing with Enscape: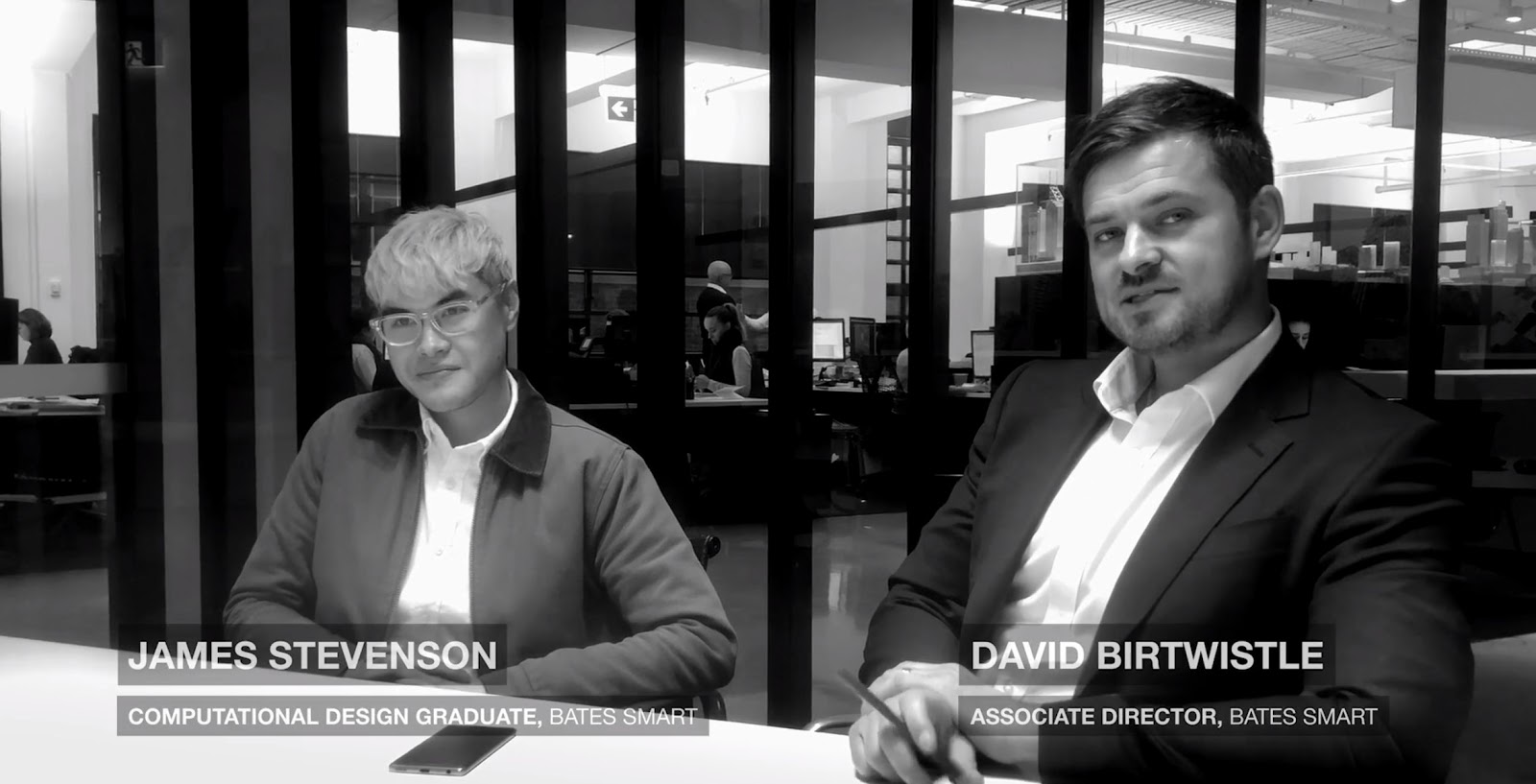 "Enscape has been completely revolutionary to our process" David Birtwistle, Associate Director, Bates Smart
In their 'Conversation Series' videos, David Birtwistle, Associate Director at Bates Smart, says his firm went from spending 30 – 40% thinking about renderings to just 5% with Enscape. James Stevenson, Computational Design Graduate, adds that he is "blown away" by the Enscape settings and how quickly he can change them and see iterative results in real-time. I can confirm that myself. The live-link between the BIM/CAD and Enscape has boosted my efficiency incredibly.
Payette, a Boston-based design firm, sums up that Real-Time Rendering has quickly become an invaluable asset to their design team. Hyeyun Jung, Designer at Payette, who also received her Master of Architecture from the Harvard Graduate School of Design, stated The design team used Enscape to evaluate the design of a multistory curtain wall system and its integration with adjacent benches and geometrically expressive ceilings. "There were several design iterations in terms of geometry, patterns and coloring, and it was really efficient to share screenshots through emails and get feedback from everyone in the team," states Jung. This is another sentiment I can attest to, and a great example of developing more accurate models and documentation through the ease and fluidity of Enscape.

Final Project (left) Proposed Design (right) Image by Payette
Rendering software for specialists or generalists?
It's no secret that there's plenty of rendering softwares out there. However, built-in rendering takes too long to process or is poor in quality or is not even possible. Specialist software comes with amazing large-scale sets of functions but is so complicated that you need training or experts to use its potential to the fullest.
Of course, it's fun to create animations, with moving cars and people, but it takes significant effort and time. Plus, the entourage is always the same people, which you can easily spot in your competitor's work; does the obviously unnatural movement of people and cars add real value for the client? In most cases, I don't think it does. Therefore, I prefer software that is specially designed to make it as easy as possible for architects to use in daily life. And not just rendering software, by the way: massing, energy modeling, and lighting design are just some other examples.
In the specialist workflow, there is often a large amount of time spent in post-production after the rendering or video is created, using Adobe Photoshop and/or Premiere Pro. These tools also required specialized skills and take time just to learn the many settings and techniques. With Enscape and quality assets placed in the design model the post production can be skipped completely in most cases. And when any video stitching and transitions slides are required, check out the easy to learn and use Camtasia by TechSmith.
Determine your software set per project phase
We increase our efficiency by getting proficient with software: knowing the clicks, picks and ideal settings. It absolutely helps to have a plan for when to use which phase of a project and, keeping to this standard, knowing there are always exceptions to the rule. Like any other office standard, this allows different staff to quickly jump on a project to meet a deadline or fill in while I am at the 'escape room' game with my family!
I've been researching the AEC software workflow that I am using and observing in the industry. There are many "cornerstone" applications that are widely used in the industry, because they also offer a significant business value. What's more: staff are more confident investing their personal and professional time learning these tools are they know these skills are valuable within the industry. Learn more about the broader topic in this article I wrote
For most project phases I go with the standard combination of Revit and Enscape. For specific evaluations, I add specialized software. Question to the readers: What is your standard software workflow? Share your answer via Twitter and include @Enscape3d, @DanStine_MN and #SoftwareWorkflow.
More efficient client presentations
In a recent interview titled Black mirrors: part two, Justin Wright of Assembly Architects Limited in Queenstown, New Zealand talks about the value he sees delivering virtual reality (VR) experiences from Revit models for internal design and client presentations. In terms of using VR to convey the adequacy of a space for size and quality, Justin says he is "astounded by how much better it is for communicating with the client." Not only that, but where his firm thought it might cost the client more to engage VR on a project, by using Enscape and Revit they have "had three or four experiences where it has proven to be the opposite." What he is getting at is that beyond the value of a more efficient internal design process, they are also avoiding extra work and project bloating due to the improved way in which they are able to communicate the design intent to the client—saving everyone time and money.
In closing, Justin reminisces on a time when a client could finally understand and appreciate the designed space whilst on-site, even after looking at traditional presentation graphics and 2D construction drawings for months. He contrasts this with their current workflow, somewhat nostalgically, and says that "now they really understand it a long time before it is built." As with most things in life, communication is key and here Justin reveals yet another way many design firms are benefiting from using Enscape across their practice.
Conclusion
It is easy to draw one's own conclusion regarding the value Real-Time Rendering offers today's forward-thinking design firms. The ability to visualize iterative designs photorealistically in real-time, communicate design intent more efficiently, as well as offering internal and external VR experiences: this all saves production time and possibly even project time/costs. Don't waste your time on processing with traditional rendering and too much software for specialists.
I have seen significant time and costs saved by focusing on efficiency. I have gained much more time for design and the family. I wouldn't want to miss a minute of it! In fact, I am seriously leaving with the family now for The Escape Game at the Mall of America!
To the readers: Calculate yourself how much time and cost you can save with these tips. Reach out via twitter to share your thoughts and numbers!