The annual new version of Revit was recently released by Autodesk - Revit 2024.

Before upgrading to the latest version of Revit, firms often wait for their essential add-ins to be available for that new version. To that point, Enscape has just released version 3.5, which supports Revit 2024!
Although there are many things to talk about in Enscape 3.5, this post will highlight the new Revit 2024 features that Enscape users will be most interested in.
While this article only focuses on a handful of new Revit 2024 features Enscape users should know about, you can see my annual AECbytes article for a more extensive list: What's New in Revit 2024.
Here are the new Revit 2024 features covered in this article:
New Revit sample project
New Revit template file
Dark theme
Revit cloud collaboration cache relocation
Solar enhancements
New Visual Style – Textures
New site tools
Link coordination model
Cut Geometry Enhancement
New Revit sample model
There is a new sample model, complete with several links, which can be used to explore Revit features and model organization. It includes seven linked models and contains phasing and design options. There is even a point cloud file that can be downloaded separately. FYI: Enscape does not support point clouds as they are too resource intense for real-time rendering.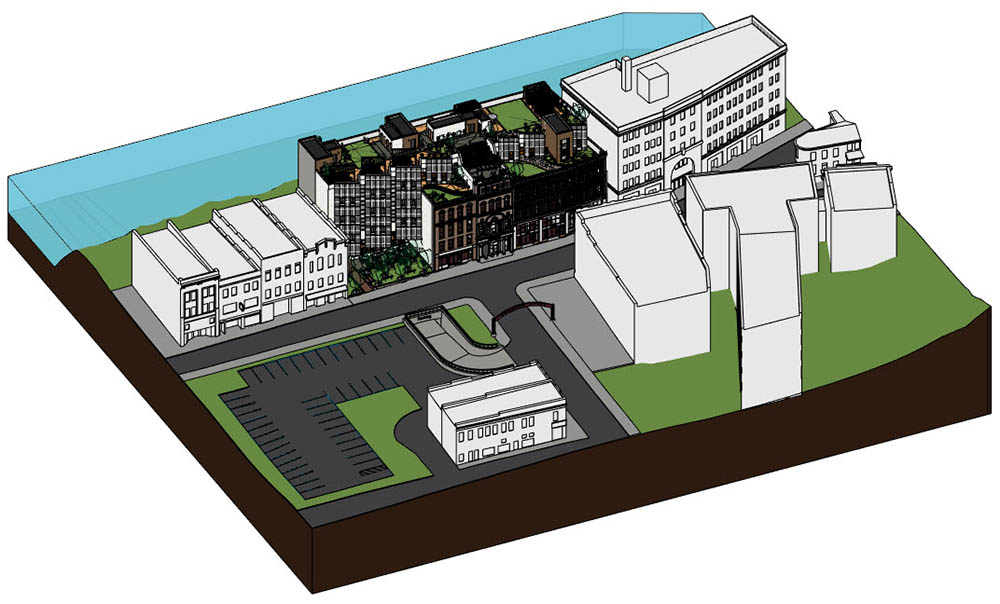 This contemporary sample model, which includes several "advanced" Revit materials, can also be explored in Enscape! The images below, and several at the end of this post, are all rendered in Enscape without making any changes in the Revit model(s).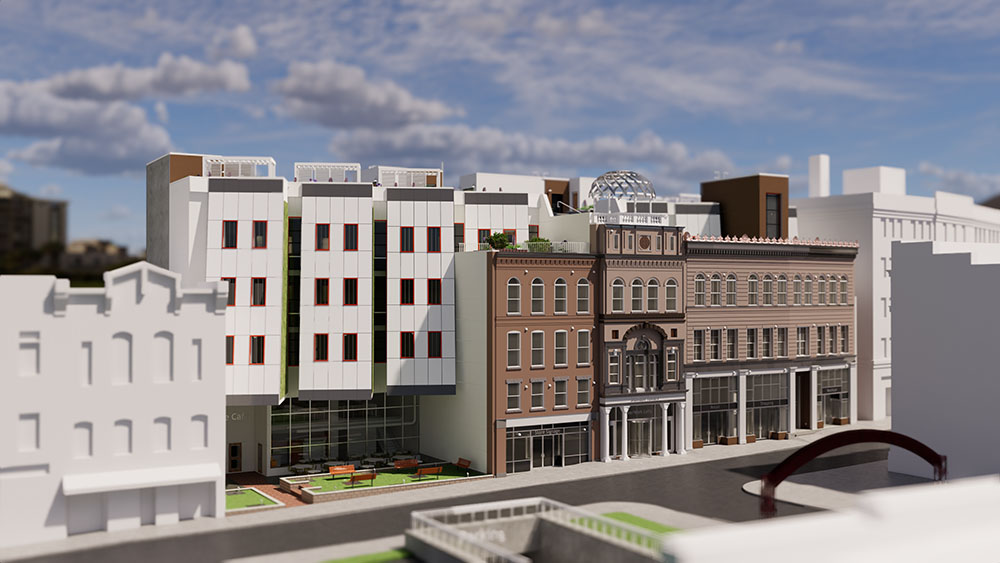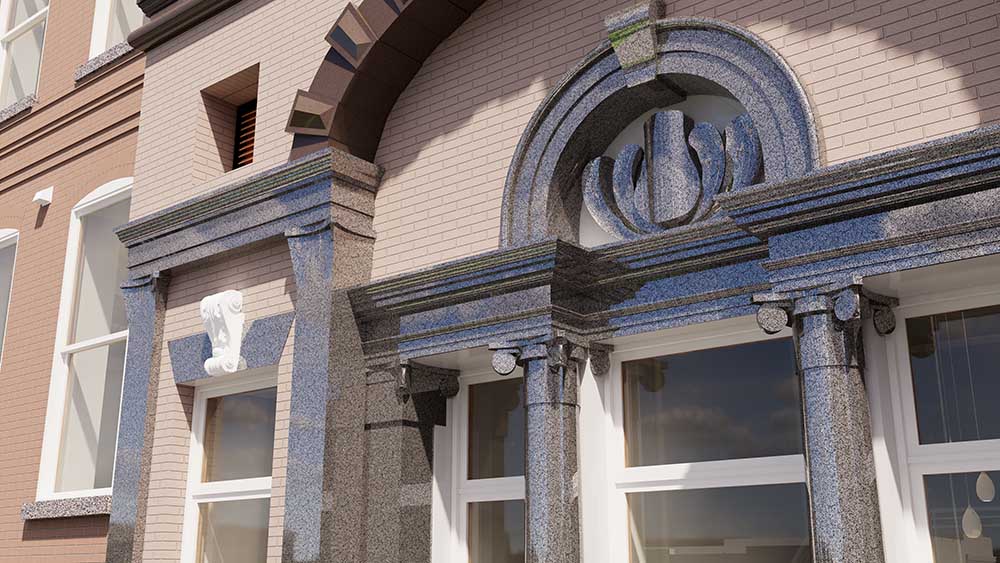 Speaking of "advanced" Revit materials, it should be noted that Enscape does not fully support this material type, and as such, they do not appear in Enscape's Material Editor within Revit. To get around this limitation, an advanced material can be converted to a generic material by right-clicking on the Appearance tab within the Revit Material Browser and selecting Duplicate as Generic, as shown in the following image.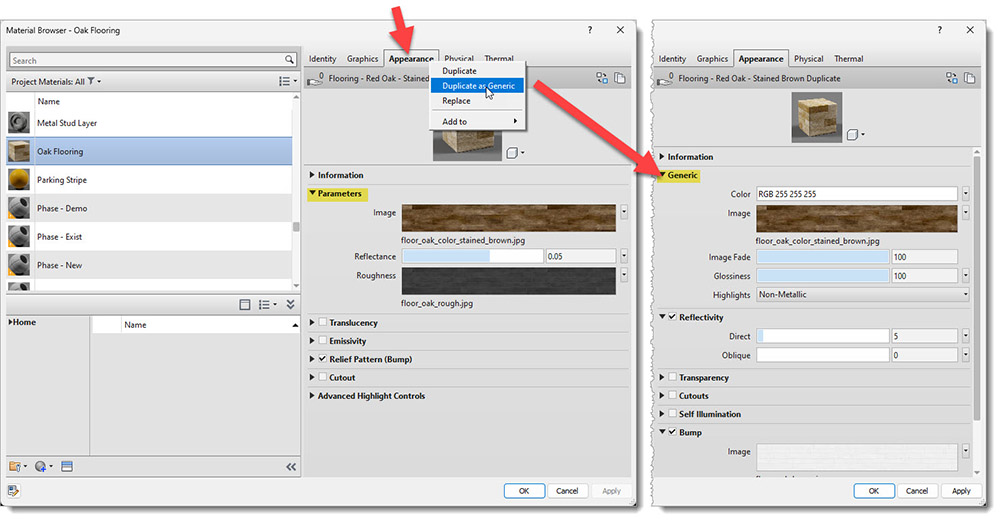 Finally, taking a few minutes to add some Enscape assets, but still, no edits to the Revit model; look how lively the scene becomes! Notice the building being reflected on the vehicle in the foreground.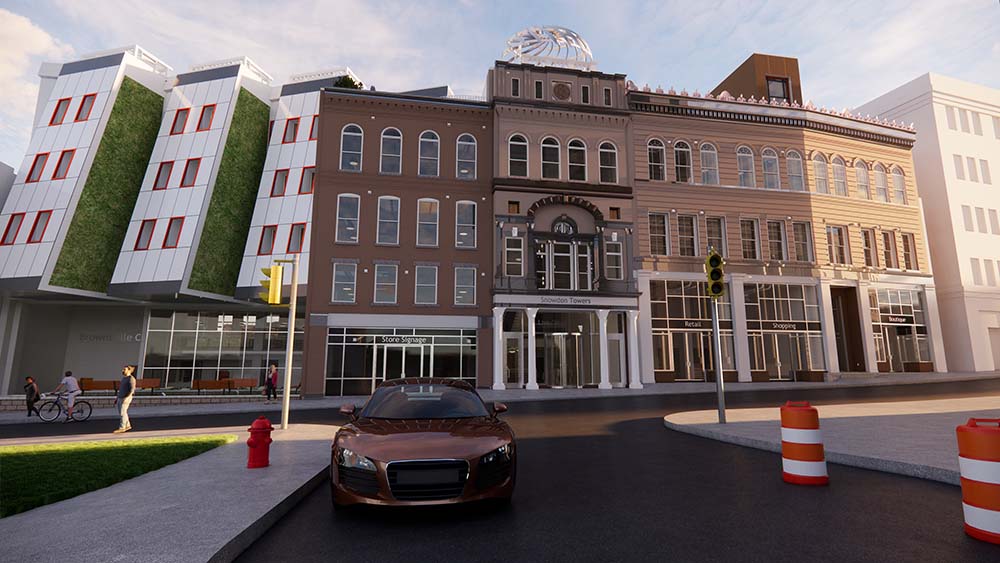 New Revit template file
There is a new multi-discipline template that contains several "advanced" Revit materials. Previously there were only discipline-specific and systems (i.e., MEP) templates. Due to the settings and loaded families required by specific Revit commands and workflows, some tools would not work correctly depending on which template you started from. With this new all-discipline template, this problem can be avoided. FYI: the original templates can still be found by clicking the Browse… button.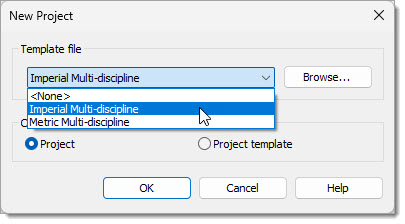 Dark theme
Revit 2024 now has a more legitimate dark theme feature. This new feature can be set to follow the operating system (i.e. Windows) setting. When first used, the canvas area is also set to a dark theme. This can be adjusted back to a light color, as shown in the second image below, while still in the dark theme if desired.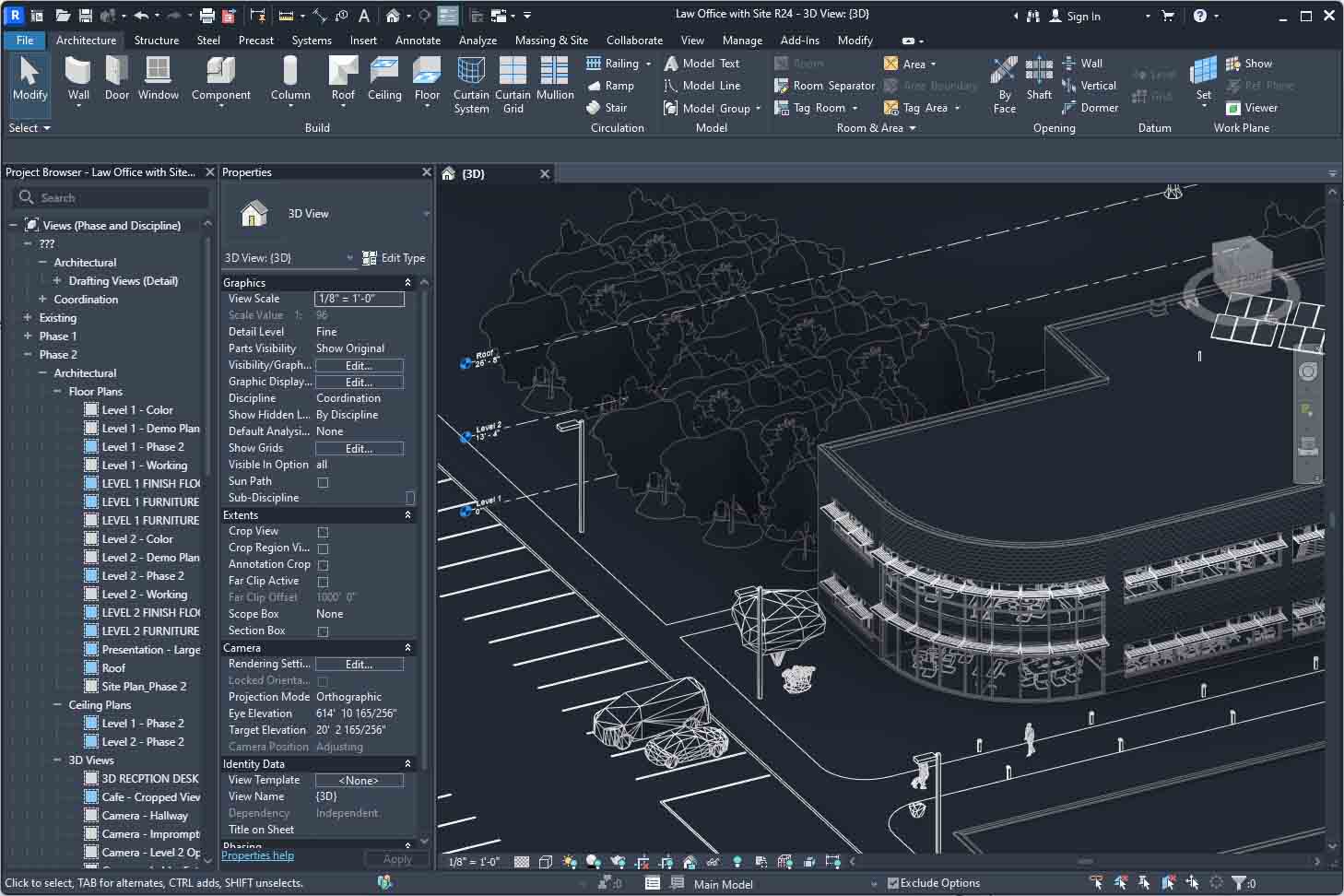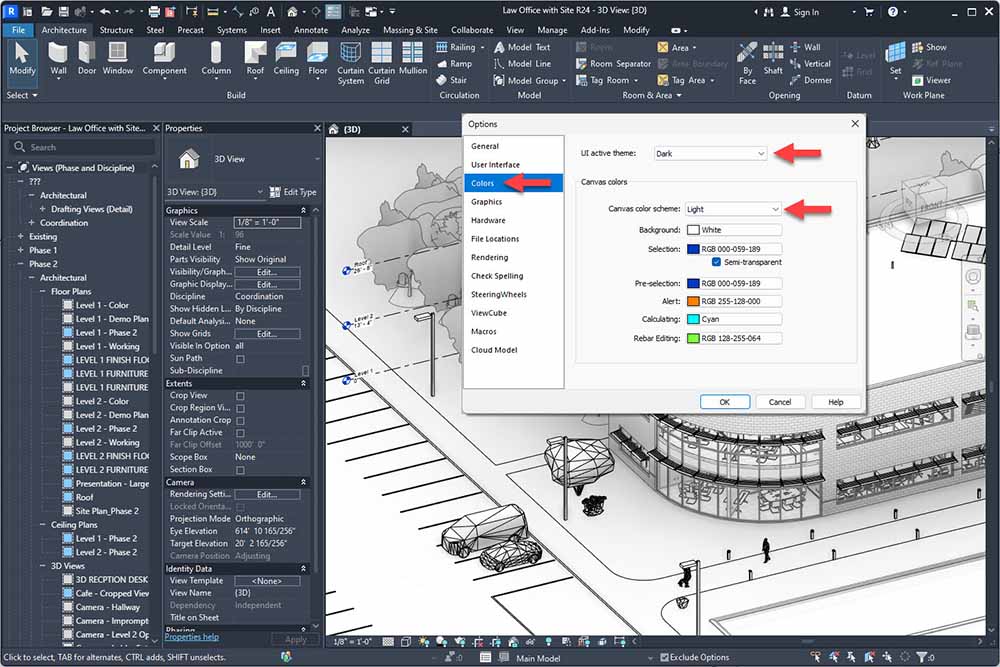 Revit cloud collaboration cache relocation
When using BIM 360 to host Revit models in the cloud, the files are synced locally via Autodesk Desktop Connector for improved performance. However, until now, the location of the local files was not editable. If you have a laptop, for example, with a smaller SSD primary drive (e.g. C: drive), and a larger non-SSD secondary drive (e.g. D: drive), there was no way to point the local BIM 360 storage to the more spacious D: drive. This could easily cause the C: drive to fill up if you worked on several BIM 360 projects or just one mega project.
Now, it is possible to point the local file storage to a custom location, as shown in Revit's Options dialog below!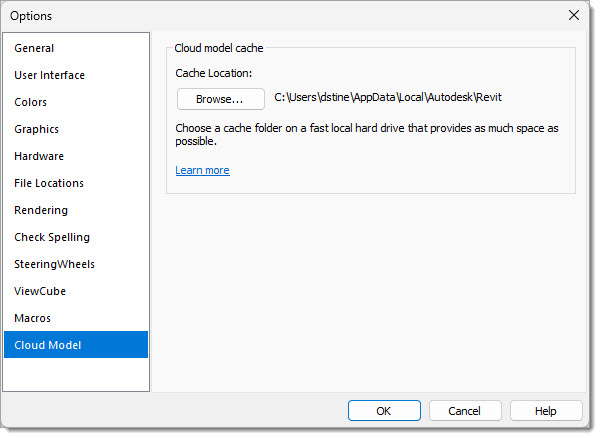 Solar enhancements
When running a solar study, the sun settings are now presented on the ribbon, as shown below. Clicking the Sun Settings button opens the traditional Sun Settings dialog with the same settings. In addition to project location and true north being set, the Sun Settings define where the sun is within Enscape.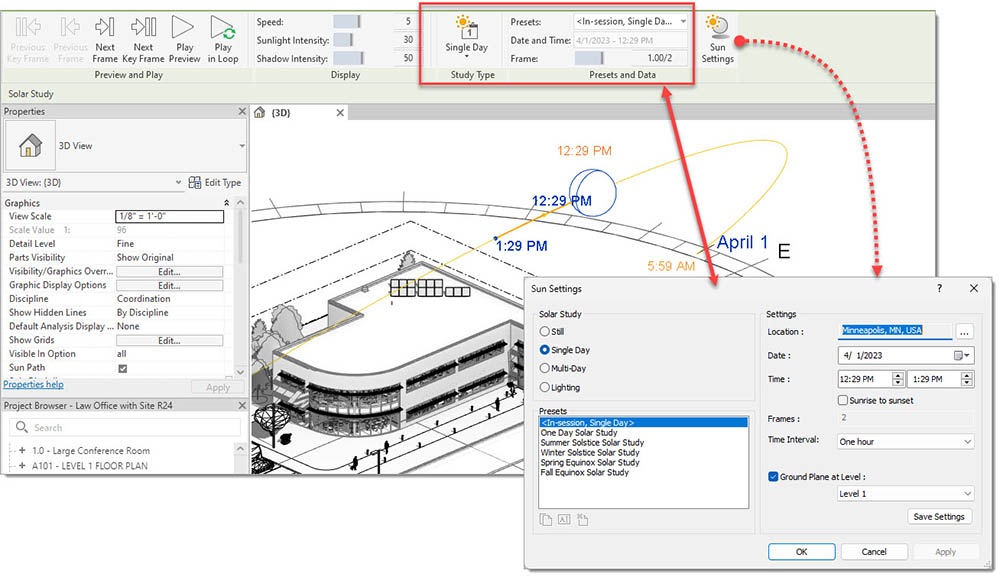 New visual style – Textures
Revit has a new view style called Textures, which is a cross between shaded and realistic (similar to the view style in SketchUp). It shows the appearance asset texture but without global lighting, so the materials are a consistent color on all surfaces and at all angles. It is possible to have ambient and sun shadows on in this mode, as shown in the example below (ambient shadows are on).
For Enscape users, this can be a helpful, more robust, view within Revit to apply and validate materials before/while they are rendered in Enscape. Previously, the only way to see the texture was to turn on Realistic, which is way too slow, and that is what we have Enscape for!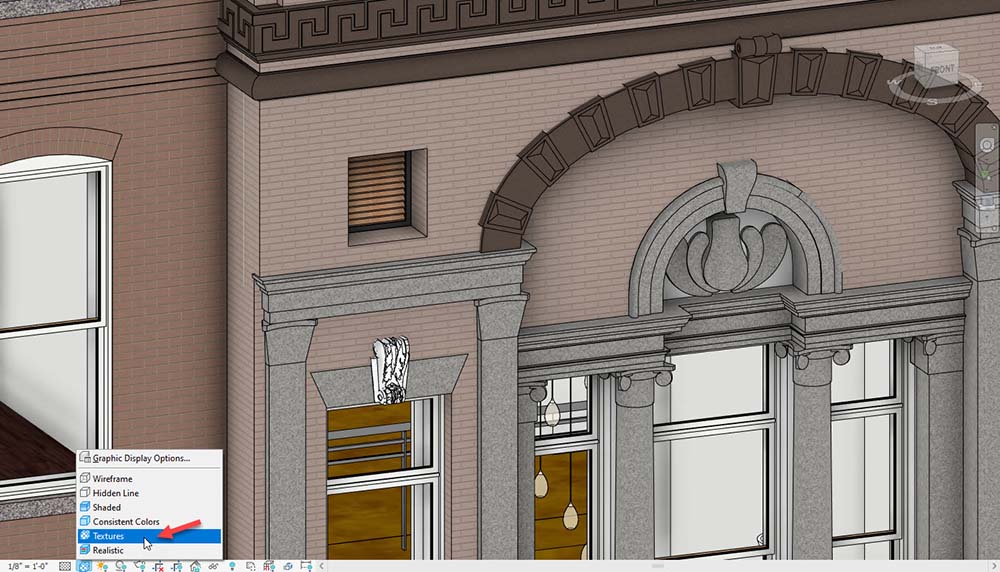 New site tools
Looking at the Massing & Site tab below, you will notice a lot has changed in Revit 2024.
The site tools represent the most significant change for architects! We now have a toposolid command rather than a toposurface. As the name change implies, the ground is now represented by solid geometry rather than a 2D surface.
Missing from the ribbon below is the Building Pad command. Instead, users will now create an in-place mass element that can have sloped edges or define a tunnel, and then use the Cut Geometry tool against it and the toposolid.
One great thing about this for Enscape users is that slabs and walls must be cut from the toposolid. This means that there will never be grass inside the building (coming through a floor slab) or coming through a sidewalk again in Enscape. There are also opportunities to sweep profiles along the surface to create curbs, for example.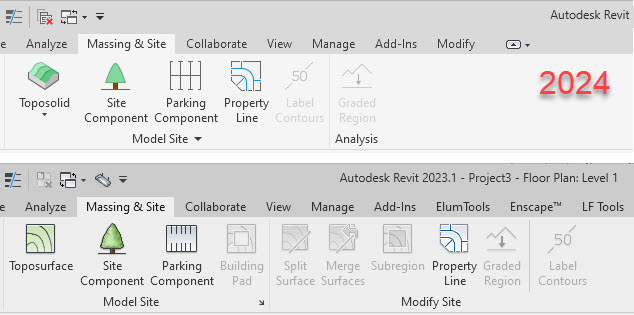 Here is an in-place mass with a sloped edge. The old building pad option only resulted in vertical edges.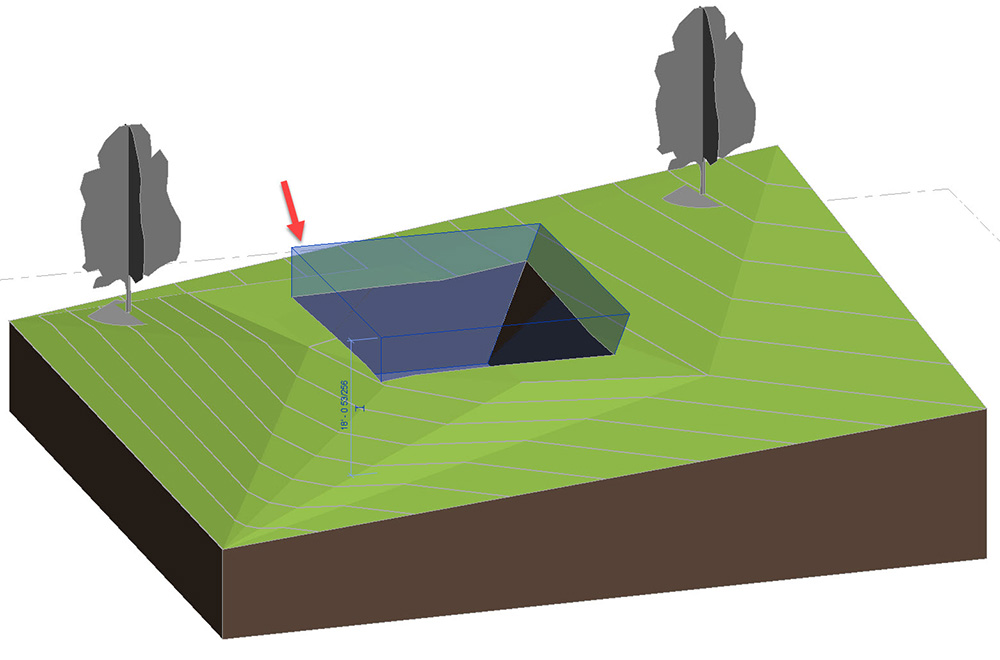 Here is an in-place mass creating a tunnel within the toposolid. This was not possible in previous versions of Revit.



Cut geometry enhancement
With the advent of the toposolid feature, there have been enhancements to what kind of elements can be used to cut other elements. Because the toposolid is a solid, Revit does not know that other elements should automatically cut it. If you have foundation walls going below grade, for example, you now must use the Cut tool and select the wall and the toposolid to get the correct graphic results in a section.
Link coordination model
Revit can now link a large number of file formats stored in BIM 360 via a linked Coordination Model. These models are represented within Revit as lightweight geometry and can be easily navigated. Sub-elements can be selected, and their properties are listed in the Properties palette. If it is an IFC file, the IFC element properties will show, whereas Revit element properties show when linking a Revit model.
If you were paying close attention just now, you might have connected the dots that a Revit model can be linked in as a lightweight model. This might be helpful with specific consultant models.
Here is the big news, with this new feature, not only can you link in a Revit model, but you can link different versions of Revit models! For example, your Revit 2024 model can link in a Revit 2022 model without needing to upgrade the 2022 model.
Here's the problem with this workflow. Enscape does not support this element type in Revit. However, neither does Revit apparently. If you select Realistic in a 3D view the entire coordination model disappears. So, use caution before deciding to replace your linked consultant Revit models with coordination models.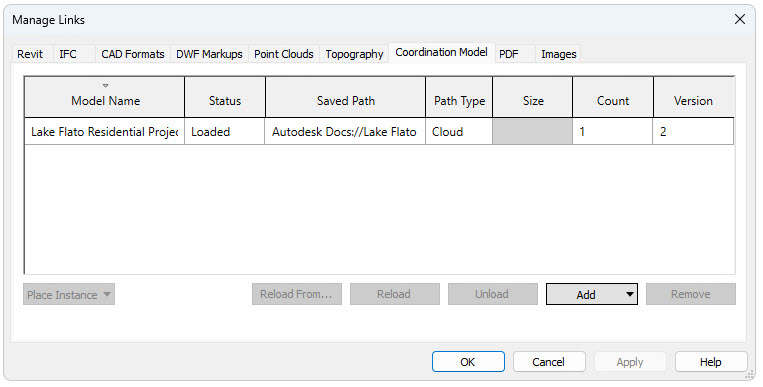 Conclusion
These new features, along with the recent new Enscape features in 3.5 will surely make a lot of people happy! If you have not had a look at these updates, give them a try. You can get started by using the trial version of both Revit and Enscape! To close out this post, here are a few more Revit renderings created in Enscape, of the new Revit 2024 sample model.