It's no secret that technology has fundamentally enhanced the architectural design process over recent decades, allowing AEC professionals to work more intuitively, creatively, and collaboratively.
One advancement that has made a significant impact on the design process itself is real-time visualization. Being able to rapidly test ideas, share true-to-life visualizations and provide immersive walkthroughs through virtual reality is nothing short of a game-changer to the way design and communication now takes place at architecture firms around the globe.
To see what role real-time visualization and Enscape play when it comes to designing world-class architecture, we spoke to three renowned firms – BNIM, Goettsch Partners, and GRAFT, about their use of this revolutionary technology. Go behind the scenes of three special projects and see how these award-winning firms utilize real-time visualization to help them design outstanding architecture.
BNIM
Founded in 1970, BNIM is a national architectural practice closely involved with the development of USGBC, LEED, and the Living Building concept. Selected as #1 in Sustainability and #2 in Design by the Architect Magazine in 2019, BNIM is recognized with over 500 awards, including the AIA National Architecture Firm Award.
Offices: Kansas City, San Diego, Des Moines (USA)

Featured project: Missouri State University Ozark Education Center, Missouri, USA

Project representatives: Josh Harrold, Associate Principal BNIM, and Lead Design of the Ozark Education Center; April Trotter, Associate Architect BNIM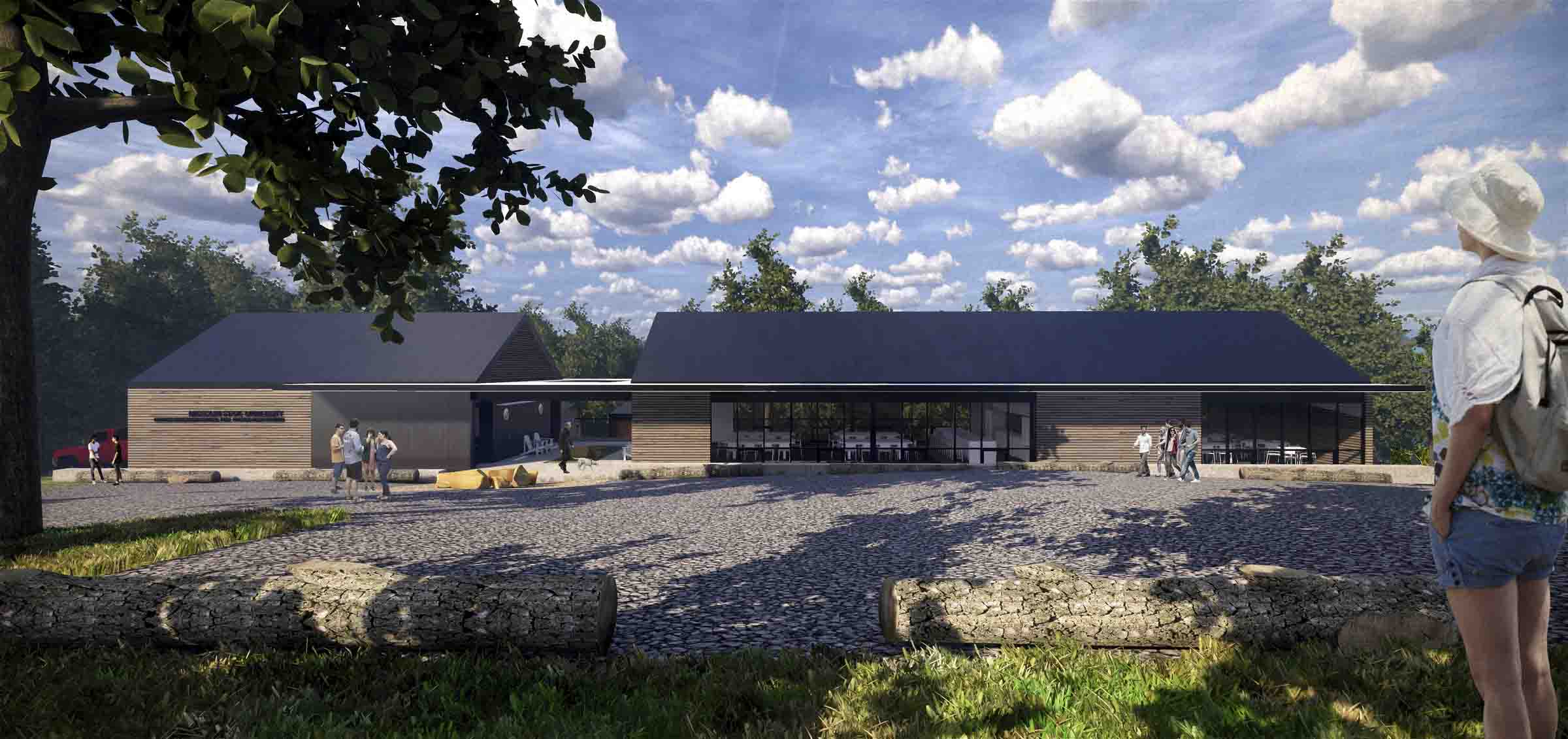 Rendering credit: Missouri State University Ozark Education Center, BNIM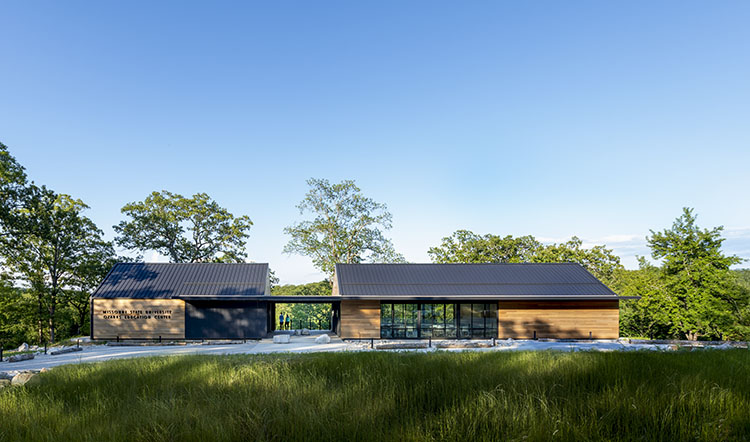 The built project. Photography credit: Kelly Callewaert


About the project
The Missouri State University (MSU) Ozark Education Center provides a new immersive learning and research environment for MSU students and researchers. Based in the Ozark Mountain region of southern Missouri, it is also open to other universities, high school students, and non-profit organizations to study and explore the region's ecology and wildlife.
At just over 4,000 sf, the facility consists of classroom space, sleeping quarters, a dining center, and community gathering spaces. Surrounded by breathtaking nature, the MSU Ozarks Education Center reflects the natural elements of its environment and provides a multi-sensory experience for up to 60 visitors and 19 overnight guests.

Rendering credit: Missouri State University Ozark Education Center, BNIM

What role does real-time visualization play at BNIM?
(e.g. streamlining the design process, communicating ideas to clients, testing ideas...)

We would say yes to all the items you listed above. We often use Enscape in both SketchUp and Revit and at different stages of the process of design through documentation and construction administration. We actively live fly around the model in client presentations, consultant coordination meetings and many other settings (internal BNIM design team) to share ideas, investigate problem areas of geometry or create final still images for final deliverables or marketing and bidding pursuits.

Enscape has fundamentally elevated the live representational quality of our work internally and externally. It's such a simple process that the image quality expectation has been raised in our practice and across the industry. Clients are also recognizing and setting a different expectation of image quality based on ubiquity of the image quality that is provided by Enscape or other comparable software.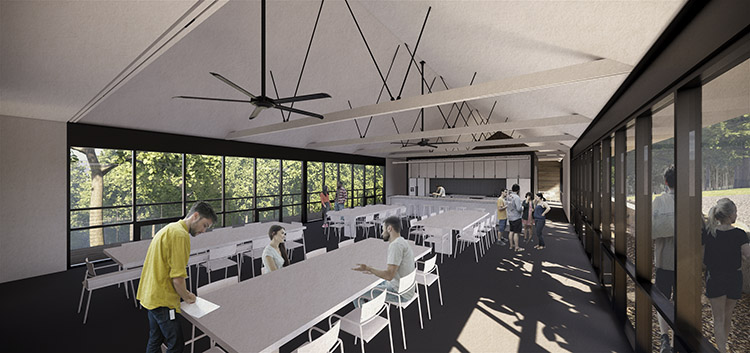 Rendering credit: Missouri State University Ozark Education Center, BNIM

How was Enscape used for this project?
As mentioned above, Enscape is used in our practice in both SketchUp and Revit. Based on the small size and speed of this project, we only used Enscape via SketchUp in earlier stages of schematic development and lightly in design development. Many larger, more complex longer duration projects in our office use Enscape through all phases (schematic development through to construction administration).

Enscape was used for client presentations in live flying around and for final deliverable still images as provided with some post-processing in photoshop. There were several instances later in documentation as well that Enscape was used to investigate challenging or difficult to understand geometries in this project, particularly in the interior. We would texture map the massing in different ways to refine material selections. We would use the more accurate luminosity of daylight and shadows in Enscape to better understand the way daylight might actually feel in the dogtrot space unique to this project. Or the way low sunset and dusk shadows may affect the architecture and spaces. I think that can be seen in some of the final building photographs in the shadow and daylight play of space and material.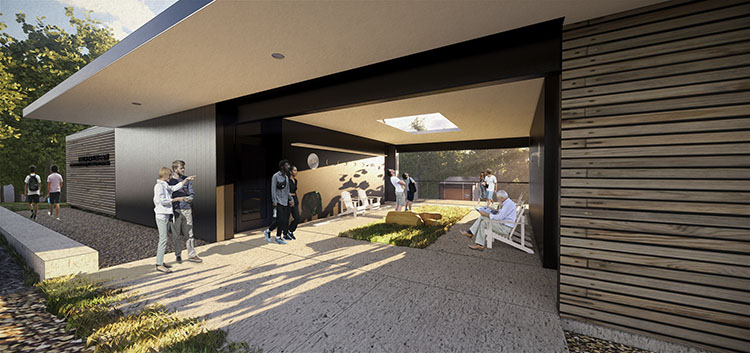 Rendering credit: Missouri State University Ozark Education Center, BNIM

Enscape renders
Note that these Enscape renders were completed in 2018. At that point, Enscape did not have as robust of an asset library so people were post-processed in via Photoshop and items like trees were from SketchUp model libraries. At this point in our use of Enscape, we use the full resources of the Enscape Asset Library for many of these items, for less post-processing in Photoshop and a more integrated realistic image all native in Enscape.
---
Goettsch Partners
With roots dating back to 1938, Goettsch Partners (GP) is an architecture firm with a global presence – delivering a diverse range of projects in five different continents. GP has been recognized consistently for its achievements in design excellence, including AIA design awards at all levels: national, regional, and local.
Offices: Chicago, Shanghai, Abu Dhabi

Featured project: 320 South Canal, Union Station, Chicago, USA
Project representative: Nick Popoutsis, Senior Associate and Designer, Goettsch Partners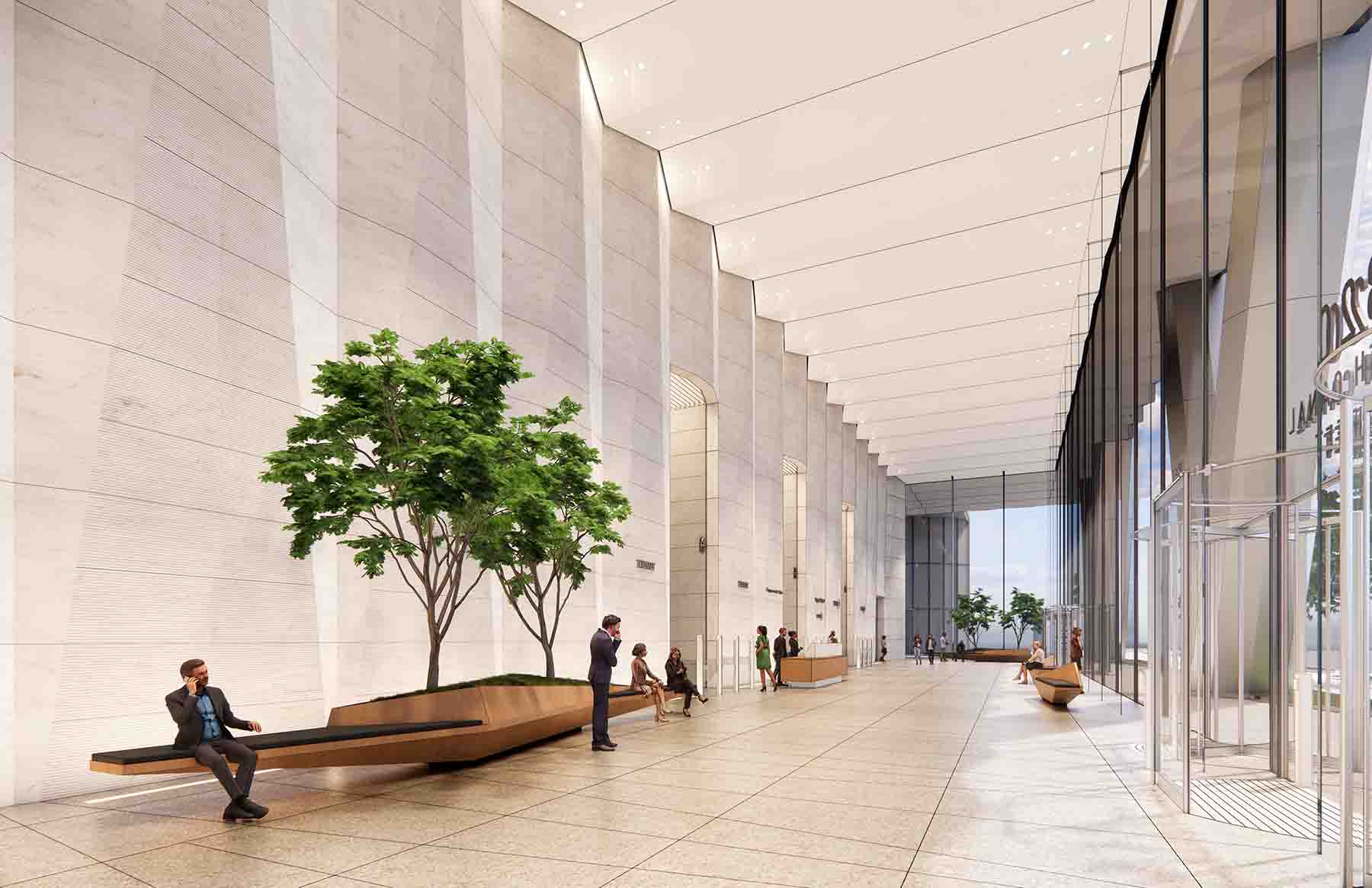 Rendering credit: 320 South Canal — Union Station, Goettsch Partners


About the project
As part of a larger redevelopment of Chicago Union Station, 320 South Canal is a 2.2-acre site that consists of 1.5 million sf of Class A office space and the largest public park in the neighborhood, at approximately 1.5 acres. Recognized for enhancing human health and wellness, 320 South Canal is a WELL Precertified™ Platinum project.
This innovative project brings a new landmark office tower and a major public space to the city. The 50-story tower is designed as a stepped, three-tiered building, with large terraces offering expansive views of downtown Chicago.

Rendering credit: 320 South Canal — Union Station, Goettsch Partners

What role does real-time visualization play at Goettsch Partners?
Real-time visualization allows our team to quickly iterate a design challenge to determine a best path forward without having to waste time waiting for a computer to process a visual or heavily post-process an image in Photoshop. Visual feedback and updates are instantaneous, allowing us to focus on the design rather than the methods used to visually represent the condition. The ability to quickly iterate and update visuals allows us to easily communicate our ideas to a client.

Rendering credit: 320 South Canal — Union Station, Goettsch Partners
How was Enscape used for this project?
Enscape was used to study very technical components for the 320 South Canal lobby façade and entry, and understand how multiple trades would come together to achieve the desired appearance. Visualizations were also created to study various layouts for the seating, planting, and security desk in the lobby.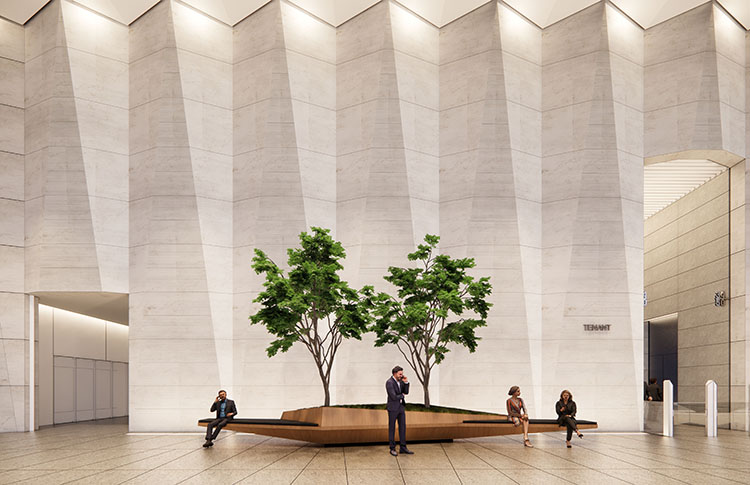 Rendering credit: 320 South Canal — Union Station, Goettsch Partners
---
GRAFT
Founded in Los Angeles in 1998, GRAFT is a renowned global architecture firm with projects in more than 30 countries. They have been recognized for their outstanding achievements with over 100 awards since 2003, including winners of the prestigious International Design Awards IDA 2018 (Show Palace, Munich), and the MIPIM Award for the 2020 Best Residential Project (Wave, Berlin).
Offices: Berlin, Los Angeles, Shanghai
Featured project: Aqui Winery, Argentina
Project representative: Lars Krückeberg, Founding Partner, GRAFT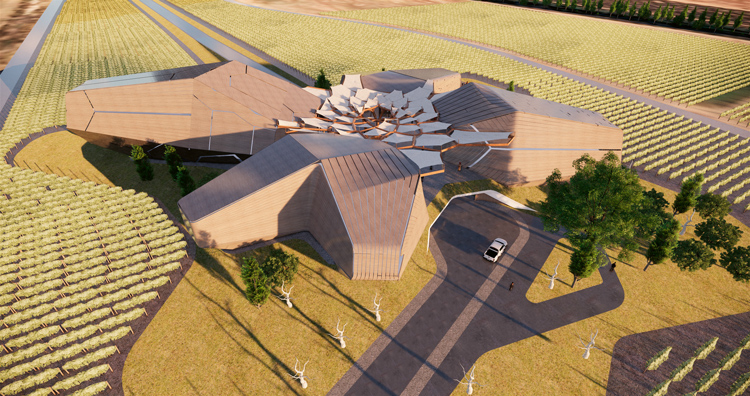 Rendering credit: Aqui Winery, GRAFT
About the project
Situated in the foothills of the strikingly beautiful Andes Mountains, the Aqui Winery in Mendoza, Argentina, is located in one of the best wine regions in the world. Its proximity to the mountains, which provides natural water resources, and its advantageous high altitude and subsequent sun exposure inspired GRAFT's dynamic design for the winery.
The winery is formed of four giant stone-like units which embody the rock formations found in the high Andes. They are arranged around a central plaza, an important hub where people come together to harvest, taste, and enjoy the various wine festivities and celebrations that take place. The stone volumes are shaped to highlight the sun's movement throughout the year and showcase the stunning views of the landscape.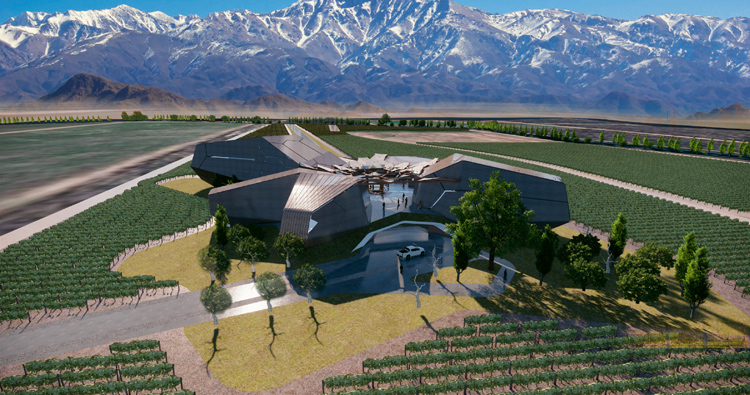 Rendering credit: Aqui Winery, GRAFT

What role does real-time visualization play at GRAFT?
With real-time visualization, not only are you confirming your ideas as a designer, you have the ability to demonstrate them visually.

When you create your ideas and concepts, you have to justify them, control them, communicate them, and develop them further – all of this is where real-time visualization and Enscape come in. You can create a lot of renderings quickly, but for us, it's all about the movement - the possibilities of panning cameras, of leaves moving in the wind; that creates a poetry that is still a little fresh when you show the client. With most of our projects, we always try to create a movie to explain our ideas because they really only unfold when you walk through the architecture and see it develop over a period of time.

To develop complex ideas, you need software that helps you define your ideas for yourself. But you also need a tool that presents the projected reality to the client, so they can digest it in the right portions. Enscape is one of these softwares that really enables you to do this.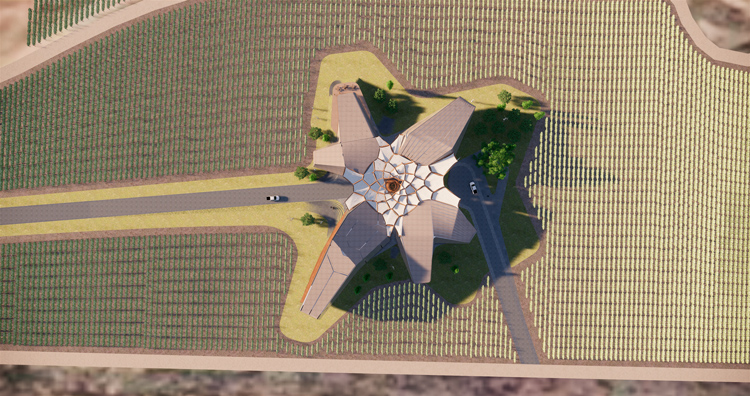 Rendering credit: Aqui Winery, GRAFT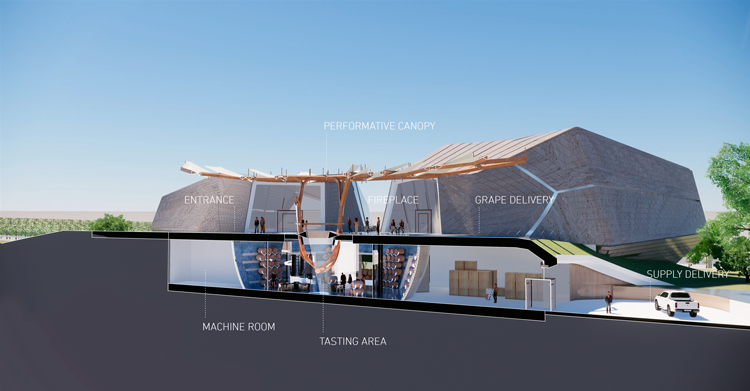 Image credit: Aqui Winery, GRAFT

How was Enscape used for this project?
For the Aqui Winery, Enscape was helpful and necessary for creating the ideas and confirming the concepts spatially.

As the sun plays a critical role in wine production, we wanted to create a type of calendar building – one that was derived from the movement of the sun specifically for the site in Mendoza. We wanted the sun to point towards certain destinations in the winery at specific times of the year. To do this in practice, you have to study what the building looks like throughout the year. You have to know that your natural lighting (and artificial lighting) in the building is right. With this type of project, where you have to be absolutely certain about how the sun will impact the space at specific times of the year, you need to be able to communicate this to the client. Enscape is a great communication tool for this, and animations and virtual reality helped us to demonstrate our vision to the client.

As an architect, you have to project the future. And the beauty of being able to project any possible phenomenon throughout the year, to be able to judge your design with every single moment of the year, what the architecture does with light and shadow, is a very powerful tool. And when we showed the client this project in virtual reality, the client was blown away. He could walk around at a certain time of the day, then fast forward six months in time. It was a beautiful moment.
Video credit: Aqui Winery, GRAFT