The past few years have seen a lot of change in the AEC sector. As technology has advanced, it has opened up a wide range of opportunities for architects, engineers, and construction laborers to improve their work processes and get better results.
In this post, we'll focus on one tool in particular, real-time rendering, which has massively empowered the industry to produce more innovative builds in recent years. This is thanks to a breadth of agile features that are helping to optimize workflows and change the way design gets done.
Design no longer needs to be abstract with real-time rendering
In past generations, designers conceptualized their creations through solely 2D mediums, such as blueprints and drawings. Greater complexity was achieved with the advent of 3D CAD modeling, but the whole experience was still restricted to 2D views. Designers could only view representations of their work on a screen.
This limitation has always kept the design stage within the realm of the abstract, as designers and their collaborators needed to rely on their imaginations to visualize the real-world results. Working in this hypothetical mindset was only forced further by the fact that any new design ideas or changes would require whole new visualizations to be rendered after updating was done.
But with today's real-time rendering technology, design can be fully experienced as it is being created. Programs like Enscape allow designers to view their design progress through real-time renderings, walkthroughs, and immersive virtual reality, where CAD changes can be made and reflected immediately.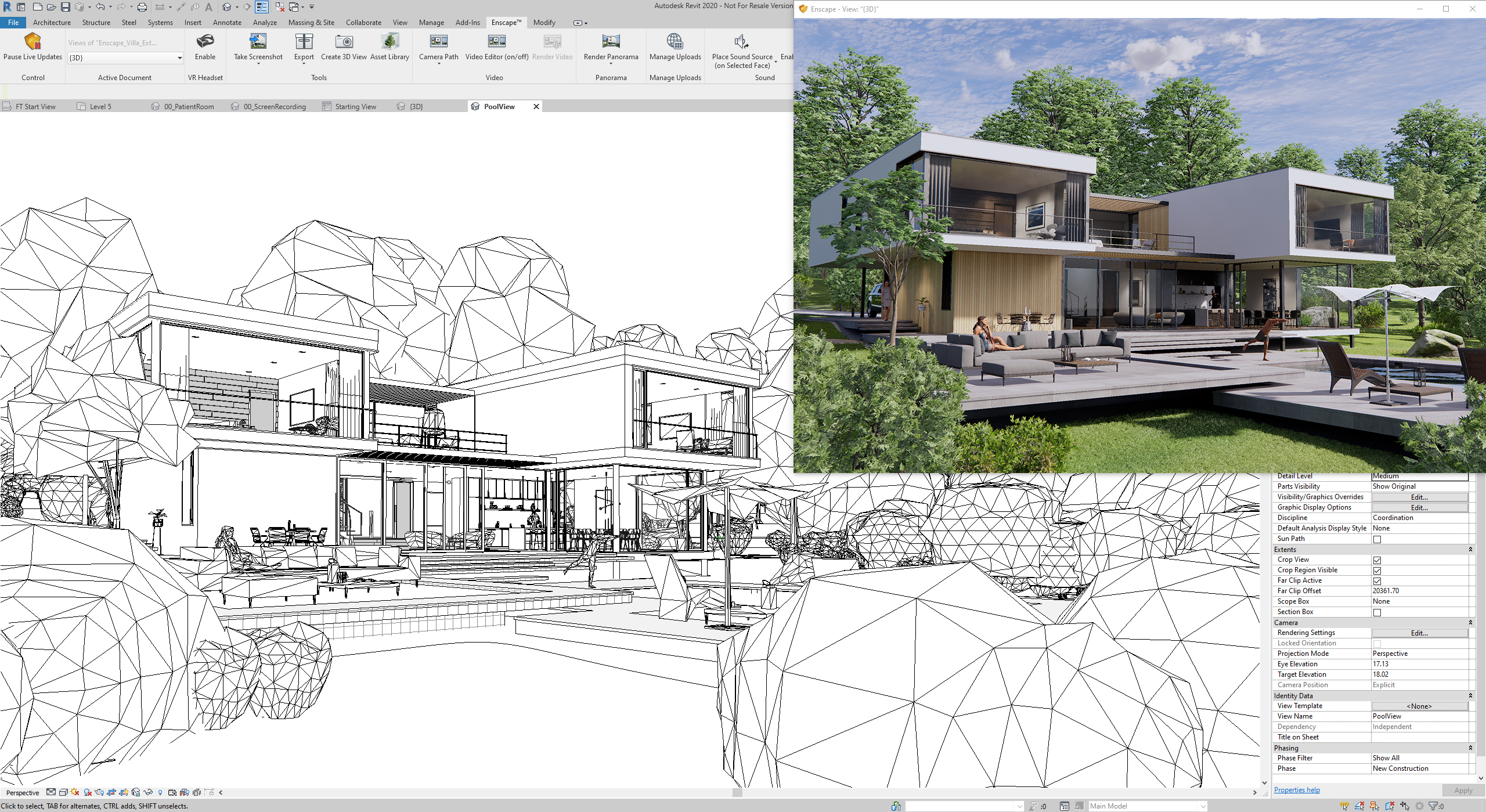 Designers can finally get a "hands-on" experience and interact with their designs, even when they are still in the ideation phase. This opens the door to more experimentation - a natural catalyst for producing designs that push boundaries and make exciting new achievements.
John Buzzell, President of You Are Here Labs, describes this new dynamic well in an interview on the XR for Business Podcast:
"[Mixed reality gives] the opportunity to work across devices and across distance and time to allow people to collaborate and not just have a web conference where you're looking at slides, but really, to manipulate. 'What if we put this thing over here? What if this was smaller? Can we make this out of carbon fiber?' We have those experiences in our lab."
Sparking innovation through real-time rendering and VR is also taking hold at the Turner Fleischer architecture firm. Principal Architect Steve Nonis explains that the team's use of virtual technologies is allowing them to streamline their creative process:
"Design is always an iterative process, but Enscape has made it a dynamic one at Turner Fleischer: the tools we use can now keep up with our creativity, allowing quick decision-making and letting our clients instantly see the impact of their choices."
Clients get proof of concept; designers get client insights
The immediacy and immersion of real-time rendering isn't only a tool for practicing design. It's also an effective resource for showing project owners and investors the power of cutting edge concepts. This method of presentation is an innovation in itself.
Project stakeholders are often inclined to keep design plans conservative. With only abstract representations and descriptions to shape their idea of the build, they can find it harder to have confidence in inventive concepts. However, with real-time rendering and VR exploration, clients can experience design possibilities as if they were truly there.

Such simulations enable clients to gain a more concrete understanding of design function, intent, and aesthetic. They also give designers a chance to prove the value and feasibility of concepts that clients are hesitant to approve. Clients can see the impact of their design requests immediately, and even see where concessions result in missed opportunities.
VR presentations have proved useful not only as an impressive new way to give design presentations, but also as a means to learn what model features and areas matter most to clients.
At Hickok Cole Architects, Project Architect Carlynn Luu reported that when clients were in the midst of their VR experiences, they would often focus on parts of the model that the team had not previously thought relevant. The team could observe what parts of the model the clients spent most of their time exploring, and thus learn what stood out most to them.
Gaining a better understanding of the client in this way allows architects to revisit design models and make modifications that align with newly-discovered client priorities. This can enable the production of designs that better satisfy client preferences and interests - even those that the client may not specifically express.
Improved efficiency paves the way for more ambitious goals
This tech's enhanced visibility, immersion, and collaboration also supports innovation via efficiency improvements. By making more time and resources available on projects, teams can set their sights on design features that push the boundaries of their portfolios and the industry at large.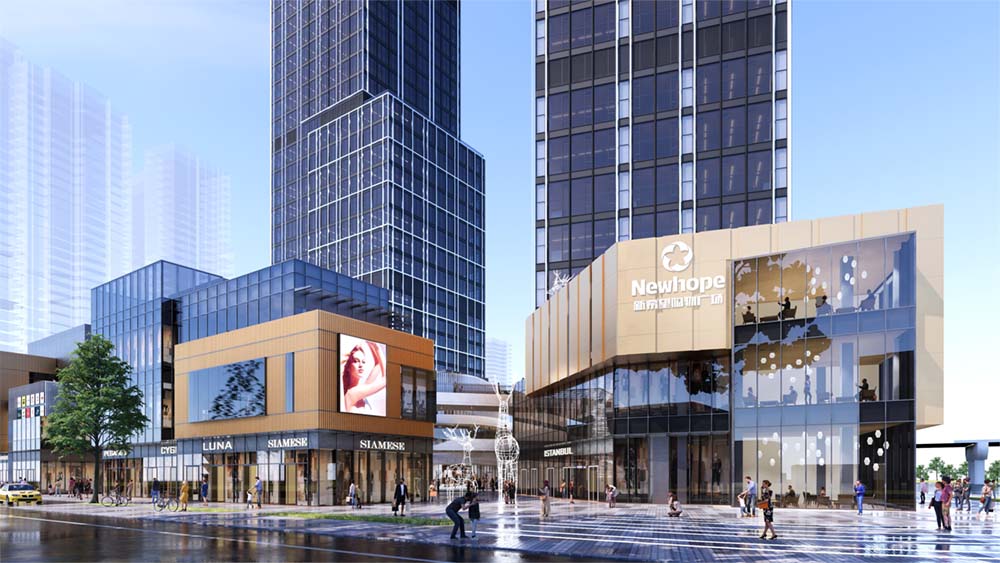 Enscape render courtesy of Xufeng-Sam
Though many BIM programs already have built-in clash detection, VR programs like Enscape give designers the power to better view where the clash occurs in the model, exploring it from different angles and allowing more effective diagnosis.
Dan Smith, the Technical Director at Hunters South Architects, has found Enscape to be a vital tool for streamlining the clash resolution process:
"Whilst Enscape is great for visualisation and VR, it's also a comprehensive addition to coordination and clash detection. [...] However, having the ability to use Enscape in a coordination meeting and walk consultants around the issues, helps to articulate those problems in a way that Navisworks or Revit may not be able to."
Designers can use Enscape to quickly detect and resolve problems before they hit the worksite, preventing the need for expensive rework. And considering that, on average, rework accounts for up to 9% of a project's total budget, architects and engineers can salvage significant capital to direct toward more groundbreaking design plans.
Enscape helps AEC professionals create innovative designs
By leveraging real-time rendering and virtual reality experiences, Enscape is empowering firms across the globe to make greater strides in their designs. The easy-to-use software requires no prior knowledge, meaning that any design team can incorporate it into their daily workflow. If you'd like to give your firm the tools to pursue innovation, try Enscape today!