By now, most of the world has a general knowledge of what virtual reality (VR) is. For most, it is either a new way to play video games or that weird cardboard thing they get with the New York Times.
But, when it comes to using VR as a tool within the architecture, engineering, and construction (AEC) industry, it can be hard to get past the "gimmick" and demonstrate true value to our process.
The virtual reality success story I am going to tell you today is an example of how VR, when combined with Revit and Enscape, can surpass the gimmicks and become an essential part of the design/build process through the use of what we call virtual "pre-inspections".
The problem with post-construction inspections
As an architect who has vast experience on both the design and construction sides of projects, the end of project punch-lists and inspections have always been something I do not look forward to. I'm sure I can think of many reasons as to why this is the case, but, when it comes to final inspections I would like to pin-point a few of the challenges we encounter.
First, in my opinion, the authorities having jurisdiction (AHJs) are not properly folded into the typical design bid build process. Sure, most AHJs will have received the set of construction documents 6+ months before the project completion and inspection. But, how in-depth are they really reviewing a set of floor plans? How much do they not see because the documents are, well, 2-dimensional? In my experience, the final inspections are usually the first time the AHJ has really had a chance to study the design.
Well, guess what?
If all of your AHJ comments come during their walkthroughs of the built project…
Well, that project is built.
Simple little things like adding or moving an exit sign cost quite a bit more money when they have already been installed and the drywall around them has been taped, sanded, and painted. Or worse, the conduit has already been run and grouted into the CMU!
Other than added cost to changes, another problem that arises when AHJs are not involved properly at an early stage of the process is not feeling like they are part of the process. There is nothing worse than a fire marshall who comes out to inspect a completed building who feels like he knew nothing about it beforehand.
You want AHJs to feel loved and wanted, and I promise, VR will help.
The solution: Pre-construction inspections in VR
Our solution to overcoming the typical challenges of final inspections was to develop a process that uses virtual "pre-inspections". All we had to do was create a virtual scene of the construction project and ask AHJs to walk through it in VR as if they were doing a final inspection.
It's simple, but so powerful.
Our first successful use of these virtual "pre-inspections" was at a public high school project in town. Instead of attacking the entire building, we chose specific and important rooms/spaces to focus on for each meeting. The first room/space we pre-inspected was the cafeteria/kitchen/servery.
The AHJs involved in this project were the fire marshall, building inspector, and health inspector.
The meeting itself was very simple. Have each AHJ put on VR goggles and walk the model as if they are inspecting a final building. We could all see on a large TV what they were seeing in their VR headset. We would take notes and the group would discuss any items that would come up.
Portable VR setup
As you can see from the images of the meetings, we are set up in the jobsite trailer. It is always a challenge getting users to come to you so being portable is important. Here is a general list of the items needed to create a "portable" VR setup:
Hardware
1 - Laptop - Here is an in-depth review of the laptop I use (and used in this success story).
1 - VR Headset - We use the HTC Vive and Vive Pro.
"Portability" Hardware
2 - Tripod Ball Head Camera Mounts
1 - Surge Protector
1 - 25' Extension Cord
1 - Projector or TV for others to see what the person who has the headset on sees (if the room you are using does not have one).
Software
Autodesk Revit
Enscape (of course!)
Virtual pre-inspection tips
Before I get into the results of our virtual pre-inspections, I thought it would be good to highlight a few best practices for creating pre-inspection models and running pre-inspection meetings:
1. The model does not need to have everything… It may seem like you need to model every nut, bolt, and screw when it comes to a "pre-inspection", but the reality is you are allowed to miss some things. In fact, sometimes it's the things you miss that you learn the most from. For example, if you forgot to add a fire pull station, and the fire marshall immediately says, "hey, where is the fire pull?!", you know for every room and every space in that building you better check for fire pulls!
2. Tell the AHJ to pretend they are in the completed space. For virtual pre-inspections to work, you need the AHJ to fully immerse themselves. To do so, set up the presentation by mentioning multiple times to pretend they are inspecting the final space.
3. Adding model text to help comprehension. After many different virtual pre-inspections, we were getting tired of explaining to AHJs that the round thing on the ceiling was a WiFi hotspot and the outlet on the wall was a GFCI. So, we started adding model text to our families with the ability to turn it on and off as needed. Super helpful during the walkthroughs.
4. Materials and lighting help with immersion. Technically, the right materials and lighting of a scene don't really matter for the final walkthrough when the AHJ is looking for fire safety, health, and code items. But, we discovered a highly realistic scene with quality materials and proper lighting will add to the immersion and elicit more comments from the user.
The results: Improved processes and cost efficiencies
The results of our first (and many subsequent) virtual pre-inspections prove that it should be a standard practice on all projects. In the first meeting alone, the AHJs reviewing the pre-inspection model found a multitude of really important items.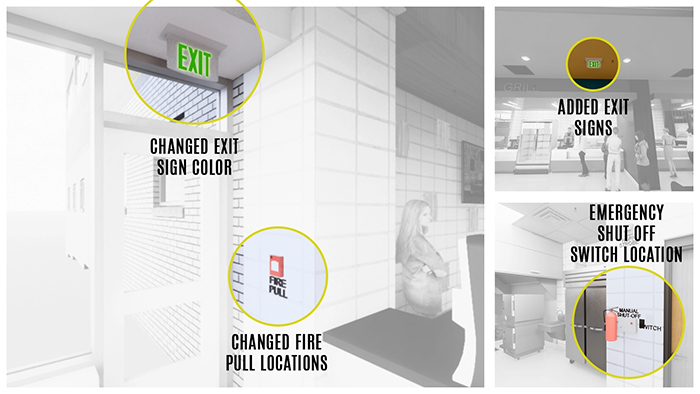 What exactly did they comment on? Here are some examples:
Fire Pull Locations: The fire marshall asked us to relocate a fire pull station to the opposite side of a column. When constructed, this wall would be a 12" CMU wall. Imagine having to make this seemingly tiny change after the pull station was installed.
Exit Sign Colors: For some reason, the architect received the wrong information about what color the "EXIT" on the exit signs should be. The specified, and approved, exit signs were green. Once in VR, the fire marshall immediately said "those should be red".
Adding Additional Exit Signs: Another awesome benefit to the virtual reality experience is being able to see realistic vantage points. During all of our pre-inspections, the fire marshall will sit or stand in innocuous locations throughout the space and verify that he could see the proper exit signs. We added or modified the locations of some exit signs based solely on VR vantage points. I know… so cool, right?!
Gas Shut-Off in the Kitchen: This is an example of how sometimes even missing elements bring up great conversations. We missed the gas shut off valve when combining the MEP and Architecture models for the walkthrough. The building inspector went into the kitchen and asked where it was. When we couldn't find it we made sure to check the construction documents to verify it was there. Luckily, it was. But, you can be assured the project team made sure it was installed.
Those are only a few of the items that have come up during our virtual pre-inspections. To some of you they may not seem all that major. But, remember, this was all taking place before we even finished topping off steel.
We haven't quantified the value of what these changes would have cost had they not been found until the project was complete, but I am sure you can imagine just the four examples I mentioned would cost a hefty penny to fix.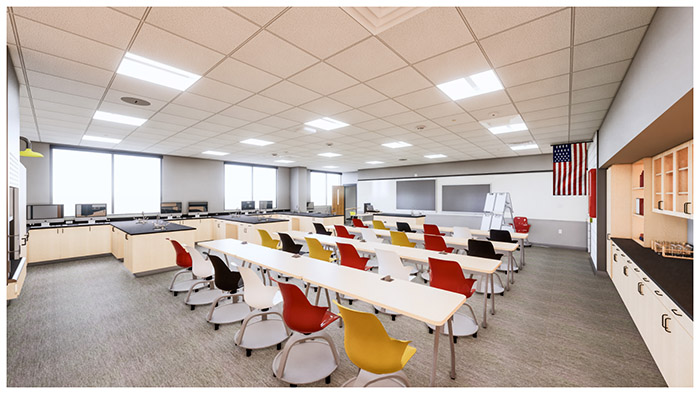 Our virtual pre-inspections were so successful in the first area of the project, that we went on to develop virtual pre-inspection scenes for typical classrooms, labs, corridors, an auditorium, and a gymnasium. We've also performed similar pre-inspections with other AHJs on various healthcare and higher education projects.
Ultimately, we could not have succeeded in developing our virtual pre-inspection process without Enscape. Enscape's direct connection with Revit allows us to make changes and modifications based on AHJ comments directly in the meetings.
Imagine having a fire marshal say, "hey, there should be an exit sign here", and within minutes he is looking at the exit sign in his VR headset? I don't have to imagine, because I have seen it happen many times.
The other advantage we had by using Enscape is the fact that you can launch your Revit models into VR with literally one click. There is no exporting, scripting, setting up locations/cameras, etc. In one click from within Revit, you are in VR.
Finally, when it comes to virtual pre-inspections we want the VR user to be completely immersed in the space. We want the AHJ to believe they are walking through the final building and critique the space without the distraction of low-quality materials, shadows, and lighting.
Enscape, hands down, has the highest quality output within a VR headset I have ever seen. Period.