For over thirty years, Overland Partners has been blending art, technique and technology to foster community and potential across the globe. Founded in 1987 in San Antonio, Texas, the firm has been recognized time and again for its innovative and sustainable design. It regularly places among the top design firms in the United States, and has developed and supervised projects across the US and around the world. Through its design of museums, corporate headquarters, homeless shelters, universities and more, Overland has aimed to not only provide shelter, but also articulate the story of the community and further the collective exchange. And for the past few years, they have been able to use Enscape to achieve this goal.
In-House Communication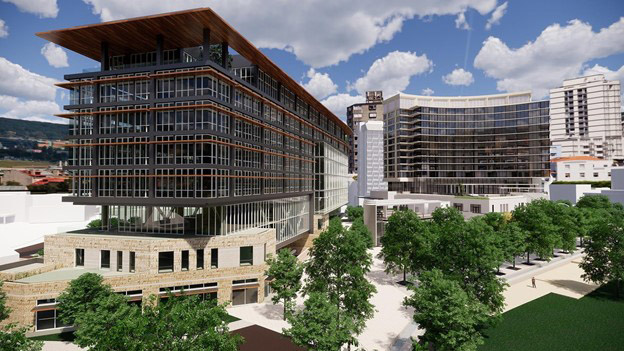 Overland Partners - Hemisphere Project
For Overland, incorporating Enscape into their workflow has above all cultivated internal communication. "We discovered Enscape about two years ago and we have not looked back since," says Daniel Carpio, Overland's Director of Technology.
Previously Overland's workflow had been a longer, more demanding process. Carpio integrated Enscape into the design process and noticed that he was able to achieve maximum benefit through minimal changes. "You don't actually have to change your workflow that much," he says."… Enscape easily plugs in and ties to all the softwares that we use every day.
This smooth integration has allowed Overland more effective internal communication, leading to more time for design. As Overland Senior Principal Bob Shemwell puts it: "We find that we can get to decision points earlier. We find that we can extend the length of time that we're spending on design." And this breathing room during the design process has wide-reaching benefits. Problems might not always be evident on a floor plan, or in a CAD software like Revit; in Enscape, however, it's possible to recognize right away if a stair is too close to a wall, a light fixture is inconveniently placed, or a pipe is coming out of a wall. It cuts down on the reaction time and allows Overland to solve problems before they actually become problems.
Simple, Effective Presentation
Beyond the benefits to the internal process, Enscape has facilitated better communication between Overland and their clients. Presenting a design in a way that allows the client to fully understand the work is crucial to a project. "You have to curate the experience for the client so they don't feel like they're going to look foolish," Shemwell says. Enscape removes the need to explain floor plans in detail to clients who most likely have little experience reading them. As Carpio puts it: "They finally have a clear understanding of the reality of their project."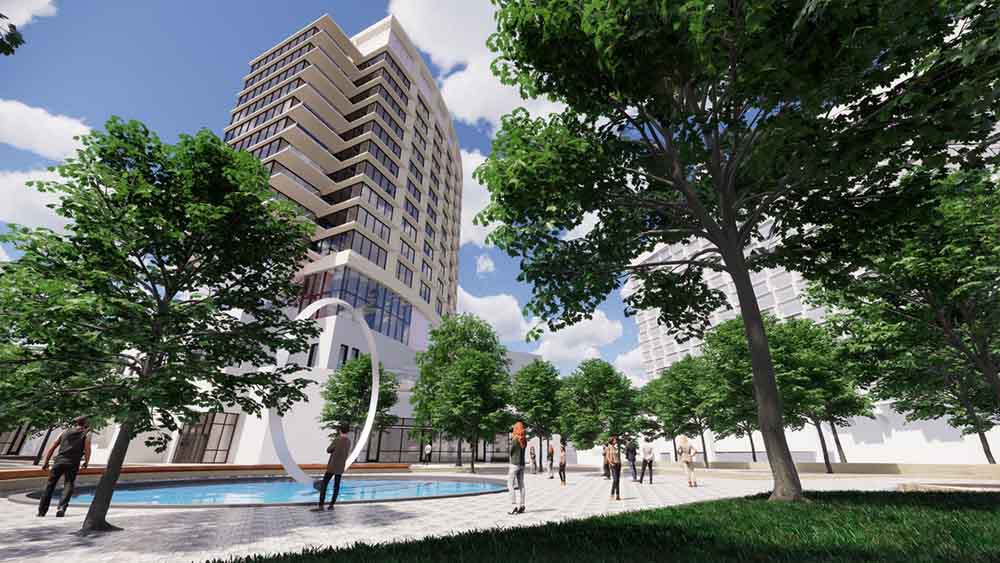 Overland Partners - Hemisphere Project
This clarity is often the deciding factor for the client. Still renderings can give an impression of the overall project, but the live Enscape walkthrough allows Overland to communicate the work in different atmospheric settings. For the client that will actually be living or working in the space, this is the most essential part of a design presentation: seeing the materials used, the light conditions and the general feeling of the space. "[Enscape will] allow us to put all the correct materials on; it'll allow us to show the client what the bedroom will look like at a certain time of day," details Steve Fong, Overland's BIM Manager. "All these things are something that we can now study visually, that we could not do before and this is all within the last few years; this is something that's very new to architecture."
Joining Forces
Over the past years, a fruitful partnership has developed between Overland Partners and Enscape. When Carpio and Fong first heard about Enscape, they were wary of putting all their eggs in one basket. However, as soon as they began their trial period, they were convinced. "We could not believe what we were seeing," Carpio says. "It was doing everything it said and more." Since those early days, Overland has worked ever more closely with Enscape and both sides have seen the benefits. "With Enscape we feel like we have a developer that works for us. They listen to us, they surprisingly implement all of the things that we asked for" says Carpio. "It feels like there's this great partnership that we have with Enscape and I really, really value what they are doing to the AEC industry."
Looking Forward
Overland Partners - Hemisphere Project
As Overland Partners continues to develop projects across the globe, Enscape is there to streamline their design and presentation process. "It's a fundamental problem of the human condition," says Shemwell, "…trying to communicate ideas effectively and for us Enscape and VR in general are one of those things where it creates the most equal experience for a client and a creator." Whether it is facilitating internal communication, or clearly communicating a design to the client, Enscape supports Overland where they need it the most. As Shemwell puts it: "It's technology, but, ultimately, it's about people."
Visit Overland Partners on their Social Media Channels!