The 2.8 release brings with it many exciting updates to the Enscape Asset Library. In addition to adding new models to every asset category, our 3D artists have created a dedicated package of healthcare assets for your hospital and medical projects.

For those planning gardens and landscaping, we also have great news: adding life to your walkthroughs and videos is a breeze with our new wind settings. For the first time ever, you will be able to add animation to your 3D vegetation models, creating dynamic moments. Read on for a full overview of the new features!
Healthcare Asset Collection
We strive to collect user feedback and continuously develop the 3D models that you need to add context and energy to your visualizations. With each new release, we not only add new assets to all existing categories, but also release asset packages. With Enscape 2.8, we are releasing a collection of healthcare assets you can use to decorate and populate your hospital and healthcare projects.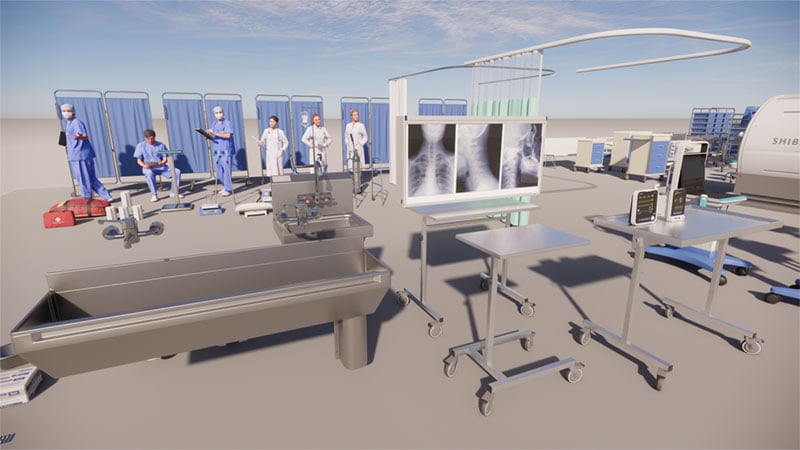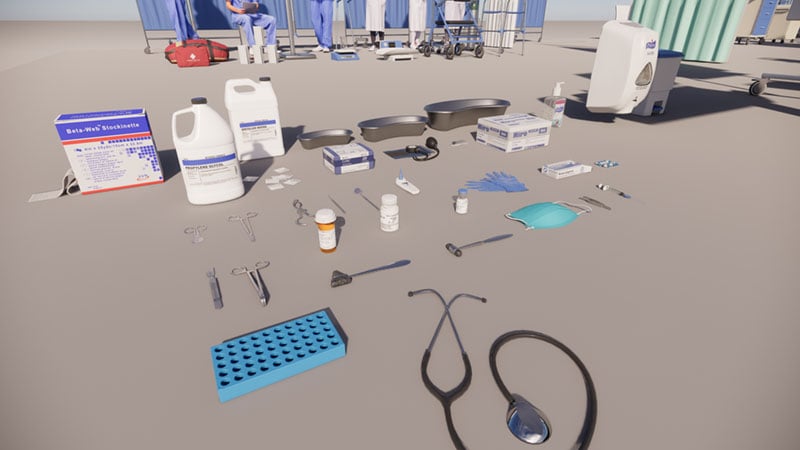 The package includes everything you need to devise convincing healthcare rooms: from large equipment like surgical scrub sinks and X-Ray machines to staff members dressed in scrubs and lab coats. There is also a selection of small elements and tools to fill shelves and tabletops, adding finer details and energizing the scene.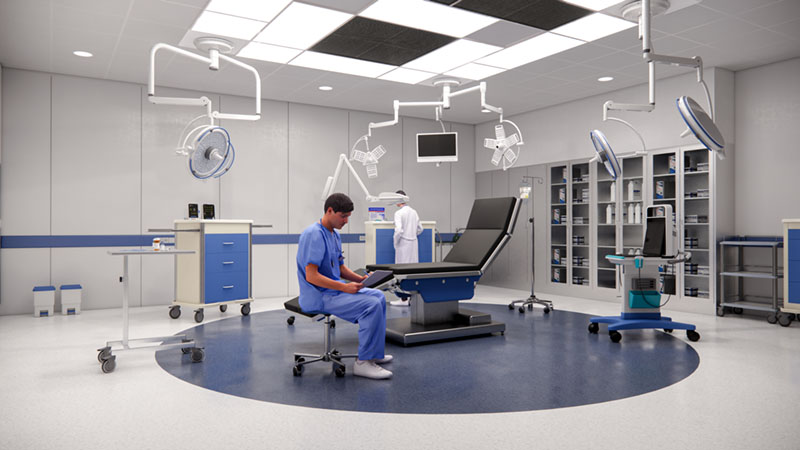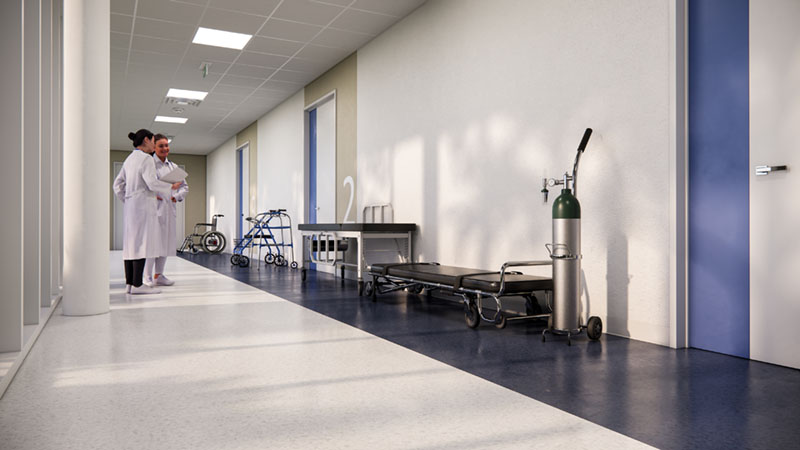 Test the work environment in a clinical setting by adding assets; you can then even explore the space in VR to make sure it meets the necessary standards. And all this without sacrificing performance: the new healthcare package will allow you to fill in a scene without creating a huge project file.
Animated Vegetation
For the first time since the introduction of the Asset Library, you will now be able to animate select 3D models, for walkthroughs and videos that are brimming with life. You might already be familiar with the Enscape water material, which is animated when you move in Enscape. Starting with 2.8, assets from the vegetation category will likewise be animated when the camera is in motion in Enscape.

On its own, vegetation already makes a big difference in terms of realistic images. No project is complete without lush landscaping or an expertly planned garden. Since the very beginning of the Asset Library, vegetation has been one of the fastest expanding categories. It only takes a few clicks to fill your project with everything from trees to bushes, flowers to potted plants.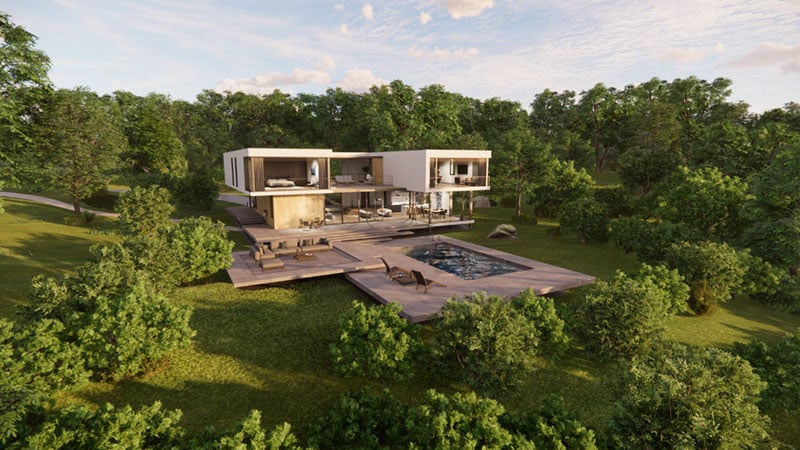 Animating vegetation models like trees is just the next step in the process of making your project appear as realistic as possible. In day-to-day life, you would expect the leaves on trees to flutter slightly in the wind – in exports like video flythroughs, the lack of motion can make the project appear less real. Adding just a slight gust of wind gives landscaping an almost tangible feeling.
And the best part: the animation is automatic. All you need to do is start Enscape and watch your landscaping come to life.
Wind Settings
To give you more control over the new animated assets, clouds, water, and grass materials, we have added wind controls to our array of Visual Settings.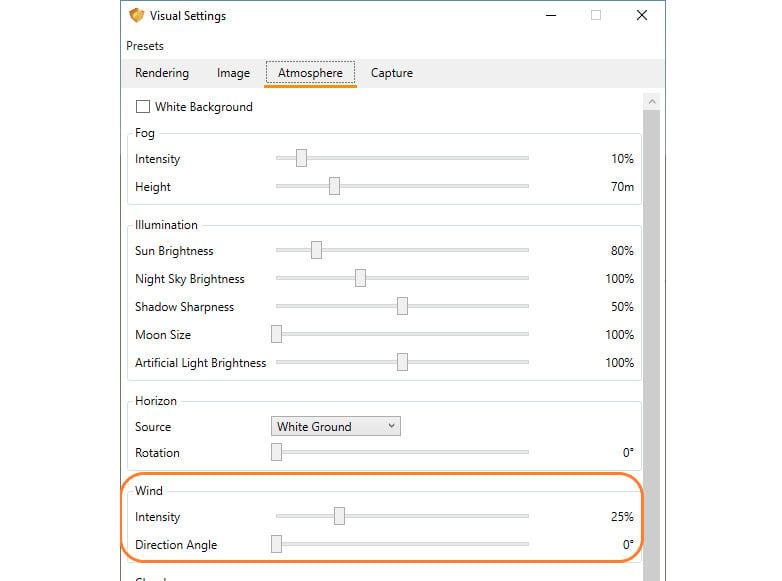 With Enscape 2.8, you can set both the intensity of the wind and the direction it comes from. Check out the effects below, in increasing levels of intensity:
Conclusion
We're excited about these updates and want to see how you use them to enrich your projects! Share your renderings and videos with the whole Enscape community here in our Forum.

And as always, we want to hear from you: we have a dedicated design team that spend their days creating the content you need. If there is something you would like to see in the Asset Library, just get in touch with us!

To learn more about the additional new features that have been released with Enscape version 2.8, read the full release post here: Next-Level Design and Collaboration: Enscape 2.8 is here!

You can also view our short video below, which talks about the new assets and other features that come with Enscape 2.8:

And since releasing Enscape 2.8, we continue to add new assets and features to Enscape. Check out the latest version here.

P.S. If you're not yet using Enscape, you can test out all of the features and assets for yourself in our free trial!