Enscape 3.0 has arrived, bringing our users an even better real-time rendering experience!

Taking your feedback into consideration, we have evaluated every feature and aspect of functionality. We've also made the necessary improvements and redesigned the user interface to give you a more intuitive design workflow.

But the Enscape user interface is not the only thing that has changed. Read on to learn more about our new branding, headquarters, and our mission and vision for the future.
Refreshed branding launches with 3.0
Enscape 3.0 represents not only the evolution of our product but also our company, which you will see reflected in our sleek new branding!

Our new corporate design reflects how Enscape has transitioned from a successful startup to a flourishing global company. Aspects of the 3D cube, which were part of the original Enscape logo, remain, but with a modern look to take us into the next phase of our journey.

Ready to see our new look?!

Rapid growth results in European and U.S. expansion
Since our first release in 2015, Enscape has seen rapid global growth and is now used by 85 out of the top 100 architectural firms. The company has gone from two to 94 employees, with 26 new hires planned for the coming months to help provide you with an even better product, experience, and service.

To accommodate this additional headcount, our headquarters have moved to a larger state-of-the-art office in Karlsruhe, a major technology hub in Germany. The new HQ even includes a dedicated space for customers to come and experience Enscape first-hand, once face-to-face meetups are permitted again.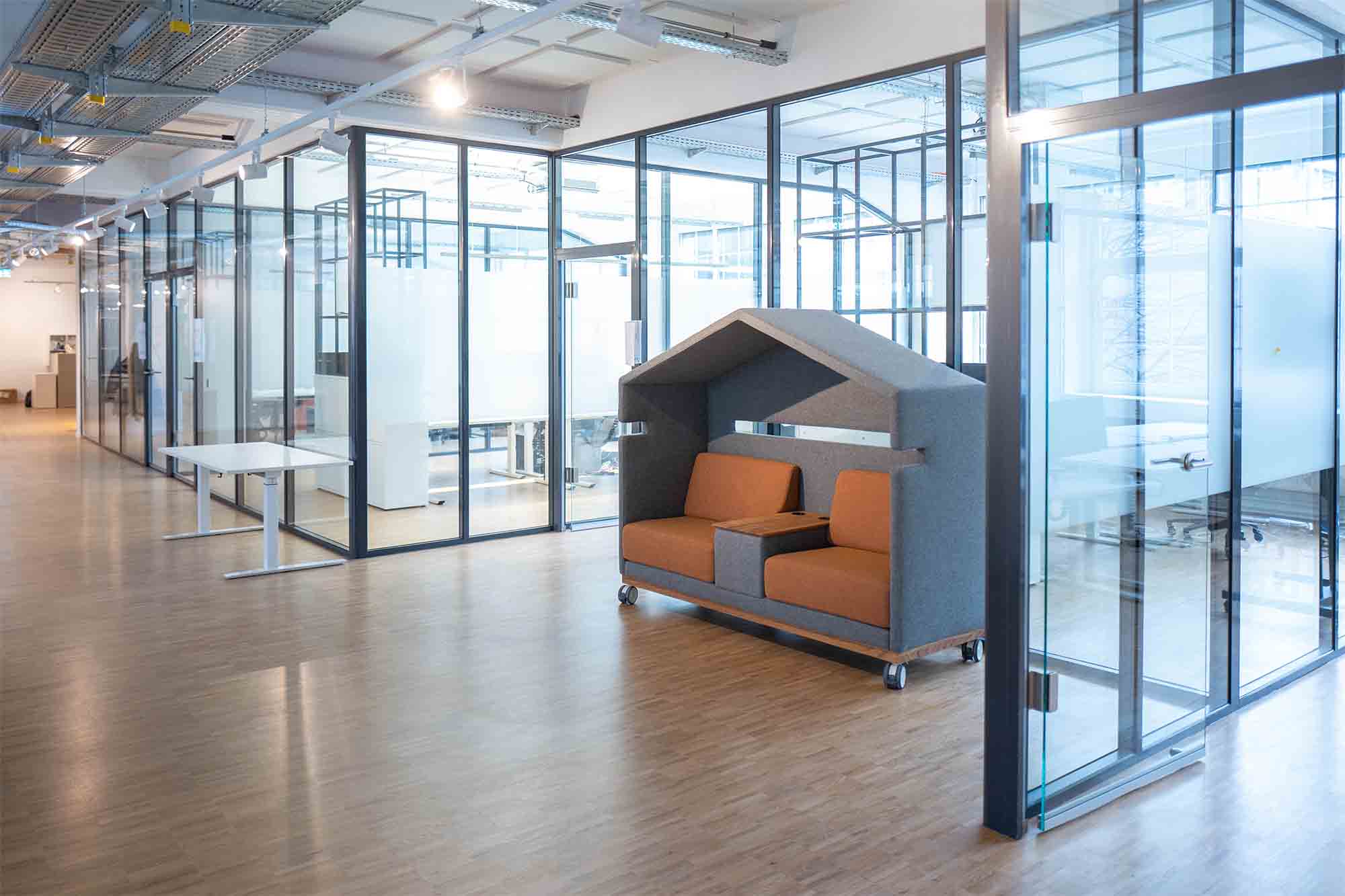 The new Enscape office in Karlsruhe, Germany (we're still unpacking...!)

Expansion is also taking place in North America. Dan Monaghan, former VP of Marketing for Vectorworks is heading up Sales and Channel for the Americas. We also have Petr Mitev, who is Head of AEC Technology and recently joined us from global design firm NBBJ, plus four other team members based in the U.S. to help expand and support our substantial customer base in this region.
A new mission to bring everything together
To complement the improved user experience introduced with version 3.0, and reflect our future aspirations, both the Enscape brand and mission have been refined. Head of Marketing, Thomas Weber, explains more:
Enscape has developed from a tech startup in the field of architectural visualization into a leading company that drives the digital revolution (in AEC) by providing an intuitive tool that helps architects and designers in their daily lives.

With the rapid growth we have seen and the impact that we have, we knew that now was the right time to refresh our brand to represent our dedication to customers, our position in the market, and the commitment to our vision and mission.
Thomas Weber, Head of Marketing, Enscape
Take a look at this short video, which introduces our mission and vision:
Our mission is to unleash the creativity of the builders of tomorrow through continuous innovation in accessible design technology.
Our vision is to make the built environment tangible before it exists.
The new-look Enscape marks an important milestone in our product and company development. And one thing will always remain true – our focus on providing you with the most intuitive and simple-to-use real-time rendering tool to support your design workflow every step of the way.

Learn how the redesign has impacted the Enscape user interface and see which features were added to the latest version here: Design Intuitively with the Brand-New Enscape 3.0 - Out Now!
Get creative with Enscape
Download Enscape version 3.0 and start benefiting from the new UI and feature improvements (free for existing customers, students, and educators who are part of our educational program).

And if you're not yet using Enscape for real-time rendering and instant visualization (what are you waiting for?!), try it free for 14 days: