BETTER STARTS HERE.
That was the memorable and inspirational slogan used throughout this year's Autodesk University. Seen literally everywhere you went, it helped to set the scene for three intense days of learning, sharing and networking.
So what do you get when you combine over 10,000 professionals from architecture, construction, manufacturing, engineering and media creation at Autodesk University, Las Vegas? Utter brilliance.
Autodesk University is all about helping to advance industry practice through inspiring and connecting those who design and create everything around us. The conference is now in its 27th year, having started in San Francisco, close to Autodesk's headquarters back in 1993.
Enscape were fortunate to attend AU this year (a special shout out to everyone who swung by our booth!), and here are just a few takeaways from what was an incredible and inspirational event.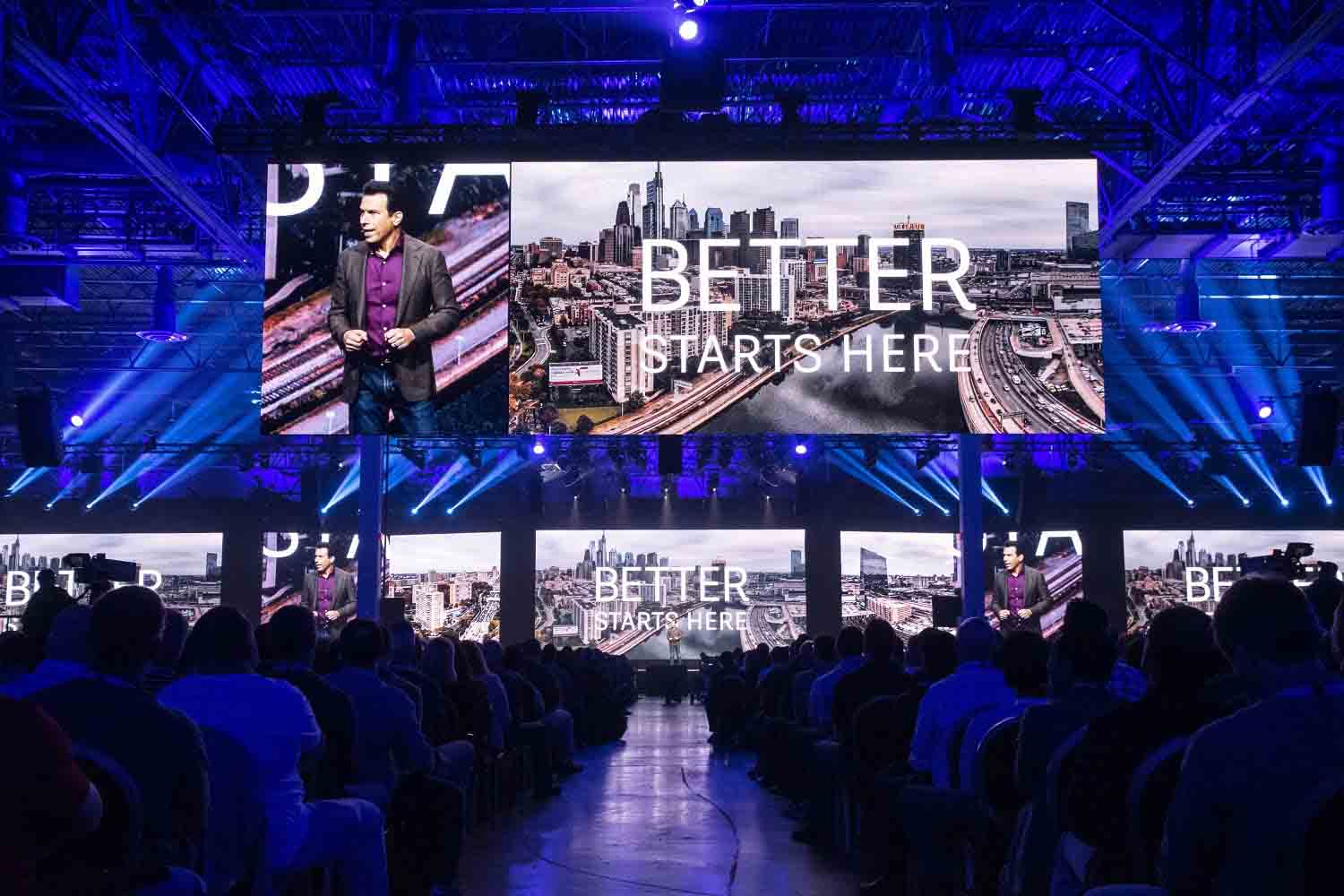 Better Starts Here: Autodesk University 2019
Sustainability needs to be at the heart of everything
Autodesk CEO Andrew Anagnost kicked off with an enthralling general session on day 1 (make sure you check out the full video here).
With the world's population increasing, there is an increased demand for more homes, more hotels, more everything. There is a need to create more either by being creative with what we already have, or by creating something from scratch – but whatever we do and however it's done, it has to be sustainable.
And with the construction industry alone being responsible for creating 1/3 of global waste and with buildings emitting 39% of the world's energy-related carbon dioxide, the AEC industry has the opportunity to make a positive impact on the world around us.
How can we make better use of the world's energy and materials? How can we use more renewable and circular materials? How can we positively impact the health and lives of those around us? Anagnost states that we need to fundamentally change the way we build in order to create a more sustainable, equitable and prosperous future for billions of people.
Technology can help us do so much more
One tool that can help us to deliver a more sustainable world is of course, technology. There is SO much that technology can do and can help us with.
It can help to improve productivity by eliminating processes that can be done with the help of technology. It can help to automate tasks, to speed up workflows, to help us make better-informed decisions.
One tech trend that came out of Autodesk University was that technology will become a collaborator, and with it becoming more and more intelligent, it's something we should explore deeper.
Autodesk CEO Andrew Anagnost talked about how one of the biggest hotel chains in the world, Marriot, are using Autodesk technology including Revit in the prefabrication process of modular units to drive efficiency, reduce waste and increase the speed at which they can deliver hotels.
Marriot are scaling up their use of modular construction – what they claim will disrupt the way buildings are built. This involves the prefabrication of modular guest rooms that arrive at the construction site fully constructed and fully finished – including internal components such as the bed and even the sheet and pillows. Marriot's modular hotel, The AC Hotel New York NoMad, is expected to open late 2020, will be the tallest modular building in the world and will take just 90 days to erect.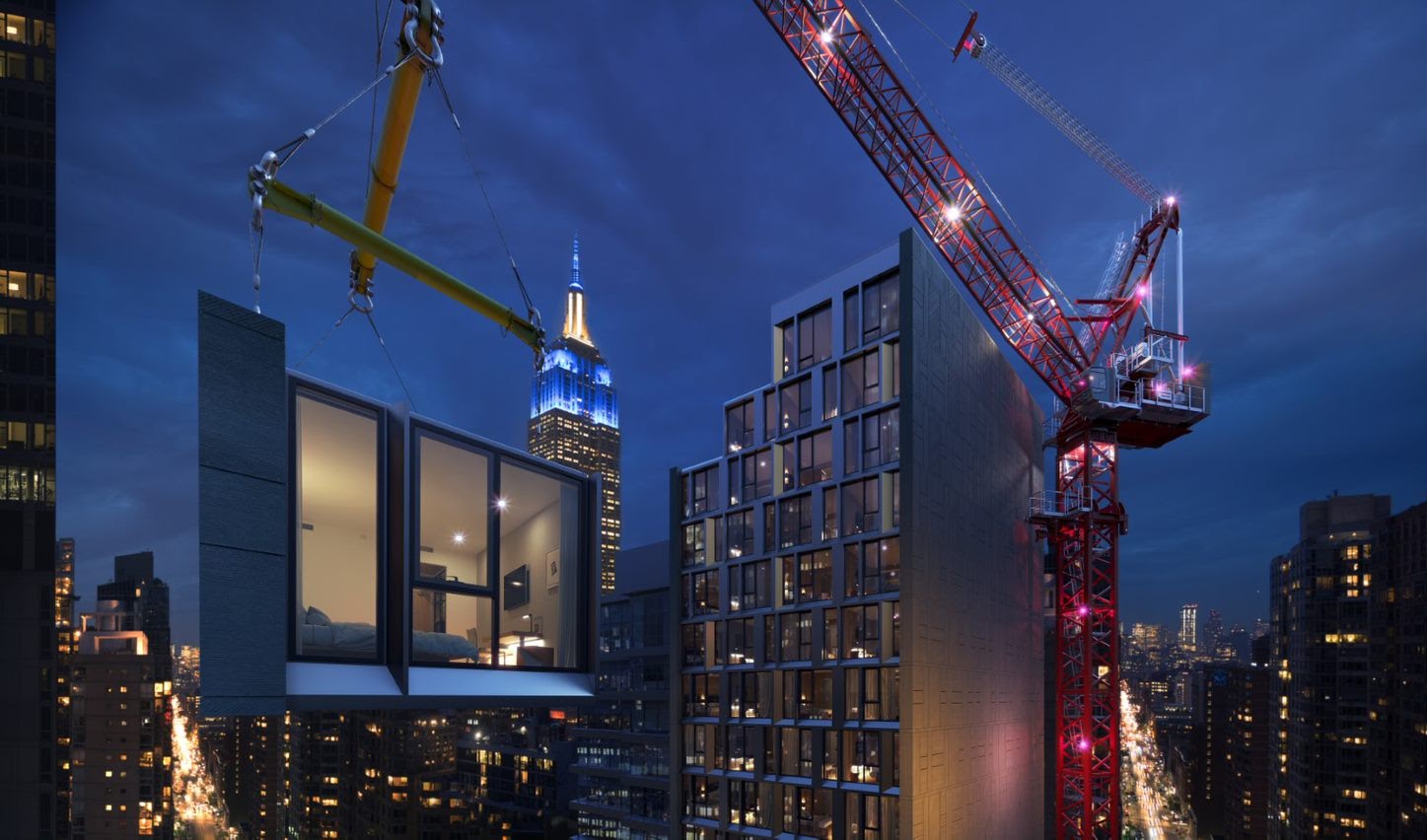 Marriot's modular hotel, The AC Hotel New York NoMad
BuildChange CEO Elizabeth Hausler joined the general session to talk about their use of technology with AI (artificial intelligence) to help build disaster-resistant homes and schools. Their mission is to greatly reduce death, injuries and economic losses caused by housing and school collapses due to earthquakes and typhoons in emerging nations.
BuildChange are maximizing their use of technology to scale quickly. They want to strengthen 10 million homes in the next 10 years and by using artificial intelligence, they can increase the speed at which they work. They have developed a program which can see from a photo if it's possible to strengthen a building. This saves a considerable amount of time and human resources, and makes their vision of strengthening their target of 10 million buildings more achievable.
Enscape, of course, is another example of technology which can help save AEC professionals a significant amount of time, help to improve workflows and client collaboration. Over the course of the three days, we heard from countless customers who wanted to express how much Enscape has changed the way they work. They were impressed with its simplicity and its speed when creating 3D renderings from their 2D models. They told us how they could now create architectural visualizations in a matter of seconds, at any stage of the design process which was helping them in so many aspects of their work. It was great to hear.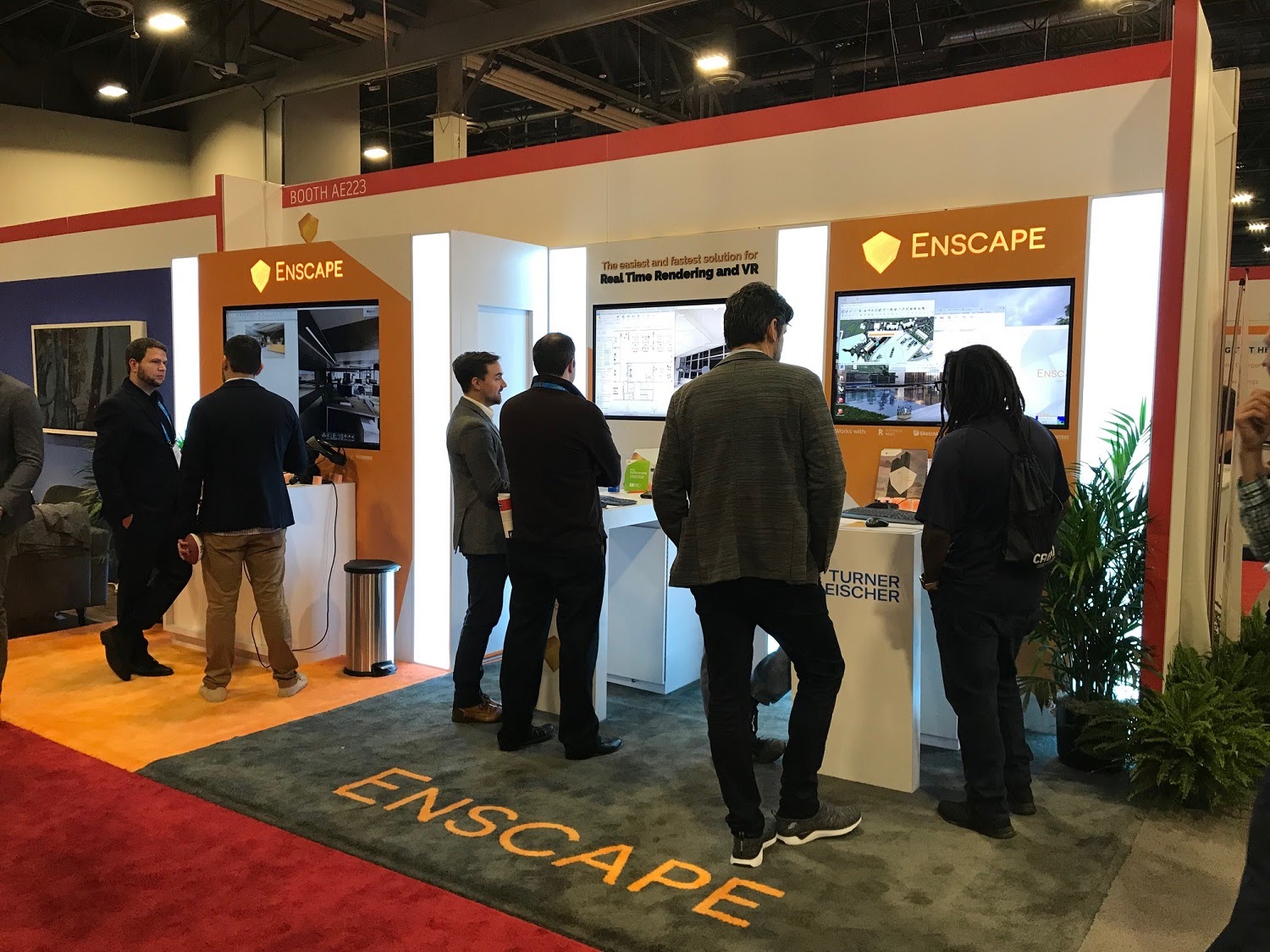 The Enscape Booth at Autodesk University 2019
Data should be used to make better-informed decisions
Another word that we heard in various sessions at AU19 was 'data'. It's clear that data is still a challenge for many organizations but it's a tool we need to get a better grasp of and should be utilized more to help us make better-informed decisions.
Technology can also help with the interpretation of data – with various software tools and artificial intelligence helping to pull data together, interpret it, and enabling us to understand so much more.
We heard that data needs to flow through various systems to help each of us work intelligently. It's one thing to 'think' that you know that something should be done in a certain way, but data can help to either confirm or challenge our assumptions and should be given more focus by each of us.
Autodesk University 2019 – it's a wrap.
This year's event was incredible on many levels. The constant buzz of inspiration; being surrounded by thousands of your peers; being able to connect with others and hearing powerful stories either from the stage or over a coffee. You can't help but leave this conference fired up.
We're excited for what the next 12 months will bring in our industry. Better collaboration, better efficiency, better sustainability, better everything.
BETTER STARTS NOW.