Sharing your design concept with clients has never been easier with Enscape's real-time rendering engine. From one of the supported design platforms, (SketchUp, Revit, Rhino, Archicad, Vectorworks), to Enscape, to a high-quality interior rendering typically only takes seconds or minutes, not hours or days like in recent years.
With this efficient workflow, be careful not to miss these five easy steps that are sure to improve the quality and clarity of your interior renderings using Enscape. These steps apply to all of the supported design platforms, unless noted otherwise.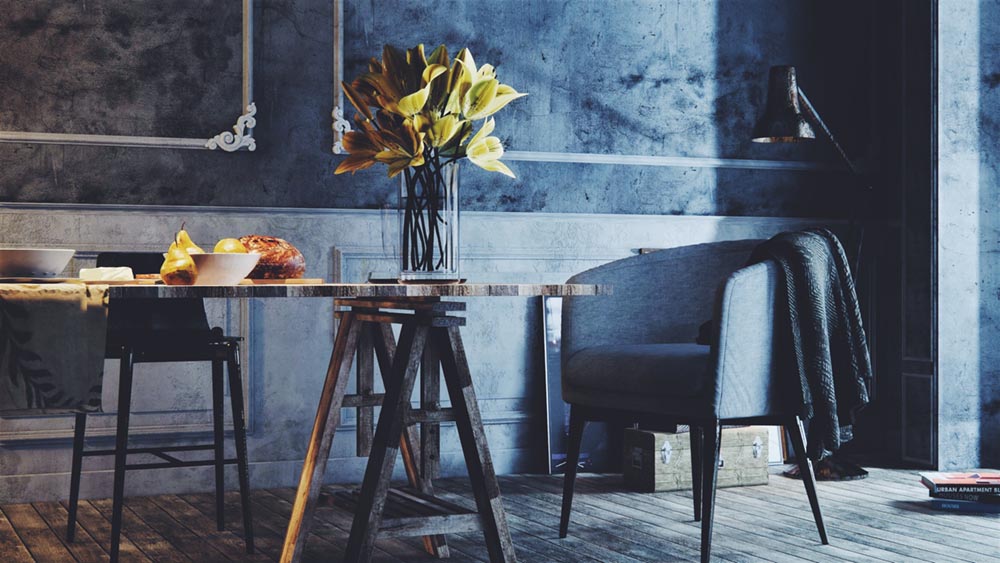 By Dsmall
Tips for creating a realistic interior rendering
1. Adjust your lighting
Exterior lighting matters when there are exterior windows or skylights within the context of the scene. The project location on earth and true north should be set correctly and, for Revit projects, the Sun settings for the 3D Revit view used to start Enscape from must also be set properly. Learn how to adjust the sun and geolocation for your design tool.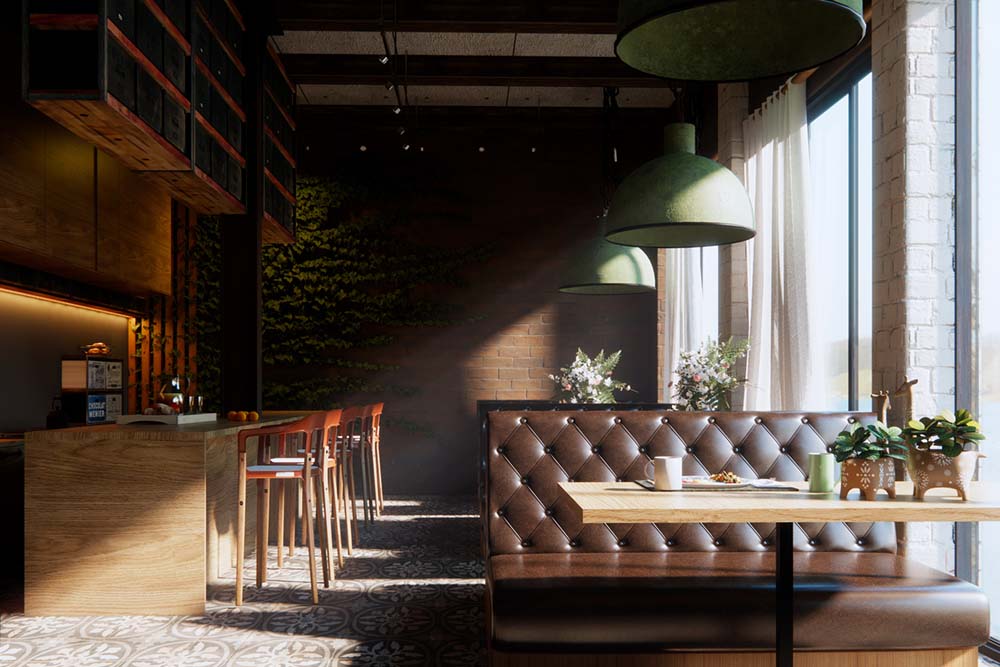 By QuangVinh-Zin
For interior lighting, use the manufacturer's photometry, i.e. IES files, when you have them. This will improve the realism of the scene with accurate light distribution. To demonstrate this, download the free Revit sample file from Enscape, IES Light Gallery. Notice, in the image below, that the same three recessed lighting fixture families look completely different based on the photometry definition applied.
TIP: Once an IES file has been imported into a Revit project/family, the original file is no longer needed. Also, avoid using the IES files that ship with Revit as they are outdated and generic.
For SketchUp users, you can load an IES profile via the Enscape objects window by clicking Load IES profile (for specific tips on lighting in SketchUp, see Enscape Best Practices: Lighting In SketchUp).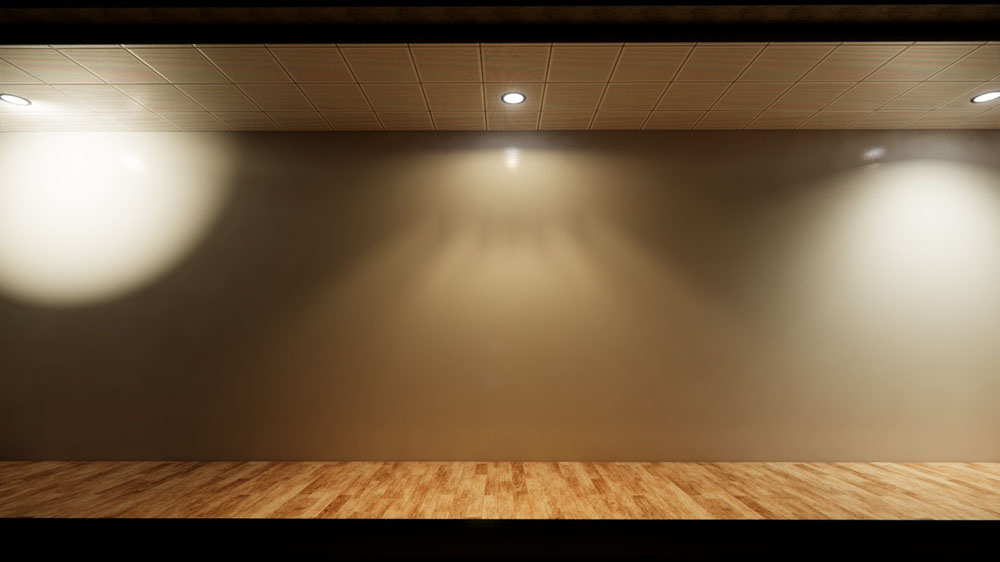 For Revit content, be sure to set the Initial Color (aka color temperature) and Initial Power (brightness). Even when using photometry, these inputs must be manually set.
During daytime hours in Enscape, electric lighting may appear off or washed out. Lighting is always on within Enscape, which may not be apparent due to its auto-exposure system. Use the Artificial Light Brightness slider within Enscape's Visual Settings dialog. Notice the difference between the default setting and then maxing out the intensity.


2. Textures are king
Making a material look like brick or carpet is important and can look quite nice in Enscape. However, taking the texture settings a little further can transform that "nice" image into a "wow, that is a rendering?" image!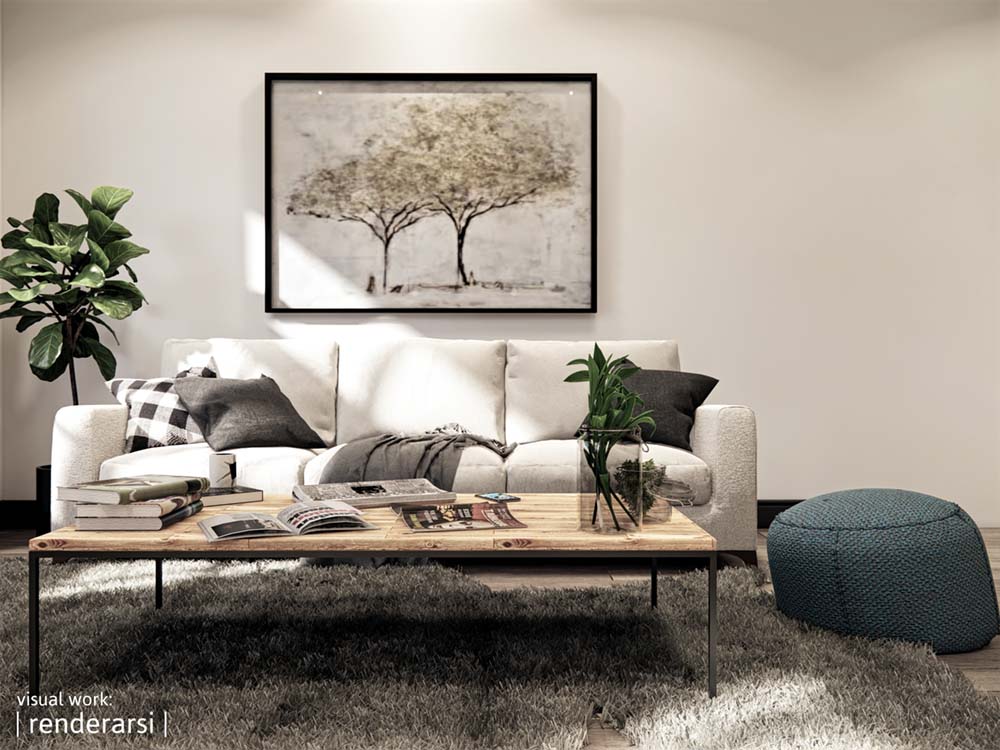 By Ranindita
Consider the following:
Bump: Give your textures a sense of depth on an otherwise 2D surface. Often, the same image used to define the texture can be used for the bump. Enscape's normal, bump, and displacement maps can be found in the Material Editor.
Roughness: This setting can be used to define how reflective, or glossy, the material is. Using an image allows for different portions of the same surface to be more smooth/glossy than others. For example, in an acoustic ceiling tile material, the metal support grid would be more reflective than the rough ceiling tiles.
Reflections: A fully reflective surface is a mirror that displays adjacent objects as a reflection.
Cutouts: Create holes in a material's surface, which you can see through to the other side.
You can download high-quality free 3D textures to help bring your projects to life. Check out the websites below to get started:

You can find more recommended sites for 3D textures, materials, models, and more here: Top Visualization Tools: 3D Models, Rendering Materials, and More!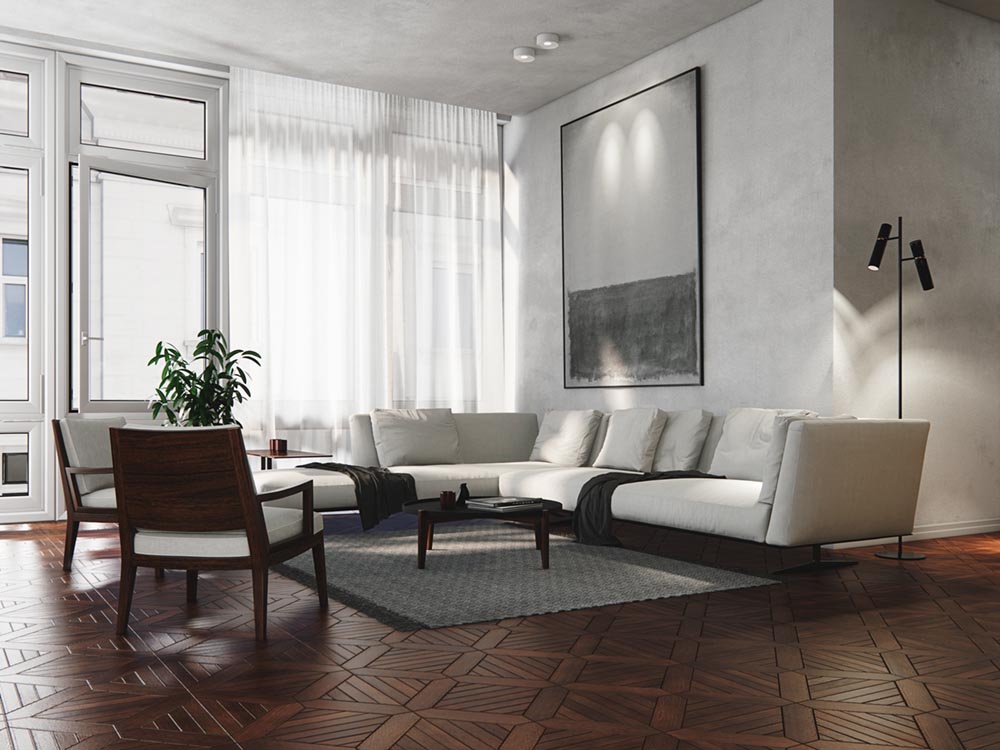 By Vlad Moldovan, MODULUS RENDER
3. Think about composition
I have written about this several times in the past. Finding compelling views within your design is so easy with Enscape. But taking a little extra time to develop the view can make a world of difference. See the previous developing a view post I wrote, Finding the Right Perspective.
Before rendering a view to file, panorama, or exporting to EXE, take a minute to step back and look at the image as a whole. This can be hard to do when you have been working on the details for so long. During this review, think about how someone else will perceive this image. Are there elements that overlap or align, due to the view and perspective, that might be confusing? Perhaps, moving sideways in one direction will cause a potentially confusing situation. Also, make sure your eye level is correct. It is easy to accidentally change this setting, over time, as you are exploring the model and adjusting the view.
Revit Tip: Use Enscape's save 3D View tool to create a view in Revit. This allows you to get back to this same view in Enscape; be sure to check the sun settings, Detail Level, and Design Options for that new Revit view.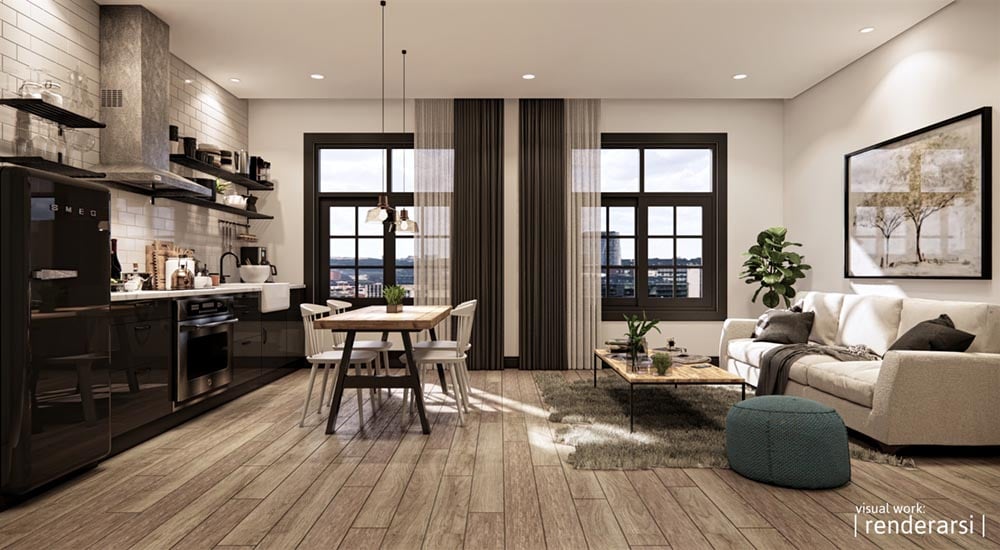 By Ranindita
4. Add life
Architecture is for people, so be sure to add them to your interior visualizations. Enscape continues to add high-quality assets which may be freely used in all your projects; simply drag what you want from the asset library into your design software or directly into Enscape.
In addition to people, Enscape offers a host of ultra-realistic assets that can be used to bring an interior rendering to life. Including, office clutter, potted plants, lamps, furniture assets, and more! If you are not familiar with this extensive library, check out this post by Enscape's Helen Reinold: Best Practices: Asset Library.


It is even possible to add custom assets to your project. Think how nice it will be to add your clients or their special furniture or artwork. Learn more about the Custom Asset Library.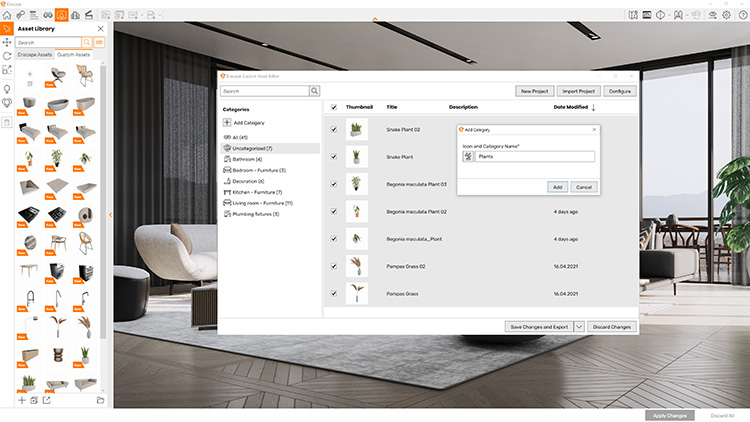 5. Prepare your camera settings

A photographer does not just point the camera and press the button… no, they make several adjustments and may even change the lens to get the perfect shot. This combines technical knowledge and artistic flair. Enscape has many of the same settings as a camera.
Consider these settings when preparing your renderings:
Field of View: The default Enscape setting of 90 degrees is great for on-screen navigation. However, it is not the lens a professional architectural photographer would use. Try something closer to 50 degrees for rendered still images.
Depth of Field: Seeing everything in the background is not always ideal. Use this setting to blur the foreground/background and draw more focus on your design.
Focus: When using Depth of Field, this setting can be adjusted manually to zero on the most important element, which may be a specific design element or a person in the scene.
Auto Exposure: If the scene is too dark/bright, use this setting to adjust it one way or another. Be sure to print and view on another monitor to make sure you get it right!

For interior renderings, in smaller spaces, it may be necessary to use a wide-angle field of view. However, this can lead to vertical elements looking distorted. In this case, try setting the Projection to Two-Point Perspective. The result is all vertical elements in the scene are perfectly vertical. Note that this is not always the best solution though, as the result can be too unrealistic and make the spaces look larger than they really are.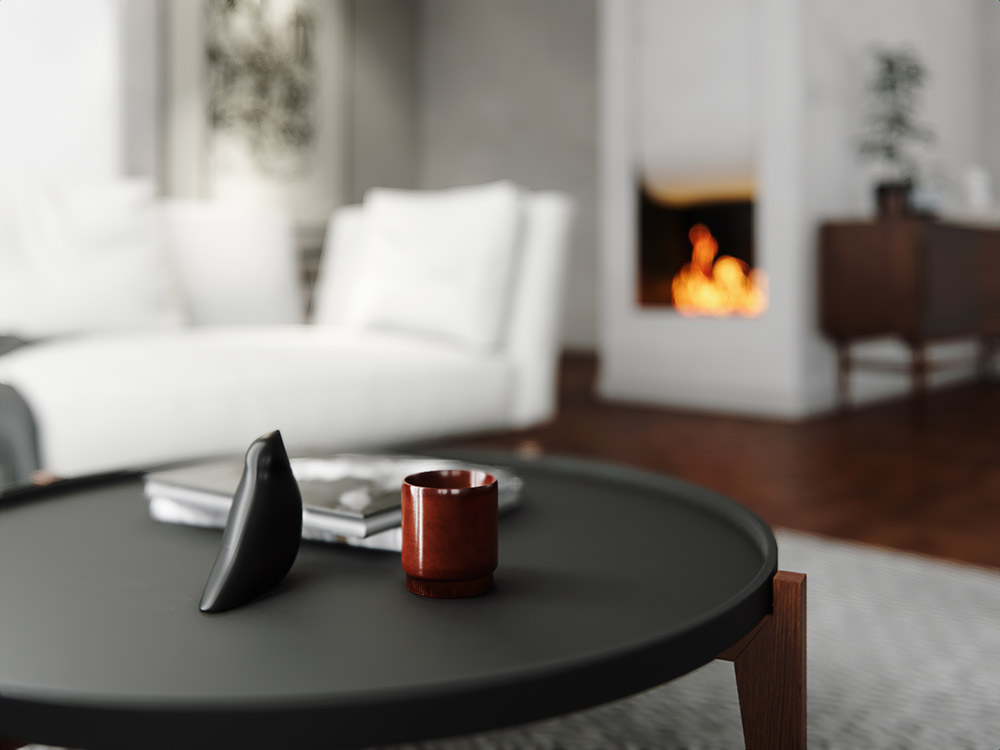 By Vlad Moldovan, MODULUS RENDER
Conclusion
When it comes to interior rendering in Enscape, following these 5 simple steps can make a world of difference! Whether you are a student presenting to your classmates and professors, or a professional presenting to clients, stakeholders, and/or the public, you can have more confidence that they will quickly and accurately understand your design intent. This can lead to quicker approvals and higher client satisfaction, which can then lead to repeat work!
If you have not yet tried Enscape, why not download the free trial and explore your favorite SketchUp, Revit, Rhino, Vectorworks, and/or Archicad models today!