Crafting a beautiful architectural visualization often relies on the use of a diverse range of textures. Each project brings its own unique demands, making a well-curated library of textures a valuable asset.

The good news is, you don't have to spend years building it from scratch 😀. Here, we've gathered some of the best websites where you can find high-quality free 3D textures for your projects.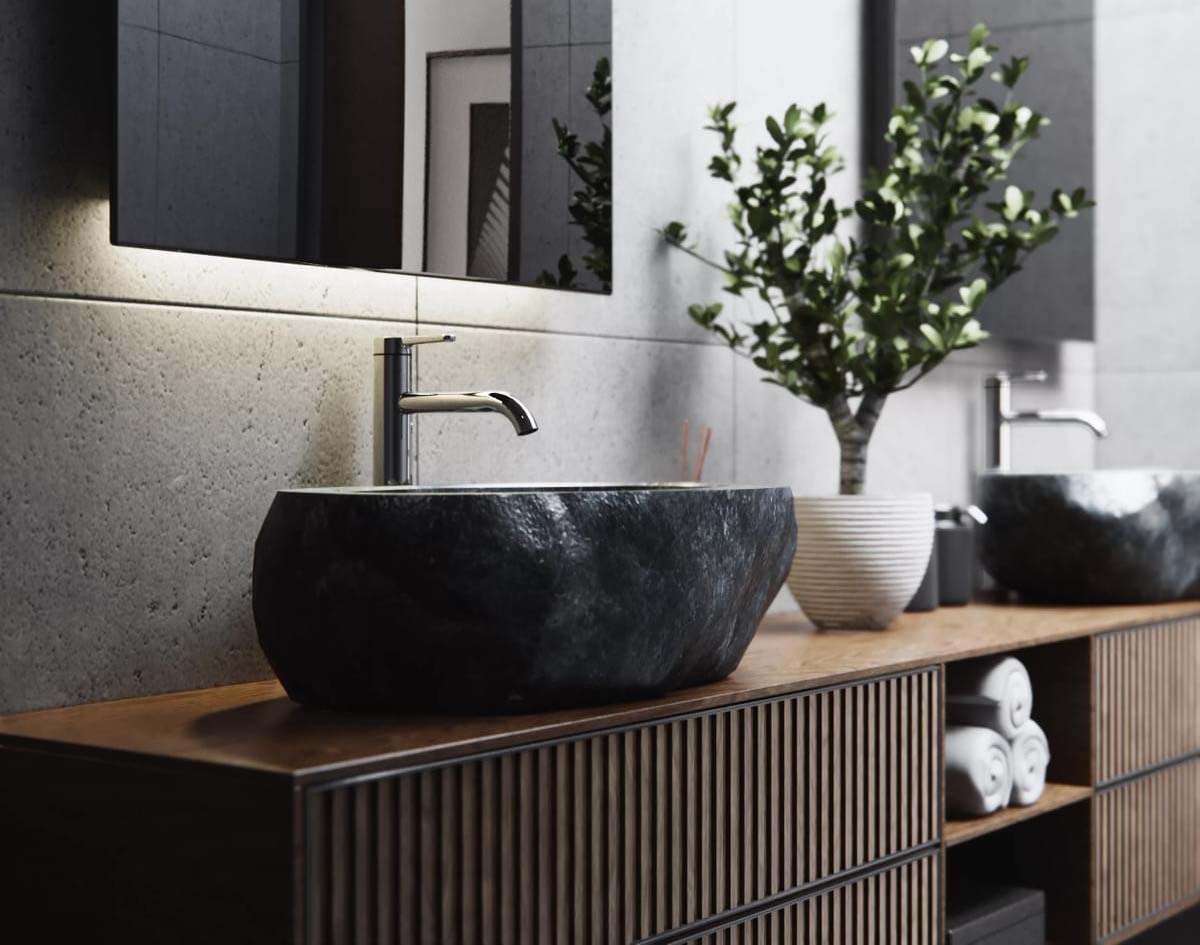 Example of a rendering with various textures used to improve realism

What are the benefits of using free 3D textures?
Incorporating 3D textures into your visualizations offers several significant benefits, including:

Faster design iteration

Accurate material representation

Enhanced realism
Faster design iteration

Architects and designers can experiment with different material combinations and textures in a virtual environment, allowing for quicker and more efficient design iterations. This can save time and resources during the planning and design phases ⏱️.
Accurate material representation

When PBR textures are used to simulate the behavior of real materials under different lighting conditions, it is easier to showcase detail in various finishes like wood, concrete, or metal accurately 🔎.
Enhanced realism

3D textures allow architects and designers to create highly realistic visualizations that closely mimic real-world materials and lighting conditions. This realism helps clients better understand how the final project will look and feel, which can also help speed up decision-making 🚀.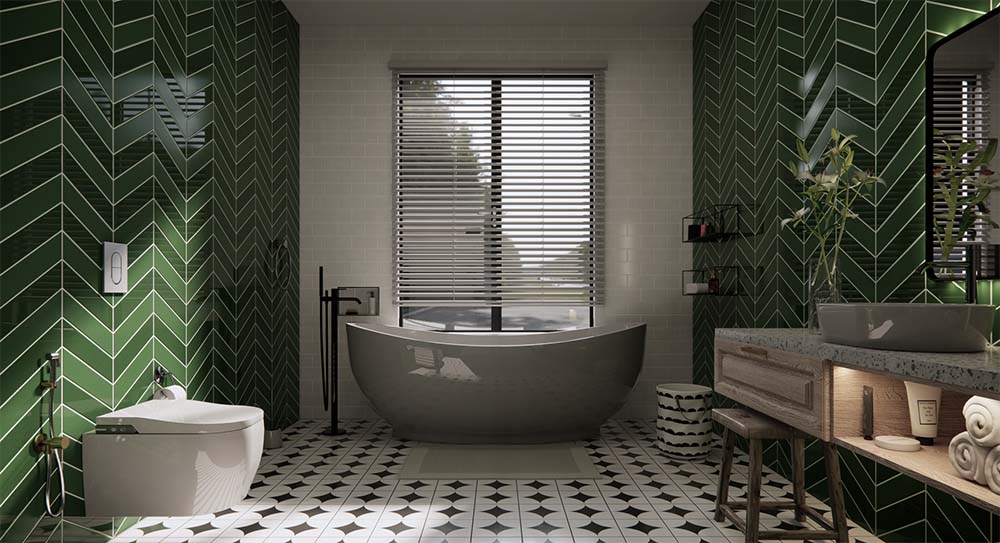 Bathroom rendering with PBR materials courtesy of Enscape user, Luke TR
Always check the license details first
Free textures are often copyright-free and provided under a Creative Commons (CC0) license, meaning you can copy and modify them, even for commercial purposes, all without asking permission.
However, before you download or use any of these textures, it's always best to check the licensing details first.

While many are offered as a creative resource under free licenses like CC0, some may have specific requirements or restrictions for commercial use. Always give proper credit when required and follow the terms and conditions outlined by the texture creators or the platforms providing them.
Where to find free 3D textures

When searching online, it's possible to find many websites that provide an impressive array of free textures for 3D modeling and rendering.
They are often of high quality and available to download in various sizes, generally up to 8K (we tend to find that 2K resolution works well if you're rendering with Enscape). Some are even photo-scanned or photographed, giving you incredibly realistic-looking textures to use within your scenes.

Let's take a look at some popular websites where you can find free textures to use in your projects.
Poly Haven (formerly Texture Haven)

Poly Haven is a curated public asset library that provides high-quality free textures, 3D models, and HDRIs.

You don't need to register for an account — simply pick the texture you need from the 400+ available, and download away!

Poly Haven offers a range of different textures, including wood, floor, plaster, roofing, and terrain. They are all categorized, so you can easily scroll through and browse the comprehensive selection.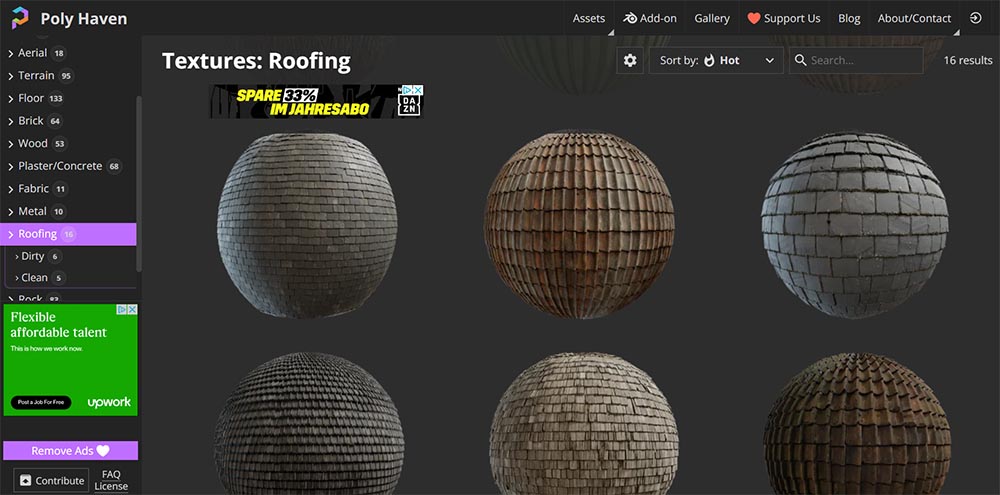 How roofing textures appear on the Poly Haven website
ambientCG

No list of free 3D texture websites is complete without mentioning ambientCG.
The extensive library features so many high-quality seamless textures that come with PBR maps, that you'll likely find exactly what you are looking for in no time.
Site owner Lennart Demes releases new textures regularly. Below you can see an example of a floor texture that I downloaded and how it appears in Enscape. Amazing realism!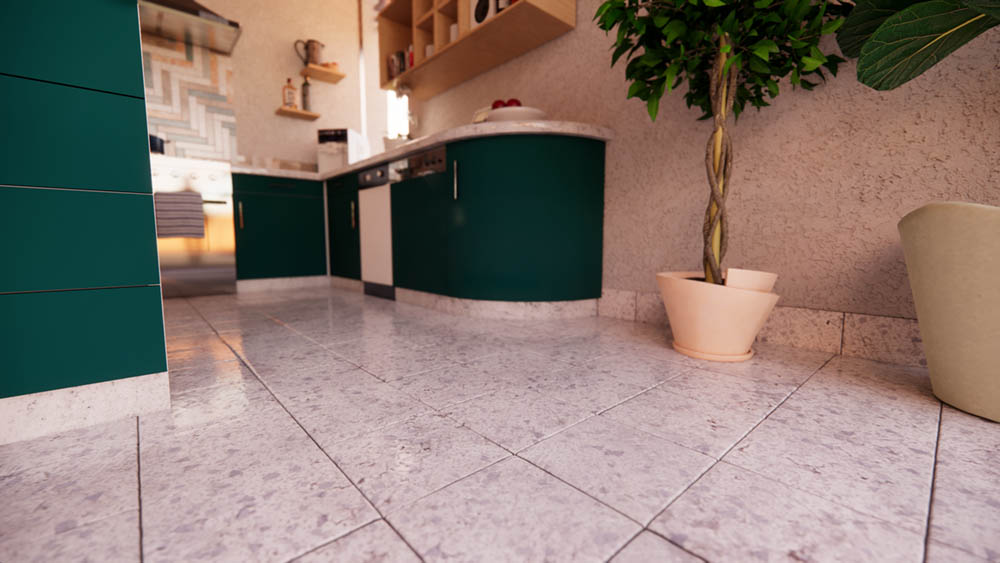 Example of a floor texture from ambientCG
CG Bookcase
CG Bookcase is run by Dorian Zgraggen, who created the 500+ PBR textures available on the website. They come with all maps and all the textures are 100% free, with no restrictions.

The site aesthetic is clean and well-ordered, and you can download the textures and all maps without having to register an account.
The filtering function is especially handy, allowing you to filter texture results based on color and resolution.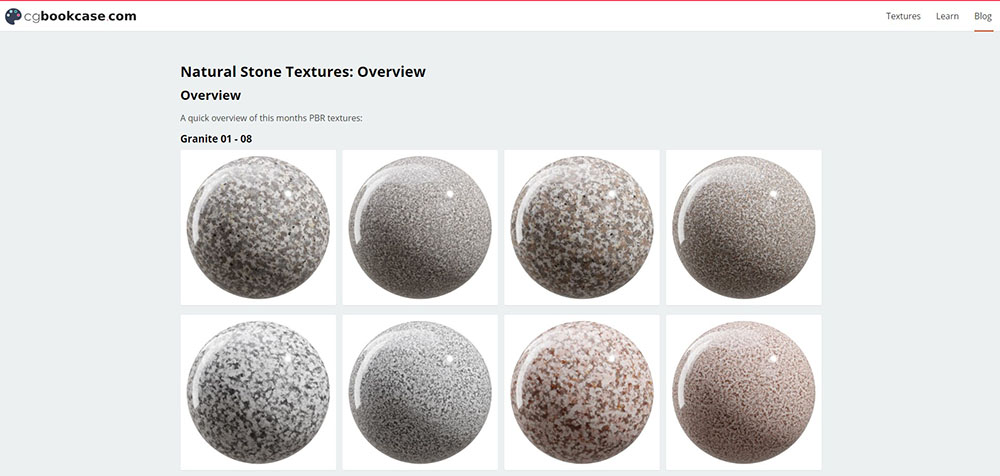 cgbookcase.com is a well-structured resource for textures
Below you can see how realistic this textured wall surface looks once uploaded into Enscape.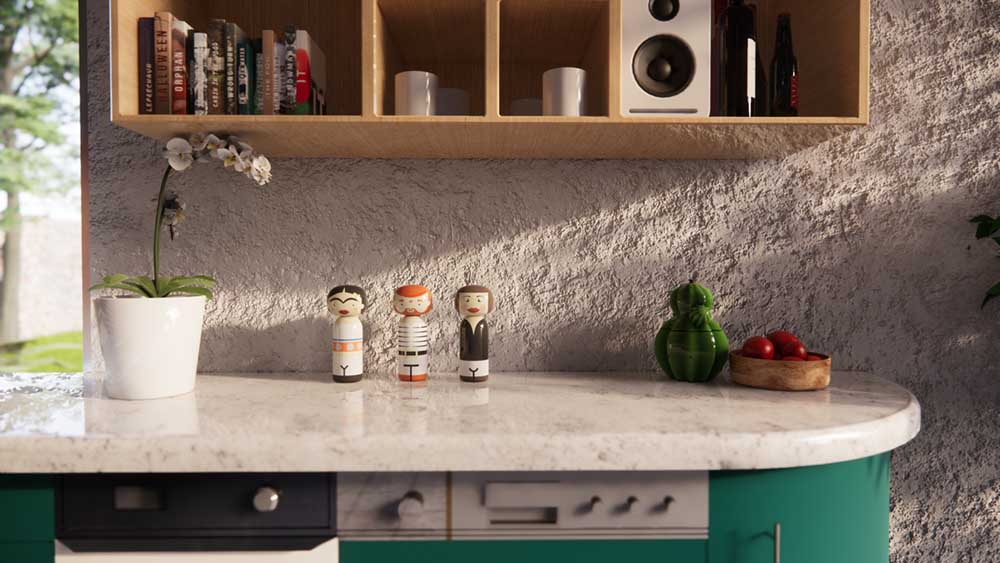 Textured wall surface from CG Bookcase
Share Textures
Share Textures features over 1,400 textures on their site, with new options added regularly.
All of their textures and 3D models are currently available to use under CC0 license.
Whilst they provide a large number of free textures, some are reserved for patrons only (those who support the site by subscribing for a small monthly fee).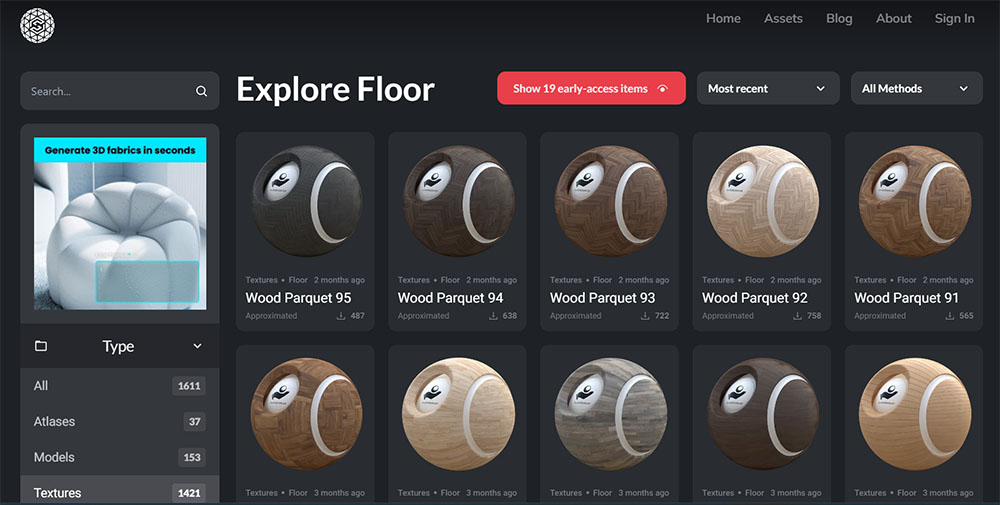 Examples of wood textures available on the Share Textures website
The team behind the website is made up of architects who work on archviz projects, so they know exactly what you are looking for. Don't miss their blog and their YouTube channel, which are both full of great tutorials.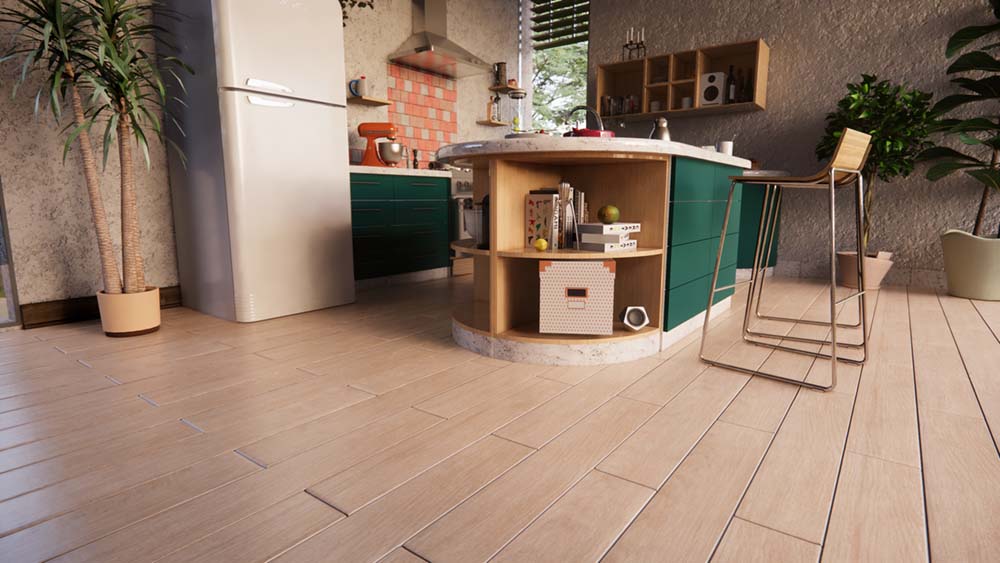 Floor texture example from Share Textures
Public Domain Textures
Frederic Hoffmann, creator of Public Domain Textures, works in the gaming industry and understands firsthand the impact high-quality textures have on an image.

The website has over 180 free textures in a variety of categories. We especially like the snow and nature textures, which can be used to place your project in a life-like environment.

Example of nature textures available via the public domain textures website
Pattern Panda
Pattern Panda features just over one hundred high-definition seamless textures, but it's definitely a case of quality over quantity. For most of the textures and materials, owner Andreas Siess uses a Nikon D800 or Nikon D750 DSLR to capture them.

Among the standard wood, metal, and stone, it has an interesting and large collection of paper and cardboard textures available. The site also features scratch marks, which you can add to your materials to simulate realistic surface damage, and a selection of HDRI skyboxes.

Whilst the textures are free, attribution is required under Creative Commons 4.0.
How metal textures appear in the texture library of patternpanda.org
Texture Box
Texture Box has a large collection of textures for every surface of your project, be it an interior or exterior rendering (their tile collection is particularly impressive!). A handful are available for free, for non-commercial projects.

The interface makes it easy to find exactly what you need, through an intuitive search and category structure. If you want to access all textures, then you will need to subscribe for a small monthly fee.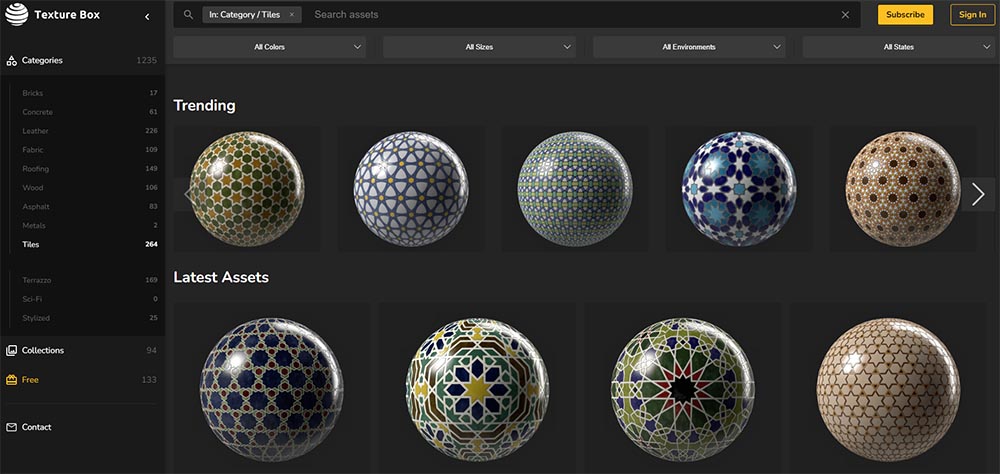 Free textures, including tiles, fabric, wood, concrete available on Texture Box
3Dtextures.me
3Dtextures.me provides over 1,000 free seamless PBR textures, together with diffuse, normal, displacement, occlusion, and roughness maps.
Each one has to be downloaded individually, but if you become a patron, then you will receive a link to the download page for all of the textures.

There is an impressive list of categories, including standards like fabric, wood, metal, and dirt, but also a few less common textures, like lava, ice, and gems.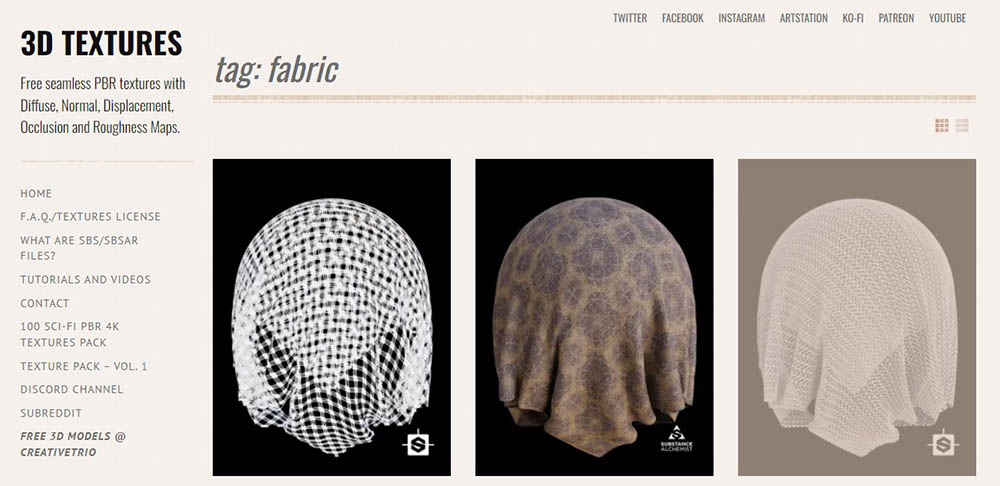 3D textures feature over 1,000 seamless PBR textures including fabric, wood, and metal
Poliigon
Whilst only a handful of free textures (currently 55) are provided by Poliigon, they are certainly worth including in our round-up. Their textures are high quality, are easy to find, and the thumbnails and preview images make it easy (and enjoyable!) to scroll through the various options.

Poliigon also offers paid textures which can be purchased for a one-off fee, or through a monthly subscription which provides access to over 3,000 assets.

Poliigon lists textures, 3D models, and HDRIs to download
Texturelabs
Everything on Texturelabs.org is free to download for personal and commercial use at the time of writing.
The textures are well organized, easily scrollable, and are available to download in a number of formats of different sizes without the need to register.

You will find the usual textures that many other sites will provide, such as metal, stone, and wood, but then there are a few interesting categories, including atmosphere, water, sky, ink/paint, and soil.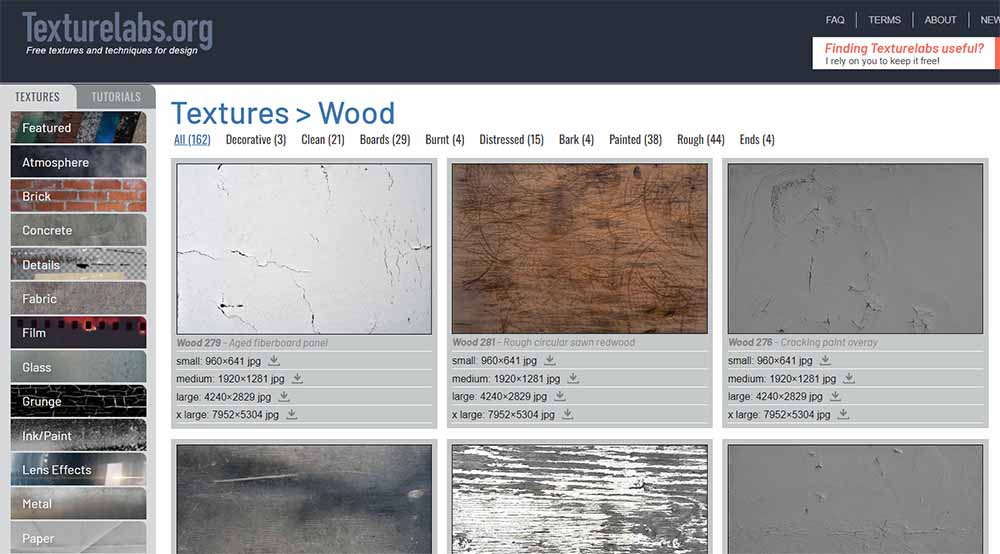 Texurelabs.org with free textures to use in architectural rendering
Texturer

Looking for unique photographed textures? Then this could be the site for you!
On Texturer.com, you can find railways, snow, pebbles, fabrics, paper, and concrete textures to name a few categories. These are currently free to use in personal and commercial projects.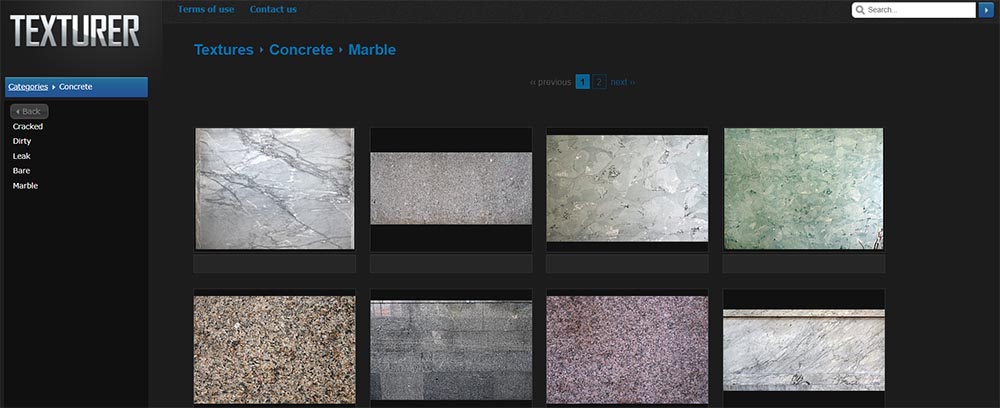 Photographed textures free to download for personal and commercial use
Texture Ninja
The variety of textures available on this next site is impressive to say the least. Texture Ninja has over 5,000 free textures available to download, and they are all available for use under the public domain.
Although aimed largely at 3D artists, there are categories that will be of interest to designers and architects who are looking for textures such as wood, stone, plaster, metal, and brick.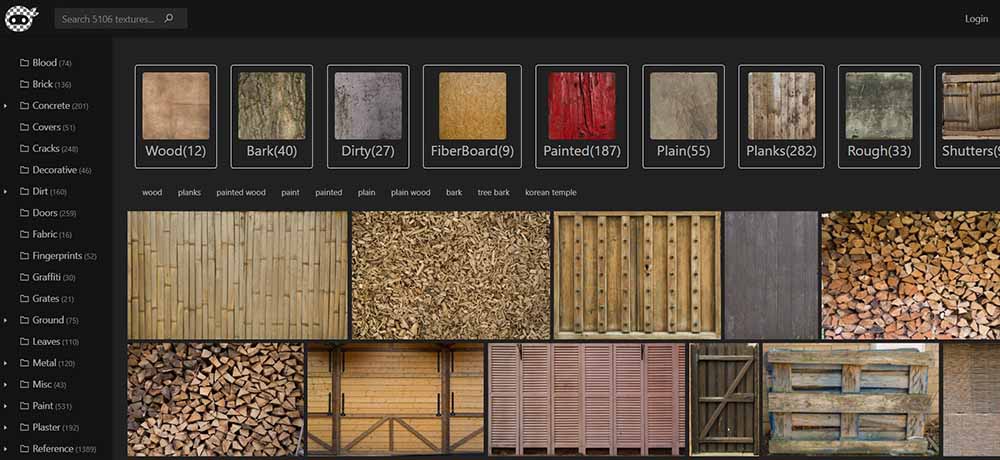 Texture Ninja features real world surface textures free to download

3DAssets.one

The websites in this list are fantastic resources, but sometimes you just don't have time to search through a bunch of pages looking for the right texture.

3DAssets.one is a search engine designed specifically to help you find free textures, HDRIs, and assets from 13 of the largest free sites at once.
Just type in a search term and get ready to find exactly what you are looking for!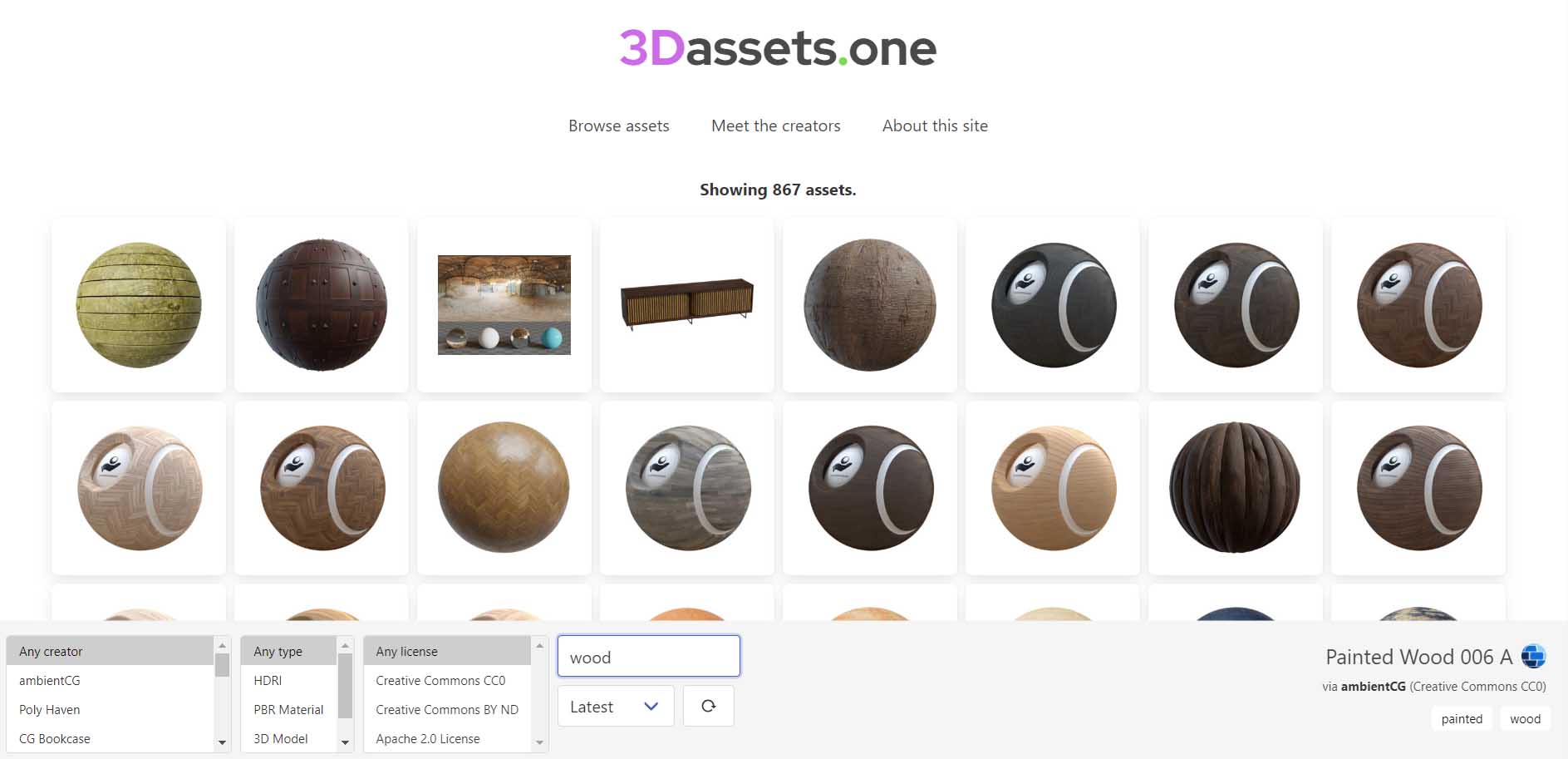 SketchUp Texture Club
One additional resource that our users are using is the SketchUp Texture Club, a non-profit organization managed by Image Promotion Association.
You can download 15 low and medium-resolution textures per day, but if you want to access up to 50 high-res textures per day, then you need to become a Club Member for a very small fee per year (currently just 14 USD).

There are literally thousands of textures featured on this site. The biggest category is architecture (+16,000), followed by materials (+4,000), nature elements (+1,300), and backgrounds and landscapes (+700).
Without a doubt, you will find something suitable for your personal and commercial projects on this site 😊.
Other useful resources
We hope you will find exactly what you are looking for through one of the websites listed in our round-up!

Here are a few additional resources that you might find useful: