Our much-anticipated virtual event is just days away! And there is still time to register if you haven't done so already. It's 100% free.
ENVISION 21 is an online event for those who use and love Enscape. You will get the chance to hear what's in store for the future of Enscape; learn product tips and ideas to enhance your workflows, ask our product experts your questions, and get to meet and engage with other Enscape users from around the world.
Over 30 sessions from industry leaders will be available, plus plenty of inspiring, educating, and networking rooms to explore.
To accommodate our global audience, the event will run from September 28 - 30. You won't want to miss it!
Event platform now open for ENVISION 21
The fun begins today! All registrants can now access the event platform. You can create your profile, start bookmarking sessions, and start to collect leaderboard points - more on that when we kick off the event (but I will mention one thing - prizes are available!). Check your email inbox for a welcome email and instructions on how to log in and get started.
Platform Tip: Event Feed
To participate in the conversations that are happening right now, even before ENVISION 21 officially starts, take a look at the Event Feed. Here you can create polling questions, respond to polls, start a conversation, and connect with others! Already users are asking interesting questions, such as which VR headsets others are using and how long people have been using Enscape for. Check it out!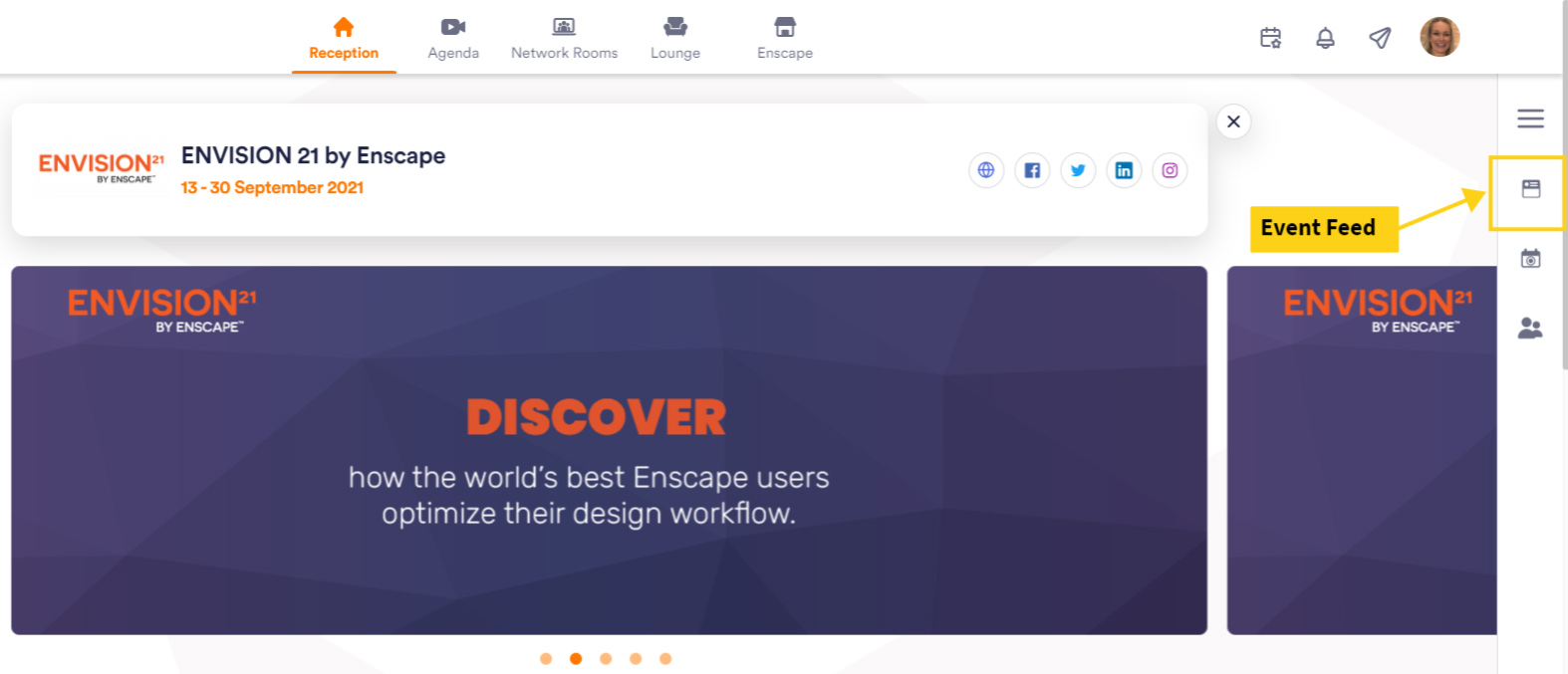 Session details available now
The agenda can be found on the event platform, but you can also view session details on our ENVISION 21 web page. We have so many great sessions lined up, from introducing the newest product roadmap to keynotes, technical lounges, customer corners, networking rooms, influencer sessions, and more! Let's take a look at a few of them right here:
Welcome and Keynote
Hear from Enscape CEO, Christian Lang, as he welcomes you to ENVISION 21 and talks through the history and future of Enscape. And get the chance to watch GRAFT's Wolfram Putz's keynote session, 'Grafting Indentities'.
Enscape Strategic Outlook and Product Roadmap
VP of the Product Visualization Group, Peter Mitev, will walk you through the strategic outlook for Enscape, and Head of Product Management, Joachim Hirsch, will talk you through the Enscape product roadmap and what new features are on the way.
Industry Leaders
Hear from leading architectural firms and event partners:
Overland Partners: From Master Bedrooms To Mountains: Designing At Scale To Make Informed Decisions
Turner Fleischer Architects Inc: Our Digital Story Complemented By Enscape
gmp Architekten: Implementation Of VR Solutions
GOLDBECK: VR@GOLDBECK - Improved Customer Experience
DRAW Architecture + Urban Design: The Positive Impact Of Visualizing Data
Viewport Studio: Stepping Into True Real-Time Rendering And VR Design
RATIO Design: Accepting Reality - Rediscovering The Messy Design Process Through Remote Digital Workflow
Influencers
Hear from well-known and experienced Enscape users:
Joseph Kim: Designing Architecture With Conceptual Rendering
Dan Stine: Maximize VR Potential
Nathan Hildebrandt: Visualizing the Win
Jonathan Reeves: Design & Visualization With Vectorworks & Enscape
Pieter Schiettecatte: Building a Custom Asset Library With Blender
Ted Vitale: Managing Large Visualization Projects With Enscape and SketchUp
Andrew Milburn: Visions of Built History
Special Use Cases
Lindsay Prichard-Fox, Tiver Bilt: Key to a Confident and Decisive Client
Don Carson, The Hettema Group: Revolutionizing the Theme Park Design Process
Paulo Zambrini, ENGRAM Studio: Perception Principles Applied to Architectural Visualization
Aryan Mirfendereski: Rendering is Like Photography
Clifton Harness, Testfit: Solving a Deal and Building a Vision With TestFit and Enscape
Stewart Hicks, University of Illinois: An Architecture Journey
Oana Bucerzan, Scopebox Architekten: Why Technology Matters
Andreas Bittis, Saint-Gobain: GlassPro – A New Rendering Way of Showing The Beauty of Glass
Freestyle Rap (yes, really!)
Not your typical event session - but one definitely not to miss! Join us for this unique freestyle rap performance with award-winning British comedian and freestyle rapper, Chris Turner.
Customer Corner
Join Head of Integrated Practice, Roderick Bates, and guests Michael Drobnik from Herzog & de Meuron and German industrialist and architect Florian Kohlbecker from Kohlbecker, for a wide-ranging conversation on tools, methods, design philosophies, and more.
And that's just a few of the sessions we have in store for you. Check out the full list on the event platform.
If you haven't yet signed up for the free event, join your Enscape peers and register today!