📢NEWS: A new version of Enscape is now available. Discover Enscape 3.5.
---
A new version of Enscape is here! Say hello to Enscape 3.4.
With this release, we are providing a handful of valuable updates to existing features to continue elevating your design and visualization experience.

Improvements include the addition of categories to the Custom Asset Library, the ability to save sun positions per view, further editing of existing views, and enhanced mirror reflections. New interior assets and materials are also available, plus support for Archicad 26.

If you're new to Enscape, we invite you to try it out for free. And if you're already part of our community, you know what to do 😉. Download Enscape 3.4 today and start enjoying a smoother way to design and visualize your projects.
Feature updates in Enscape 3.4
Categories for the Custom Asset Library
Categories have been added to the Custom Asset Library to help you better manage your assets. Sorting and filtering are now much easier, and you no longer have to scroll through an entire library to find what you need.
For assets already imported, you can drag and drop them into your newly defined categories for easy organizing. And for those users who share their libraries, your pre-defined categories will be visible to all users. For more information on this update, take a look at this Knowledge Base article.

Save the sun position in Enscape
It is now possible to save your sun position in Enscape views. Stage your scenes in the best natural light and use the sun to highlight special design elements. This will help your project stand out and look even more convincing to clients.
Slider controls and input fields have been provided to allow you to easily reproduce specific sun positions for other views. Now you can set, save, and replicate sun positions for individual views quickly, and easily.
Prior to this update, any sun positions you adjusted would reset whenever you restarted Enscape. This feature improvement will save you time and will improve visual consistency across your views.

Once you have installed Enscape 3.4, go to View Management > Create View to adjust the sun position by using the sliders, the input fields, or the keyboard shortcuts (Ctrl+U/I for azimuth and Shift+U/I for altitude).

Further editing of existing views
Another workflow improvement you can enjoy with Enscape 3.4, is the ability to adjust the camera and sun position of your existing saved views. You will no longer need to create a new view every time you wish to change the camera angle or natural lighting for any previously created view.

Go to View Management, select the edit icon next to the view you wish to amend, and easily change the name, visual preset, camera position using the mouse, and the sun position in one place.

Please note:
For Revit, the camera position and zoom are still taken from the Revit view.
For Vectorworks, this functionality will follow shortly.

Interior design assets and materials
With this version of Enscape, you can find 210 new interior-focused assets and 52 new materials.

Enjoy low-poly, high-quality models that will work seamlessly in your design application and Enscape. You will find accessories, appliances, and objects to create stylish interiors your clients will love, including:
Bathroom assets: sinks, showers, bathtubs, toilets, faucets
Kitchen assets: fridges, stoves, ovens, microwaves, faucets,
Living room assets: decorative items, baskets, new furniture
Bedroom assets: beds, decoration pieces
Plant assets: indoor plants and plant pots
New materials will include wallpapers, wood, tiles, and stucco.

Improved reflections
This next enhancement has been frequently requested by the Enscape community. Thanks to technical improvements in how we capture the geometry of objects placed at a distance from a reflective surface, you can now see more realistic mirrored reflections in your visualizations. This will also have a positive impact on the general global illumination of your scenes.
You will also see increased texture quality of materials in reflections, and all reflected materials will benefit from full-resolution texture maps starting with quality level 'High'.
Improved reflections will be noticeable in still images and during real-time walkthroughs for those users with a graphics card that supports hardware-accelerated ray tracing (NVIDIA RTX or AMD 6xxx series). At this time, the appearance of reflections will not change in animated videos.
Download Enscape 3.4 to start seeing a difference.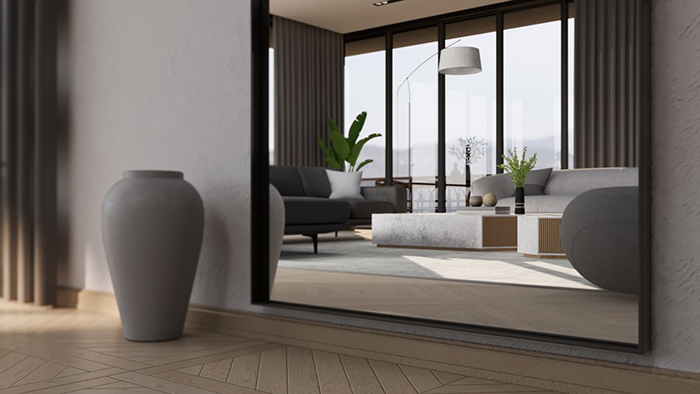 Archicad 26
A new version of Archicad is available, and Enscape 3.4 is already compatible. Upgrade your version of Enscape today to enjoy the latest improvements and newest assets and materials within Archicad 26. You can also pick up some tips on how to get started in this blog post if you're new to Enscape for Archicad.
New language: Chinese (Simplified)
We're excited to continue expanding the number of supported languages our real-time visualization software is available in. With 3.4, we are providing a Chinese language (simplified) version of Enscape.
Video tutorial
Take a look at our latest tutorial to see how to use these feature updates in your day-to-day design and visualization workflows.


Get started with Enscape 3.4
If you already have an Enscape license, you can download version 3.4 for free today.

And if you're curious as to why our real-time visualization and virtual reality plugin is so popular with architects and designers worldwide, try it out for free and see how easy it is to use.