Design beyond boundaries and see the beauty of your projects come to life with Enscape 3.3.

In this article, we'll introduce you to the newest features and biggest improvements to the latest Enscape update. We'll also invite you to a special online session so you can understand how they work and see how to utilize them within your workflows to create even more impressive visualizations.

If you're an existing user and want to dive right in, download Enscape 3.3 here. If you're not yet using Enscape, you can try it out for free first.

Let's take a look at the new Enscape 3.3!
What's New in Enscape 3.3
Here's a quick low-down on what you can expect with the latest version of Enscape's real-time visualization plugin.

Site Context: Import surroundings into your renderings with OpenStreetMap data.
Transparent Materials in Reflections: See details reflected with stunning realism.
Education Assets and Materials: Add the right assets and materials to your scenes.
Alpha Channel Export: Export renders with transparent backgrounds with ease.
Pin Enscape on Top: Have the Enscape rendering window on top when needed.
Material Overwrite: Directly replace materials within the Enscape Material Editor.
Camera Sync Optimization: Save time with improved navigation in Revit and Archicad.
Upload Migration: Migrate previous uploads and create panorama galleries and more.
Enscape Support for SketchUp 2022: Use Enscape with the latest version of SketchUp.
Japanese Language Support: Enjoy real-time rendering with Enscape in Japanese.
Let's take a closer look at these new features and improvements.
Site Context
Incorporate a building's real-life surroundings into your visualizations with Enscape's new Site Context feature. Ideal for use during the design process itself, this new feature gives context to a building's relationship with its environment.

By utilizing OpenStreetMap data, you can now import a project's surroundings into your renderings without the need for a third-party tool. Simply open Site Context within the Enscape rendering window, enter an address or coordinates, and select your choice of import: Buildings and Landmarks; Streets and Sidewalks; Topography, or import all surroundings.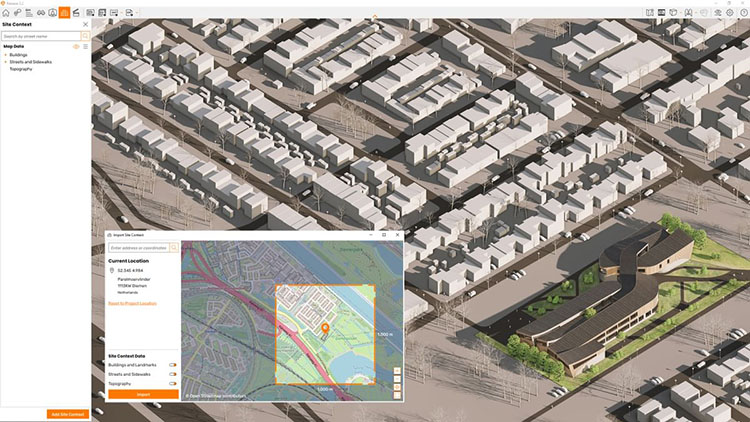 The imported geometry and topography will not include textures, keeping your project at the forefront of your visualizations while providing all-important site context. The surrounding geometry is only visible in Enscape, keeping your project file light and focused on the most relevant project data.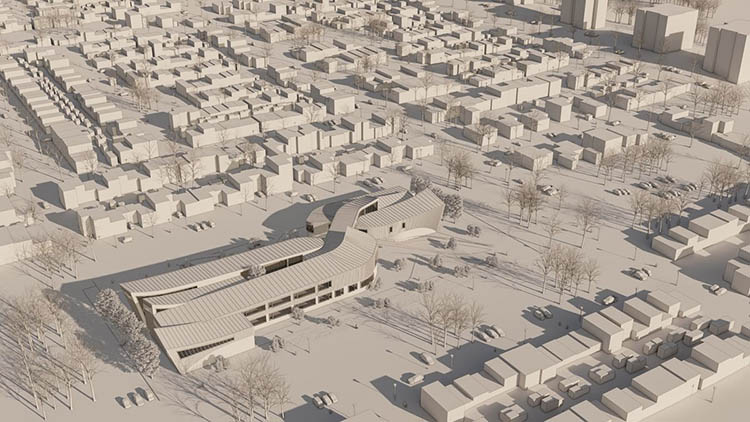 Transparent Materials in Reflections
Reflections are incredibly important when it comes to generating realistic visualizations, which is why we are particularly excited about this next improvement.
As the name reveals, transparent materials will now appear in your reflections if you are using a graphics card that supports hardware-accelerated ray tracing (NVIDIA RTX series and AMD RX6xxx series).

With this enhancement, you will see visualization improvements to rendered glass and water surfaces. Check out the examples below to see the difference in rendering quality.

Previously in Enscape: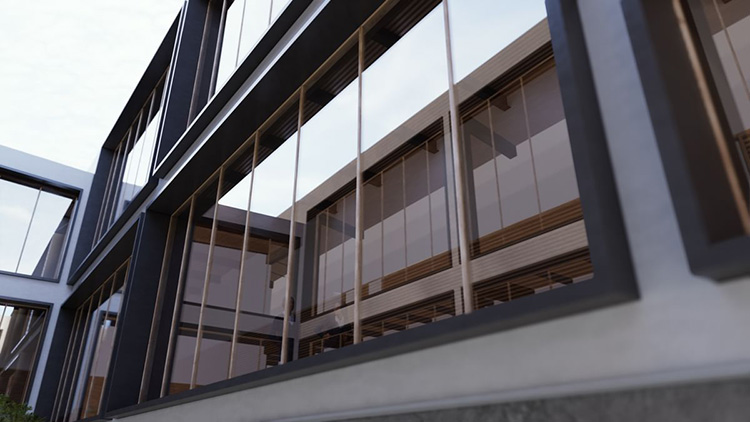 Now in Enscape 3.3: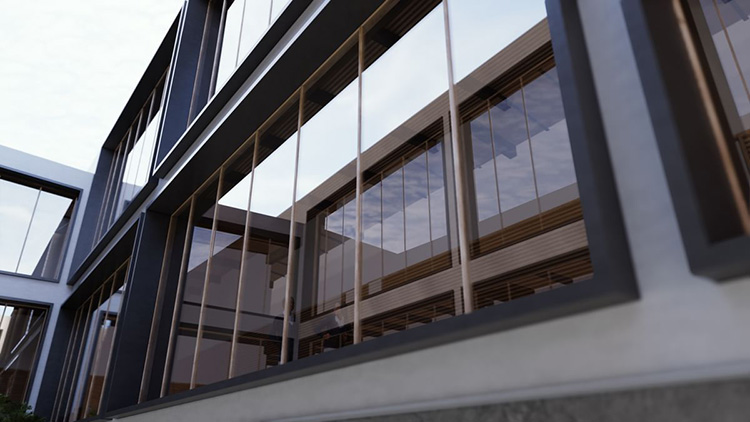 Education Assets and Materials
Our team of 3D artists has expanded the Enscape Asset Library and the Enscape Material Library once again with new high-quality assets and materials for you to place directly into your projects and renderings.

Select from 280 new education-themed assets, including classroom furniture, chalkboards and whiteboards, toys, playground equipment, and musical instruments. And choose from over 30 new materials to place into your education scenes. The asset package will also include a large collection of new 3D people.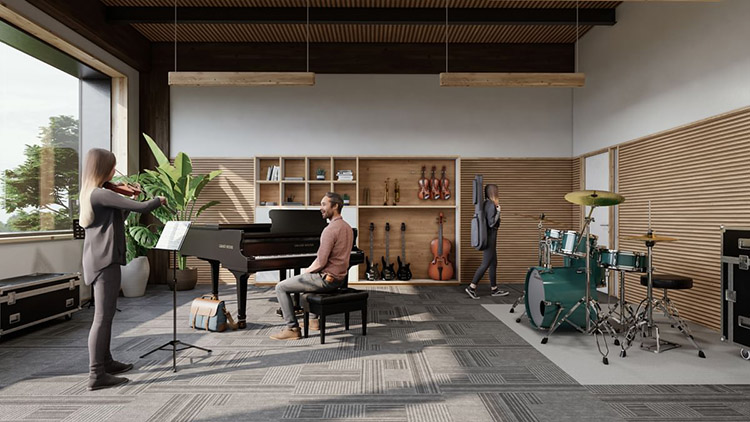 Alpha Channel Export
It is now possible to render an image with a transparent background automatically applied, thanks to the new Alpha Channel Export.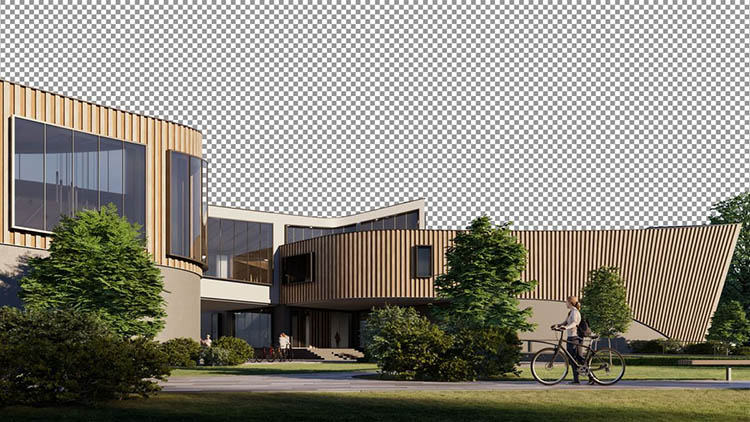 A popular request from the Enscape community, this export feature will allow you to take your rendered image and add a background of your choice with greater ease - saving you time when post-processing your renders to get the desired look or effect.

There are two ways to access this option. Go to Visual Settings > Output > Image and choose to export only the Alpha Channel (see the checkbox 'Apply Alpha Channel' beneath File Format) or select the checkbox that allows you to Export Object-ID, Material-ID, Depth Channel, and Alpha Channel.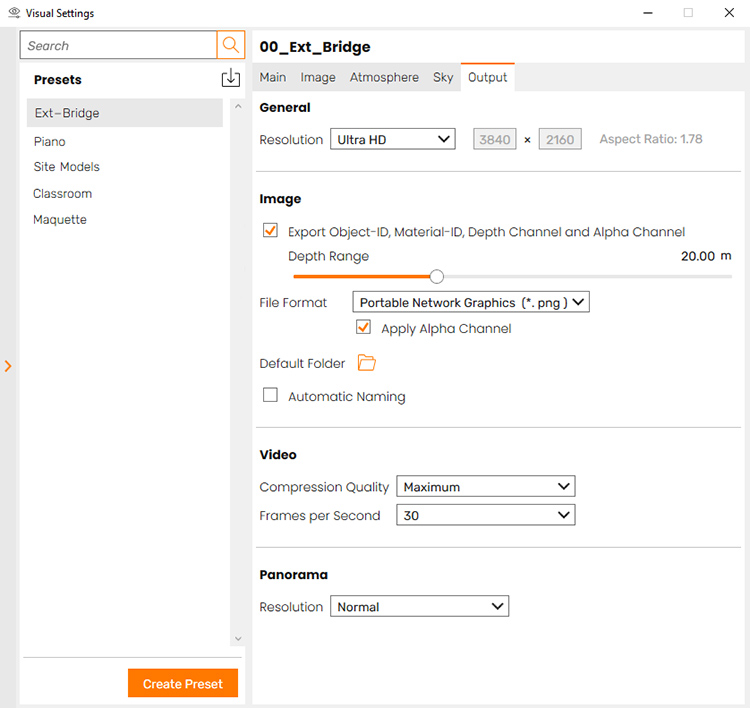 Pin Enscape on Top
Not everyone works with two screens or more, so there will be times when both the modeling software window and the Enscape rendering window need to be open and visible simultaneously.

With the 'Pin Enscape on Top' functionality, you can choose to pin the Enscape rendering window, together with the menus which open with the renderer, to the top of your modeling window. This allows you to work in your modeling software and immediately see your changes in the overlayed Enscape window, which is always on top when this function is activated.

To activate this, go to Enscape Window Settings > Preferences > Window > Pin Enscape window on top of the host application.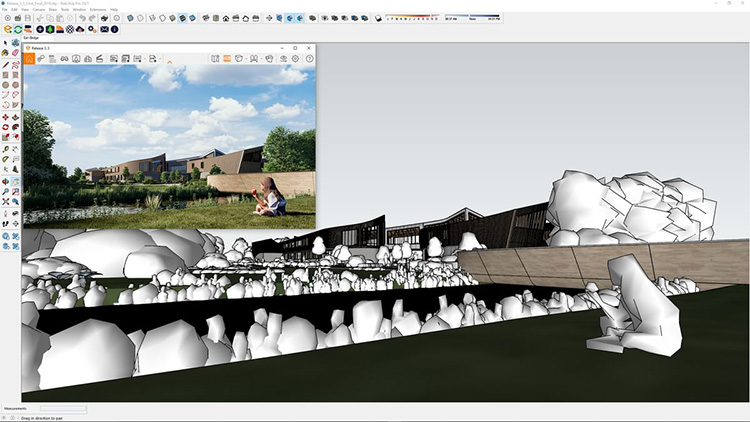 Material Overwrite
We have yet another design workflow improvement for you with Enscape 3.3! It is now possible to replace an Enscape material directly via the Enscape Material Editor. This will save you from importing and exporting materials manually and from saving data files on your system.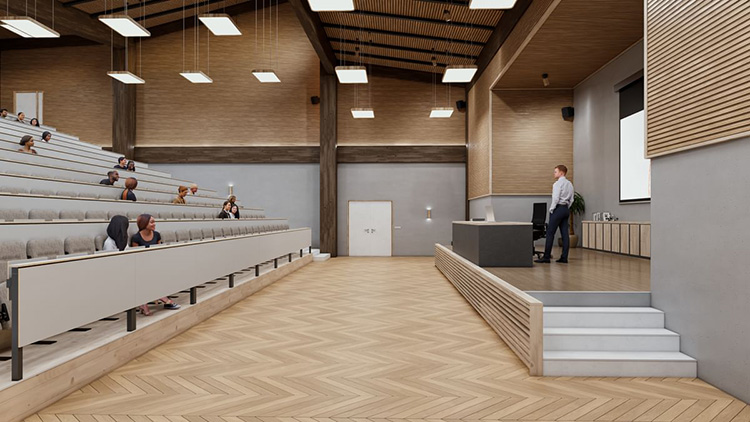 To make use of the Material Overwrite function, open the Enscape Material Editor. Select an existing material, click on the three dots beside the material name, and click 'Replace with Enscape Material'. You can then select a material from the Enscape Material Library, see how the material will appear within Enscape, before confirming and overwriting what was once there.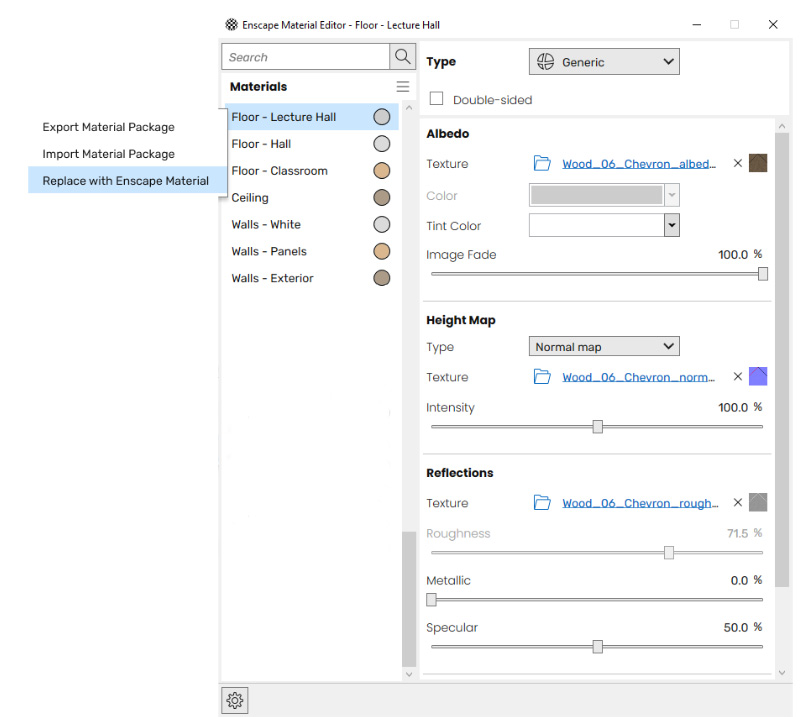 Camera Sync Optimization
For our Revit and Archicad users, enjoy improvements to synchronized views with Enscape 3.3.

In Revit, camera synchronization is now available for the perspective view, including Field of View sync and the orthographic view. There is also a camera roll around the line of vision.
In Archicad, camera synchronization is now enabled for the Orthographic View.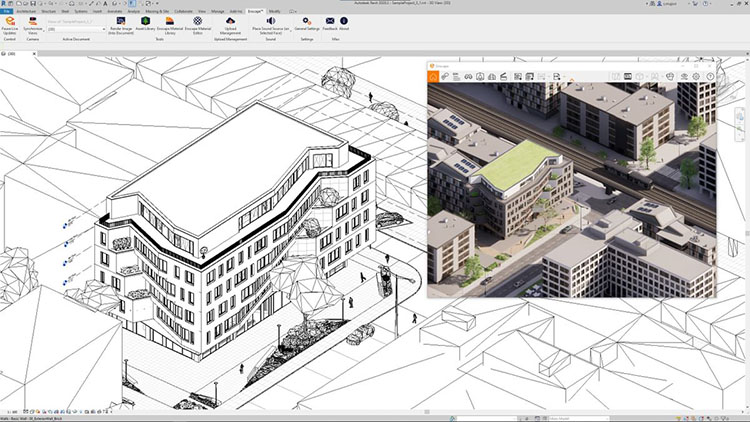 Upload Migrations
An Enscape Account offers an efficient way to manage your uploads and licenses online. It also provides additional functionality such as creating Panorama Galleries and the sharing and un-sharing of links. This can all be managed within a user-friendly web-based interface.

For those not yet using an Enscape Account, you can now easily migrate your previous uploads and take advantage of the functionality it provides. To learn more, visit our Knowledge Base.
Enscape for SketchUp 2022
You can now use Enscape with the latest version of SketchUp. Download Enscape 3.3 to start using Enscape for SketchUp 2022 today.
Japanese Language Support
We are excited to expand upon the number of languages we support to offer Enscape in Japanese. Full language support is now available within the product. We have also added a small handful of beautiful Japanese-themed assets to the Enscape Asset Library to celebrate this launch and will continue to add to this collection.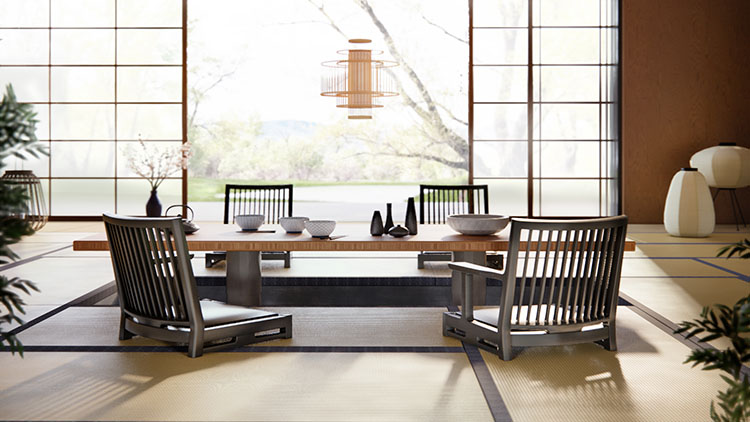 Live Stream: What's New in Enscape 3.3
On April 13, we hosted to live stream to showcase the new features and functions that can be used to improve your design workflow and deliver even more impressive visualizations. Watch it now.
Showcase Your Creations
We love to see what you create with the help of Enscape. Remember to share your renders on the Enscape Forum and take part in our rendering competitions for the chance to be celebrated on our social media channels and beyond.
Download Enscape 3.3 or Try for Free
If you're an existing user, you can start using Enscape 3.3 today. Download the latest version of Enscape here.

Not yet using Enscape and would like to see why so many architects, designers, students, visual artists, and other professionals choose to use our simple-to-use and truly real-time visualization plugin? Take out a free trial and start visualizing your projects and creating renderings in no time!