📢NEWS: A new version of Enscape is now available. Discover Enscape 3.5.
---
The final Enscape update for 2021 has arrived – welcome Enscape 3.2!
But before we dive into the new features and functionality (I know, hang on in there 😉), let's take a moment to remind ourselves what happened to Enscape's super-fast and easy-to-use real-time rendering and virtual reality tool in 2021.
We launched a new brand and user interface with 3.0 back in March (Dr. Photon has now officially retired). Then in July, with version 3.1, we gave you the Enscape Material Library, support for NVIDIA DLSS, the Panorama Gallery, even more assets, and ray-traced sun shadows, to mention just a few. We brought the Enscape community together for a stimulating 3-day virtual event, ENVISION 21, announced our first SDK partnership and plans to release Mac support in 2022. Wow! Quite the year, and we're not done yet.

We always look for ways to make things better, faster, and easier for our users – and in this blog post, you can learn about the improvements you can enjoy with Enscape 3.2.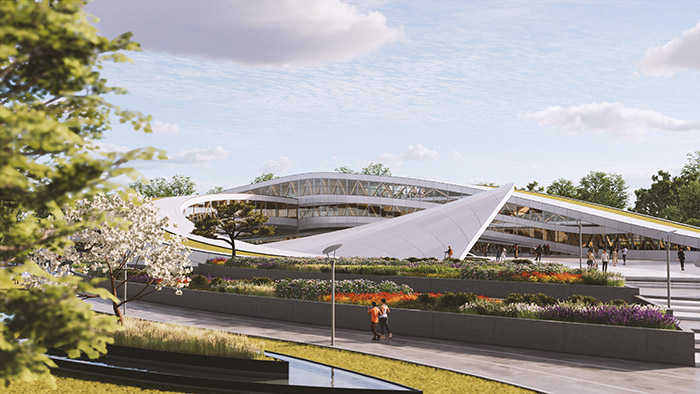 Dynamic Design - Vivid Visualization
Enscape 3.2 empowers users to design dynamically, create vivid visualizations, and streamline the entire design workflow. This update further strengthens Enscape as more than just a rendering tool but as a mission-critical design tool.
Christian Lang, CEO for Enscape, explained this further in his keynote at ENVISION 21. Since Enscape is integrated directly into your modeling software and focuses on simplicity and ease of use, real-time visualization has become an essential part of the design process.
So what exciting new features and functionality can you expect to see with Enscape's latest version 3.2?
New in this Enscape update
Dynamic Asset Placement
The Enscape Asset Library is now available within the rendering window itself. Save time and speed up your design workflow with Dynamic Asset Placement. This new feature lets you select, place, and edit assets from the Asset Libraries into your design via the Enscape rendering window. Everything that is added to your rendering is then instantly reflected in your modeling software, giving you two-way asset placement. This will make it faster and easier to place and position assets than ever before!

As well as single asset placement, we're excited to also offer multi-asset placement. You can now place multiple assets at the same time within Enscape. Select different assets such as cars, people, and vegetation, then adjust their density and distribution.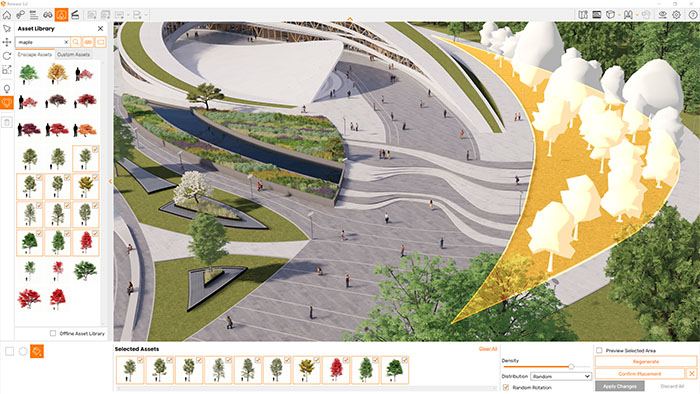 We have even added 'jitter' and 'random' distribution options to provide immediate variety to the way multiple assets appear. When people are placed, for example, they will face in different directions when you use the 'random' distribution option. This feature will save you a lot of time when it comes to placing more than one asset into your projects.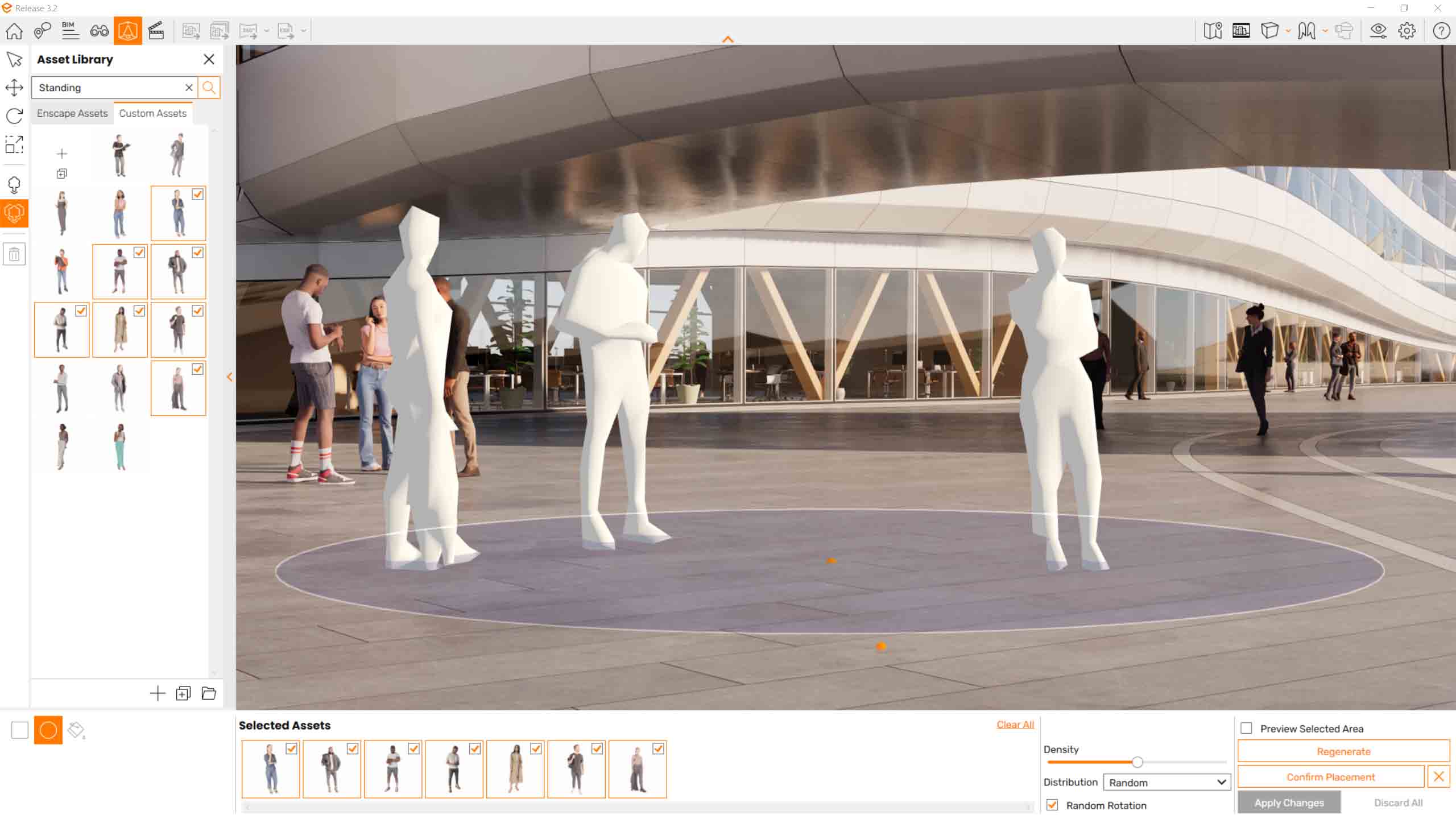 What's more, you can even rotate, scale, and delete an asset that is already placed, and all changes will sync back to your project. Exact editing functions and capabilities will depend on the design software that you use.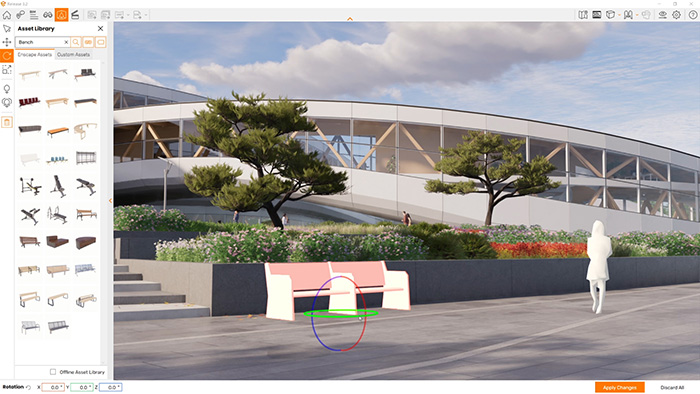 For more information on how to use Dynamic Asset Placement in Enscape, head over to our Knowledge Base article or check out the video tutorial.
Batch Panorama
Highly requested by Enscape users - we're delighted to deliver this functionality with version 3.2. Another time-saving feature, Batch Panorama rendering allows you to render multiple panoramas.
Once your selected views have been chosen, you can choose to render an image, mono panorama, or stereo panorama. The export buttons within the Enscape toolbar have changed to accommodate batch rendering for panoramas.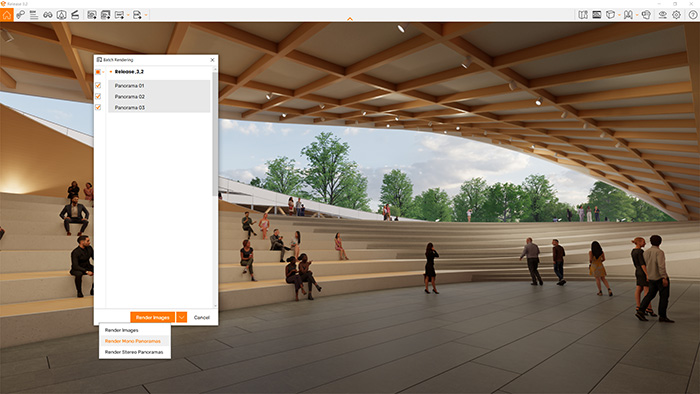 Panorama Tours
Panoramas are getting a lot of Enscape love at the moment! Back in version 3.1, we introduced you to the Panorama Gallery. To improve the end-user experience even further, you can now use Panorama Tours to better guide your clients and prospects through your proposed designs.

Tour Mode provides an enhanced panorama viewing experience. Instead of only navigating the gallery with the 'next' and 'previous' buttons, now markers displayed in the image can link directly to another panoramic view. Clients can access your panorama tour from just one link - making it incredibly easy to share and review multiple panoramas. Take a look at this panorama tour that we have prepared for you.
Check out this video tutorial for more information.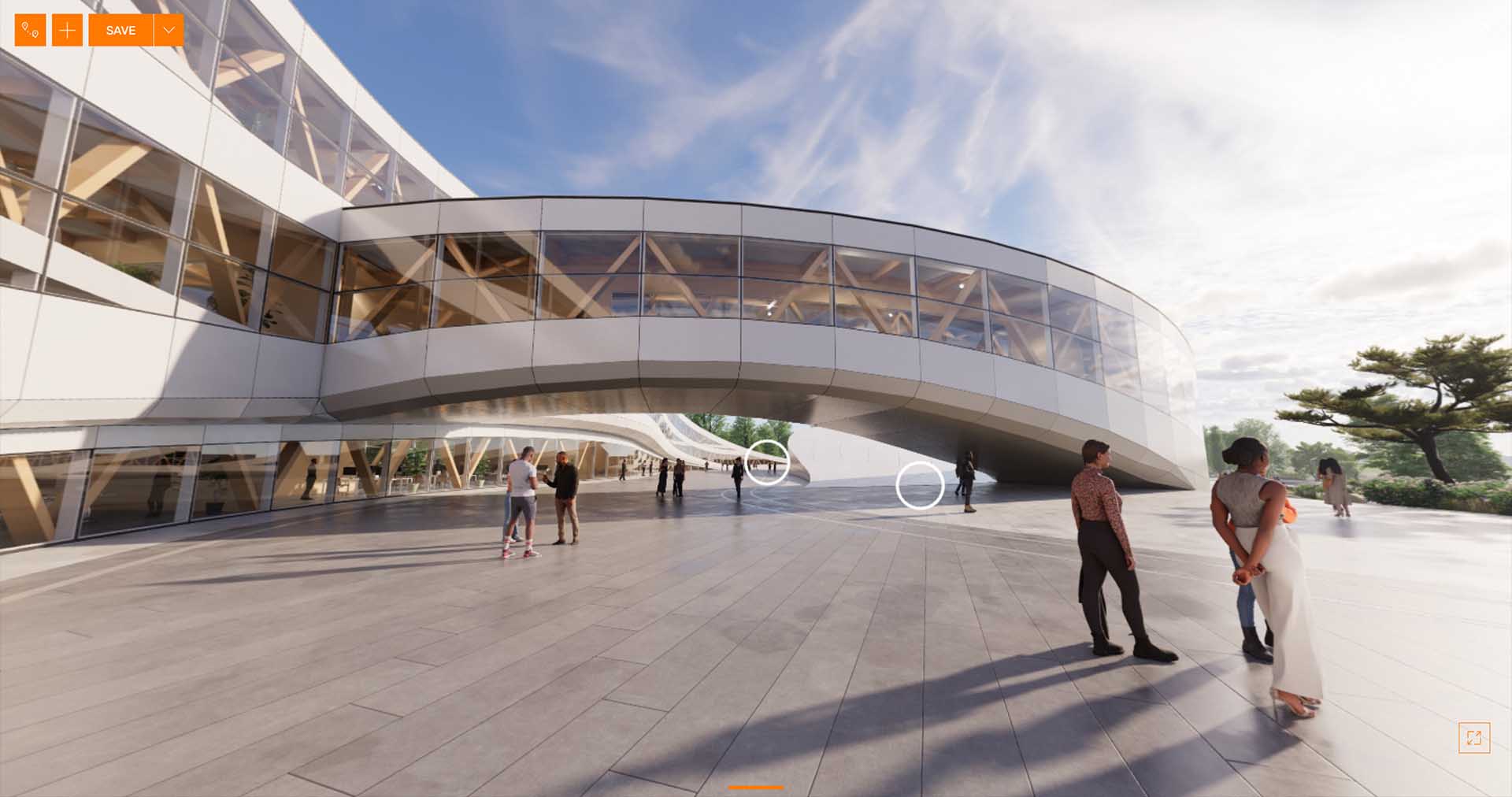 Update Existing Uploads
With the Uploads Update feature, you can share project updates far easier than before.

Already shared a link or QR code to your project but you need to make changes? Well, now you can update existing uploads and there is no need to send over a new link or print out new QR codes every time those changes are made.

This prevents fractured workflows and offers a much more efficient way of working. It also means that everyone is always on the same page when it comes to reviewing your project, since there is no confusion over which links or codes are the most up to date.
Green Building Assets and Materials
With the growing demand and need for sustainable architecture, with the latest Enscape version, you can enjoy a new collection of green building assets and materials for use within your projects.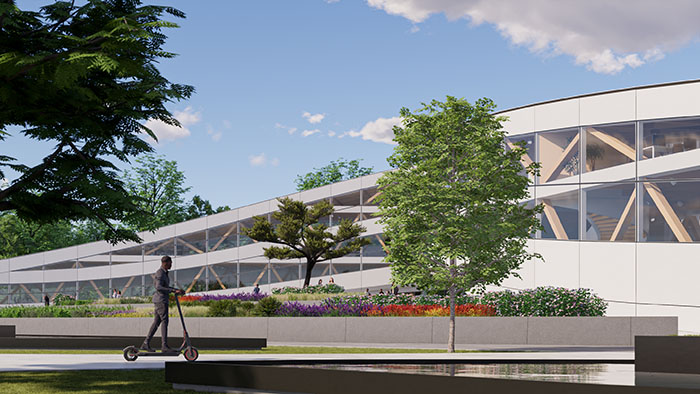 Over 150 green assets will be provided, including a diverse range of trees, plants, and flowers that are often used within green building design. Users will also find wind turbines, electric charging stations, two additional electric vehicles, a scooter, and even a passenger drone 😀.
With version 3.2, you can access over 50 new materials, including a range of green building materials such as solar roof tiles, recycled plastics, bamboo fence, organic bricks, wood, and various earth and soil options. There are also a few other new materials, such as printed concrete, chipboard, wallpapers, marble, granite, and leather.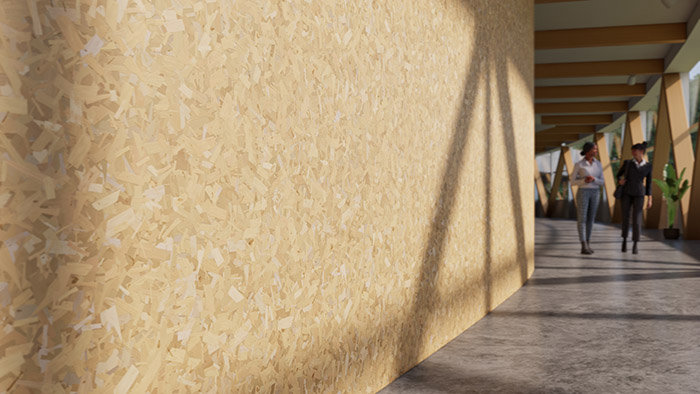 New People Assets
We continue to build up the Enscape Asset Library, and with this update, we are adding approximately 50 new people assets for you to use within your scenes.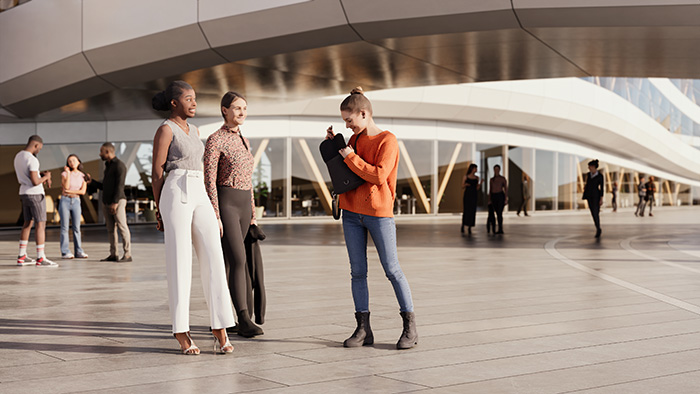 Ray-Traced Sun Shadows
Enscape was one of the first rendering engines to incorporate NVIDIA RTX ray-tracing technology back in 2019, giving you the ability to render with far more detail, accuracy, and realism.

Then we introduced ray-traced sun shadows with version 3.1 in July 2021, so you can enjoy much higher quality renders and realism in any exported image, panorama exports, and rest mode in walkthroughs.

And now, with the Enscape 3.2 update, we're excited to improve shadow sharpness and accuracy further by extending ray-traced sun shadows to videos and real-time walkthroughs (independent of whether rest mode is activated or not). Make sure that the checkbox is selected for ray-traced sun shadows in your General Settings to benefit from this new feature.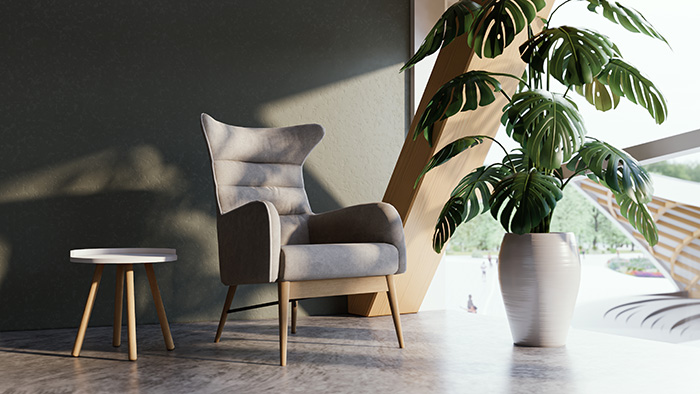 Upload Management Overhaul
To bring the Upload Management feature in line with the rest of the product and provide you with a more intuitive workflow, we have redesigned the UI for this particular element of Enscape.

Uploads will now be grouped by type and product, and function indicators have been improved.
What else is new in Enscape 3.2?
Geometry update toggle: Users can decide if all geometry should be reloaded when changing a view (Revit, Archicad, Vectorworks only).

Vulkan ray tracing for AMD GPUs

Windows 11 support

View the full list of improvements and fixes
Live stream: Introducing Enscape 3.2
Learn more about our latest version of Enscape in this live stream recording. See how the new features work and understand how you can benefit from incorporating them into your workflow.
Free Enscape download for existing users
If you're already an Enscape customer, click here to download version 3.2. It is free for existing users, including students and educators. If you do not yet have a license, you can either take out a free trial (see below), or visit our pricing page for information on the license options available.
Try Enscape for free
To see how easy it is to integrate Enscape into your design modeling software and create visualizations to share with your clients, download Enscape for free. We support Revit, SketchUp, Rhino, Archicad, and Vectorworks and it's quick and simple to get started!