📢NEWS: A new version of Enscape is now available. Discover Enscape 3.4.
---
Enscape 2.7 is packed full of new and enhanced features to help you maximize your entire design process – including orthographic views, BIM data visibility, pre-built urban environments, and over 250 more assets!
If you already use Enscape, update to Enscape 2.7.

New to Enscape?
What's New in Enscape 2.7
Orthographic Views
You can now create floor plans and cross-sections with ease, thanks to Enscape's addition of orthographic views.
This new feature enables you to clearly communicate the scope, size, and intent of your design with a detailed floor plan. Plus, you can switch easily between flat perspectives to create floor plans or side view section cuts. Perfect for helping to present your project from different angles and at various design phases.
With just one click, you can create a two-dimensional view out of your three-dimensional project, which means you'll no longer need to go back to your CAD to create the clear, detailed 2D plans your clients, manufacturers or contractors need.
Display BIM Data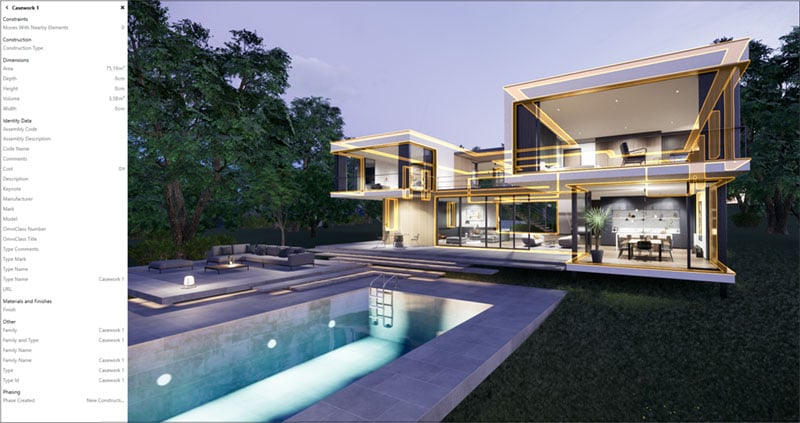 BIM data can now be viewed in Enscape, bringing important data directly to you.
With BIM mode, you can quickly access information such as dimensions, material types, quantities, and even prices, all from within Enscape. There is no need to go back and forth between Enscape and your CAD to find the information you need. It's all there in Enscape with BIM mode.
Simply activate BIM mode, and click on any element in the Enscape window to immediately display all available BIM data. You can also look for an element in our BIM mode menu and instantly see one or all instances of an object highlighted in your project so that you find it right away.
Lamps and Surrounding Buildings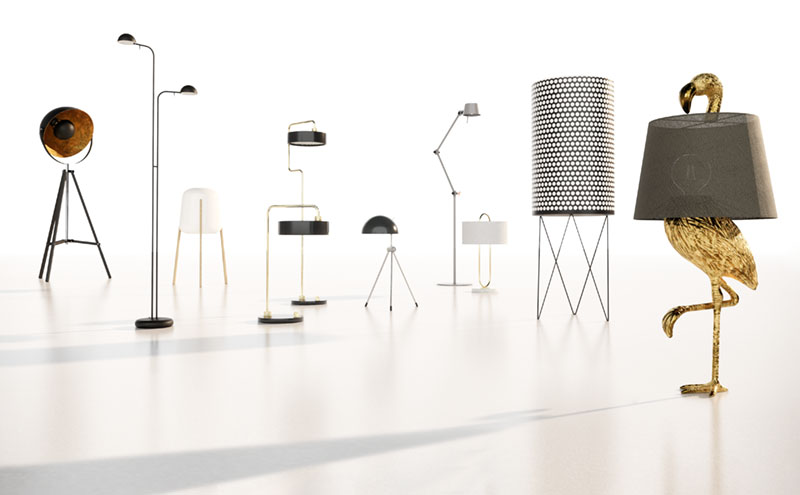 Thanks to our 3D team, you now have over 250 new assets including accessories and furniture to help enrich your renderings! Two popular categories that our users have requested additional assets for are lamps and buildings.
With a large variety of lamps now available, you can choose from a range of realistic lighting options to suit your scenes. From small table lamps to larger floor lamps, you'll find a wider choice than ever before.
And with our new collection of surrounding buildings, you can easily place your design into a pre-made urban environment, helping you to visualize your project as part of a small neighborhood or a larger city in no time.
Enscape in German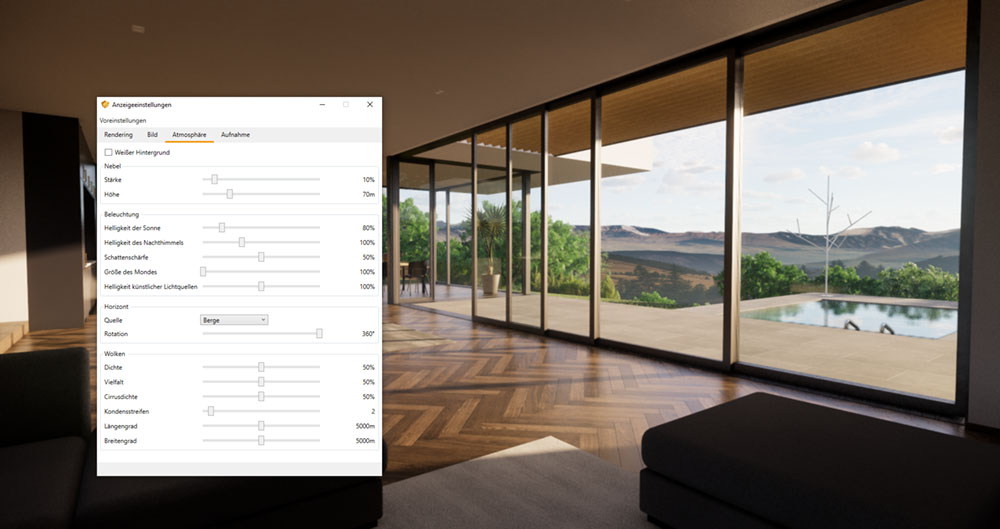 For our German-speaking users, you'll be pleased to learn that Enscape is now available in German!
German can be selected as your chosen language either when you're installing Enscape, or by navigating to 'General Settings > Preferences' and then restarting your CAD.
With a growing audience all over the globe, we're excited to share that Enscape will be available in more languages in the future – more to come soon!
Additional Features
Batch Rendering:

Render all views, all favorite views or a custom selection of views to images in a single action.

Reproducible Renderings:

Reproduce renders based on your present settings, allowing you to easily create visuals with the same look and feel time after time.
PLUS:
Improved clouds and atmospheric effects, including improved fog realism.

Improved area lights (spheres, lines and rectangles).

Improved shading of partially transparent (via cutout texture) surfaces, such as curtains.


See Enscape 2.7 in action and explore the new features: