Did you know you can see which features we are working on and submit your ideas through the Enscape Roadmap Portal? Find out all about it and how you can help us shape the future of Enscape! 🚀
What is the Enscape Roadmap Portal?
The Enscape Roadmap Portal provides visibility into which new product features we are developing and evaluating. It's also a place that fosters direct communication between our users and the Enscape product team since this is where users can share their ideas and feedback with us.
Learning about our customers' needs and understanding their workflows better is incredibly important to us. Our goal is to develop a product that makes customers' daily work better and easier. Customer feedback is therefore one of the major sources that drives and inspires our product development 😊.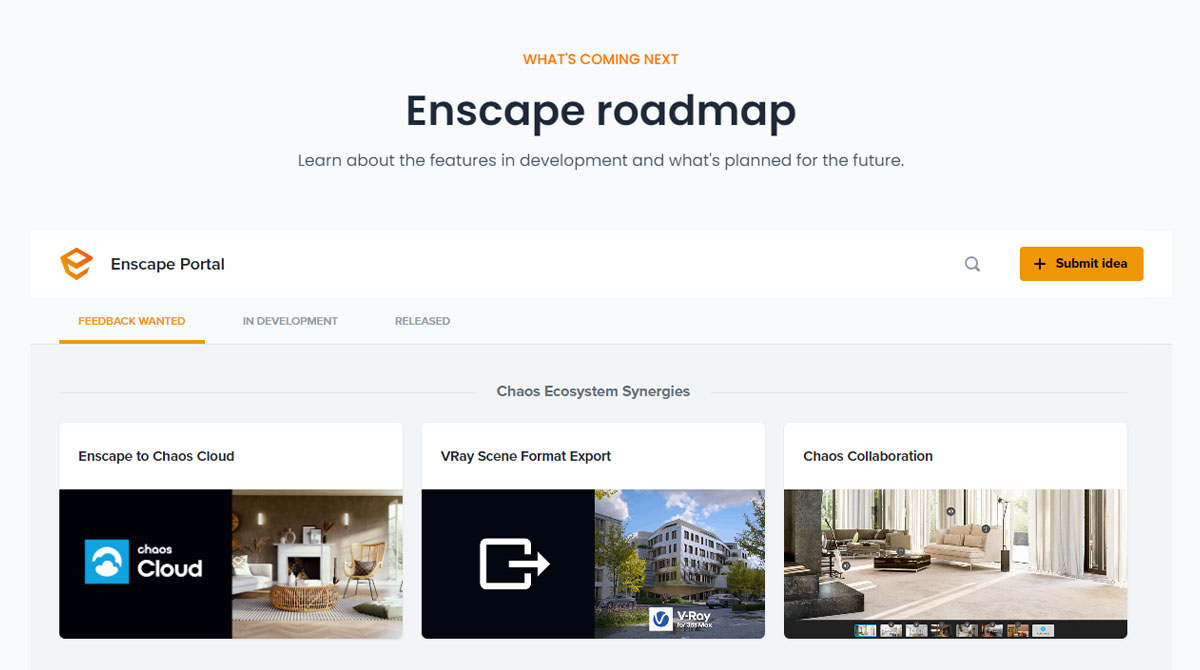 Every piece of feedback is tracked
Enscape was created to serve the needs of architects and designers and offer the possibility to create visualizations quickly and easily. It's the only real-time visualization plugin that is 100% integrated into the most used CAD and BIM applications and is an industry standard for creating quality outputs instantly.
Two years ago, we launched the Enscape Roadmap Portal, a dedicated product management platform to collect ideas and validate features. Since then, we have collected over 4,000 notes from customers, and identified over 1,000 potential features! 🌟 Every piece of feedback is reviewed, tracked, and recorded.
Be the first to know about new features
The Enscape Roadmap Portal is where you can learn what we're working on and stay up-to-date on the progress of new features. When our development team has committed to working on a core feature, a card will appear in the In Development tab of the portal.
This roadmap shares a glimpse into the future development of Enscape. Roadmap cards with a 🙌 mean that the feature request originated from the community.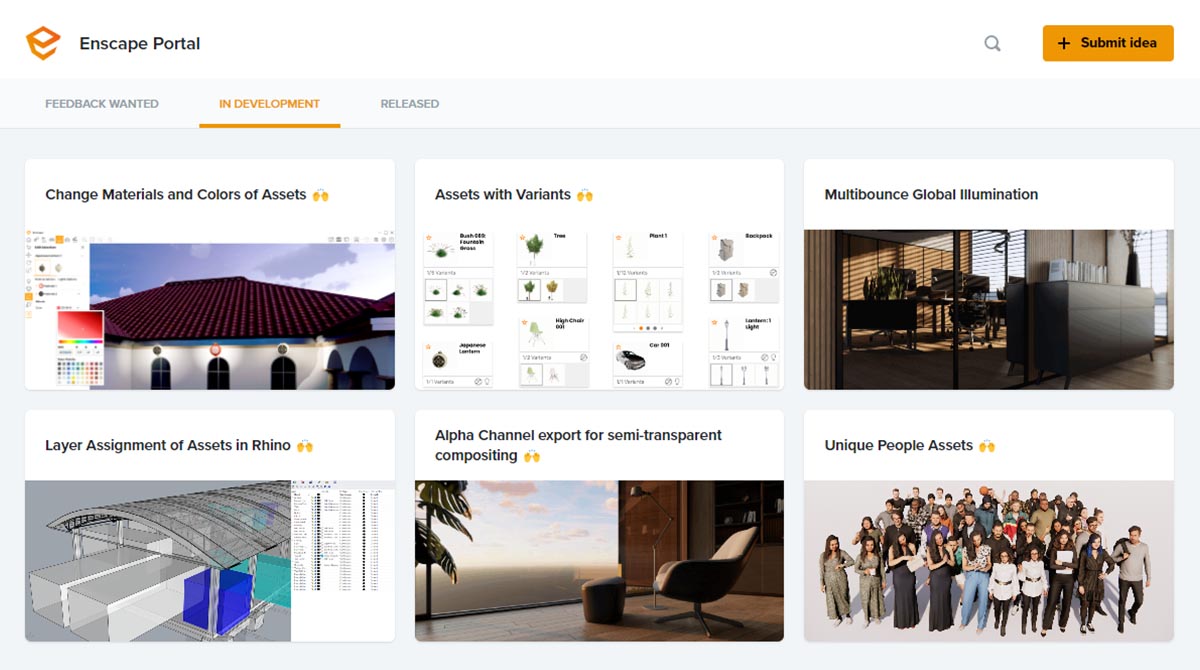 Right now, you can see that we are working on providing customization possibilities to Enscape assets and improved indirect lighting with Enscape 3.5, and more, as Senior Product Manager, Tobias Bauer explains:


For 2023, one focus of our roadmap is to leverage synergies between Chaos and Enscape to give you a unique visualization workflow in the future. Another focus is to give our Mac version the same functionality as our Windows version as soon as possible and for all CADs we support, that are available on Mac.
Tobias Bauer, Senior Product Manager, Enscape

For more on our roadmap and focus for future development, please join the Enscape Community Forum. Here you can find regular updates from the Product Management team, especially by following this thread.
Design the Enscape you want to use
The Enscape Roadmap Portal can be accessed either through this link, or through the Enscape website. Go to Product > Features and scroll down to the end of the page. It has three sections:
Feedback Wanted - the place where we need your feedback the most
In Development - the features we are currently developing
Released Features - where our previously released features are organized by version number
Design the Enscape you would like to use by providing feedback on our proposals in the Feedback Wanted section. To help us understand what is most important to you, click on the desired card and mark it as CRITICAL, IMPORTANT, NICE-TO-HAVE, or NOT IMPORTANT, and share a note to provide more context.
You can also submit new ideas through the + Submit idea button on the top right.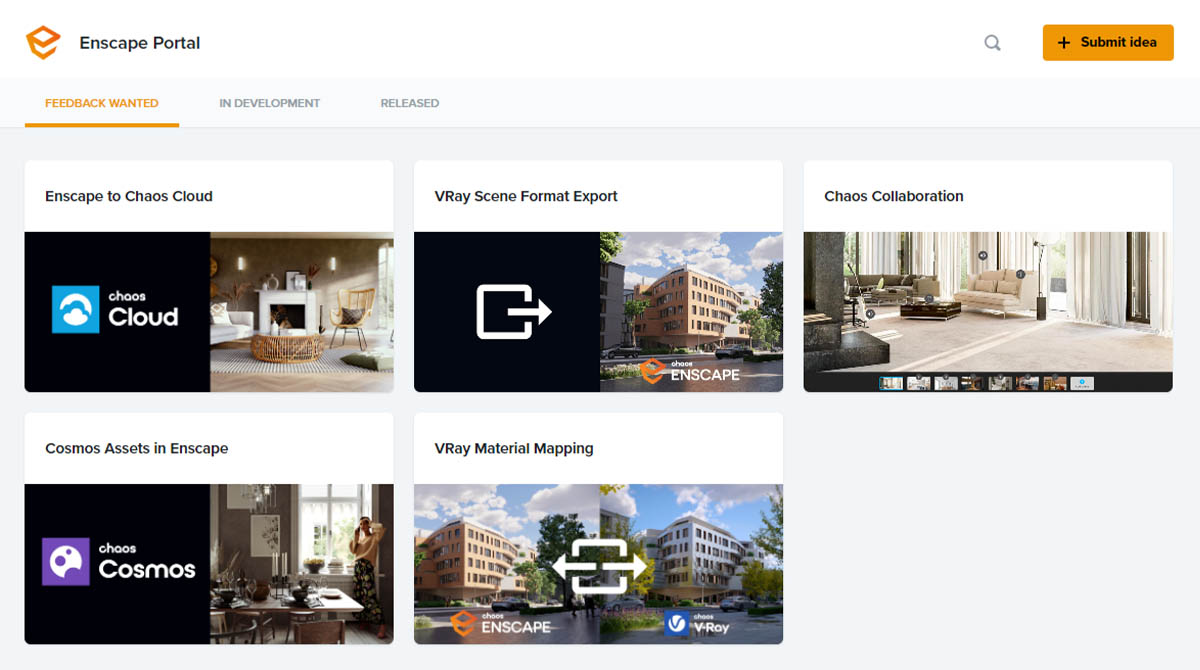 Best practices for sending ideas and feedback
Check to see if your idea fits any of the Feedback Wanted cards
We created this section as a fast lane for users to provide their feedback. To help us organize and analyze your feedback, it would be helpful if you could link your suggestion to the appropriate card. These cards are also created to validate certain assumptions and open questions we might have, so you have the option to write insights that are right to the point 🎯.
Votes are great, but describing your workflow and providing references are even better!
Tell us why you need that idea, tool integration, or feature. It is important that we understand the exact context to properly evaluate and link ideas. In addition to better understanding your needs, we may be able to solve your problem faster 😉.
More ideas are better than one
In order to efficiently categorize your ideas, please submit each idea separately.
Some ideas are easier to implement than others
Don't be disappointed if your new idea isn't picked up right away! Ideas are evaluated based on their complexity, alignment with our product vision, and priority. Some ideas take longer than others, and some ideas will not be possible within the scope of what we want to accomplish in the next year or so.
Don't be a stranger, let's get in touch!
To validate your message, our platform will require you to enter a username and an email address. This data is viewed internally only by the Product team, and using your company email won't lead to any spam. We appreciate it if we can also understand from which industry segment or company size a feature request comes from, but we don't have any special requirements in this regard. We might consider in the future sending a short message back when your requested feature enters development, and we will share more about this process when it's ready 😊.
What happens to your ideas after they are submitted?
All your messages, regardless of whether they are direct feedback on a displayed feature card or a new idea (feature request), are recorded as so-called 'insights'.
Once a week, the Product Management team goes through all new Insights. We read and discuss them, and if they are already existing feature requests, we assign the insight to the corresponding feature. "Assign" means that both your comment and importance rating is added to the feature.
If a feature request is new, we of course create a corresponding feature. This way, we can record the number of requests, assess the importance, and record your feedback for each feature.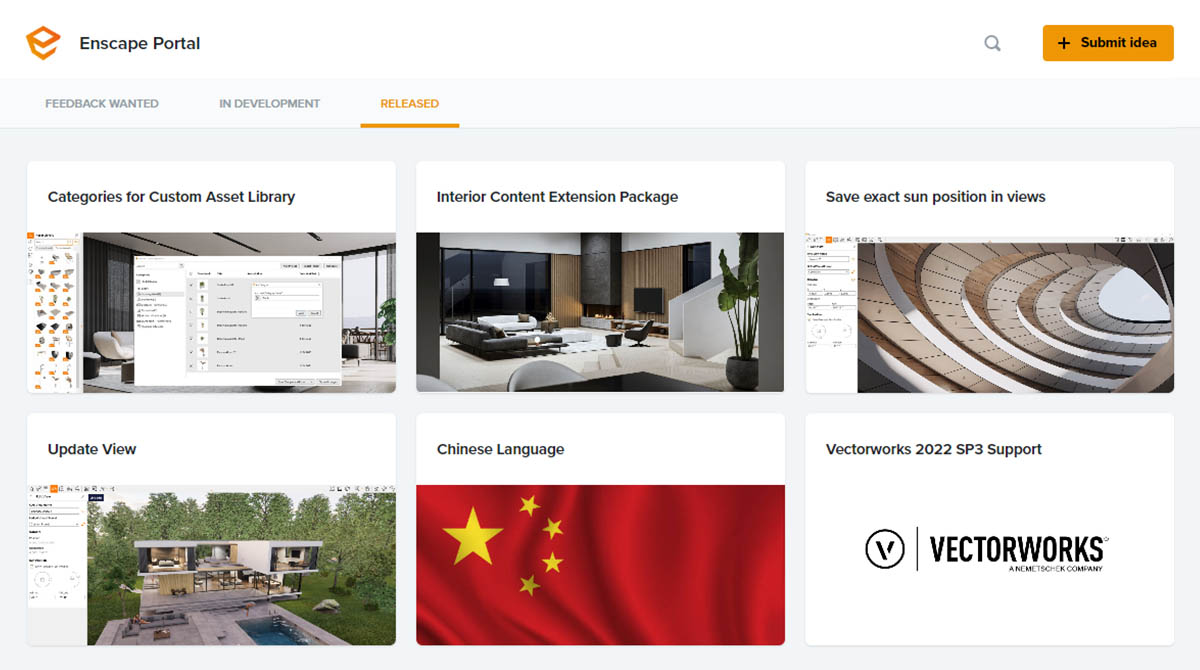 We're as excited as you are to see enhanced product functionality, but one thing to keep in mind is that roadmaps are planning instruments. The development, release, and timing of any feature or functionality that can be found on the portal will be based on our internal evaluation. These roadmap updates should not be used for purchasing decisions and are rather meant to outline our general product direction.
We are always striving for more transparency and interaction with our users and we do our best to keep the portal up-to-date. The scope of the portal is to provide updated information to our users and, at the same time, capture customer feedback and insights to help us develop Enscape into the best it can be.
We hope this post provides useful information on the Enscape Product Portal and explains how to get the most out of it. Check it out, and thank you in advance for sharing your feedback and ideas and helping us to shape the future of Enscape! 🙌