Well, this is exciting - you've just signed up for Enscape (or you're thinking about it 😉), and now you're ready to start creating realistic renderings in SketchUp. Hoorah!
This article will walk you through the steps to help you get up and running quickly. You'll be creating beautiful renders and walking through your rendered project in no time.
A quick note before we get started - while many of the features and functionality covered will apply to both Enscape for Mac and Windows, please refer to our dedicated Enscape for Mac guide if you are on a Mac device and using SketchUp.
We have a lot to cover, but if you'd like to jump to a specific section, click here:
Enscape system requirements
Enscape is available for Windows 10 or later and Mac. We currently support SketchUp 2019, 2020, 2021, 2022, and the latest SketchUp 2023 on Windows and SketchUp 2021, 2022 and 2023 on Mac.
Since Enscape uses ray tracing for real-time rendering, it relies heavily on your graphics card (GPU) to quickly render your models. You will therefore need a graphics card powerful enough for Enscape to run. You will need either an AMD or NVIDIA card with at least 4GB of dedicated VRAM (not shared).
It's best practice to keep your graphics card driver updated to ensure Enscape runs smoothly. You can do this via the NVIDIA or AMD website. Here are the links: NVIDIA driver updates and AMD driver updates.
Additional support and information:
How to download and install Enscape for SketchUp
To install Enscape, you will need the Enscape Installer. This will be sent to you via email if you have signed up for a free trial, have applied for an educational license, or if you have purchased an Enscape license.
Before you run the installer, first, close SketchUp, then start the installer and follow the instructions.
Additional support and information:
Opening Enscape in SketchUp
Enscape is a SketchUp render plugin (also available for other popular modeling tools, including Revit) that provides designers with direct access to real-time visualization and virtual reality. SketchUp will automatically detect that Enscape is available once you have installed it.

Enscape can be found under 'Extensions' on the SketchUp toolbar. You can access Enscape's features here, or you can make the Enscape toolbar visible and, therefore, more accessible. To do this, right-click on the SketchUp toolbar and select 'Enscape' or go to View > Toolbars and then select 'Enscape'.
To launch Enscape the first time, log into your user account. Go to Extensions > Enscape > About and log in. Then go back to Extensions > Enscape > Start Enscape.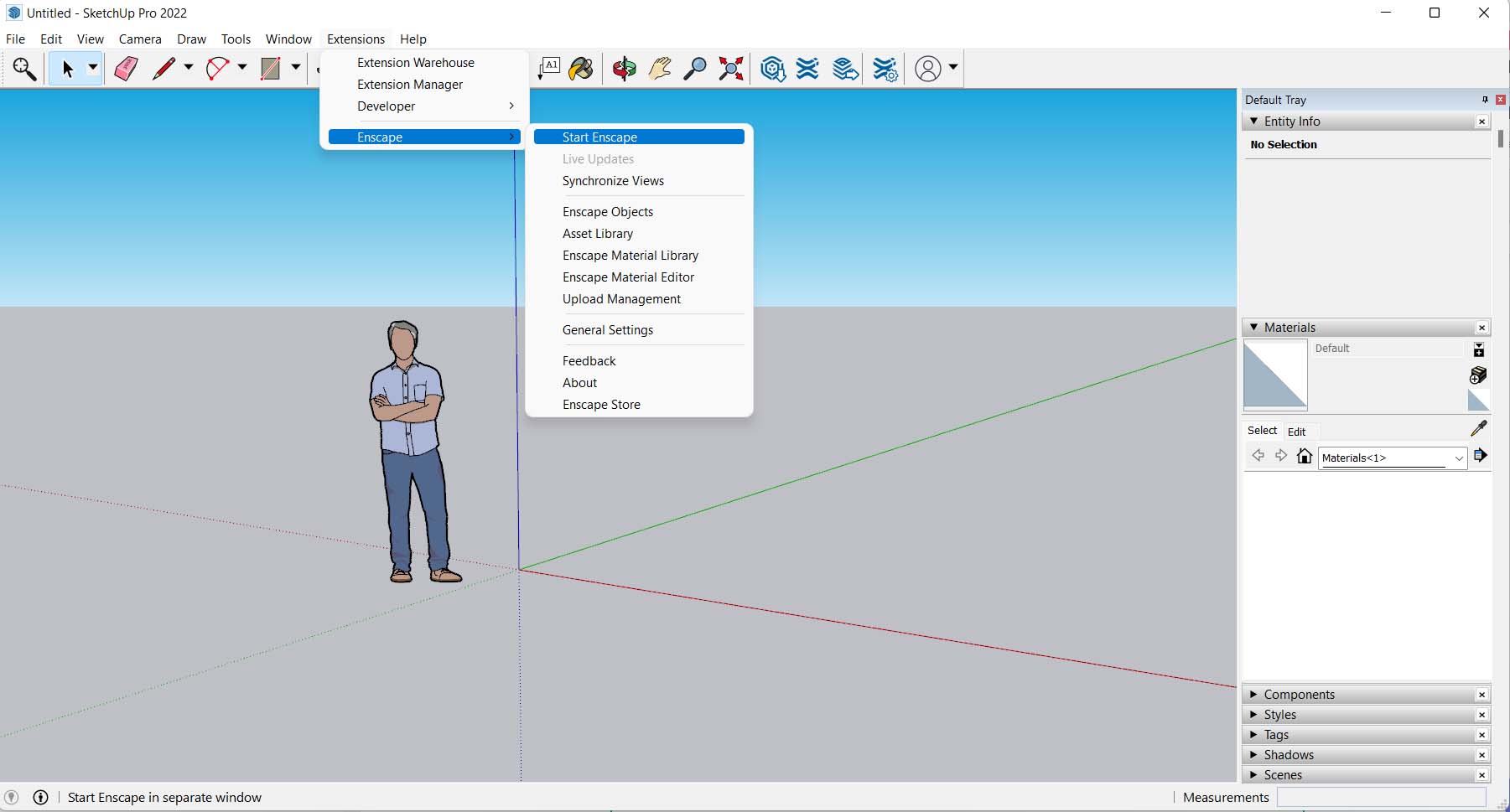 How to start Enscape and render in SketchUp
Now that you have installed Enscape and opened up the toolbar, it's time to start rendering in SketchUp. Open up your SketchUp project file. If you do not have a project file, you can download a free sample project from the Enscape website.
Next, click the 'Start Enscape' button on the Enscape toolbar (or go to Extensions > Enscape > Start Enscape).

Enscape will open up in a new window, with your project automatically rendered and presented in the perspective view. At this point, you can start walking around your rendered model.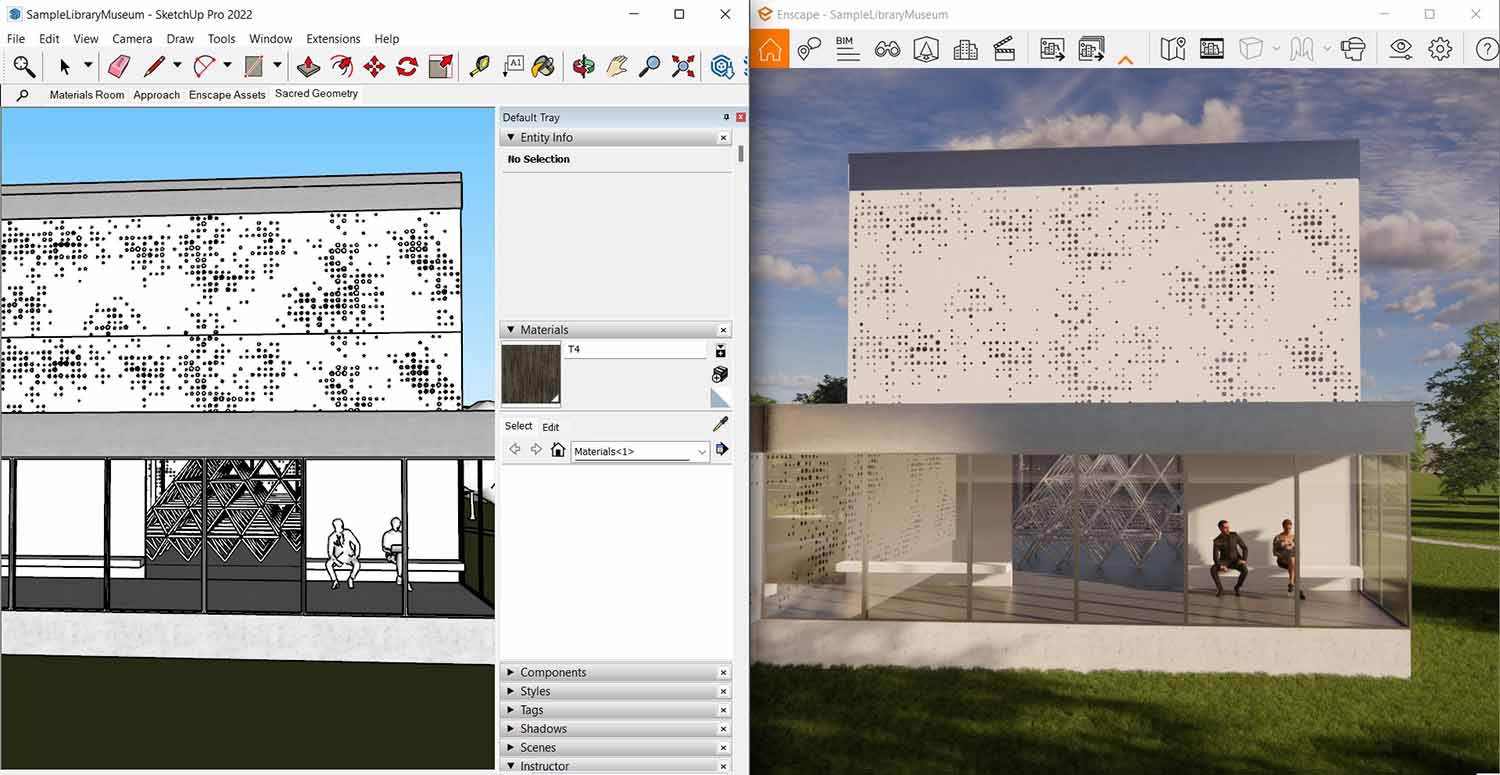 Now the fun begins! Try swapping materials, changing geometry, or adding assets. As you adjust your project in SketchUp, you can see the changes instantly appear in Enscape (if you have Live Updates activated in Enscape). You can also activate 'Synchronized Views' to sync the perspective view from SketchUp to the Enscape rendering window. Now, as you navigate your SketchUp model, Enscape will follow and present the same view.
We will go into more detail about how to render an image later on in this article.
Additional support and information:
Enscape Help Menu
Enscape provides a Help Menu to help you use the plugin. To access it, press the H key or the question mark in the upper right of your Enscape window. Depending on what feature you are using, you will see the appropriate hints and tips displayed.
For example, when in the 'View Management' setting, you can find instructions on how to walk through your project. W to move forwards, S to move backwards, A and D to move left and right. Even information on how to change the time of day, walk or fly through your project, and change the solar angle and rotation.

These helpful tips will change as you navigate around Enscape and open different functions.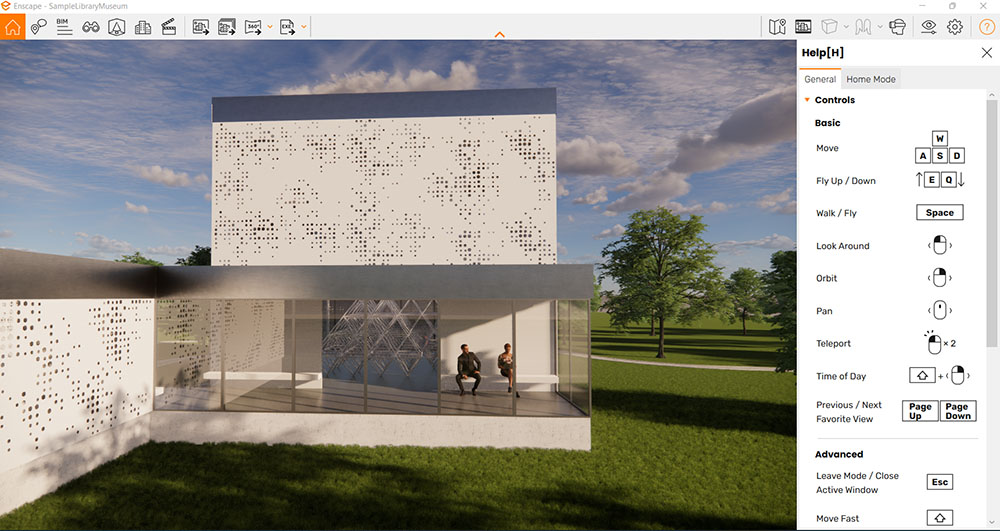 Finding your way around Enscape
View Management
It's good practice to set up views early on in your project so you have reference points you can always return to and track document progress.
In the Enscape rendering window, press F on your keyboard whenever you'd like to open the View Management option. Here, you can see all of the 3D views of your project. If you have predefined perspectives, you can jump to them right away. If you don't have any setup, click on the 'Create View' button at the bottom of the View Management tab, and Enscape will save the current position and daytime in SketchUp.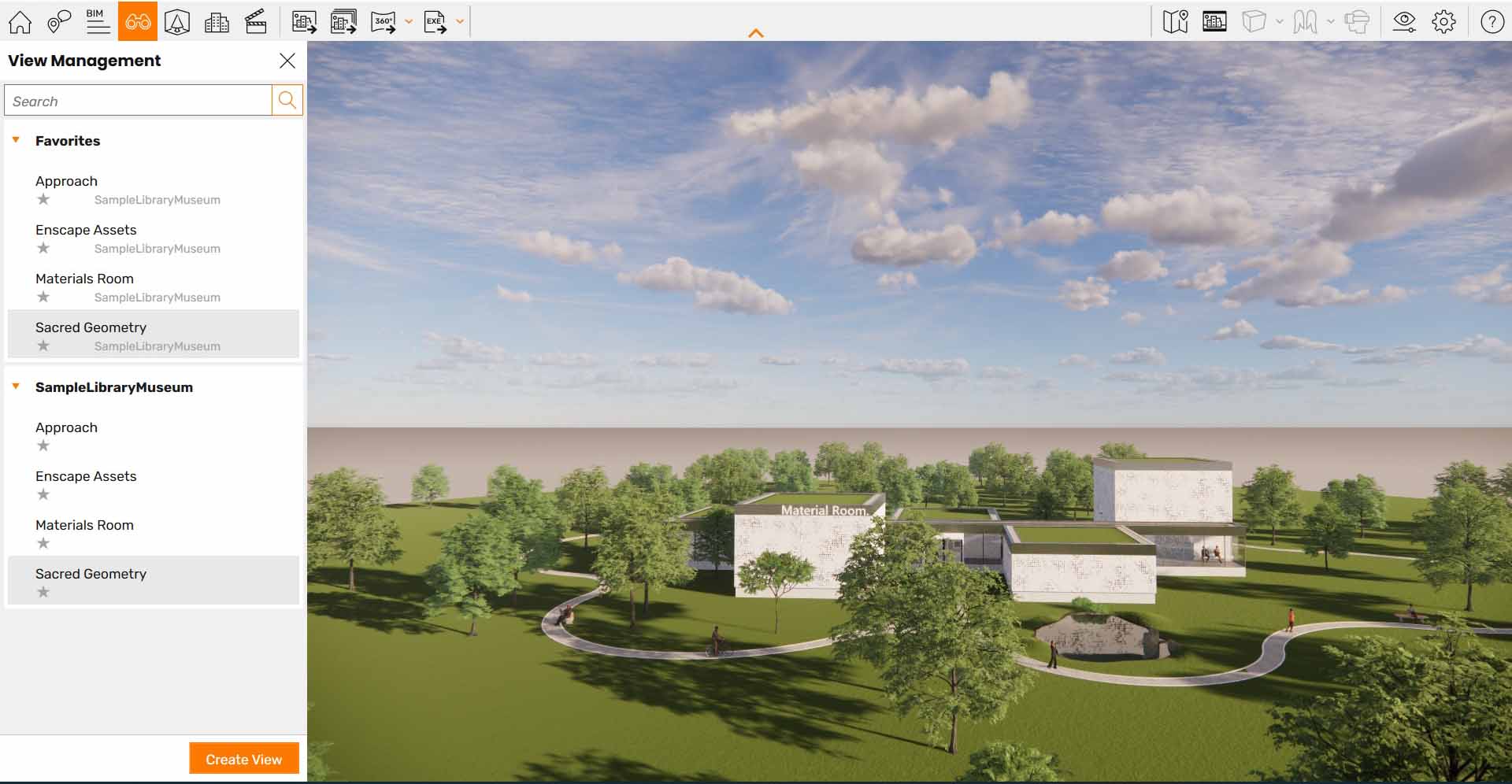 By clicking on the edit button, you can mark a 3D view as a favorite for easy access, or you can link a visual settings preset to it (something we will cover in the Visual Settings section).
By clicking on 'Create View', you can generate a new 3D view back in your design application. Enscape will save the perspective and time of day and any other settings copied from the currently selected view. You can return to the selected view anytime by pressing 0 on your number pad. This is particularly handy if you get lost somehow and provides a safe point to always return to.
To close View Management, press Esc on your keyboard or the home button.
Additional support and information:
Visual Settings
You can access Visual Settings from the Enscape rendering window:

This is where you can refine the look of your Enscape visualization, be it an image, video, or virtual reality experience. You may find yourself here when you are ready to export a render and want to create a specific look or if you just want to test different settings and see how they impact your visualization.

In Visual Settings, you can set up your camera, environment, and export settings. You can also define specific details, such as render style (white mode, for example), artificial and ambient brightness, and depth of field. You can adjust atmosphere settings, such as sun and night sky brightness, shadow sharpness, change the wind intensity, and much more.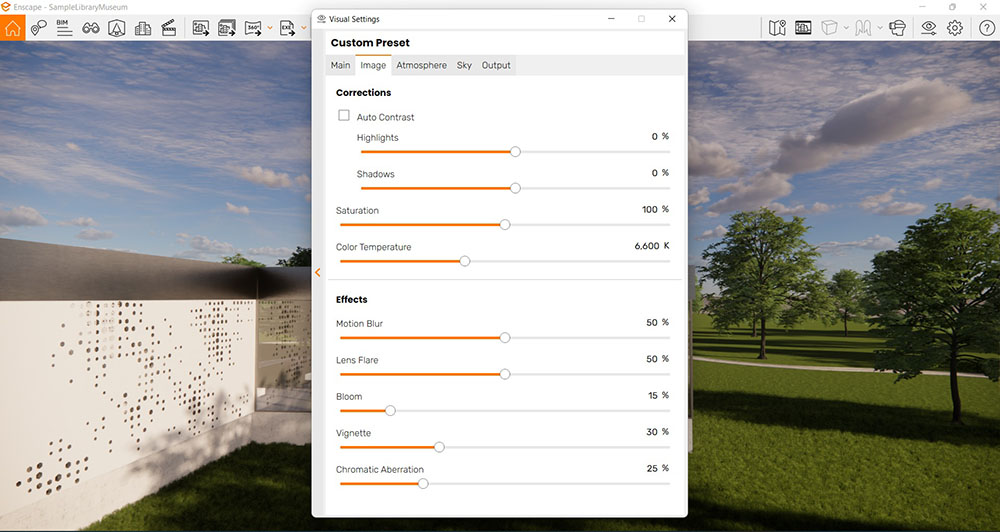 In the Output tab, you can choose the rendering resolution, the file format (such as .png), whether to export additional render layers for post-production (such as the alpha channel for an image with a blank background), video compression quality, and more.

On the very left-hand side of the Visual Settings window, there is a small orange arrow. By clicking on this, you will open a side panel that stores your Visual Settings presets. Click 'Create Preset' to set up a new preset. Now you can select the appropriate settings from the right-hand display and start to create specific looks for your scenes.

You can even connect them with your views in the View Management window. All of the settings in this interface can be controlled by a preset.

Additional support and information:
Enscape Material Editor
Enscape comes with its own Material Library and Material Editor. Here you can find a range of ready-to-use materials and maps. You can also import your own materials and easily replace them.
Open the Enscape Material Editor by clicking the checkered sphere icon in the Enscape toolbar or by going into SketchUp > Extensions > Enscape Materials.

You will see a window showing the selected material on the right and a list of all of your materials in your project on the left. Notice that the Enscape Material Editor accesses the same materials as SketchUp, and Enscape adds some information and functionalities.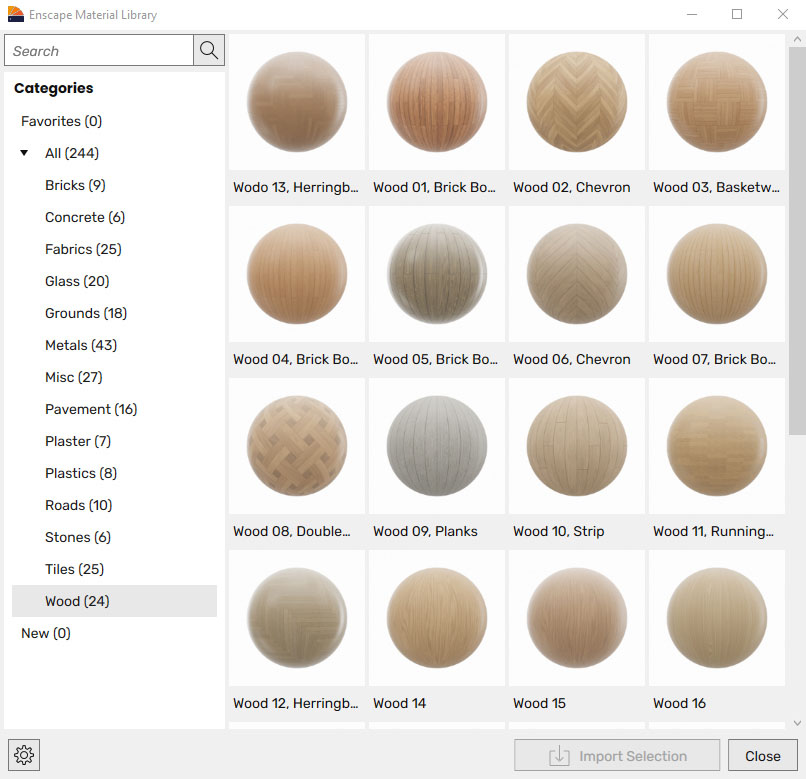 You set up and apply a material in SketchUp, but you can edit it in the Enscape Material Editor. Here you can change the color, height (with bump, normal, and displacement maps), and reflections, which control how glossy an object will appear.
You can also import textures to help you set up your materials. There are many sites that provide high-quality free rendering textures, such as Poliigon.com or ambientcg.com. Check out this video tutorial at 19:09 to see how to do this.
Updating and replacing materials from the Enscape Material Library is possible from within the Enscape Material Editor. This helps you quickly view, test, and change materials in your model without having to replace them individually.
Additional support and information:
Enscape Asset Library
The Enscape Asset Library provides more than 3,000 high-quality real-time optimized models for you to enhance your scene with, and that list continues to grow as our 3D artists add more with every release.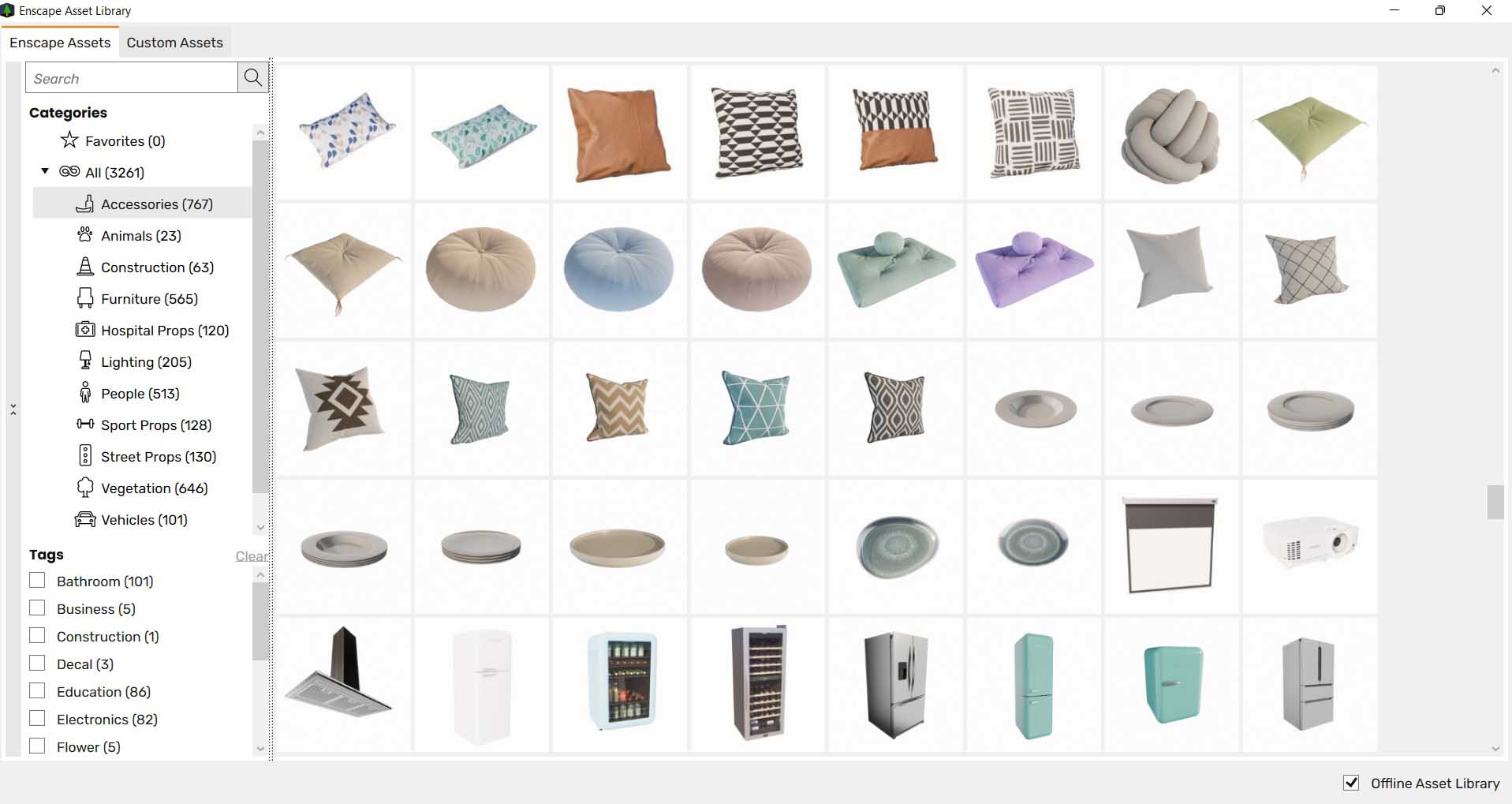 You can access it either via SketchUp or via the Enscape toolbar by clicking on the tree icon. If you open up the library from SketchUp – then you can only add assets within SketchUp. To add assets directly to your rendered scene through Enscape, you'll need to access the library from the Enscape toolbar.
It's simple to use – just pick any model, click it with the left mouse button, and place it in SketchUp. The asset will be placed as a simplified placeholder in SketchUp to save performance, and Enscape will show the full high-detailed model.
Offline assets
By default, the 3D asset library will download the assets over and over. But you can download an offline version of the library by checking the 'Offline Enscape Assets' box in the lower right-hand corner for it to load faster upon startup.
You can mark assets as favorites by clicking on the star icon. This will store them in the favorite folder.
Custom assets
If you have your own custom 3D models that you'd like to use as Enscape assets, then you can import them in obj, fbx, or gltf format in the Custom Assets tab. For more information on how to use custom assets in Enscape, take a look at our Knowledge Base article.
Asset placement within Enscape
To open the Asset Library in the Enscape render window, click the tree icon on the toolbar, or press the l key on your keyboard. This will open an interface that accesses the same Enscape assets as the Asset Library in your design application, even including any custom assets you may have added.
At the top, you will find the search bar and a magnifying glass button to confirm your search. Next to that, we have an infinity sign you can click to filter for the usual categories and your favorite assets and a tag icon to access the various tags and refine your search by.
Once you've selected an asset, you want to place in the scene, click it using the left mouse button and select the surface to place it on in the Enscape visualization. Left click again to confirm the placement. You will notice that at first, you'll only see a gray placeholder representation of the asset you've placed. You can continue placing assets and once you're finished, click on 'Apply changes' or 'Discard all' if you've changed your mind. Applying the changes will load the full quality model in your Enscape design, and it will place the placeholder in your SketchUp project.
Now, when exploring your design in Enscape, you can quickly add assets there and then, rather than going back to SketchUp. You can also rotate, scale, and place multiple assets with ease. For more information on this, take a look at our video tutorial.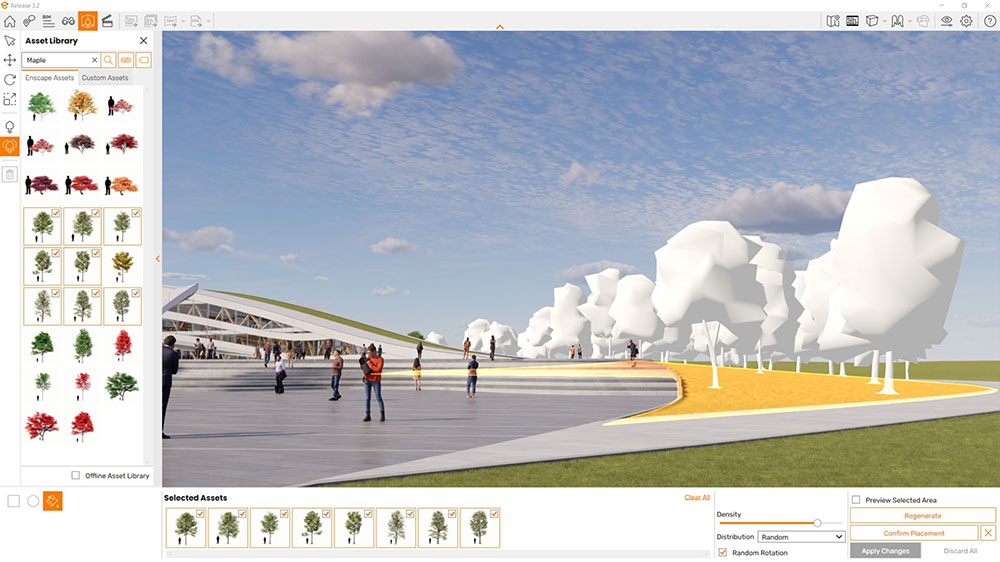 Additional support and information:
How to render an image in Enscape for SketchUp
Rendering images in SketchUp is extremely fast and easy to achieve when you use Enscape.

To render a still image using Enscape, click the Screenshot button as shown below, or use the hotkey, Shift + F11. Enscape will ask you where you would like to save the image and will render it right away. And that's it! Your image is rendered in just a few seconds.

There are also some additional settings that you can choose from, including:
Changing the resolution: Go to the Visual Settings tab (if you're unsure which resolution to use, use the default, Full HD). If you need to print on a larger scale, choose Ultra HD or higher values (be mindful that this is dependent on the available memory on your graphics card).
Saving to a default location: In the Output tab, you can set up a default folder in case you don't want to be prompted to choose a location every time. You can also tell Enscape to name the renderings automatically.
Exporting an image with no background: Select png as the image file type, then activate the Apply Alpha Channel checkbox. Now every part of the background that is not hidden behind geometry will appear transparent, so you can easily place an image of your choice behind your rendering in any 2D software that supports layers.
Further post-processing options: Choose to export Object-ID, Material-ID, and Depth Channel in the Output tab.
Additional support and information:
How to create a panorama
To render a 360-degree panorama, simply move to the desired location and press the button below. You can choose to generate a mono or a stereo panorama.

You can pick a resolution for panoramas in the Visual Settings Output tab.

Panoramas are saved in the Upload Management interface that you can find in SketchUp. This is where you can upload your panoramas to the cloud so that they can be accessed from any device via a browser. You can also copy and share a QR code to allow others to view your panoramas by scanning the QR code.

There are additional options once you log into the Enscape License Center, such as creating a gallery or tour (take a look at this panorama tour that we have created!).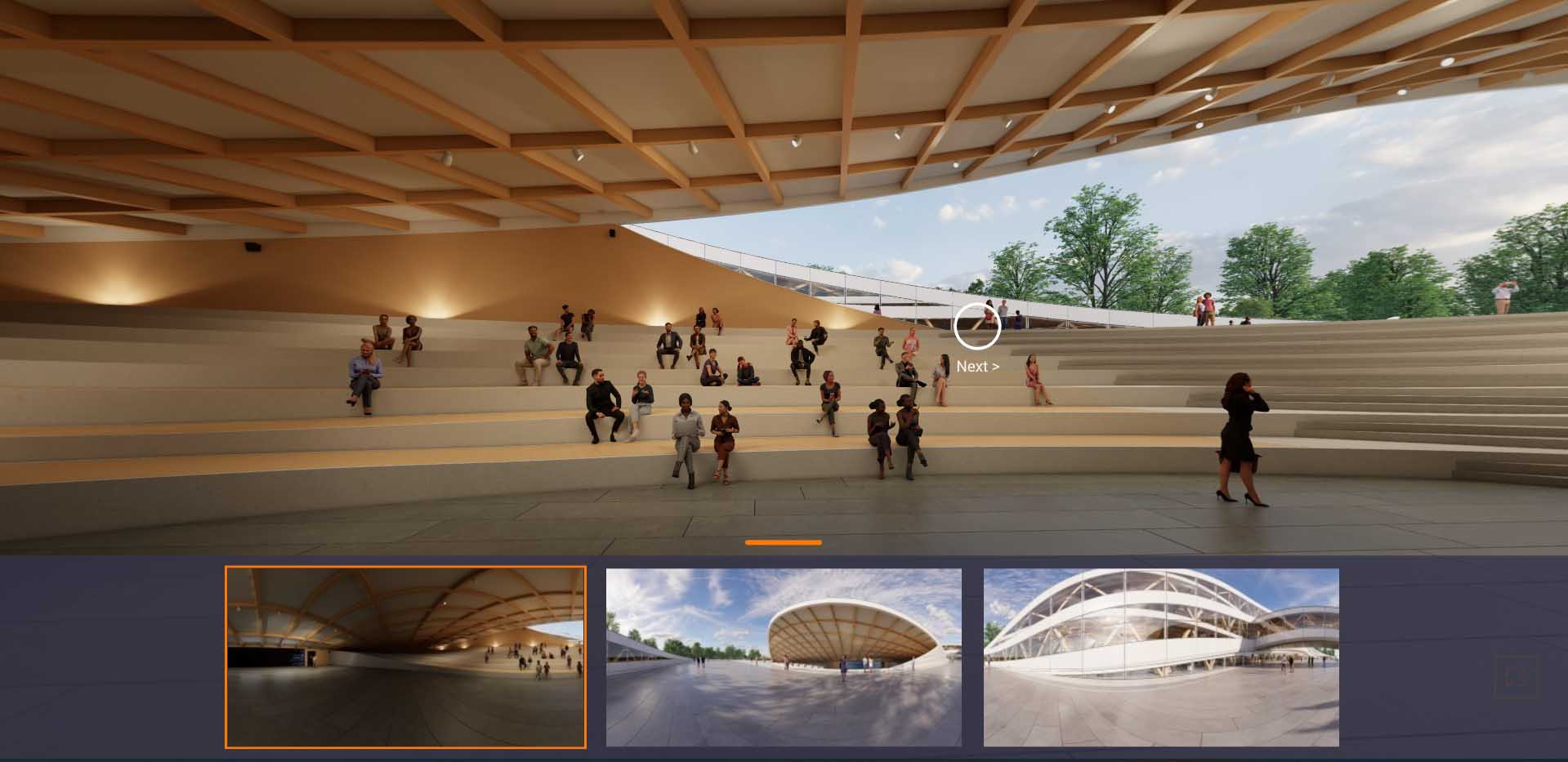 Additional support and information:
How to create a video
To see how to render a video in Enscape and SketchUp, take a look at this step-by-step tutorial:
Additional support and information:
How to export an exe standalone or web standalone
Apart from using Enscape to export images, panoramas, and videos, you can also export independent interactive standalone experiences and share them for free without the end-user requiring a license to view them.
To turn your Enscape visualization into a shareable experience, simply use the Exe button below. There are two types to choose from - the Exe standalone file and the web standalone file. Both are fully VR compatible, meaning that you can quickly create virtual reality experiences.

By clicking the web standalone button, Enscape will immediately begin uploading the Enscape scene to your cloud, where it can be viewed in a browser from anywhere in the world. Share the link with anybody or put it on your website.

If you'd like to share your visualization with someone using a machine that meets our system requirements, you can export an identical copy of Enscape by clicking the Exe standalone button. This will no longer be connected to your design application, so no editing is possible at this point.

To export an Exe standalone file, all it takes is a click of a button. Check out our video tutorial below to see how to customize it with your logo and branding.
Additional support and information:
Dive into extra learning
This is quite a lengthy and detailed guide on how to use Enscape for SketchUp, and much of it is covered in this YouTube tutorial which I would strongly recommend watching:

There is even more than you can do and achieve with these design and visualization tools. To further enhance your Enscape learning, here are some additional resources worth reviewing: