The Apple Mac Operating System (OS) is the tool of choice for many creative designers due to its ease of use and seamless integration of hardware and software, and beautifully designed products like the iMac and Mac Book Pro.
However, over the last few years, real-time rendering on the Mac platform has been developing at a slower pace than that of Windows OS. That has now changed with the advent of Apple's recently released M1 and M2-based silicon with powerful integrated multi-core graphics processing units (GPU) using unified memory. These new models, like the new M1 MacBook Pro, have very powerful built-in graphics with 16 or 32-core GPUs, and the new Mac Studio even has a 64-core GPU model!
A major milestone for Mac-based rendering
Enscape's popular real-time rendering software is now available for the Mac platform following a successful open beta. The release of Enscape for Mac now brings a truly integrated real-time visualization workflow to the Mac platform. Enscape for Mac currently works with SketchUp 2021, 2022, and 2023, but other integrations with popular CAD software like Vectorworks are planned.
What is Enscape?
Enscape is a real-time rendering plugin that integrates seamlessly with your design software and allows you to produce high-quality renders very easily. The simplicity of Enscape's interface is one of its main advantages over its competitors, as it allows designers to complete renderings in-house without much training, negating the need to outsource to an outside visualization team.

One of the main benefits of Enscape is that rather than being a separate design software, Enscape acts as a plugin to your design program. It produces a fully editable 3D model by communicating with CAD data in real time, so each change is instantaneous in the visualization. Enscape can quickly produce stunning, high-resolution interior, exterior and landscape visuals that are exported within seconds.

Using Enscape for Mac
Over the last few months, I have been involved in the open beta, and now that the final release of Enscape for Mac is available, I have started using it in my workflow on both PC and Mac.
My experience of using Enscape on my MacBook M1 Pro has been both enjoyable and rewarding, and I have been able to quickly produce high-quality renderings as you can see in my featured videos.
As a good way to start, I recommend getting a 14-day trial of the software, and starting with the "Apple Hills" demo file for SketchUp. This is a well-optimized project with some nice assets and will give you the confidence to learn how to produce incredible renderings in a short space of time. Watch my full video here:



I really love the direct syncing capabilities so as you change the view in SketchUp, Enscape just renders realistic images in real time in the other window. This works great on a second monitor giving you realistic feedback as you develop your model.

When the model first loads, it progressively renders improving quality in the viewport, and you can see that when you change view, the refinement process takes no time at all to catch up on previously un-rendered areas.

I love being able to scroll through different times of the day and seeing how the light changes the dynamic of the spaces in a realistic real-time way that CAD programs simply cannot offer.

Vectorworks workaround
While my design 3D/CAD/BIM tool of choice has always been Vectorworks, previously this meant switching to my PC so I could use the windows version of Enscape. However, I was keen to find a way to render my Vectorworks models using Enscape for Mac.
Using the reliable .FBX export option from Vectorworks, I was able to convert my files to native SketchUp (.SKP) files using Transmutr by Lindalë, which does a great job at converting files and materials while also letting you simplify meshes etc.
This meant I was able to open Vectorworks models, once converted, directly in SketchUp as if they were native files and then use Enscape to render them. Please watch my video to learn how this works.



Enhance Your Environment
Once you have your model, adding assets from the comprehensive Enscape Asset Library is also very simple and works by using low-memory proxy objects that become realistic-looking entourage in your renderings. Enscape has an ever-expanding, high-quality asset library (currently over 3,200 objects) to help fill your visuals with vegetation and people to bring your scene to life.

This allows for very realistic environments with props like people, trees, and furniture to be created, while keeping your design file optimized, and saves time attempting them in post-production.
Materials matter
The quality of your renderings will often be dictated by the quality of the materials you use. Enscape uses the material appearance of the design software it is currently plugged into, saving the tedious task of replacing each material with the rendering software. The materials are also available for further adjustment and editing in the Enscape Material Editor once applied with SketchUp itself.
This allows you further control of your visualization such as color, reflectivity, transparency, bump mapping, and light emission. These are able to be edited to make the real time aspect of the software more realistic and to improve how they look within Enscape itself.
Incredible Images
One of the main goals of Enscape was to allow its user to achieve beautiful-looking renders without having to wade through complex image and setting adjustments to achieve this. With Enscape's real-time technology, the working scene is fully rendered which allows it to look very similar in quality to the final output. This is a huge advantage to be able to see what your visualization will look like in the end without having to wait for extremely long rendering times.

The main difference between the working draft and medium quality is the simplification of lighting and reflection within the scenes to their basic levels. However, when you export the final renders, Enscape shows off its ray tracing abilities allowing light to bump off surfaces and allowing reflections to display the surrounding environment.

Using the Visual Settings, users can easily adjust exposure, field of view, and depth of field, as well as image-based settings like highlights and shadows plus saturation and color temperature.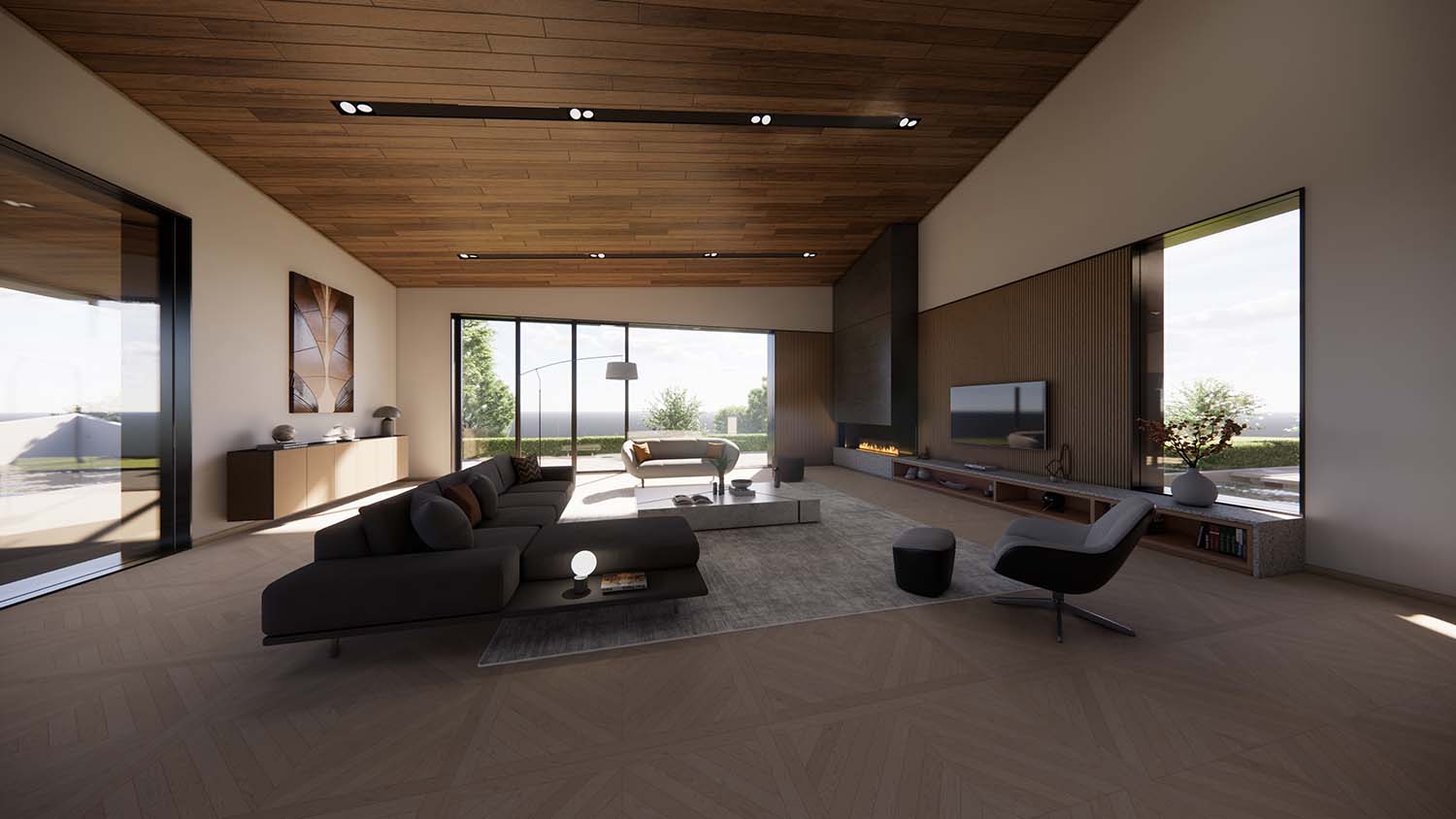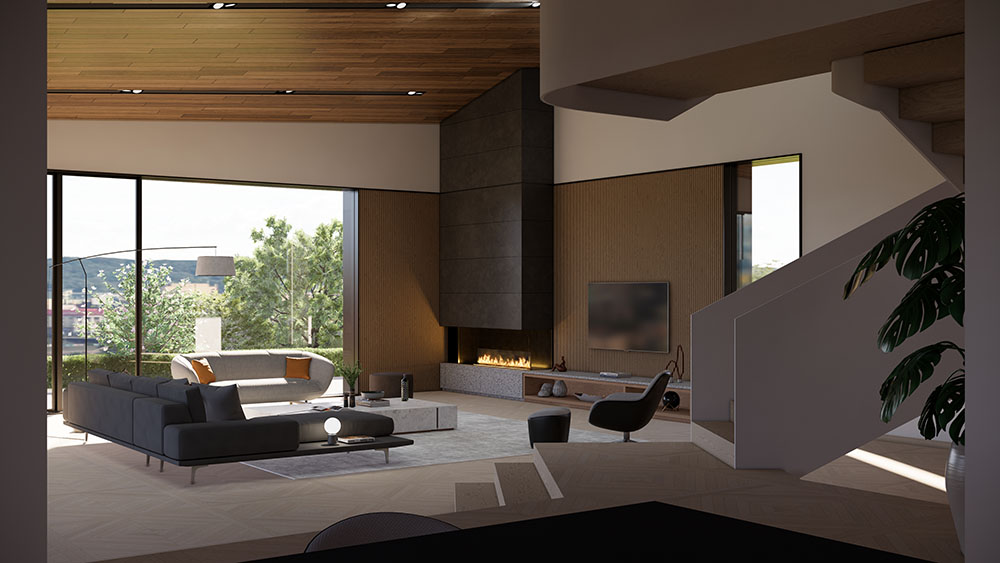 Conclusion
Enscape's simple and easy-to-learn interface makes it ideal even for those new to rendering software, as it is extremely easy to use. The simplicity of Enscape acting as a plugin for your design software to instantly make visual changes is the most attractive feature it has. The increasing move back to in-house visualization makes investing in your own rendering software essential.

While there are still some features yet to make it to the Mac version, like VR support to create immersive 3D experiences, additional export for video, standalone executable files, and a custom asset library, it's a great time to get on board with Enscape for Mac. You will benefit from the amazing rendering quality, and simple easy-to-use interface, and be ready when new features are added as these get released as free updates to all active users. You can also benefit earlier and get more involved in the software's development by using the preview versions that are still in development!
The advantages of Enscape for Mac
• Direct plugin to SketchUp 2021, 2022, and 2023 software, therefore saves time not having to re-export models and re-render them.
• Faster and easier than other rendering software with stunning quality.
• Simplicity of the interface and learning curve.
• Available for Mac and Windows. A 14-day trial is available.