One of the great things about Enscape is its consistency across the primary design platforms it supports: Rhino, Revit, SketchUp, and Archicad. With the recent release of Enscape 2.5, customers now have a Material Editor inside Rhino 6. It is very much like the Enscape material editor already in SketchUp. This article will highlight the extended visualization opportunities now afforded Rhino users, thanks to this new Enscape feature.

Update: A new version of Enscape is now available. Check out the latest version here!
Lighthouse model credit
To show off the new material editor in Rhino, I downloaded a free model from Turbosquid called Lighthouse on the artificial rock by user Shakudo. Be sure to click the link and take a look at the other models by this user; some are free and the rest are reasonably priced when you consider the time it would take to model each item. I only added the water (a large 3D box) and the Enscape assets, so you too can download this model and try these new features yourself if you wish!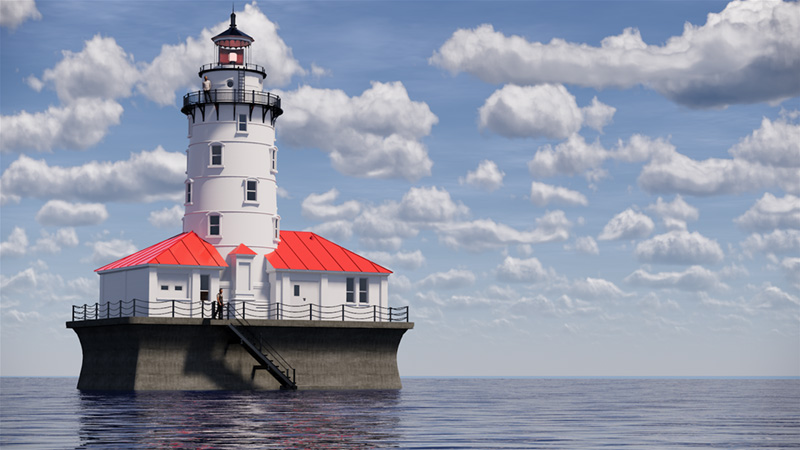 Lighthouse Project Modeled in Enscape
Introduction
The first thing to know is that this feature only works with Rhino 6 and higher due to some technical limitations in older versions.
Next, each Rhino material you wish to adjust must be selected and have its Type set to Enscape as shown in the image below. Once that is done, those materials will appear in Enscape's Material Editor.
Setting Rhino Material Type to 'Enscape'
Notice, in the image above that the Enscape material Type (not the Rhino material Type) has been set to Water. This setting changes the options shown to those related to water; Water Color, Wind Settings, and Wave Settings.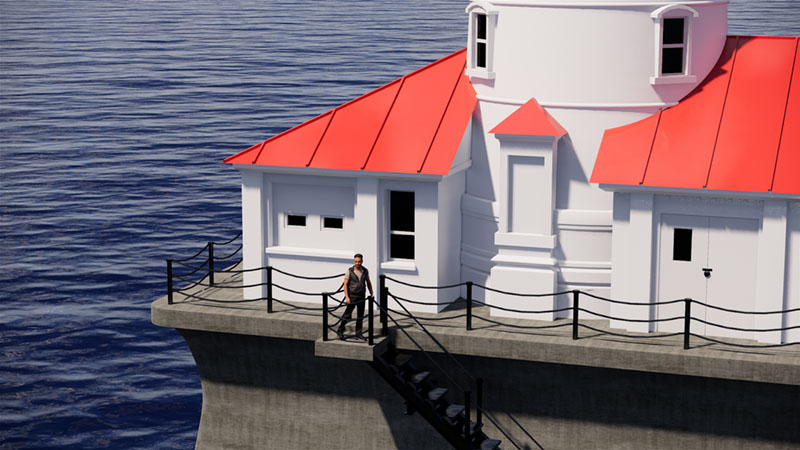 Enscape Material Type Set to 'Water' Results in Realistic Looking Water
Using a solid color and a plaster bump map, the walls have a realistic texture. Notice the bump map can be scaled as needed.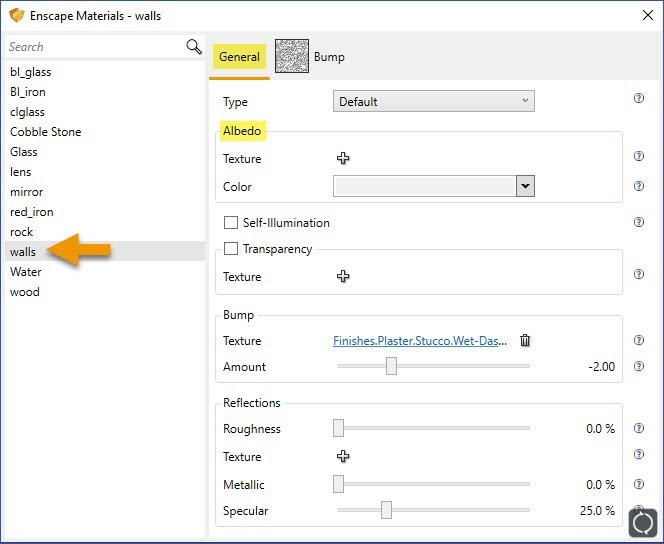 General Settings for 'Wall' Material
Bump settings for 'Wall' Material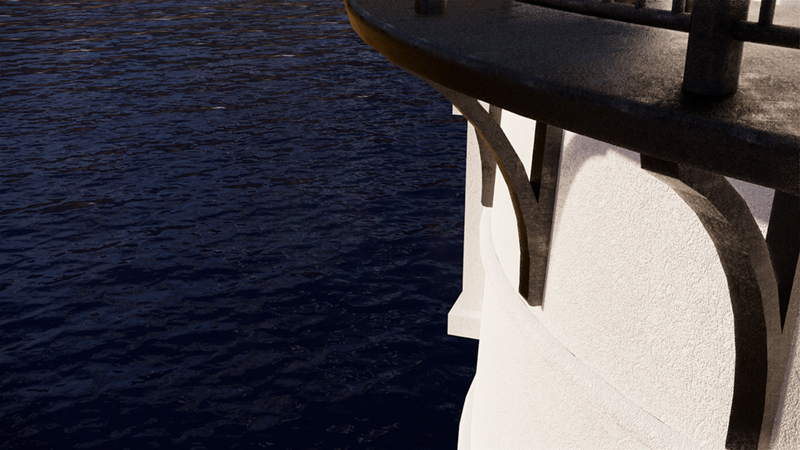 Resultant Wall Texture in Enscape
For the lighthouse lens, the material is adjusted in the Enscape material editor to be self-illuminating.
Notice the material now contributes light to the scene, which makes it look pretty cool at night with bloom and lens flare adjustments!
Notice, I also added spotlights using the Rhino 6 light source tools.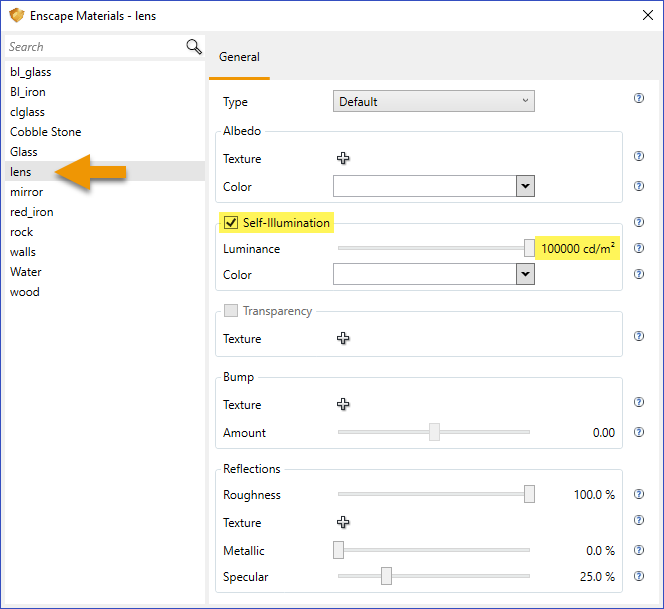 Developing a Self-Illuminating Material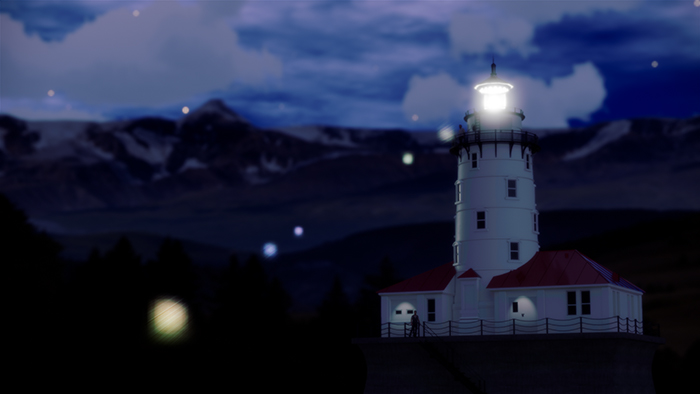 At night, self-illuminating materials really shine!
Enscape 'Clearcoat' settings
Using the Clearcoat option, we can get a nice dark black rail and platform, yet with highlights and reflections.
Without this setting, the elements would not have as much definition and blend together.
But this model does not really do justice to this amazing option, so be sure to keep this in mind when you see the stunning car model coming up next in this post.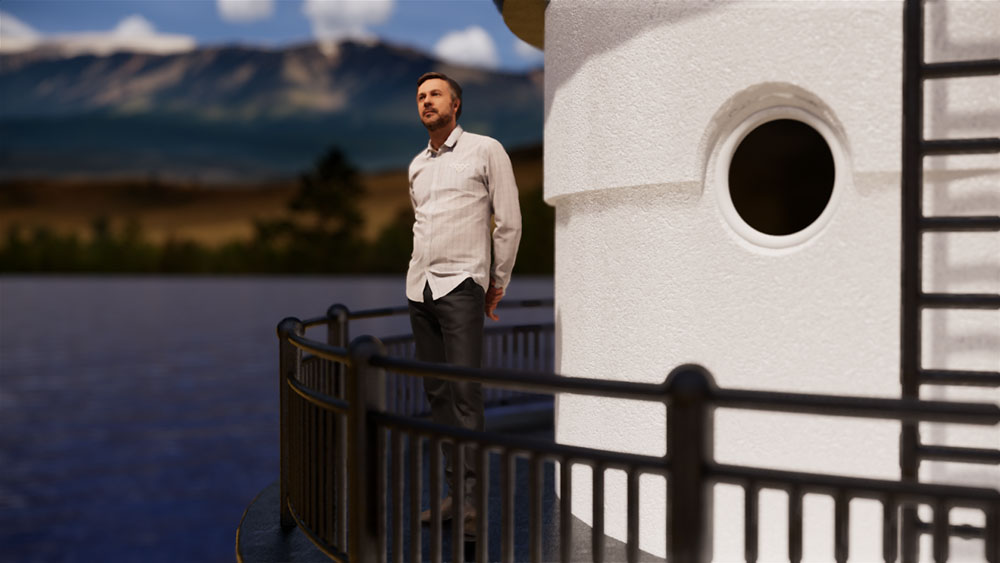 Clearcoat Result, showing Better Definition of Dark Elements
Using a solid color and a wood bump map, representing painted wood is easy!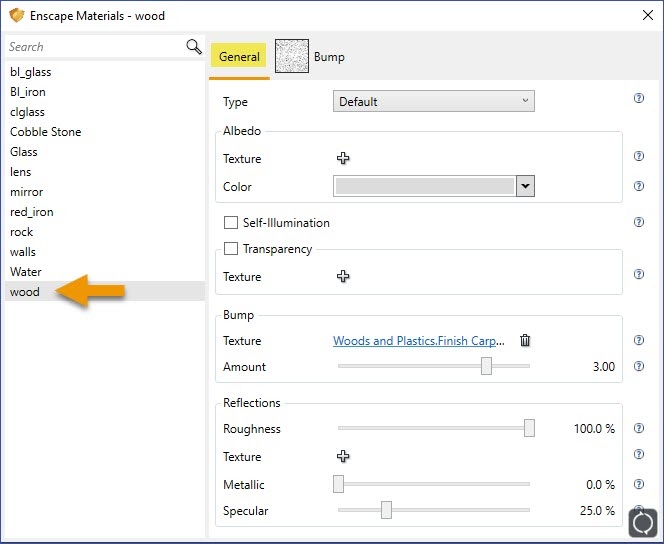 General Enscape Material Settings for Painted Wood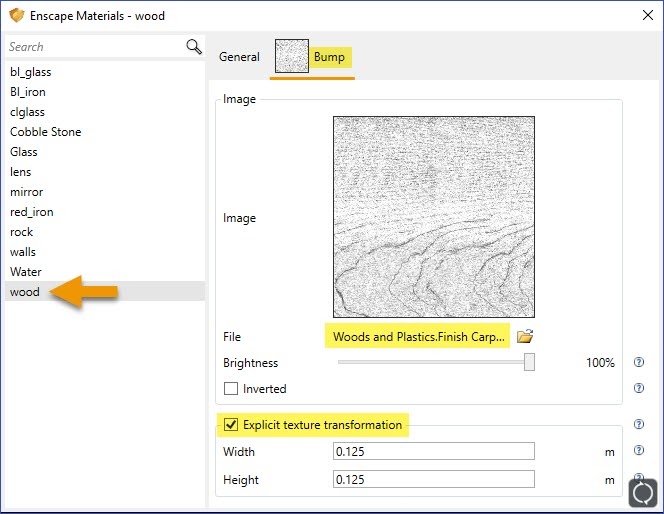 Bump Map for Wood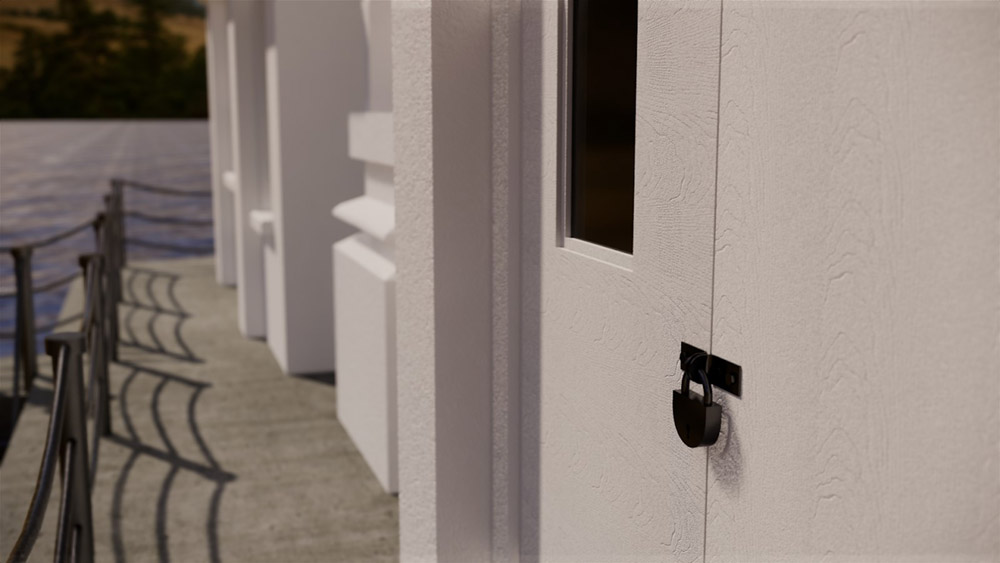 Resultant Wood texture in Enscape
High-quality video
The ability to easily create videos following a complex path is not new. However, seeing a video with the new enhanced materials is. Here are two examples below. For more information on creating videos, see this post: Best Practices for Video Creation in Enscape.
Enscape video of Rhino model with high-quality materials - 01
Dodge challenger model credit
To show off the Enscape clearcoat material in Rhino, I downloaded another free model from cgtrader called Dodge Challenger 1970 3D Model Files by user Danny Sanchez.
Introduction
Now for some fun with an American muscle car. Using this model along with a downloaded HDR skybox, for some beautiful reflections, we can really show how this clearcoat feature shines😉 All this is implemented in just three clicks of the mouse as shown in the next image.
On a related note, nearly two years ago, I wrote a post on my blog on achieving similar results in Revit. Read about that here: Reflect on Enscape + Materials.
Enscape 'Clearcoat' settings
Here are several views of the car painted black… they speak for themselves!
Sample Car Model with 'Clearcoat' Material Applied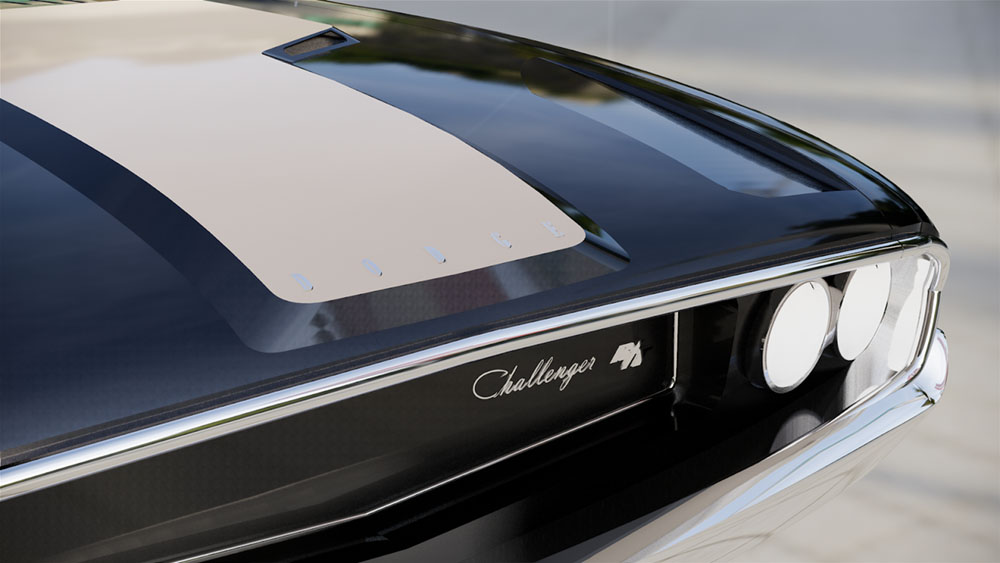 Clearcoat results in a highly reflective surface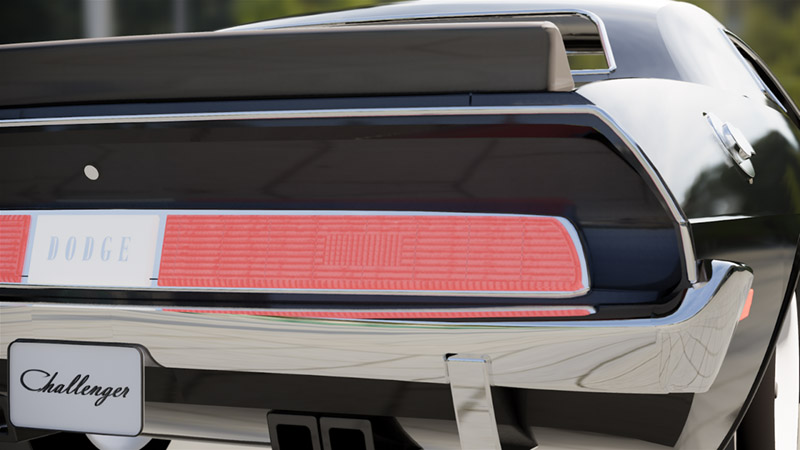 Material with Bump and Self-Illuminance Applied to Taillights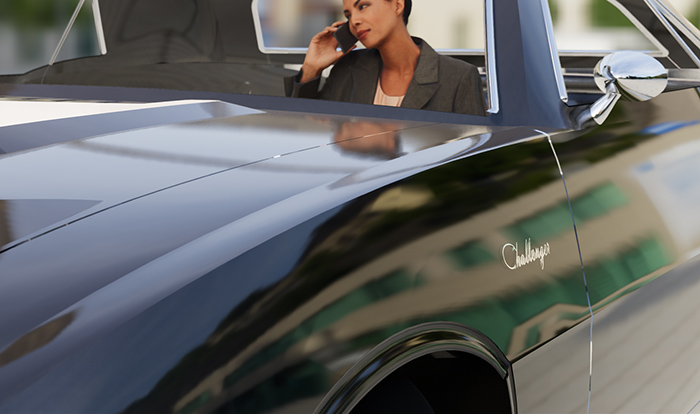 Enscape Asset and Quality Reflections
What to try different colors? No problem…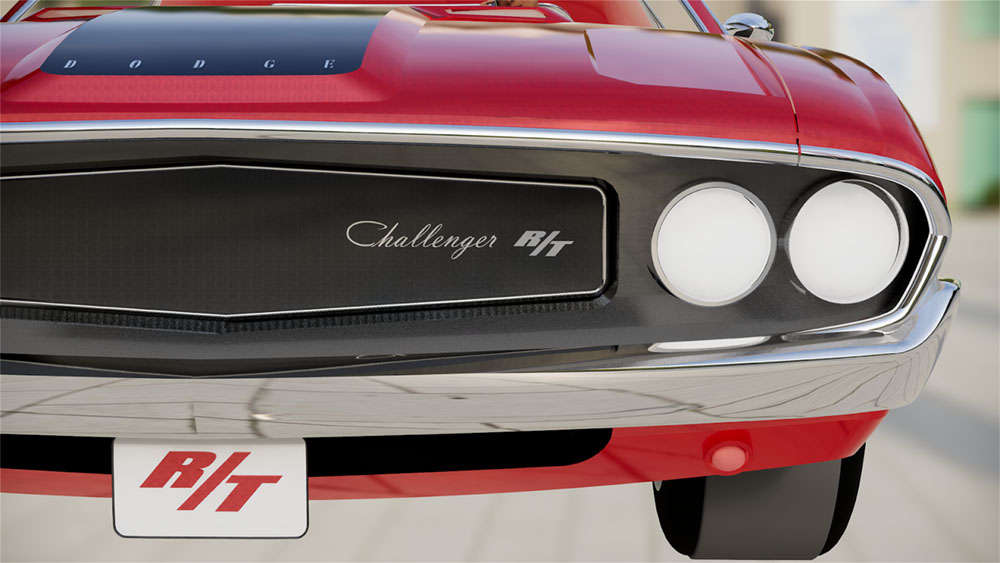 Changing the Color is Simple
Additional images
Because it is so easy to compose new views in Enscape, here are several more images. Some have slight material and environmental adjustment. By the way, I like to adjust the view angle down to 28-35mm for a more realistic look when exporting still images. Too much fun!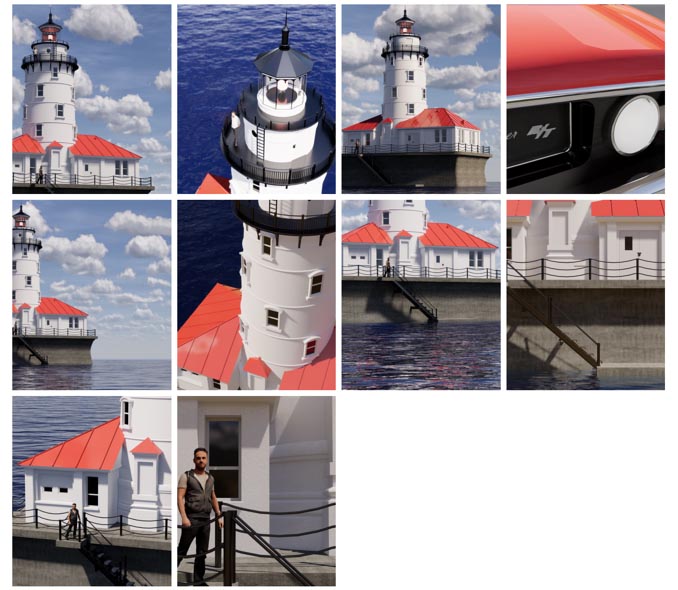 Conclusion
For additional information related to this new feature, take a look at this SketchUp article I wrote on the same topic: SketchUp Material Editor; Enhanced Materials in SketchUp. It is interesting that there are several material enhancements now possible in Rhino and SketchUp, that are not possible in Revit, the original platform supported by Enscape.
Enscape is becoming the one-stop shop for all your visualization needs. This will help staff be more efficient as they only have to learn a single tool for the firm and the entire life of a project: especially those staff who are not visualization specialists. Please share your Rhino examples using the new material editor!
Please get in touch via twitter @enscape3d and @DanStine_MN.

Related article: 3 Tips to Improve Interior Lighting in Enscape for Rhino