Top-ranked architecture firm Lake|Flato recently completed a significant renovation of its San Antonio, Texas office.
In addition to thoughtful design, aggressive sustainability goals, deconstruction, product reuse, and upcycling, they deployed a state-of-the-art technology strategy designed to be inclusive, support creativity, and enhance collaboration.
This article highlights some of the technological features of Lake|Flato's office transformation.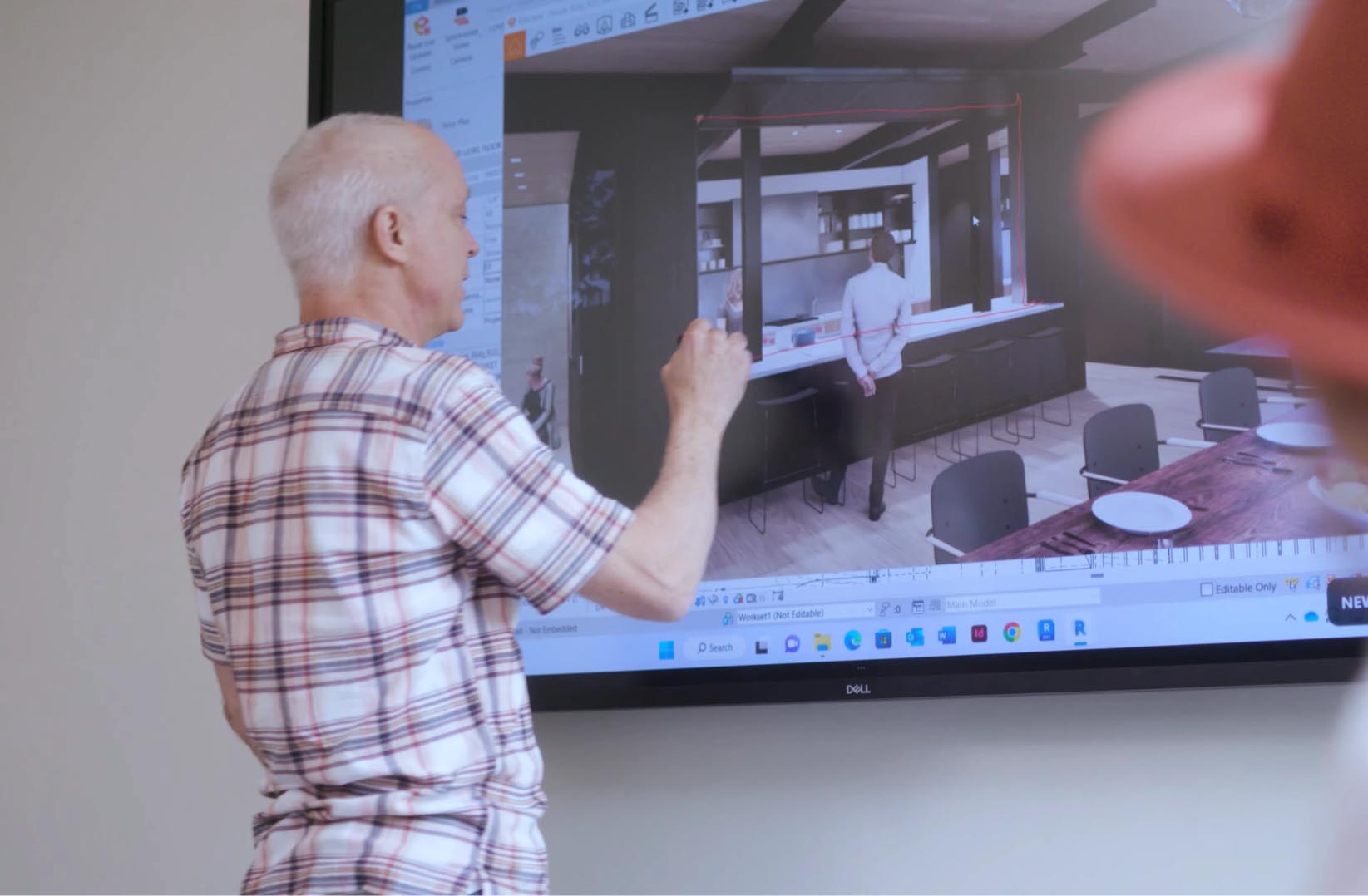 Sketching on a live Enscape rendering
Wireless everything
Going against standard convention, the office is entirely wireless. None of the desks have wired network cables, and after six months of usage, everything is working as designed.
Two strategies make this possible:
100% virtualization
100% WIFI-6
Every designer has a Dell tablet that connects to a more powerful computer in the server room. This method is used in the office, at home, while traveling, and on the job site. Therefore, no large files are ever leaving the server room, which enhances data security and integrity. The only thing leaving the server room and traveling over the robust WIFI-6 system is a video feed. It's like everyone is watching a YouTube video simultaneously.
The first component of this strategy was deployed at the beginning of the COVID-19 pandemic. The firm bought everyone a Dell tablet, display, and docking station for home use during the lockdown.
Fast forward, and this remains a cornerstone of Lake|Flato's hybrid work policy (the lightweight tablet stays with the designer), and the high-end computer that runs Rhino, Revit, Enscape, and more is just an internet connection away (it even works over a cellphone hotspot). Dell highlighted this in a blog post: Designing from the Home Office.

Watch this video for a tour of the renovated Lake|Flato office and learn more about the technology strategy, which is powered by Dell.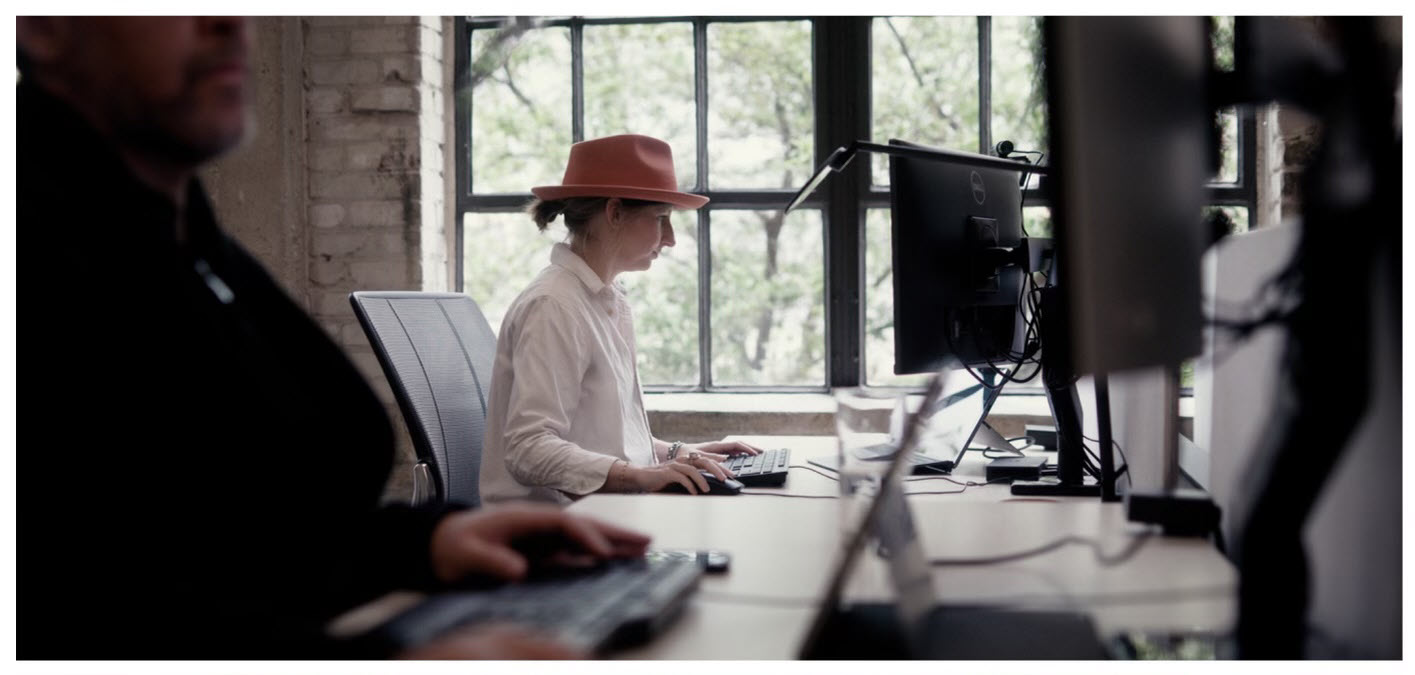 Portable Dell tablets docked at check-out desks
"Wireless everything" means designers can seamlessly move from a desk to the beautiful outdoor courtyard, conference rooms, Zoom rooms, or lobby, all while staying connected to their powerful desktop and apps, such as Enscape being powered by professional grade NVIDIA RTX series GPUs.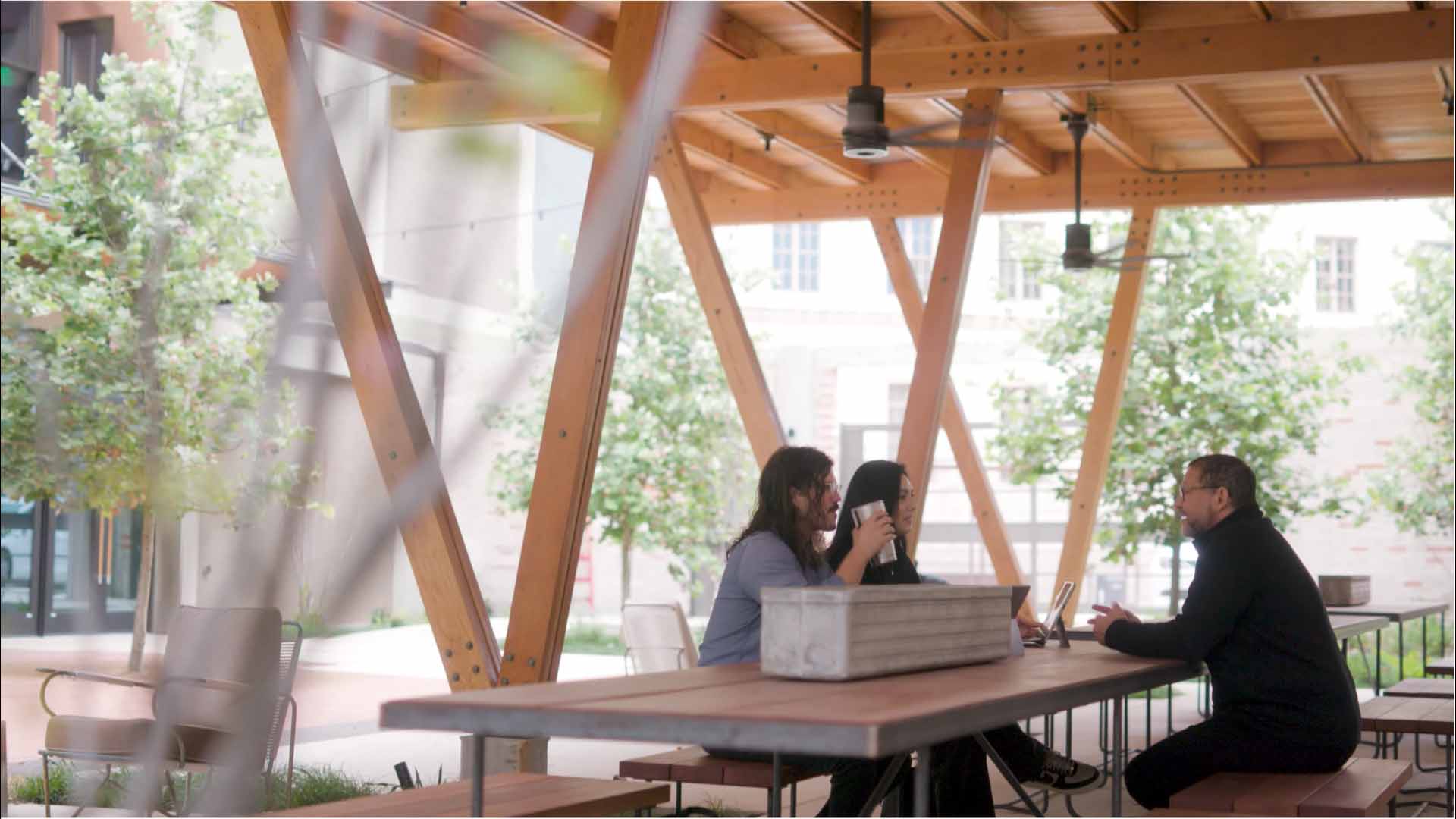 Collaboration in the Lake|Flato courtyard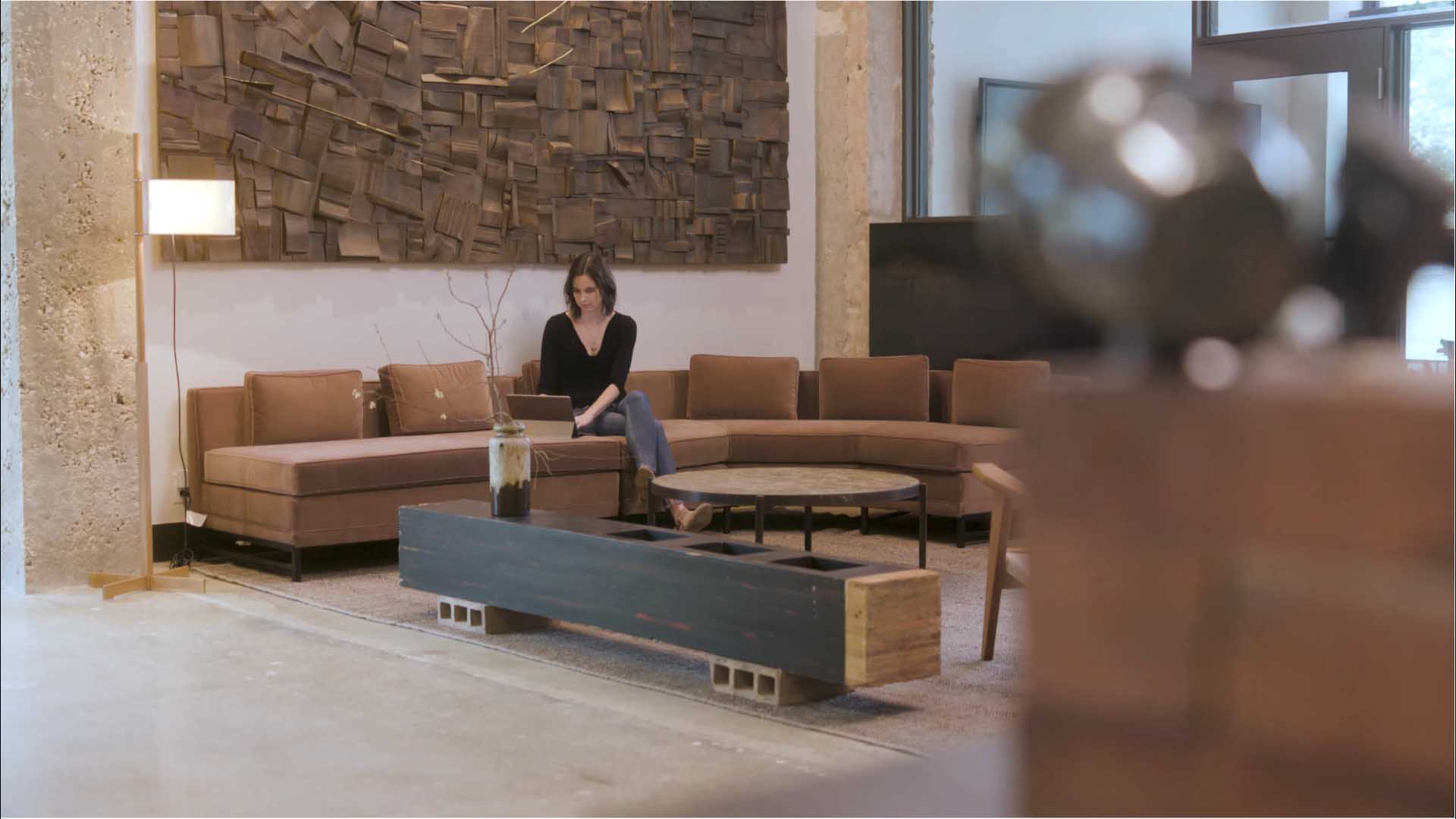 Seamless connectivity in the Lake|Flato lobby
Zoom everything (+ sketching!)
Architects like to draw… all the time and on everything. It is a primary way in which they develop ideas and communicate design solutions to clients and stakeholders.
Lake|Flato chose Zoom and Zoom Rooms to facilitate robust video conferencing. In addition to supporting sketching, it aligns nicely with the "wireless everything" ethos as well.
Every designer has a Zoom account. Every conference room has a Zoom account, called Zoom Rooms.
Designers use Zoom
Having a Zoom account allows everyone to create a meeting via the Outlook integration, record meetings, and facilitate breakouts to name just a few benefits. The Dell tablets have a stylus that is stored in between the detachable keyboard and the tablet.
Every meeting is an opportunity to sketch or emphasize a presentation.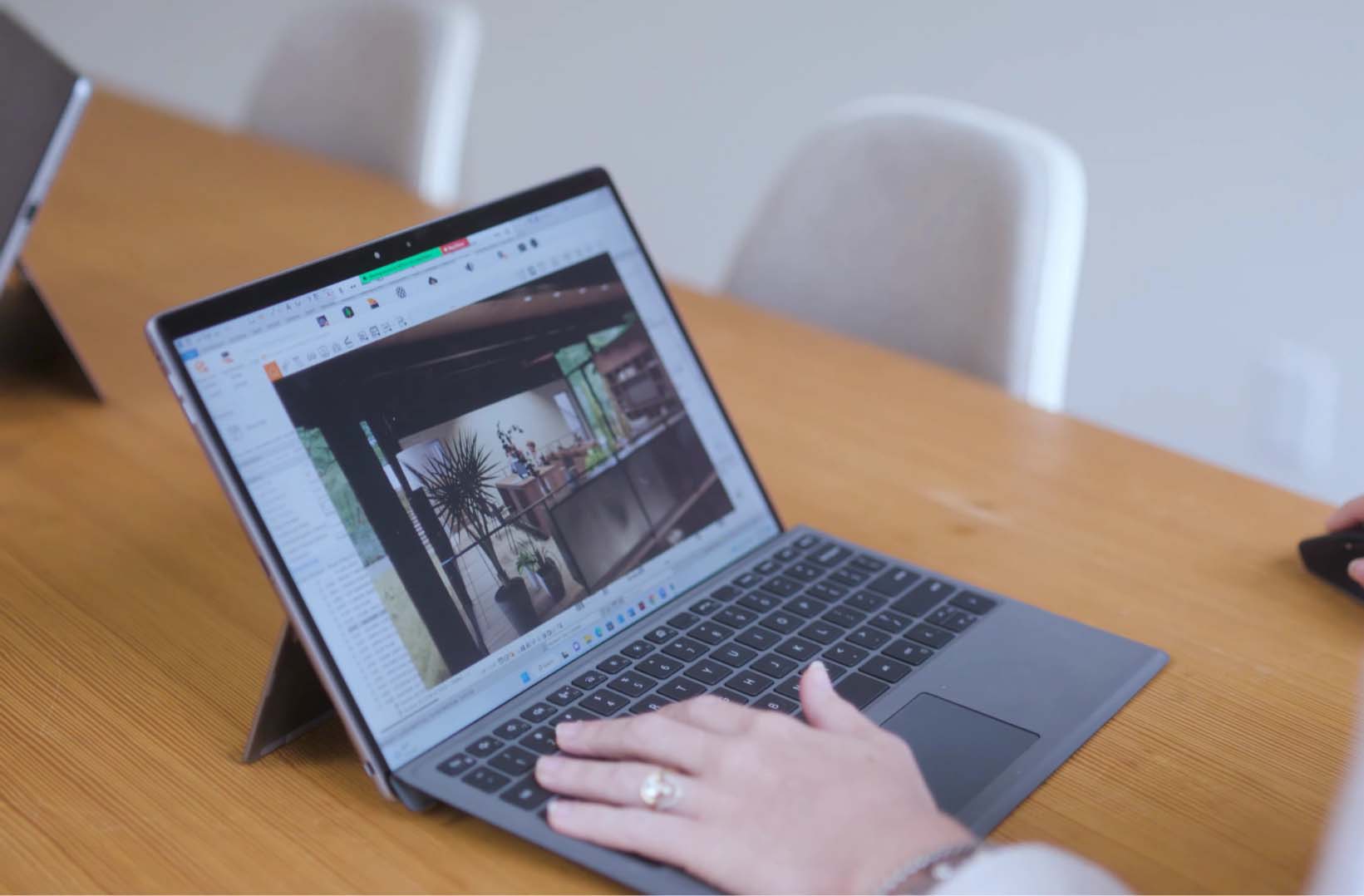 Dell tablet with detachable keyboard and stored stylus
Conference rooms use Zoom Rooms
Lake|Flato co-opted a design they helped develop on a recent project for Cornell University. The project required an inclusive conference room design that facilitated hybrid meetings.
After an intensive workshop testing many hardware configurations, the team settled on the following display configuration:
Presentations: Large touchscreen display (Landscape)
Participants: Smaller non-touch display (Portrait)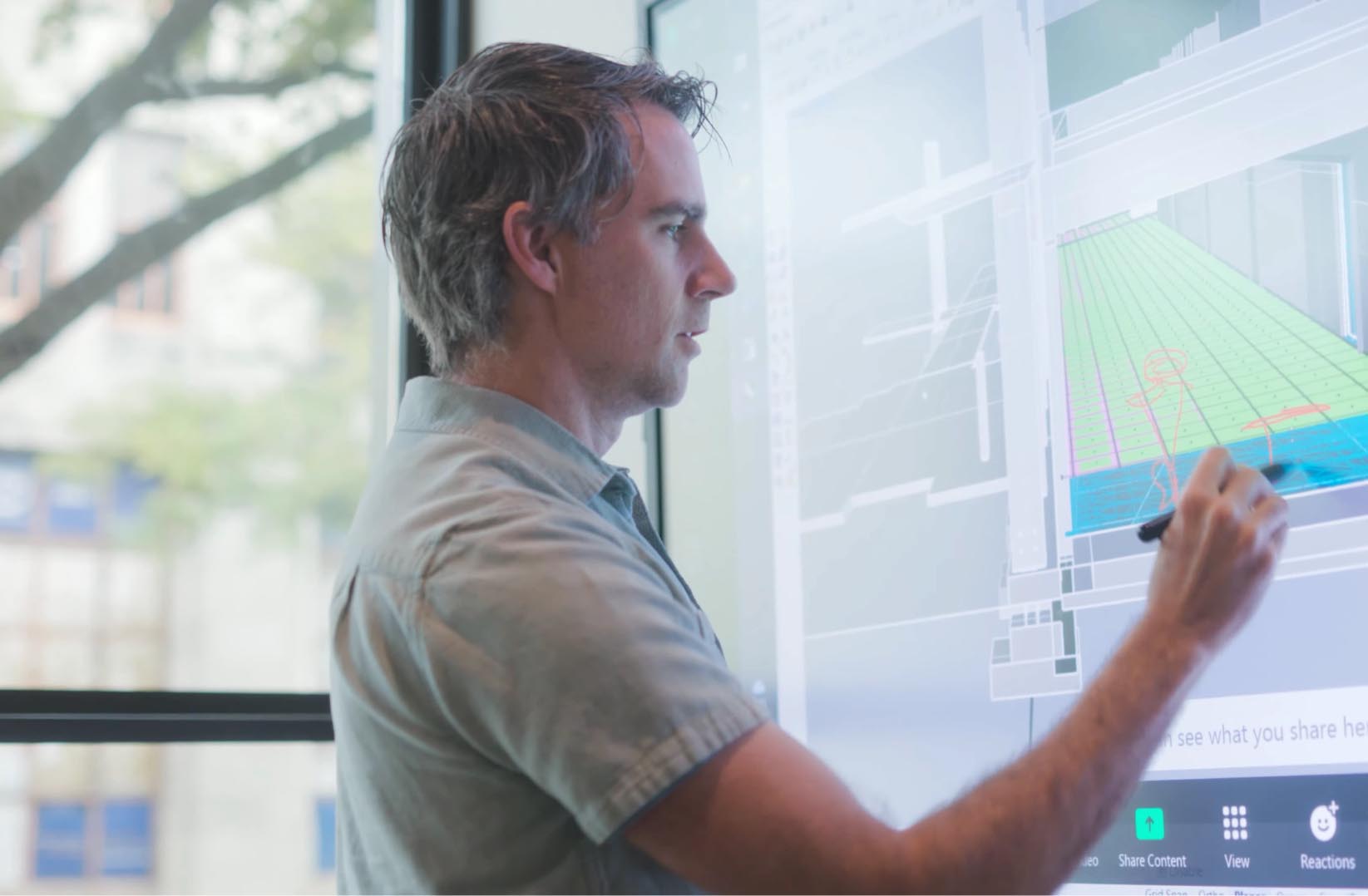 Everyone in the Zoom meeting sees any sketching on display
The large screen can be drawn on, and everyone in the Zoom meeting can see it. The vertical display is hardwired to only show people's faces. It is impossible to drag a PowerPoint presentation over the top of the remote participants' faces. Thus, everyone remains present during the meeting, whether they are working down the street from home or are a client or permanently remote designer.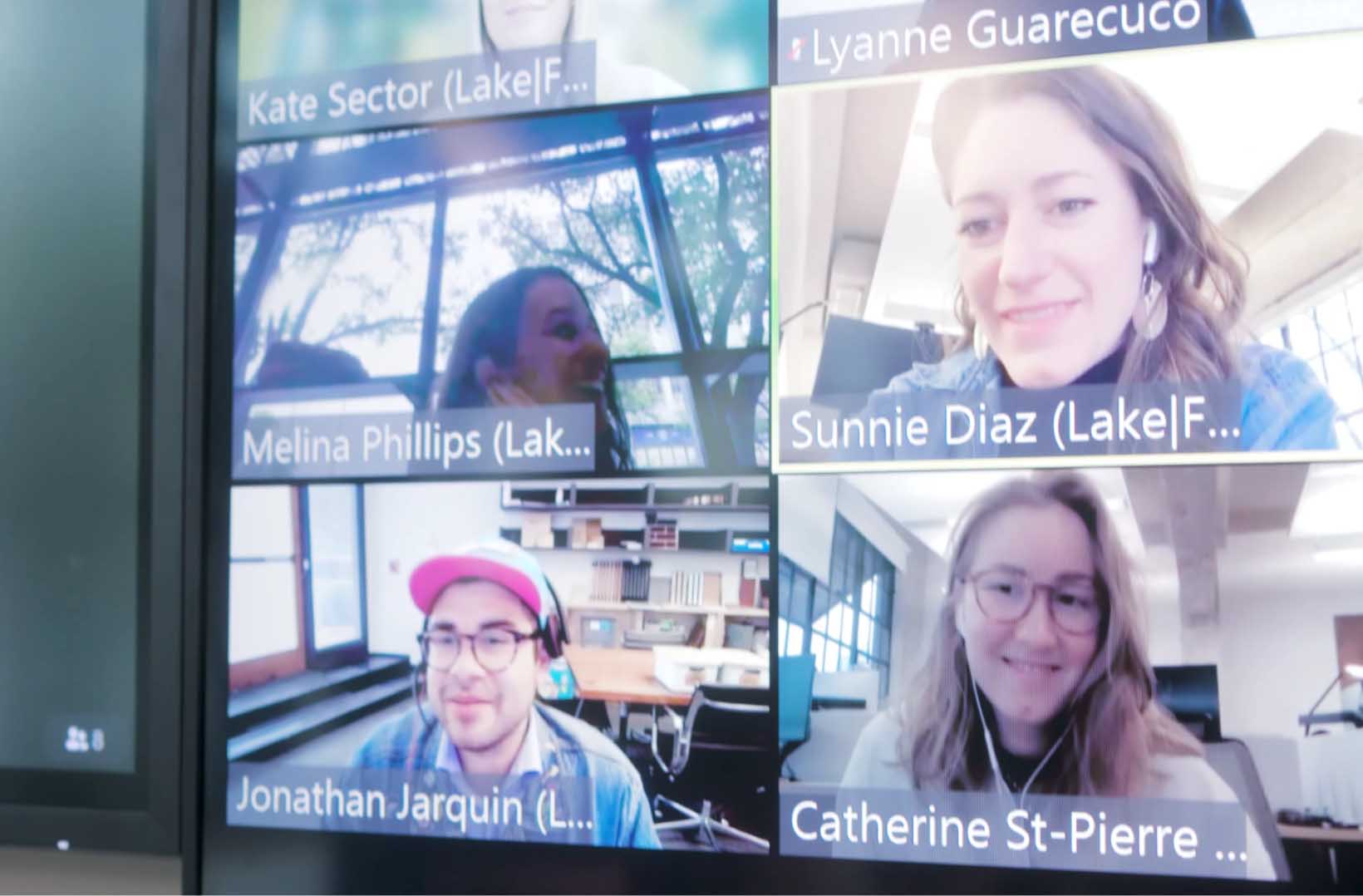 Remote participants are always present in meetings
Revisiting the "wireless everything" concept, the room has no wires – except for two power cables connected to the iPad and wireless speakerphone on the table. There is no HDMI cable, keyboard, or mouse in the room.
Since the room is essentially its own Zoom account, a meeting can be started or joined from the Zoom Rooms Controller software on the iPad (by the way, all the iPads were previously used and purchased on eBay). Designers bring their tablets into the room, join the meeting, and share content the same as if they were at home. This is why there are no HDMI cables in the room.
Even when there is no formal Zoom meeting, content can be wirelessly shared to the screen by simply opening the Zoom app, which anyone can install for free (e.g., clients and consultants) if they don't already have it. Then, using the Share Content icon, they enter the Share Key that is displayed on the screen at all times.
Zoom Rooms also work with all other video meeting platforms like Teams, Webex, and Google Hangout. The meeting invite just needs to be sent to the conference room within Outlook, and the meeting appears on the room controller (iPad) on the table, with a one-click "Start Meeting" button.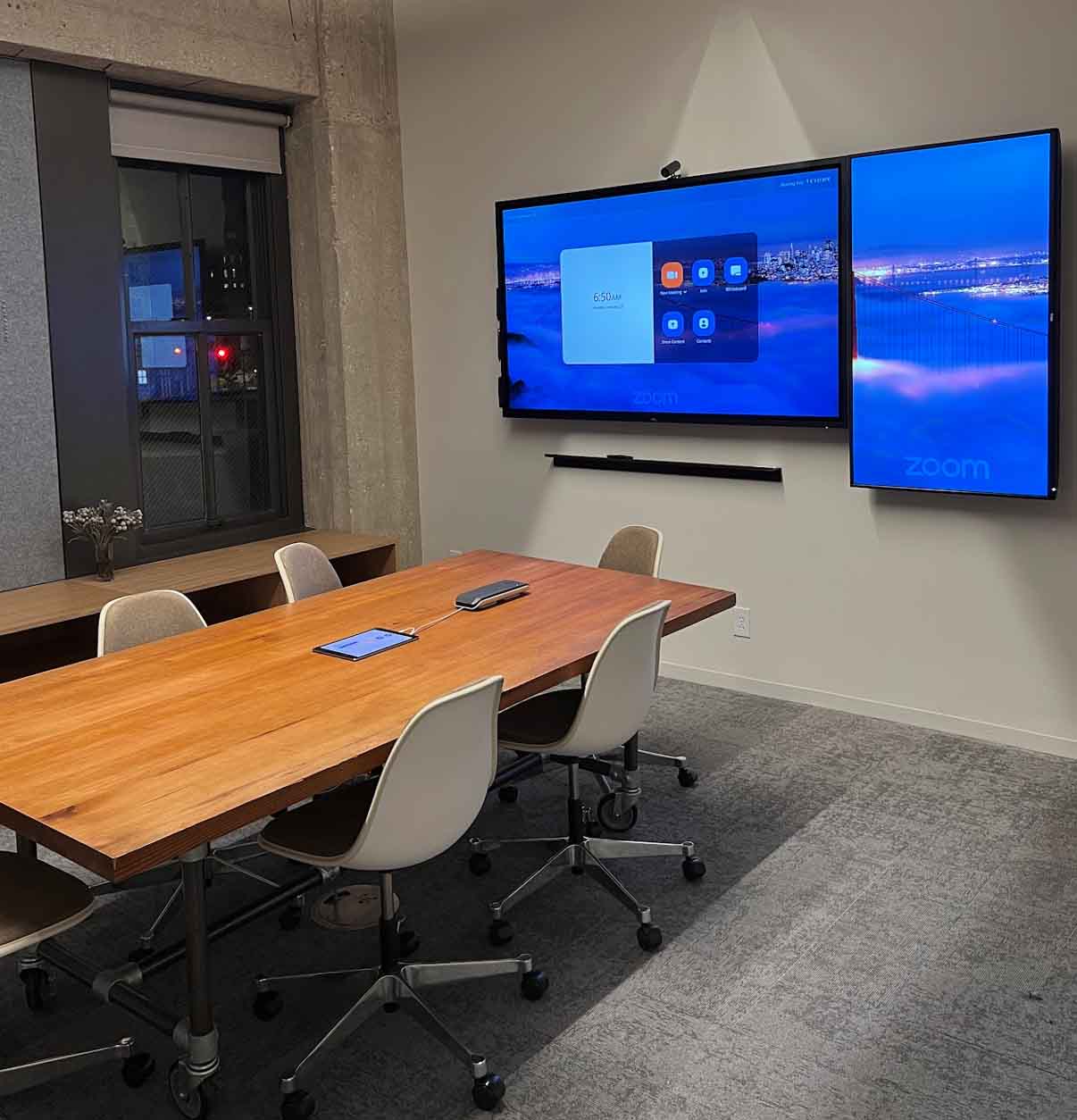 Inclusive and wireless conference design
In addition to conference rooms, there are huddle spaces (photo below) that are not fully enclosed spaces and are not designed to host Zoom meetings (i.e., no video or audio).
However, the Zoom Rooms software is still installed to support wireless screen sharing and sketching on the screen. When the spaces are not being used, the displays scroll through images curated by Lake|Flato Marketing to highlight current and completed work.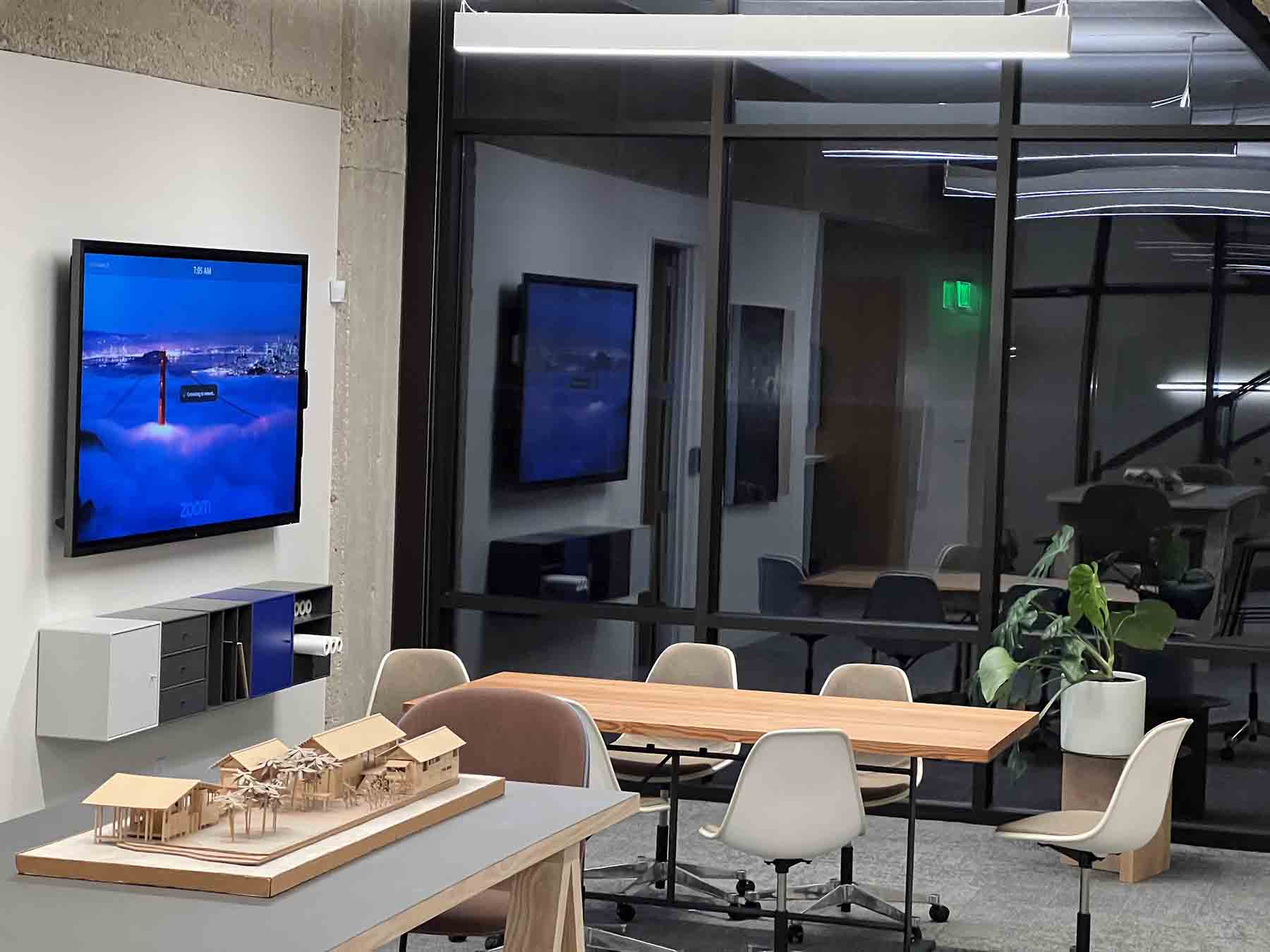 Huddle spaces support wireless screen sharing
Wireless virtual reality in dedicated spaces
The newly remodeled office features a dedicated virtual reality space on each of the three floors. Another feature not common for an architectural application is wireless VR using a powerful real-time rendering application like Enscape.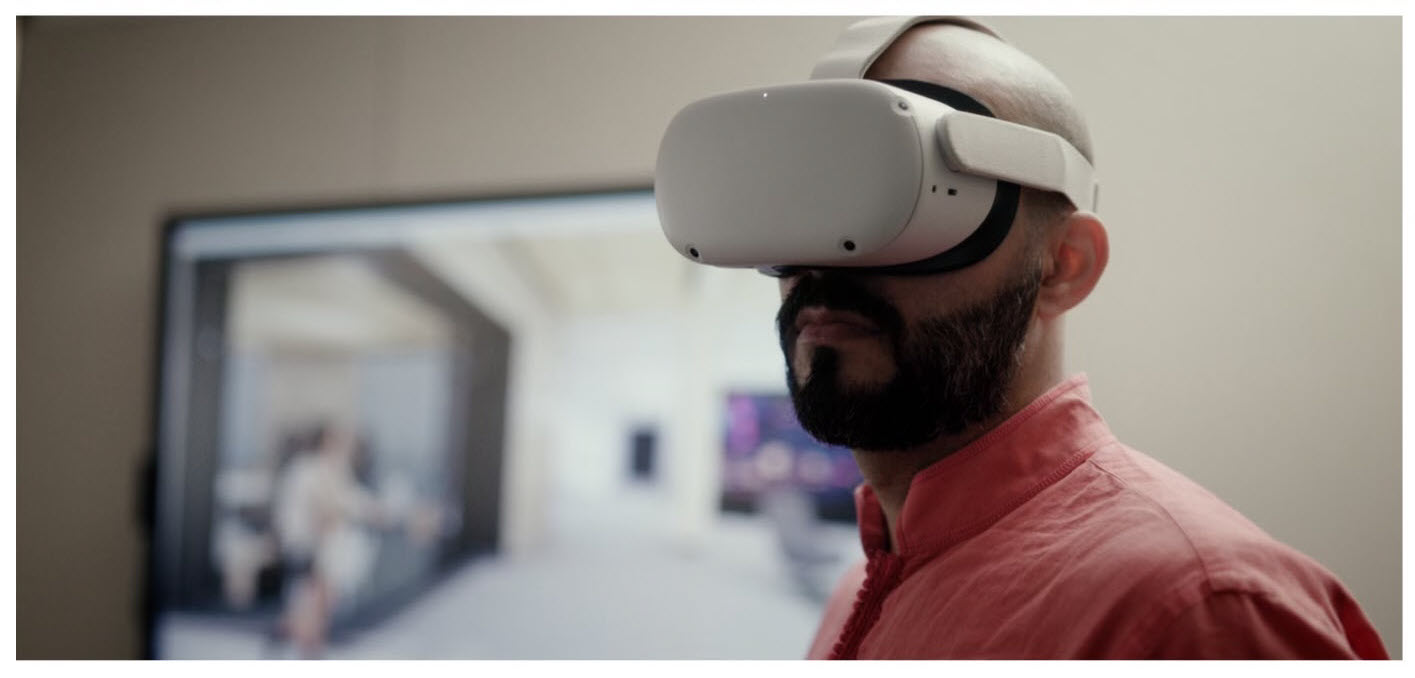 Wireless VR using Enscape
This space can be checked out in Outlook for internal design team reviews or client presentations. A high-powered Dell desktop computer with a professional NVIDIA RTX series GPU is hidden within the built-in cabinets, along with a dedicated WIFI router used to replace the cable to the HMD.
Learn more about delivering high-quality VR in this Enscape blog post: How to Use VR in Enscape for Project Presentations.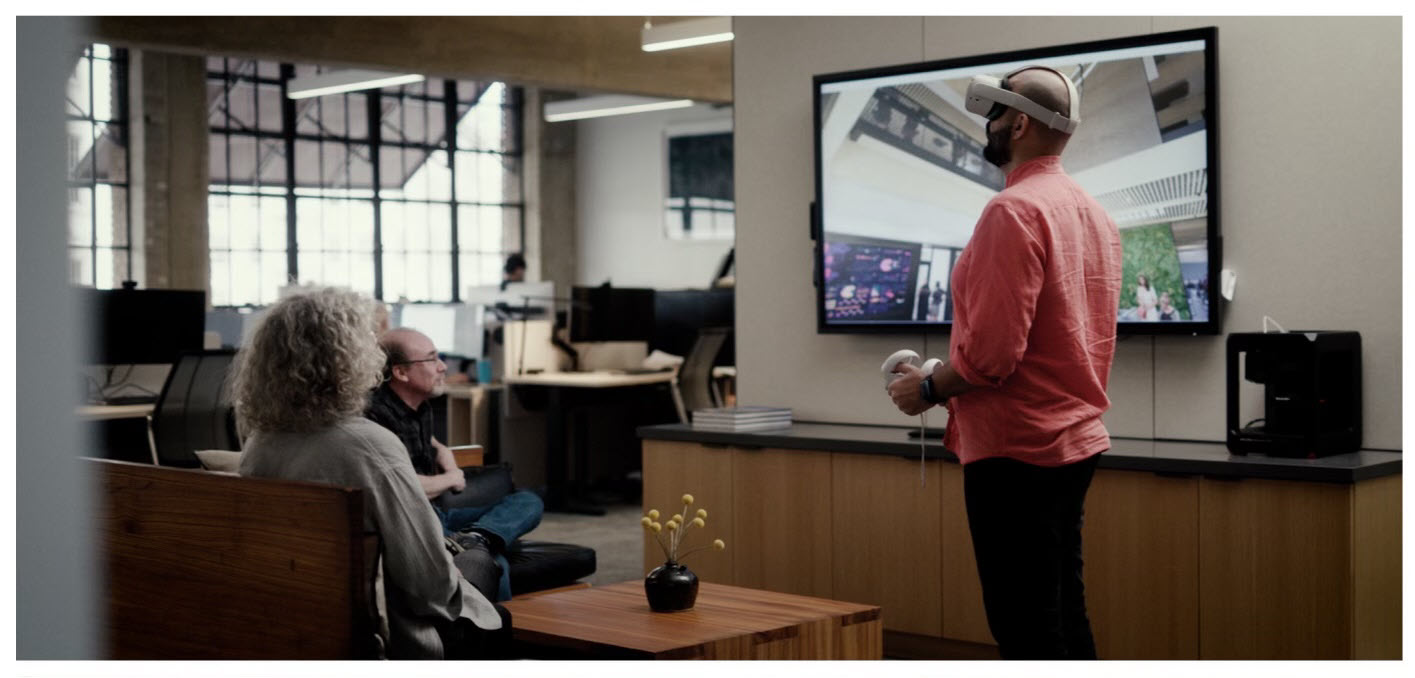 Dedicated VR spaces
Cloud-based collaboration using Miro
Another great tool used to improve efficiency and foster collaboration is Miro. It is a cloud-based platform that facilitates real-time collaboration.

Lake|Flato uses this in almost every way imaginable, from team-building exercises to research projects to formal interviews with potential clients.
Here are just a few uses for Miro within an architectural practice:
Capturing design decisions
Giving everyone a voice
Organizing design precedents
Enscape-rendered image history
To learn more about how Lake|Flato uses Miro, check out this article and video on Miro's website: https://miro.com/blog/how-lake-flato-creates-inclusive-architecture/.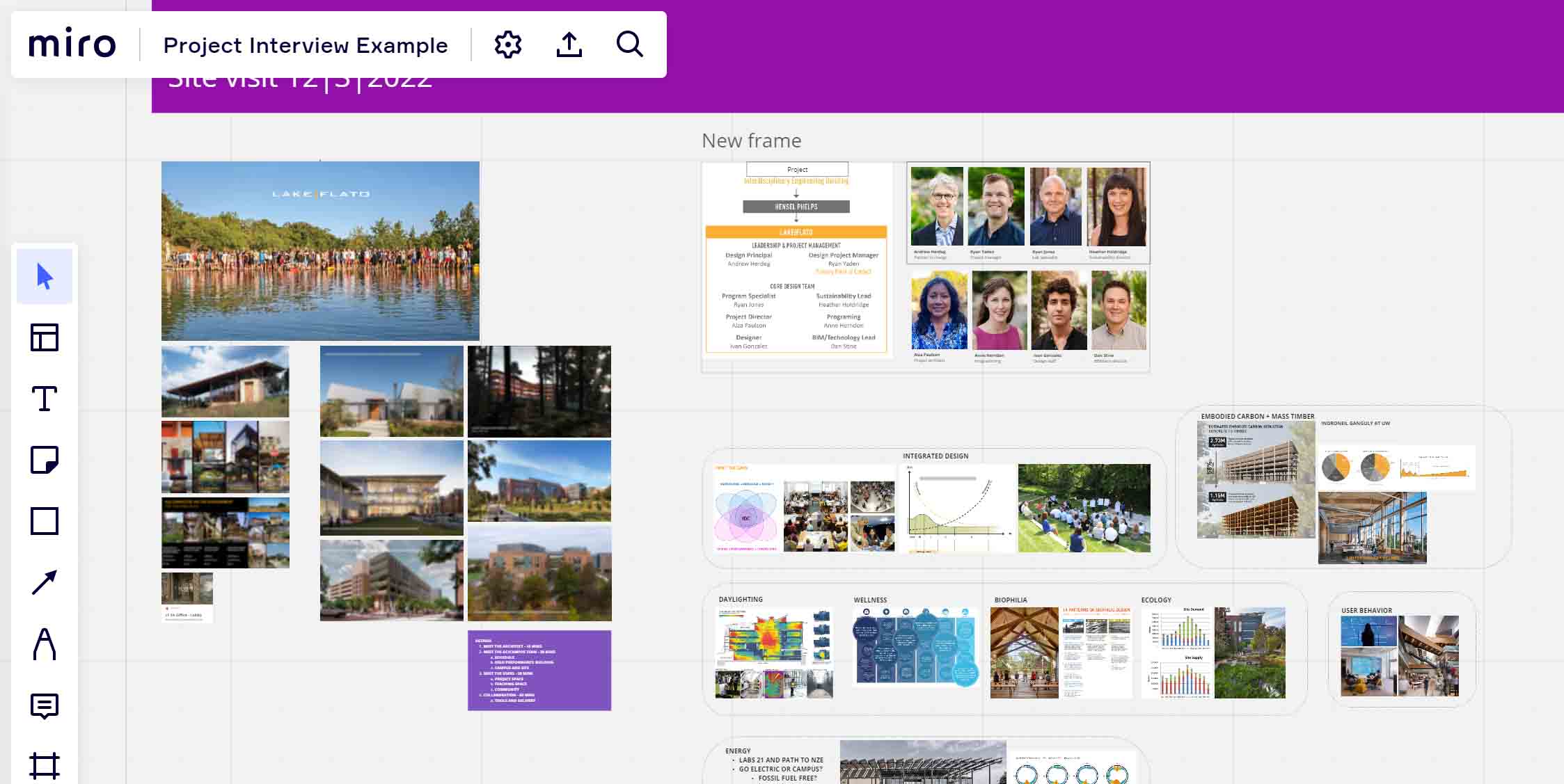 Example of dynamic interview material within Miro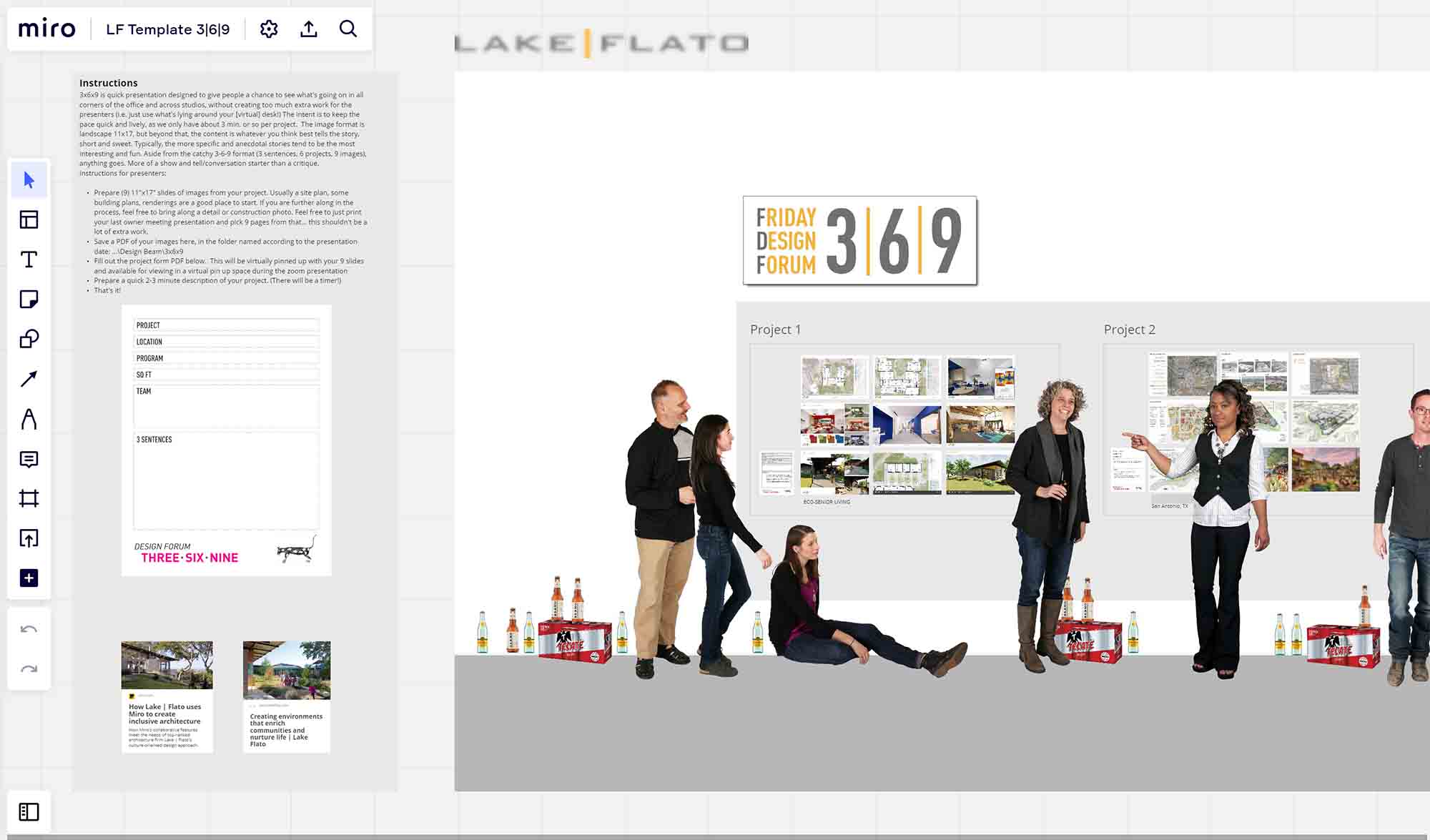 Example of informal internal firm presentation activity within Miro
Conclusion
While this article does not cover all the design technology features of Lake|Flato's newly remodeled office, it is easy to see how their strategy improves efficiency, supports creativity, and facilitates collaboration for their designers and clients.
Image credit: Most of the photos in this article are courtesy of Storybuilder Creative, who recently filmed the Dell video in Lake|Flato's office. Their CEO, Tyler Campbell, is also a co-host of the popular construction podcast, Construction Bros. Podcast.