Enscape is a real-time rendering plugin that helps architects, designers, and AEC professionals to visualize, explore, and showcase their projects. It has been developed to integrate seamlessly with many current design programs by focusing on the simplicity to produce high-quality renders and animations, in real time. Enscape currently has a direct integration with Vectorworks, Revit, SketchUp, Rhino, and Archicad.

In this article, we will highlight the strengths of Enscape's real-time rendering tool with a focus on how we use it with Vectorworks as our main design software.

But before we jump in, I'd just like to share that I will be presenting a session at ENVISION 21 on September 29, called 'Design and Visualization with Vectorworks and Enscape'. Check it out! You can register for the free event here.
What is Enscape?
Rather than being a separate design software, Enscape sits alongside your design software such as Vectorworks and Revit, and offers a set of fully integrated tools and rendering options once installed. Enscape is launched with a single click - "Start Enscape", where it opens in a window and the 3D model appears fully rendered.

It works directly on your 3D model through communicating with the 3D CAD data in real time so each change is instantaneous in the visualization engine. Enscape can quickly produce interior, exterior, and landscape visuals generated within seconds of the CAD planning environment.
Simple interface
The simplicity of Enscape's interface is one of its main advantages over its competitors. Its ease of use allows designers to complete renderings in-house without extra training negating the need to outsource to an outside visualization team, resulting in lower costs and faster design evaluation cycles. As shown below, the simple layout format makes it clear how to navigate the interface and create your visuals.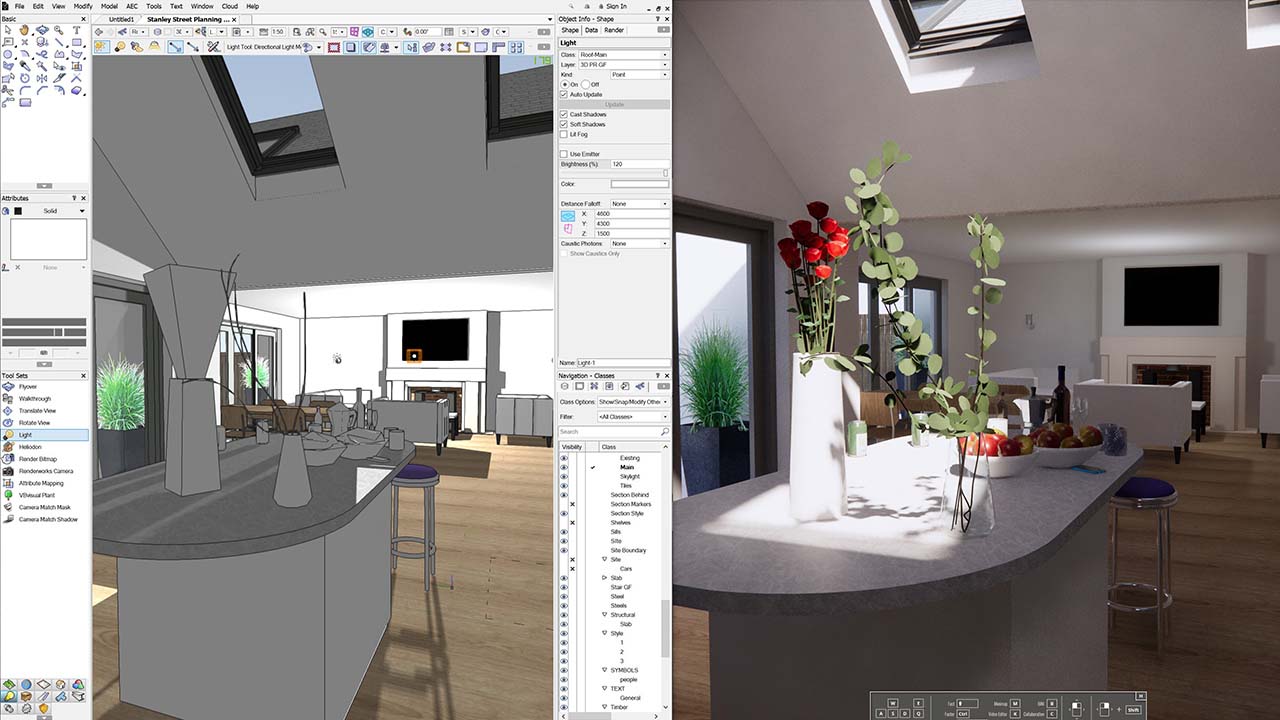 Vectorworks and Enscape running side by side
Instant sync & rendering speed
Unlike some rendering software, Enscape uses the graphic card (GPU) to instantaneously render CAD data from your design software into a fully immersive 3D model. Vectorworks users can navigate their 3D models to make changes within their design that are instantly visualized and rendered in Enscape, which can be run side by side or even better on a second monitor. The speed at which the models are rendered on screen with materials, lighting, reflections, and shadows is truly instantaneous.

The lightning-quick syncing capabilities allow designers to see their design changes and effect on its surrounding environment in real time as the time of day is changed, allowing for realistic day lighting simulations and shadow studies. This allows design teams to walk through a project to communicate the design effectively to the client and visualize client feedback instantly, in a truly immersive environment.

This feature is one of our favorites as it negates the need to re-export the model each time you make any changes to the design and restart the whole rendering process. The simplicity of the syncing allows the user to visualize the rendering through the whole design process of the project rather than just at the end when the project is being finalized. We have now used Enscape on a variety of projects including a recent Earth Sheltered Eco Home and it has proved invaluable in developing our ideas and presenting them to the client and planners.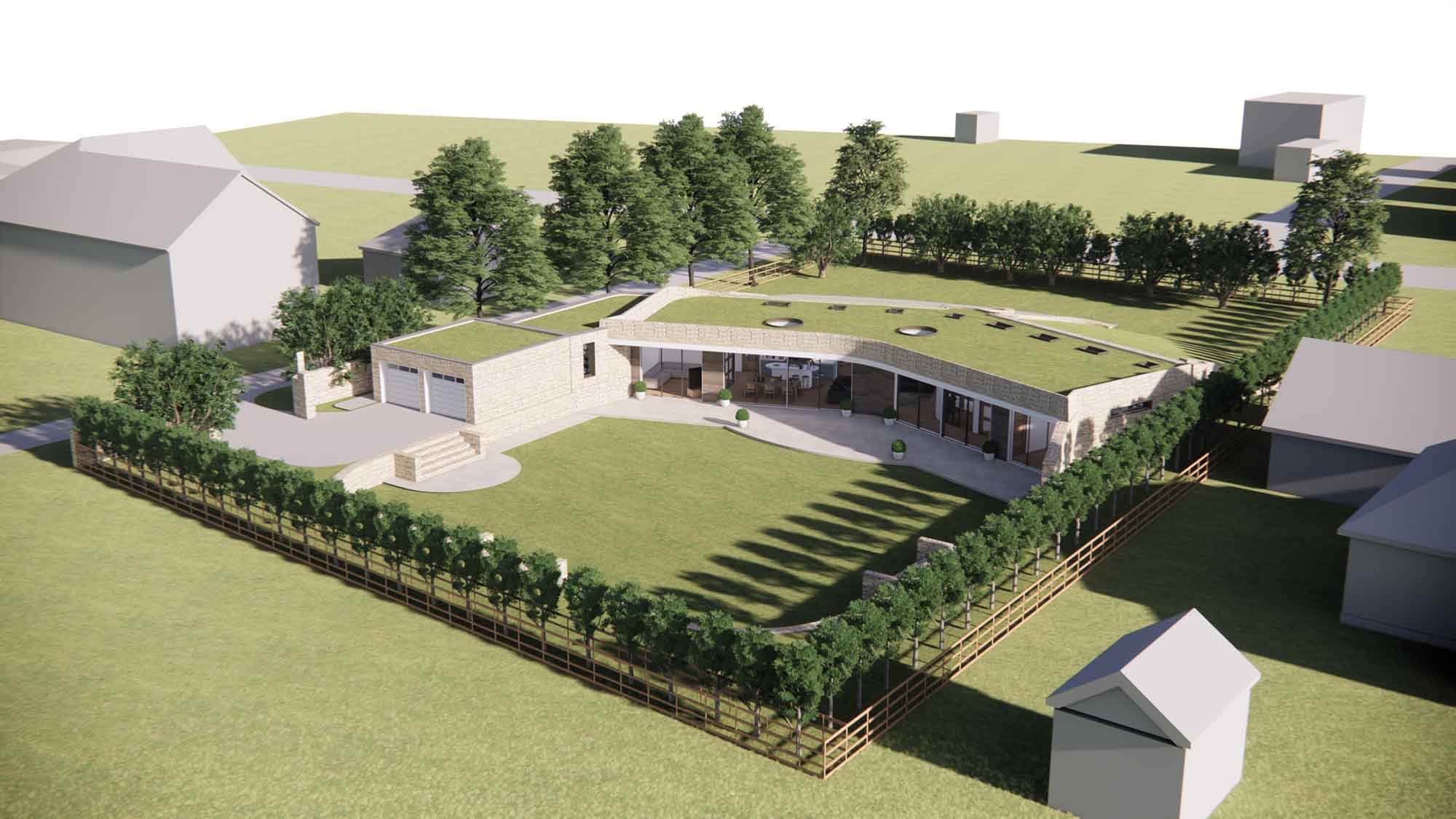 External of an Earth Sheltered Eco Home designed by Jonathan Reeves Architects
Object libraries
Enscape has an ever-expanding asset library of over 2000 assets to help fill your visuals with vegetation, objects, and people to bring your scene to life. These high-quality assets can be browsed on or offline and are added directly to your 3D model as low polygon "proxies" to reduce file size in the CAD file. Enscape instantly converts any assets like furniture, vegetation, trees, and people placed in your Vectorworks model into very realistic-looking high-resolution entourage in your renderings. Each asset is mapped instantly in your rendered 3D model exactly where it was placed within your Vectorworks model, so your CAD/BIM model acts as a "single source of truth" in that it features all the placed assets (albeit in low polygon form).

This allows for a realistic environment and interiors to be visualized as part of a project's development and construction. Enscape's vegetation tools and grass rendering is available within the advanced settings and gives visuals high-quality looking grass instead of a flat green surface seen in many design softwares. This saves time attempting to add grass and vegetation post-production into visuals with other mediums.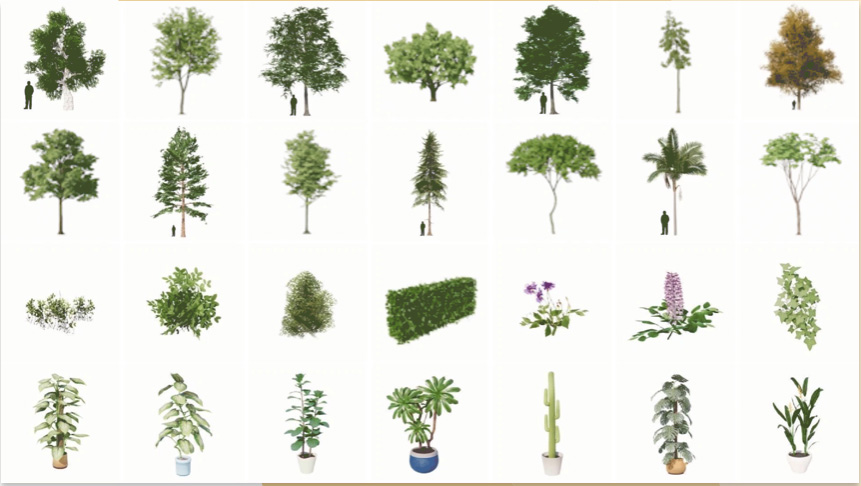 Sample of vegetation from the Enscape Asset Library
Materials
Enscape uses the material appearance of the design software it is currently plugged into saving the tedious task of replacing each material with the rendering software. The material is then available for further adjustments and editing in the Enscape material editor once applied with Vectorworks itself.

This allows you further control of your visualization such as color, reflectivity, transparency, surface relief, and light emission. These can be edited to make the real-time aspect of the software more realistic and to improve how they look within Enscape itself.
Image and animation quality
One of the main goals of Enscape was to allow its user to achieve photo-realistic looking renders without having to wade through complex image and setting adjustments to achieve this.

With Enscape's real-time technology, the working scene is fully rendered which allows it to look very similar in quality to the final output quality. This is a huge advantage to be able to see what your visualization will look like in the end without having to wait for extremely long rendering times. To set up animation is also super simple and done via keyframes and camera adjustment. More advanced settings like depth of field and time-lapses can also be created.

The main difference between the working draft and the ultimate output is the simplification of lighting and reflection within the scenes to its basic levels. However, once scaled upwards Enscape shows off its ray tracing abilities allowing light to bounce off surfaces and allowing reflections to display the surrounding environment using global illumination in a very realistic way.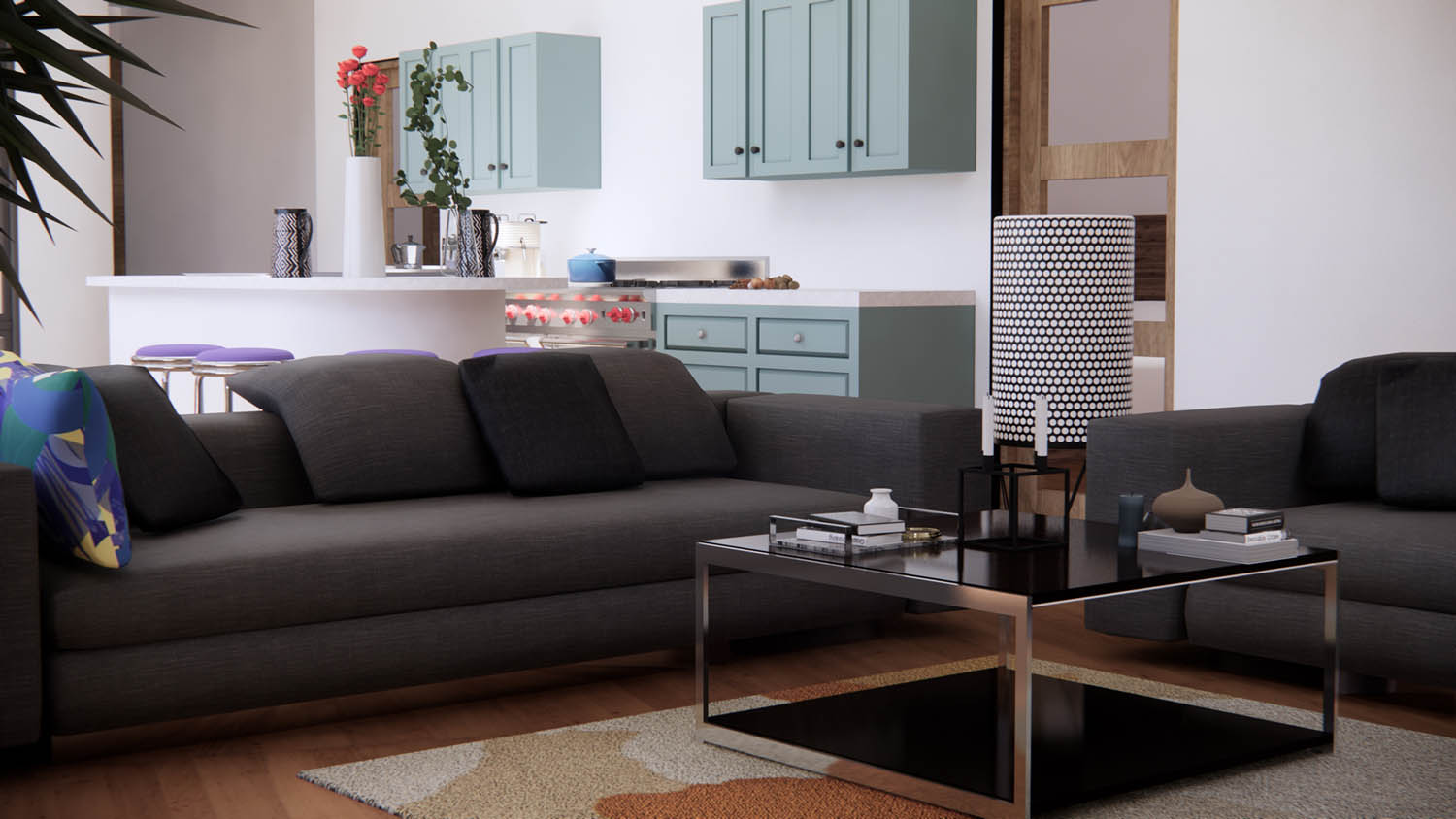 Interior rendering by Jonathan Reeves (from tutorial on YouTube by Jonathan Reeves CAD)
Exporting
Enscape offers a variety of options to export your final render from standard images to 360 panoramic views. An exciting feature of Enscape's exporting facilities is that it allows users to export an .exe file of the fully rendered 3D model, which can be shared with your clients online. This allows clients to experience the 3D environment and visualization even without an Enscape license, however, they will still need a computer with a decent graphics card to get the best performance. As virtual reality headsets become better, more affordable and common to own, Enscape's one-click VR capabilities will also be a strong selling point.
Pricing
Another great aspect of Enscape is its pricing structure. Enscape offers affordable fixed-seat licenses and floating licenses which allows the software to be shared on multiple machines. Their pricing point is very low compared to its competitors such as Lumion which is currently set at £2,665 per license.
Our conclusion
Enscape's simple and easy-to-learn interface makes it ideal even for those new to rendering software as it is extremely easy to use. The simplicity of Enscape acting as a plugin for your design software to instantly make visual changes is the most attractive feature it has. The increasing transition to in-house visualization makes investing in your own rendering software more essential.

Advantages of using Enscape for Vectorworks:
• Enscape direct plugs into your existing design software.
• Visualize as you design without re-exporting models & re-rendering.
• Faster and easier animation production than other major rendering software.
• Simplicity of the interface and learning curve.
• Lower price point than many of its competitors.
• Stunning rendering quality for images and animations in seconds.
• Excellent standalone export and VR review capabilities.

To see real-time rendering and visualization with Enscape and Vectorworks in action, take a look at this short tutorial from Jonathan Reeves:
This post was written by Jonathan Reeves and George Wain and from Jonathan Reeves Architects.