While rendering software often comes with built-in assets like 3D people and accessories that you can drop into your projects to add a little pizazz, sometimes you may want to go outside the box to find that special something.
In these situations, designers and arch viz specialists often turn to the web to find exactly what they're looking for. There are a lot of fantastic free visualization resources online, and here, we have listed and linked to over 40 of the best websites for free 3D models, materials, free 3D textures, 3D objects, sound files, IES profiles, and more!
For your ease of use, we are also providing you with a PDF of these sites for you to download and save (and of course, we are totally fine with you sharing this with your friends, family, colleagues, and anyone else who loves a good infographic. We're particularly proud of this one 😉).
We hope you find this compilation of awesome free 3D visualization resources helpful. There are inevitably more sites out there. If you have a favorite that's not listed below, please email us so we can add it to the list. Enjoy!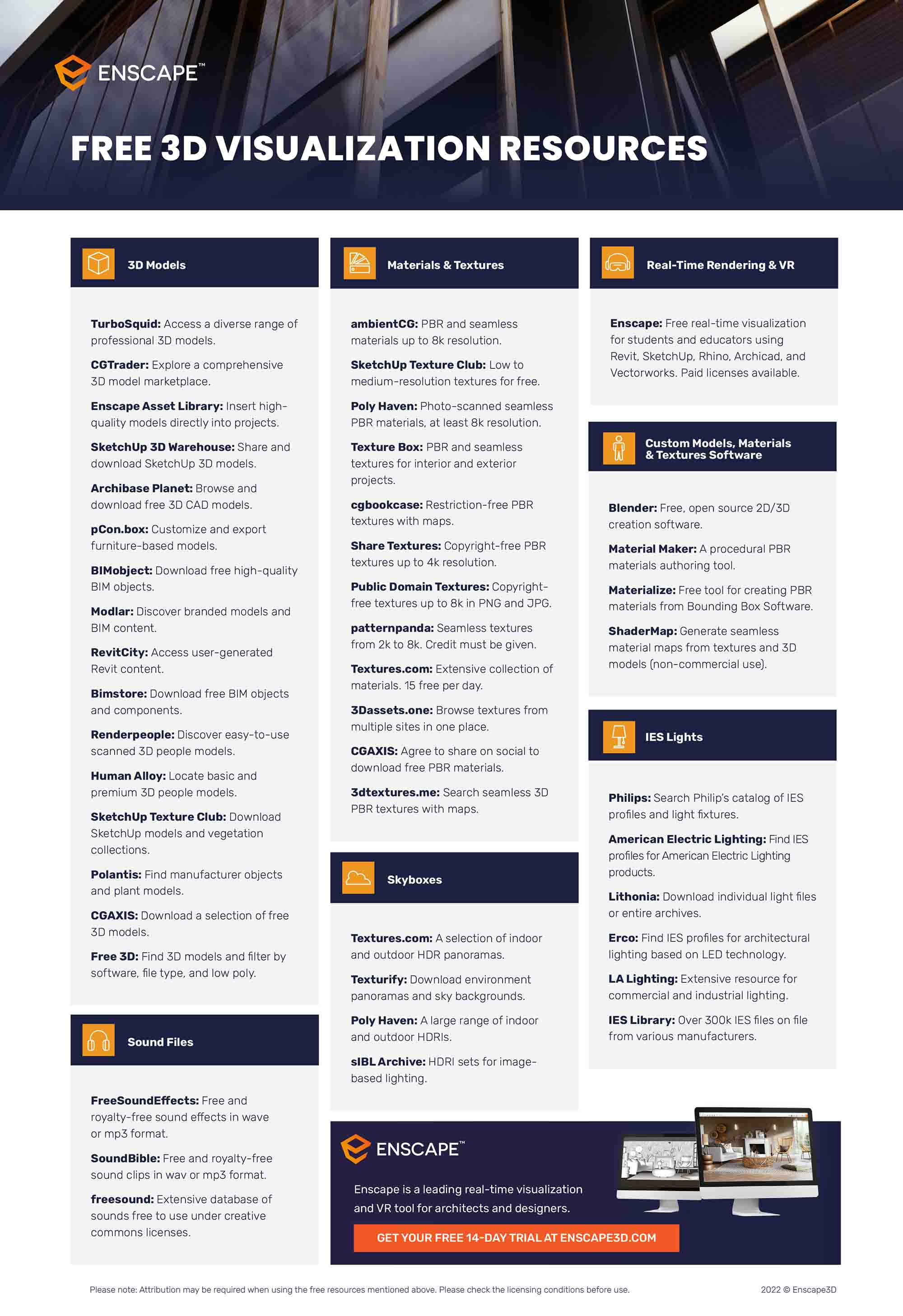 Free 3D models
TurboSquid: Access a diverse range of professional 3D models. Thousands available to download. Files formats include max, fbx, obj, c4d, maya.

CGTrader: Explore a comprehensive 3D model marketplace. Various categories and filters available to help you find the right free 3D model. File formats including max, obj, fbx, 3ds.

Enscape Asset Library: Insert high-quality models directly into projects. Over 3,000 low poly, high-performing assets to drag and drop into your model and renderings.

SketchUp 3D Warehouse: Download and share your SketchUp 3D models with fellow users. Filter by file size, polygons, and even popularity, to find the most favored models available.

Archibase Planet: Browse and download free 3D CAD models. Archibase Planet consists of a large community of architects and designers who share their models on the site.

pCon.box: Customize and export furniture-based models. Registration required.

BIMobject: High-quality BIM objects to download from over 2,000 brands. Various file types and models specifically for Revit, Archicad, Rhino, and SketchUp.

Modlar:  Branded models and BIM content for AEC professionals. Revit, SketchUp, Archicad, and other files available to download. Registration required.

RevitCity: Access user-generated Revit content. Over 20,000 objects. Revit families, project files, material libraries, groups, and more. Plus Revit community forum.

Bimstore: BIM objects and components. Searchable by country, manufacturer, category, top-rated, and more. Forum available. Registration required.

Renderpeople: Over 4,000 scanned 3D people models. Offers a choice of high and low poly, 8k high resolution and 2k textures options, plus maps available.

Human Alloy: Limited number of free realistic 3D people. Basic and premium models available to purchase.

SketchUp Texture Club: Download SketchUp models and vegetation collections. Registration required.

Polantis: Find manufacturer objects and plant models for CAD and BIM. Large range of file formats available. No registration required.

CGAXIS: Choose from a small collection of free 3D models, including vegetation, decorative accessories, and furniture.

Free 3D: Find and download 3D models and filter by software, file type, and low poly.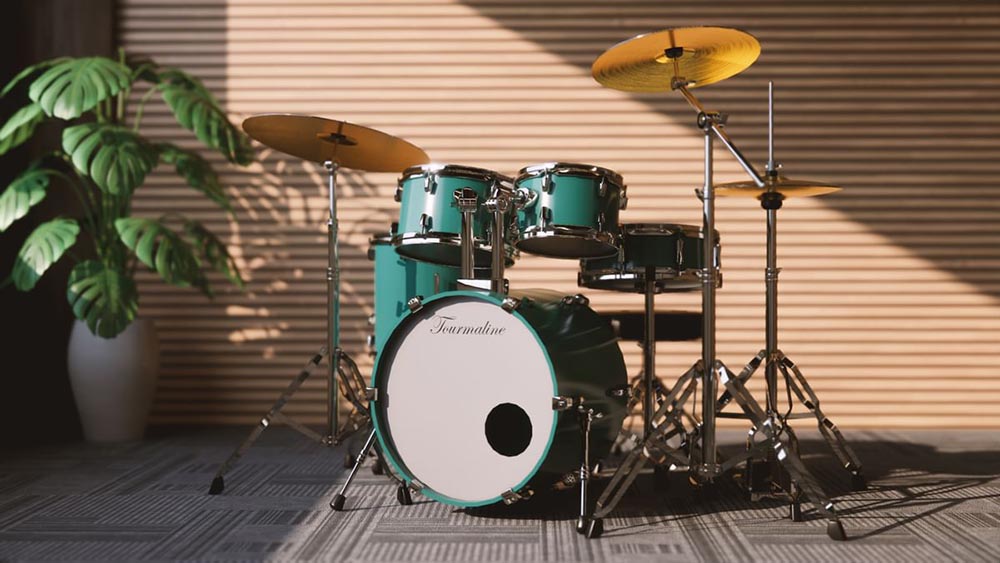 Free materials & textures
ambientCG: Over 1,000 PBR and seamless materials up to 16k resolution, free to use under the Creative Commons CC0 1.0 Universal License. No attribution required, although it is appreciated 😊.

SketchUp Texture Club: Free seamless rendering textures and materials. Large collection of textures categorized under 'Architecture'. Wallpapers, metals, fabrics, and others listed under 'Materials'. Nature elements also available.

Poly Haven: Photo-scanned seamless PBR materials, at least 8k resolution. Free to use under CC0. No registration required to download assets.

Texture Box: PBR and seamless textures for interior and exterior projects. Download directly. Free to use. New website coming soon with over 1,000 new PBR textures.

cgbookcase: Restriction-free PBR textures that come with all the maps needed to create photorealisic materials. Up to 4k. Filter by resolution, category, and color.

Share Textures: PBR textures up to 4k resolution, with maps included. Free to use under Creative Commons.

Public Domain Textures: Copyright-free textures up to 8k in PNG and JPG. Free to use under the CC0 Creative Commons license.

patternpanda: Seamless textures from 2k to 8k. Maps provided. Photographed high-quality textures. Credit must be given.

Textures.com: Extensive collection of PBR materials. 15 free per day. Small and medium resolution images free to download. Registration required.

3Dassets.one: Browse PBR materials from multiple sites in one place. Filter by provider, type of model, material, HDRI, SBSAR, and license type.

CGAXIS: Free seamless PBR materials with maps available to download once you have registered.

3dtextures.me: Search seamless 3D PBR textures with maps. Free to use under the CC0 license.

Software to create custom models, materials & textures
Blender: Blender is free, open source 2D/3D creation software that can be used to create your own custom models and much more.

Material Maker: Can be used to create custom materials and paint 3D models. For Windows, macOS, and Linux.

Materialize: A free open source tool for creating PBR materials. Create an entire material from a single image or the textures you have.

ShaderMap: Generate seamless material maps from textures and 3D models (non-commercial use).
Free IES light profiles
Philips: Search Philip's catalog of IES profiles and light fixtures and download the latest photometric data.

American Electric Lighting: Download all IES profiles for American Electric Lighting products. You will need to download the files regularly as new products can be added and updates made often.

Lithonia: Download individual light files or entire archives.

Erco: Find IES profiles for architectural lighting based on LED technology.

LA Lighting: Extensive resource for commercial and industrial lighting.

IES Library: Over 300k IES files on file from various manufacturers. Filter available, including manufacturer, light type, lamp, latest files, and most downloaded.
Additional reading: Learn more about lighting in SketchUp and electric lighting best practices for Revit in our supporting articles.

Free skyboxes (HDRIs)
Textures.com: Choose from a selection of HDR spheres, including indoor, nature, city, and industrial scenes.

Texturify: Download 360-degree environment panoramas for free.

Poly Haven: Over 500 indoor and outdoor HDRIs available to download, including skies, sunrises, sunsets, night, nature, and urban panoramas.

sIBL Archive: Pre-defined HDRI sets for image-based lighting.
Additional reading: Here is an in-depth guide covering how to use panoramas in Enscape.
Free sound files
FreeSoundEffects: Over 10,000 free and royalty-free sound effects in wave or mp3 format for personal or educational use. For other use cases, check out the paid sounds that come with a license for commercial use.

SoundBible: Free and royalty-free sound clips in wav or mp3 format for personal and educational use. For commercial use, attribution is generally required. Check the conditions of each sound file before use.
freesound: Extensive database of sounds free to use under creative commons licenses. Check license types before use.
Real-time visualization and virtual reality
Enscape: Our very own real-time visualization tool for students and educators using Revit, SketchUp, Rhino, Archicad, and Vectorworks. Paid licenses are also available for professionals and commercial use.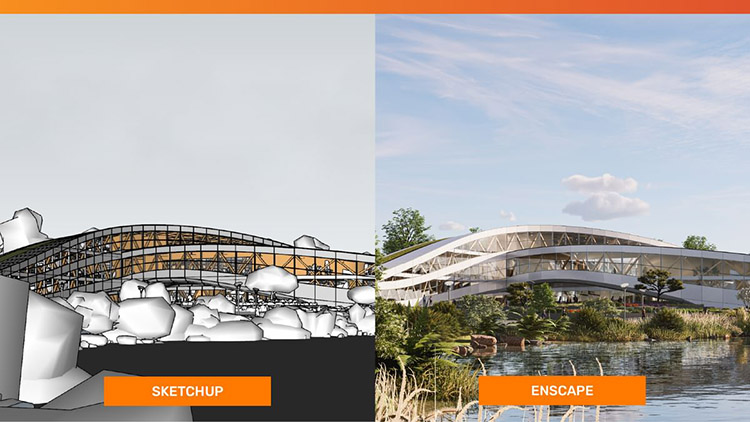 Bonus resources
Since we published the original free visualization resources infographic above, we have learned about the following additional websites that are worth checking out!
BIMContent.com: A 100% free platform that provides free BIM content specifically developed to strict quality control standards. You'll find Revit assets, 3D models, advanced / PBR materials and textures, libraries, and more, all optimized specifically for use in Enscape.
CADforum: Over one million users worldwide are registered to CADforum. Here you will find free CAD and BIM blocks libraries. Plenty of content for you to add to your projects.
Your favorite resources
Of course, you may use another tool or website that we haven't featured in this ultimate list of 3D visualization resources, and if this is the case, we'd love to hear all about it! Drop us an email at marketing@enscape3d.com and let us know about your go-to free 3D resources so we can keep this list updated.


*Please note: Attribution may be required when using the free resources mentioned above. Always check the licensing conditions before use.
**Main image rendering credit: Enscape user, Joel Guerra