For nearly two decades, Virgin Group has turned to award-winning design firm Viewport Studio to create distinctive interiors for its fleet, including the cabin and bar of the Virgin Atlantic 787, as well as the bar and upper-class cabin of the Virgin Atlantic A330.
But as they embarked upon a recent collaboration with Virgin Galactic, Viewport Studio was challenged to boldly go where no firm has gone before: designing the world's first purpose-built commercial spaceport to launch civilians into orbit.
Their mission? Curate a combined customer and employee experience, as well as a completely bespoke interior design concept, for what would become known as Spaceport America.
Shepherded by Viewport Studio director Gautier Pelegrin, the firm's team of architects and designers based in London and Singapore not only pooled aesthetic inspiration, but also capitalized on the next-generation technology provided by Enscape to translate virtuality into actuality.
We've told this great story before on the Enscape Blog, but this time, Viewport Studio are sharing new photography and imagery.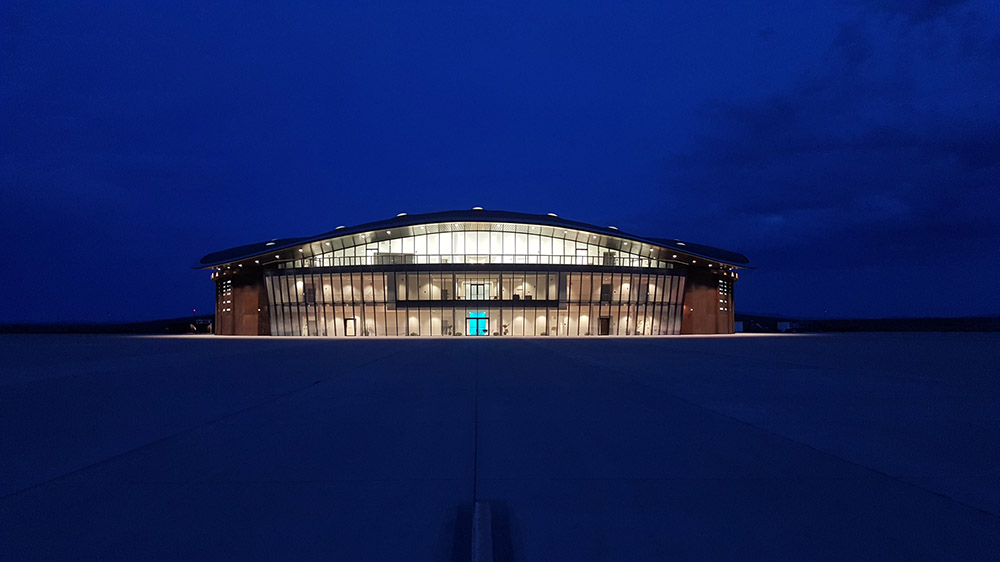 Spaceport America is dug into the landscape at one end, while the opposite end has a fully glazed wall facing the desert and runway. Photography by Robin Zielinski/Virgin Galactic.
Spaceport America has a rocket-friendly environment of 6,000 square miles of restricted airspace and a 12,000-foot by 200-foot runway, all situated on 18,000 acres in the New Mexico desert. As such, the location and surrounding landscape became a springboard for the project.
"We were tasked with designing something that had never been designed before," says Gautier. "We drew a lot of inspiration for the project from the spaceport's surroundings of the New Mexico desert. It's a stark and beautiful place that's rich in color and texture, so that influenced many design ideas."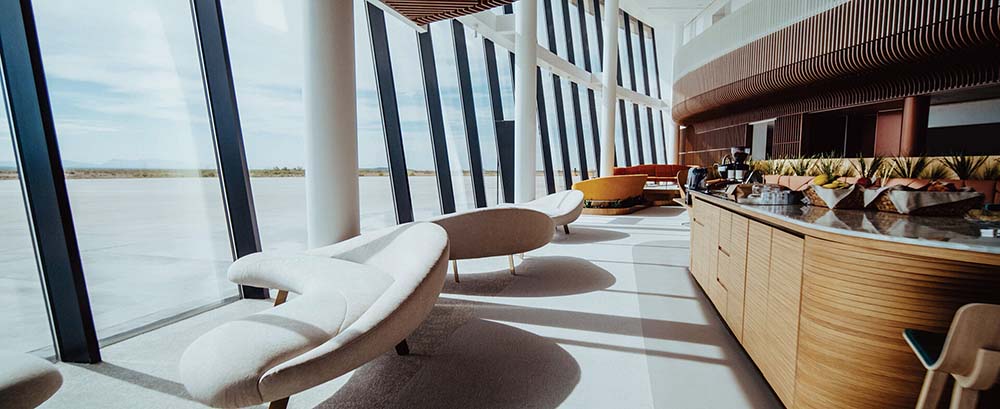 Materials chosen for Spaceport America are natural in color, intended to reflect the warm dessert environment. Photography by Robin Zielinski/Virgin Galactic.
Gautier also sensed a paradox at play: "The design is intended to express the excitement of the journey and specifically respond to its location, but at the same time to be a serene, comfortable, and reassuring space."

But first, Viewport Studio needed cutting-edge technology that would allow them to bring their vision of "elevating the human journey" to life. Utilizing the real-time visualization and virtual reality tool, Enscape, for the project offered new ways of designing and effortless integration into workflows.
The real-time visualization plugin became the studio's tool of choice for conceptualizing ideas and visualizing their designs due to its speed and quality, not to mention the ability to collaborate with internal and external teams. Using video and walkthroughs was useful when explaining to the client why their initial requests did not work, and enabled the firm to propose alternative solutions.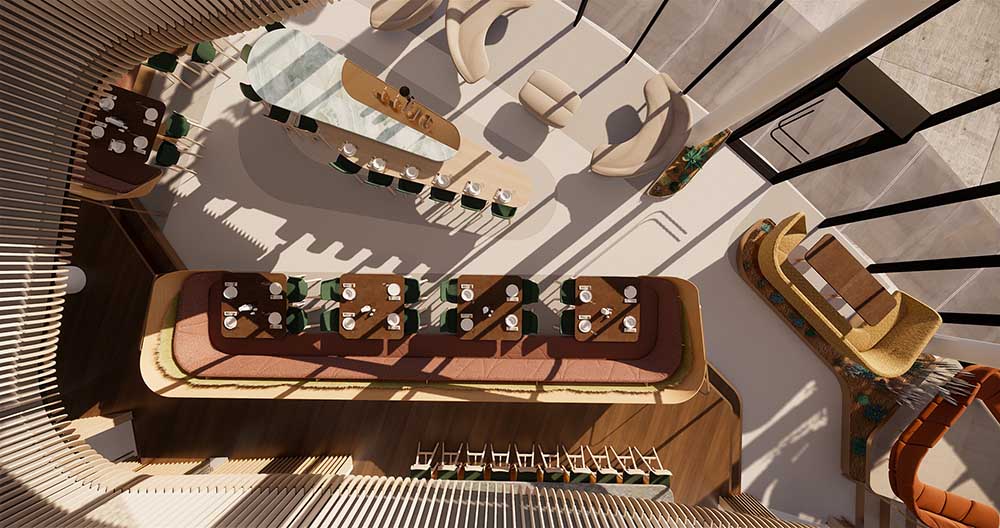 Overhead Enscape rendering of the Gaia lounge at Spaceport America. Rendering courtesy of Viewport Studio.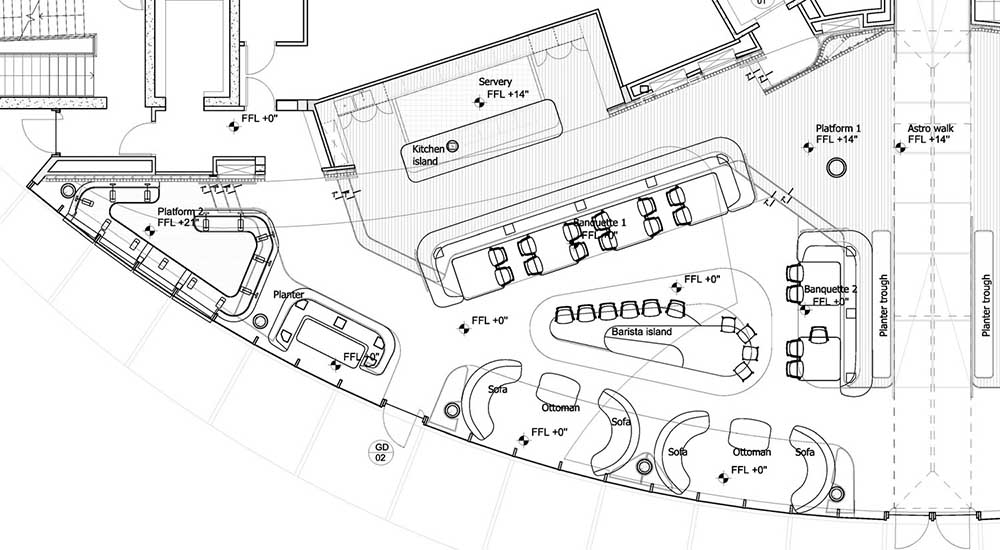 Design plans for Spaceport America courtesy of Viewport Studio.
"We mocked up the barista coffee station in the middle of the space to be the center of attention for daily function." Gautier recalls. "However, after reviewing it with the client and the Head of Service, we realized the staff would have difficulty reaching the customer on the other side of the table. So, we amended its dimension."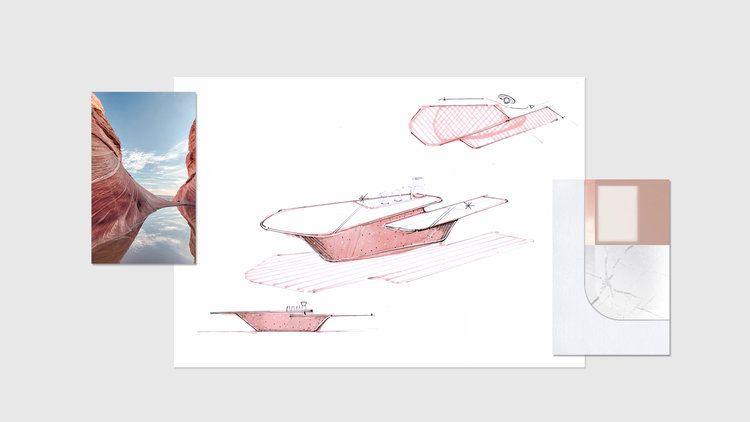 The barista island and furniture detail designed by Viewport Studio. Design plans courtesy of Viewport Studio.
Here, Enscape played a critical role in communicating concepts to the client and establishing priorities. "We used an exported walkthrough on-site, and it made the client understand the importance of the position of the machines around the barista station," says Gautier. "The station had to be free of machines so it could be used for evening events and assume a different role in the space."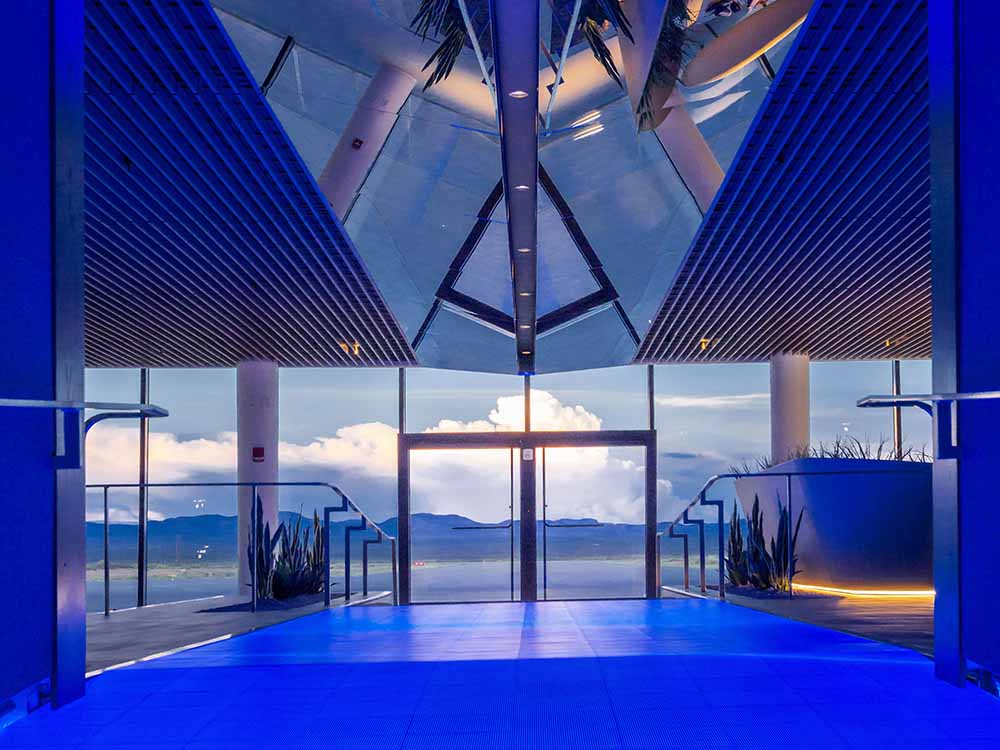 Photography by Robin Zielinski/Virgin Galactic.
Enscape's visualizations of Spaceport America enabled earlier feedback from collaborators, clients, and stakeholders. Renderings also made collaborating with external teams a more effortless experience.
For example, the use of renderings helped Gautier and his team to join forces with a local botanist to determine what plant species could be in the space. "We created renderings to test where light would hit the planters, which helped to determine whether having certain plants was feasible in certain areas," he explains.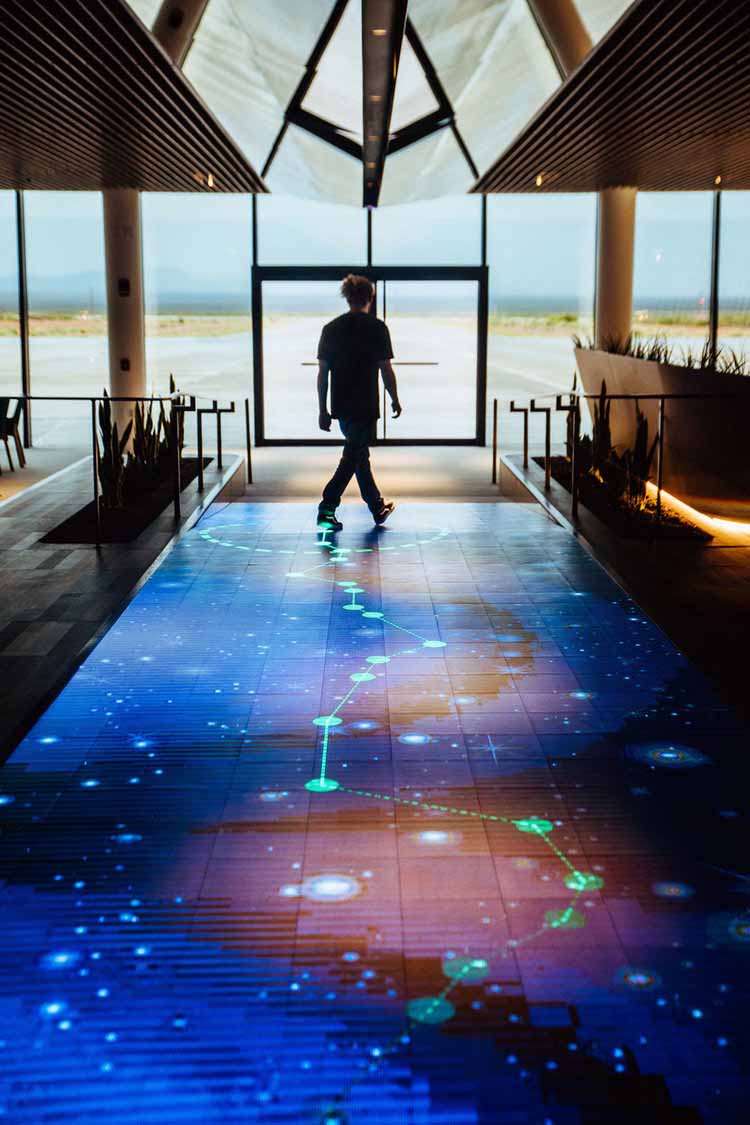 The Astrowalk at Spaceport America. Photography by Robin Zielinski/Virgin Galactic.
Thanks to Enscape, Viewport Studio was able to deliver their project with an unparalleled customer experience, offering next-generation ideas they couldn't propose before using live visualizations and virtual reality.

"The future astronauts weren't the only people we had to consider when designing the space," says Gautier. "We knew we had to consider their families and friends who would see them off as well."

This type of thinking created Astrowalk, a walkway designed for the astronauts and pilots to walk toward their spacecraft. Conceived as an opportunity to create a memorable send-off before they begin their journey, the walkway features a mirrored ceiling made of interactive LED screens.

In this case, Enscape's virtual reality feature helped Gautier and his team to determine if families and friends could see the mirrored walkway from where they would be seated.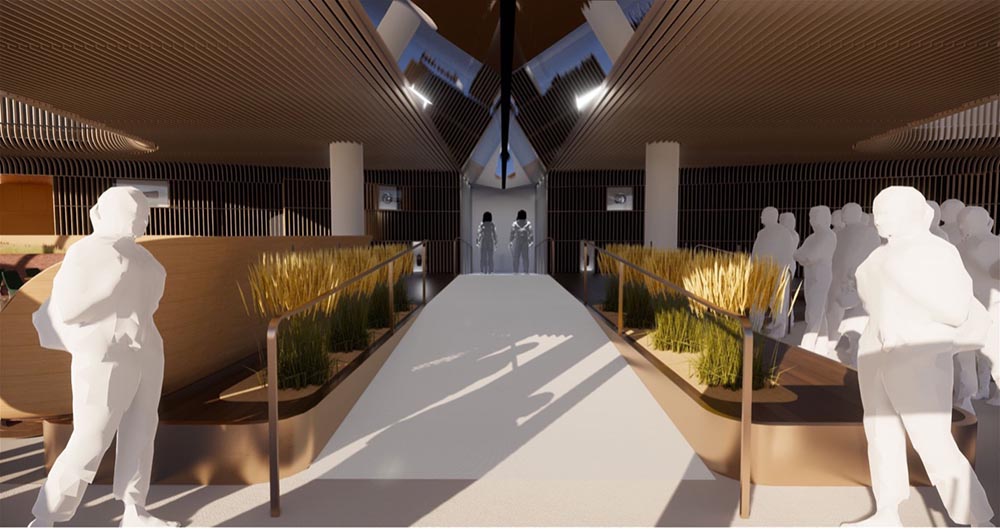 Enscape allows designs to be experienced using live walkthroughs, videos, panoramas, or virtual reality. Rendering courtesy of Enscape.
Conducting live sessions and using virtual reality resulted in better presentations and enabled design amendments to be made on the fly. Decisions were made more rapidly, and the use of renderings cut the hours spent on the project in half compared to working without Enscape.

"Enscape supported us in testing, experiencing, and presenting our concepts to the client with speed in producing media that we never experienced before," says Gautier. "The virtual reality function quickly became a staple in all our meetings. It helped to reduce testing iterations by at least 20 percent. It also allowed us to check the simple ergonomics of the bespoke furniture we designed, and we were confident with what we gave to the manufacturers."

Like so many firms, Viewport Studio learned firsthand how Enscape enables designers to communicate ideas and design intent with ease. By bringing integrated visual exploration directly into modeling tools, Enscape allows creative minds to focus on creating. And since it plugs directly into the most-popular modeling software, designers can make better design decisions with real-time visualization.

But don't take Viewport Studio's word for it—experience it for yourself with a complimentary 14-day trial.