Kitchens are often the main event of a home. This is where we prepare food for our loved ones, entertain friends and family, and get creative in ways we can't in other parts of our lives. But, not every kitchen is an inspiring place to be and can leave the home feeling lackluster.

If you want to design a kitchen that your clients will want to call their own, these are some of the top interior design trends modern kitchens are going to incorporate!
1. Consider touches of luxury
Luxury is something that most people want in their lives, but many don't realize it is within reach. Instead of feeling like a kitchen is lackluster, dazzle with the details!
Adding a heated island countertop makes the entire kitchen seem more valuable while also adding a space where buyers can prepare food and even set dishes to heat comfortably.
Incorporating statement pieces like pendant lighting, an island, built-in sinks, decorative or pull-out faucets, and LED strip lights can also add a touch of luxury.
These are simple yet effective changes that will shift everyone's perception of this room.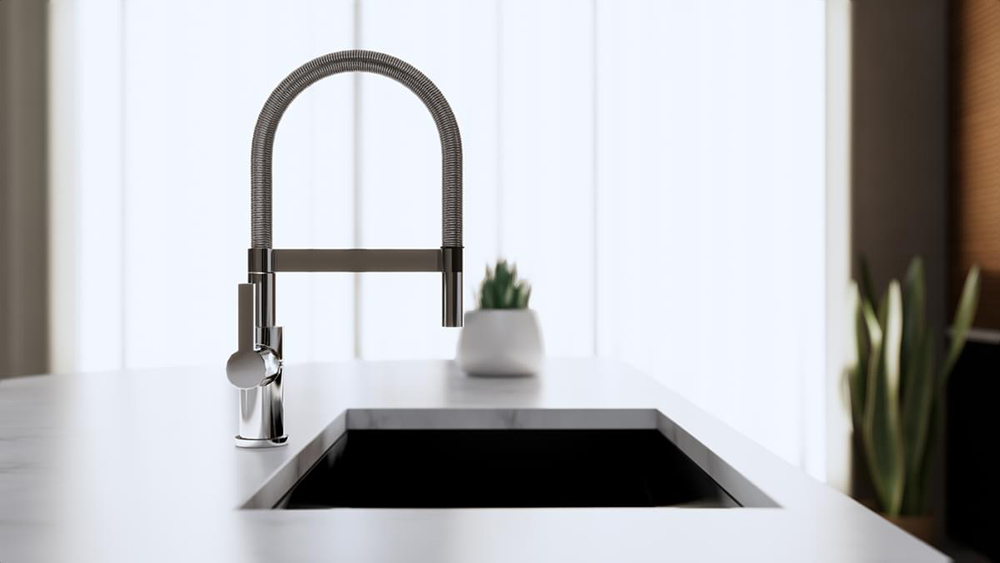 Rendering credit: Enscape
2. Work with a sturdy and beautiful counter
According to a survey conducted by Kitchen & Bath Design News among 400+ kitchen and bath design professionals, the top choices for countertops in 2023 are quartz, porcelain, granite, and wood.
Quartz is an increasingly popular countertop material due to its low maintenance and durability. Two popular brands are Caesarstone and Cambria. Both of these countertop materials are gorgeous, sturdy, and do well with heat or water while being easy to clean.
Some homeowners are also starting to opt for a mix of countertop materials to add a modern look to their kitchens, and some designers in the survey see this as a growing trend.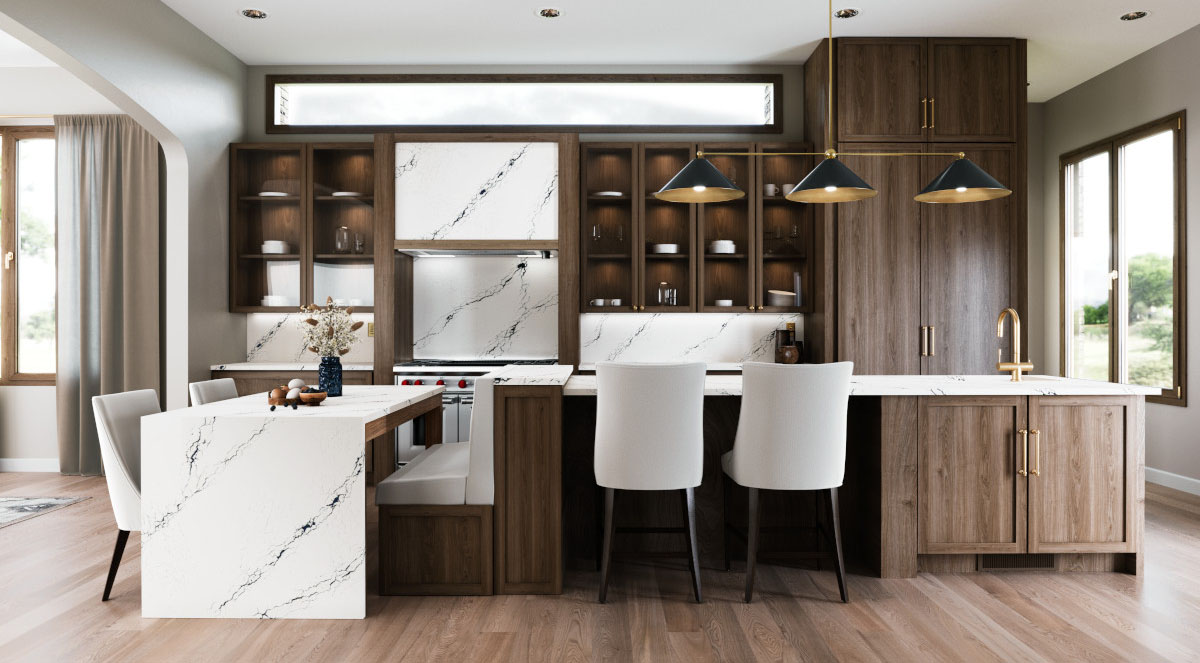 Image credit: Cambria
3. Add a bay window breakfast spot
If the kitchen feels small and cramped, and your clients aren't afraid to break down a wall or spend a couple of thousand dollars on it, it's time to add a bay window! This is especially a good idea if the kitchen is at the back of the house.

A bay window will create additional room, bring in natural light, and make the perfect spot for drinking, eating, and spending time with loved ones. Although it's a pricey change, it's worth it.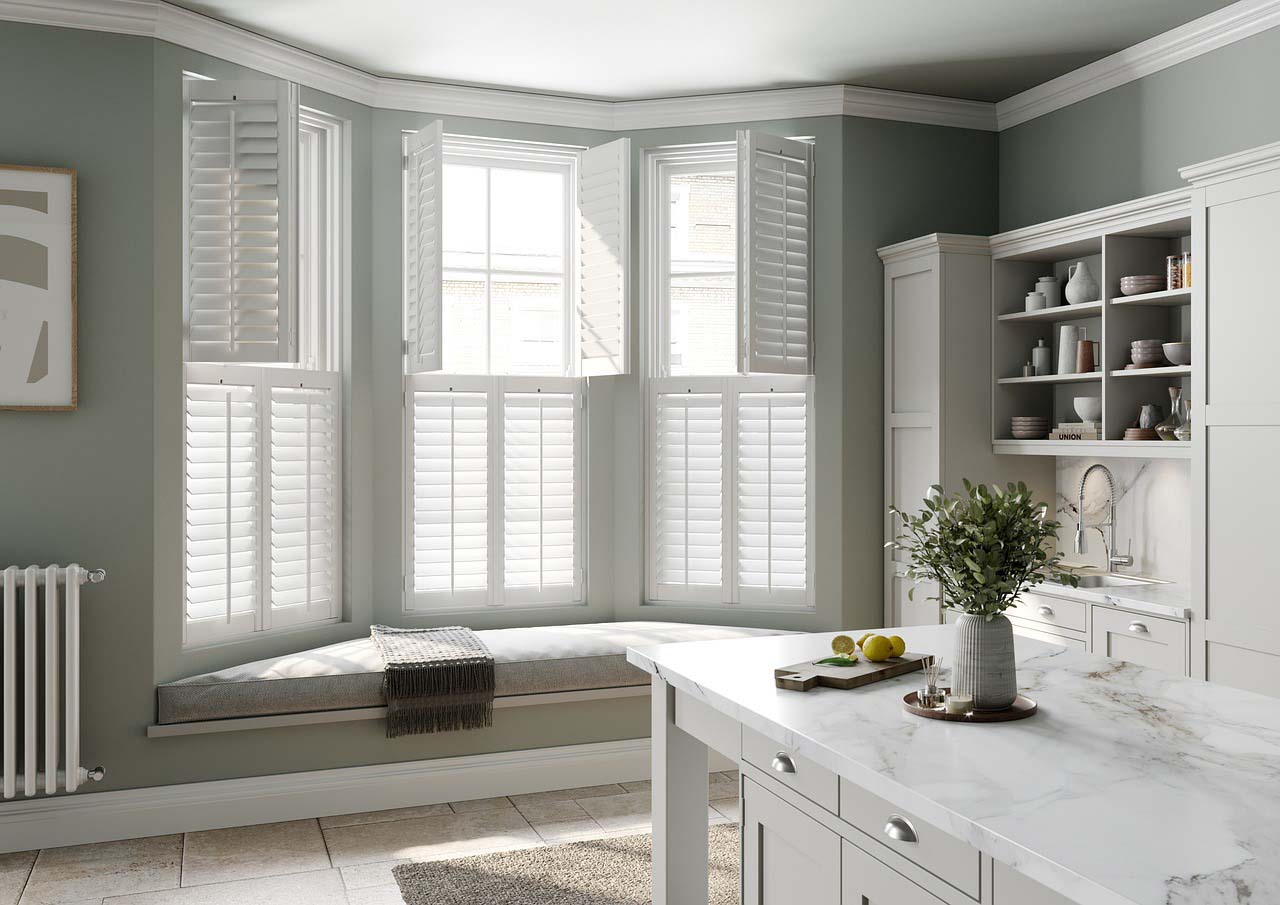 Image credit: Pixabay
4. Make the space feel larger without construction
If you want to make any kitchen feel bigger but want to avoid knocking down walls, you can still accomplish it! By adding cabinet crown molding, you can bring eyes upwards and make it feel like the ceiling is higher.

Making smart use of the space and avoiding adding a peninsula to an already crowded kitchen is also a good idea. Remember that clear and clean counters will make a room feel larger, so don't be afraid to put away tools and small appliances that aren't used every day.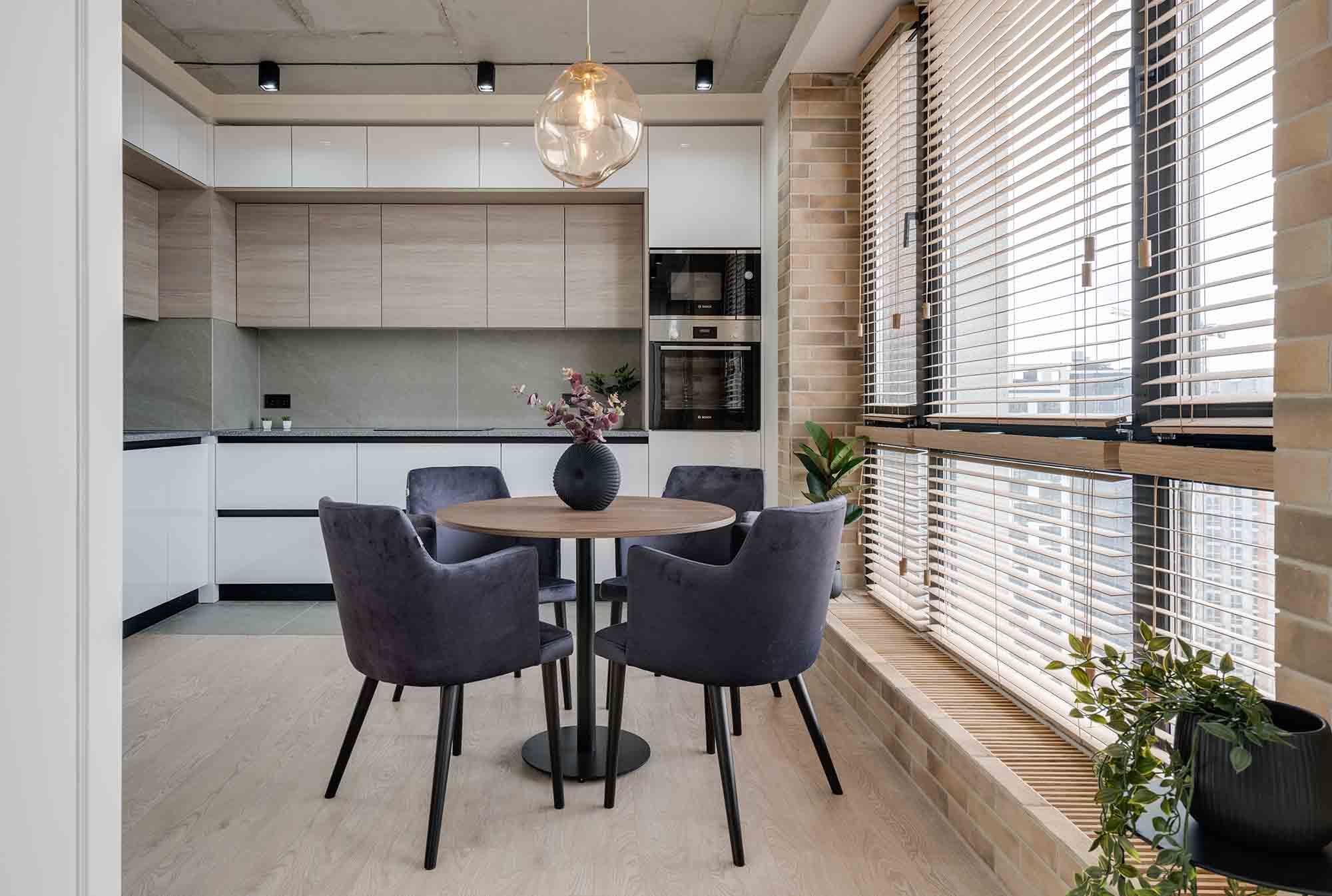 Photo credit: Max Rahubovskiy
5. Use soothing and familiar colors
The colors you use will shift the perception people have of any kitchen. A warm Swiss coffee paint color will leave clients feeling soothed and relaxed, while an all-white kitchen is starting to feel taxing and too sanitized for comfort. Although the all-white kitchen has its place in popularity, it's being replaced by more earthy tones and fantastic uses of color, wood grain laminate, and natural wood.

Natural wood is a big winner right now because it ties in well with nearly any appliance and requires less work once it's been sealed! Consider this for details like cabinets, hardware, and even countertops in your kitchen designs.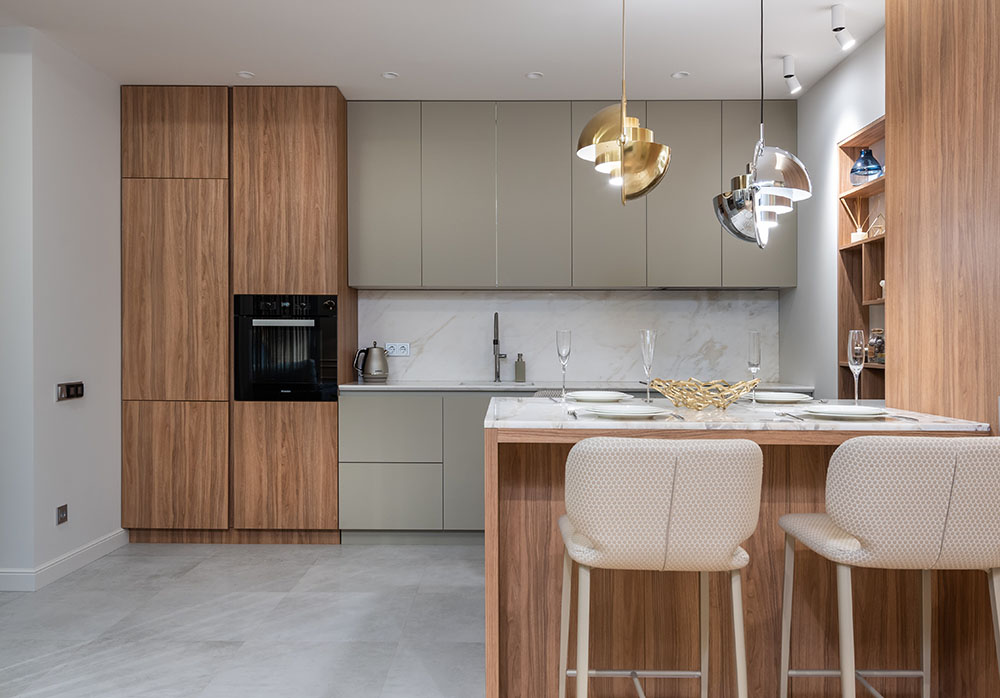 Photo credit: Max Rahubovskiy
6. Invest in more natural light
Adding more natural light is a surefire way to please clients. If you want to impress, but can't add another window to a wall, there's still a chance for this kitchen! For one-story homes or homes where the kitchen is on the level directly beneath the roof, you can put in a skylight.
These are coming back in style in a big way, bringing natural light in through the roof and creating a kitchen that feels connected to the outdoors. This isn't an option for every home, but it's a great one for anyone who can swing it.


Photo credit: cottonbro studio
7. Incorporate built-in trash and recycling
Nobody wants to have to see their trash can every time they come in the kitchen or deal with picking up and moving it whenever they want to sweep or mop. In-cabinet trash cans allow homeowners to quickly discard things and clean their kitchen without having the mess out in the open. This is best for tall unusable cabinets or the cabinet beside or under the sink.
8. Add storage wherever possible
Storage is one of the most sought-after parts of a home, with many clients saying they're desperate to find more space for the belongings they care about. Kitchens are an area where storage is at an all-time low, yet we need it more than ever.

Consider designing a walk-in pantry or adding upper cabinets where there previously were none. Not only will this give your clients room to store things and keep their counters organized, but it will also make the room feel larger.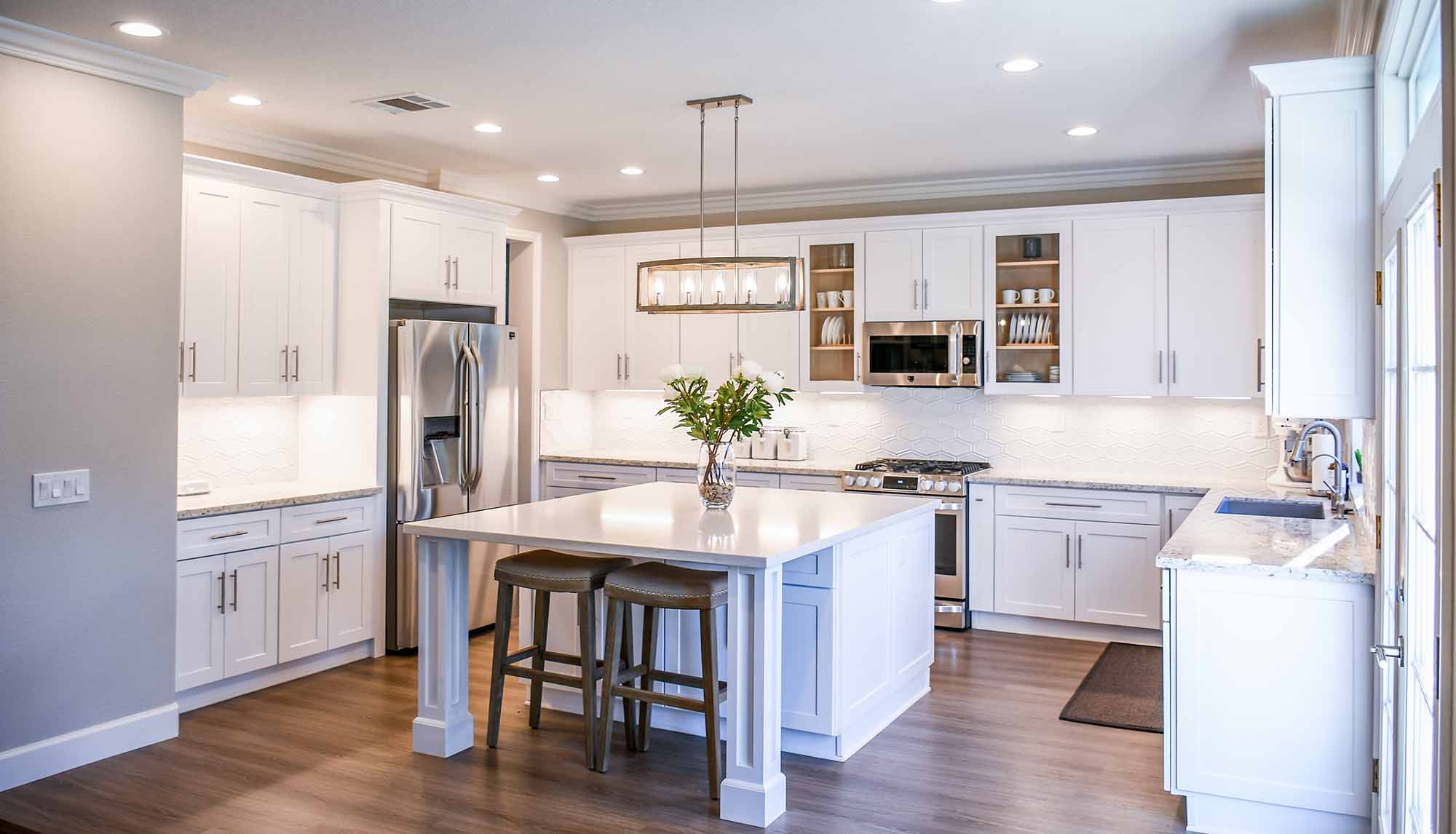 Photo credit: Mark McCammon
Visualizing modern kitchen designs
The modern kitchen is so much more than a splash of paint and an island. If you're ready to pull any property into the modern era, try incorporating some of these ideas into your kitchen designs and make use of interior design renderings to present them to your clients.