Even if we were to provide thousands more objects in the Enscape Asset Library (and believe me, we're working on it!), there will still be times where users need to use a specific item within their projects. This is why we're excited to be able to officially support custom assets with the release of Enscape 2.9!
The Enscape community originally requested this feature, and thanks to pioneers like Pieter Schiettecatte, a workaround was created and shared with fellow users to allow everyone to use unique models within their designs until a fully supported custom asset library was developed.
But the wait is now over, and to get you up and running as quickly as possible with Enscape's new Custom Asset Library, this article will provide answers to some frequently asked questions.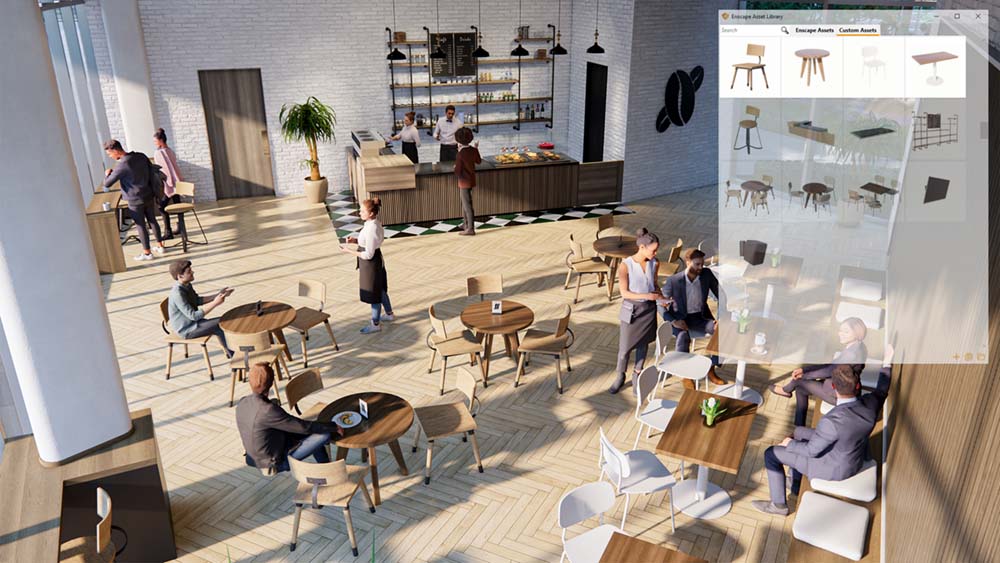 Custom Asset Library: Your Questions Answered
Which design software is compatible with the Custom Asset Library?
At this time, all of the CAD and BIM design tools that we support - SketchUp, Revit, Rhino, ArchiCAD, and now Vectorworks.
How do I access the Custom Asset Library?
Firstly, you'll need to download Enscape version 2.9 or above if you haven't done so already.
The Custom Asset Library sits within the existing Enscape Asset Library. To access it, click on the Asset Library button in the Enscape Toolbar, or locate it via the top-level menu within your CAD / BIM software.
A new tab named Custom Assets can been seen at the top of the window: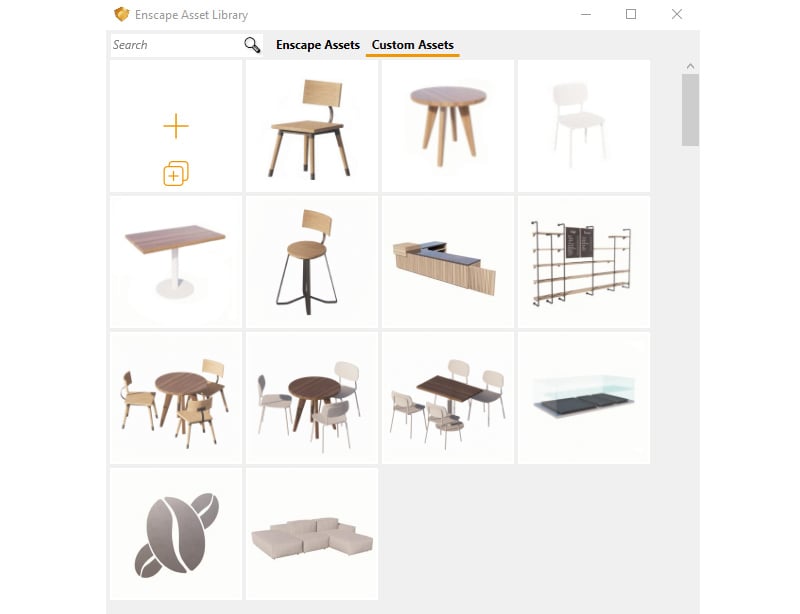 How do I import models?
Open up the Asset Library window and select the Custom Assets tab. Click on the + button to start importing either single or multiple (batch) models.
The first time you click to import a single model or multiple (batch) models, you will need to set up a location for your assets. A wizard will guide you through the necessary steps to do this.
Once complete, our Asset Editor will open with the geometry and materials imported. At this time, some FBX material formats are unsupported, and you may have to assign materials manually for some models.

Which file formats can I import?
It is possible to import models with a file format of OBJ, FBX, and GLTF. It is recommended that you import low polygon models with less than 20,000 triangles (also known as 3-sided or 3-point polygons) to ensure the best performance.


Can I import models from third-party sites?
Yes, you can import models from third-party sites such as SketchUp's 3D Warehouse, Free3D, CGTrader, and TurboSquid, as long as the 3D models are in one of our supported file formats - OBJ, FBX, and GLTF and have a poly count no greater than 20,000. However, please note that we can not guarantee that all third-party models will be compatible with Enscape.


Is it possible to edit the materials of custom assets?
Yes it is. You can do this by using the Materials Editor, which is located within the Custom Asset Editor in Enscape.

Where will custom asset edits appear - the project, library or both?
When you edit a custom asset, the edits made will appear in both the project itself, and in the Custom Asset Library.

Is it possible to duplicate a custom asset?
At this time, it's not possible to duplicate an asset - but you can re-create one by starting a new project and importing the same geometry.


Can my team access the assets I import?
Yes. If there are valid custom assets in the defined file path, they will appear in the Custom Asset Library. So if you save the final asset to a folder on a shared network drive, every user that has access to that drive can use it. Your colleagues will need to set the source folder in the Custom Asset Library to get access to all the custom assets that are saved there.


Is it possible to import / export materials?
Yes, once you are in the Enscape Custom Asset Editor, under Materials, you can right click on a material in the list to import or export a material package (*.matpkg) file.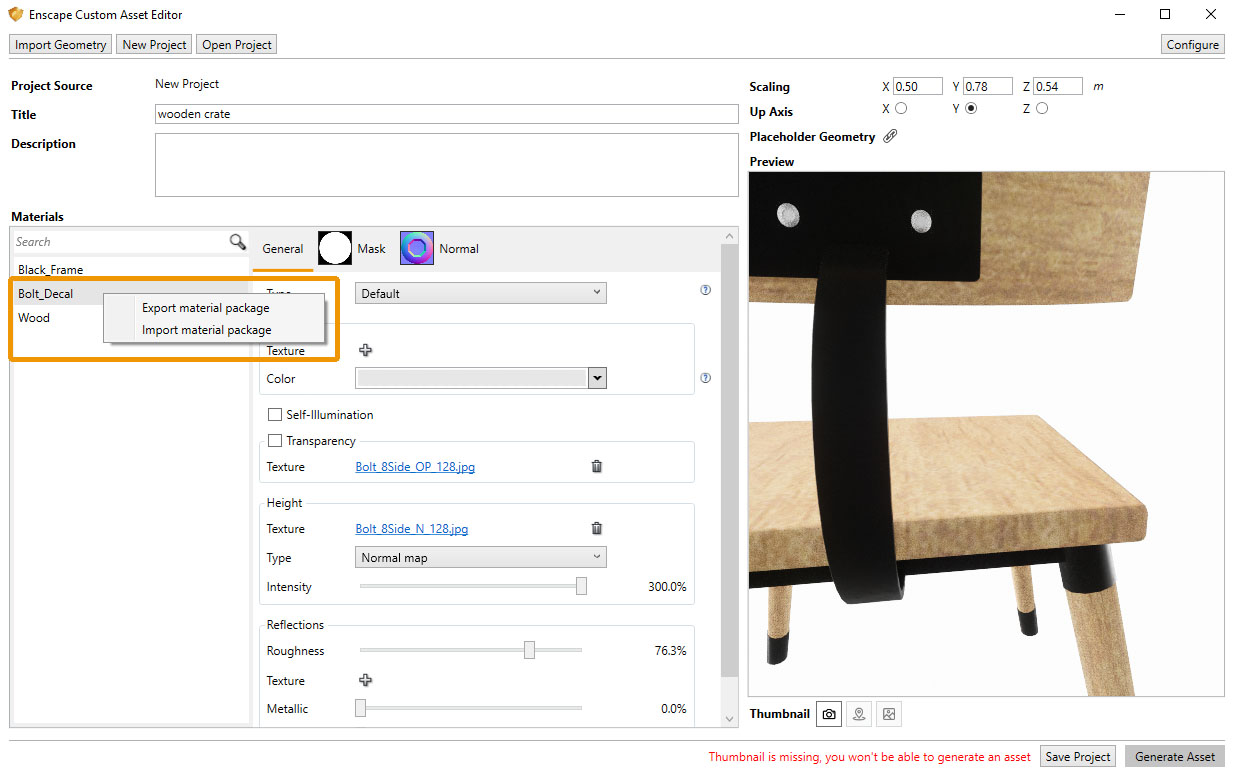 Where can I find step-by-step instructions on how to use the Custom Asset Library?

Detailed instructions and screenshots can be found in this Knowledge Base article.
A big thanks to Peter Chamberlain, a member of our Customer Success Team, who has documented everything you need to know to help you use the Custom Asset Library.


Can I add categories?
Yes you can. With Enscape 3.4 and above, it is possible to add your own categories to help you manage and organize your custom assets.
What other features were rolled out with Enscape 2.9?
For further details on Enscape 2.9's newest features, read our announcement post. As well as the Custom Asset Library, we also launched:
Video

(animated)

textures

D

isplacement maps

175

new as

sets

1

19

fitness-based assets

Vectorworks 2021 support

Offline asset library



Start creating your unique design experiences
To start creating your own unique design experiences with the new Custom Asset Library and the many other features and product enhancements that are now available with Enscape 2.9, download the latest version of Enscape today.
And if you're not yet using Enscape, try it out for free with our 14-day trial.