Enscape has the ability to generate panoramas, which is a static 360-degree view, from your favorite design platform.
These lightweight images can be viewed by key decision-makers and team members easily once uploaded into the cloud or via an Oculus Quest 2 virtual reality headset using a third-party application.
Today's post will cover how Lake|Flato creates and uses panoramas with Enscape and Revit (I should mention that it is also possible to create panoramas in the other supported design tools - SketchUp, Archicad, Rhino, and Vectorworks).
The project used in this blog post is our own office remodel in San Antonio, Texas. You can learn more about the project itself by reading this Lake|Flato blog post: Celebrating Nature, Place, And Craft In Our New San Antonio Office.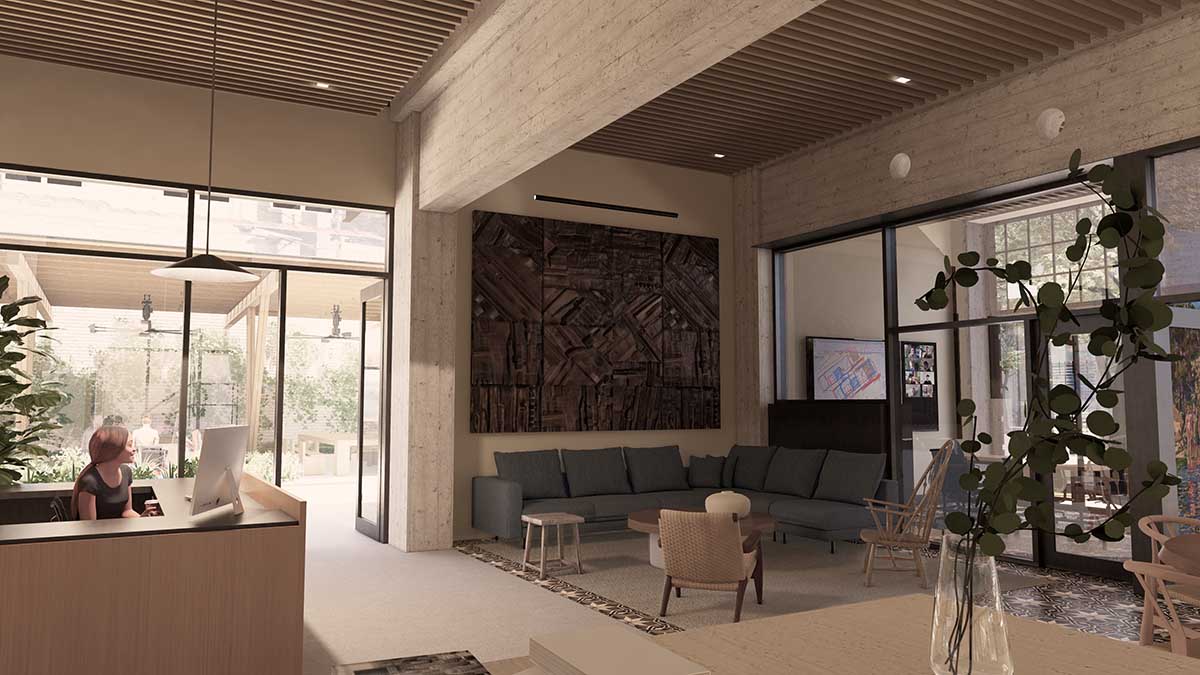 The result of rendering a stereo panorama using Enscape is shown below for the same space rendered above. It is simply a JPG image file that contains two 360-degree views, each separated by the approximate spacing of our eyes.
This is like a flat map of the earth, which has been distorted to fit on paper. But, if stretched out onto a sphere, it would look natural. In the same way, a panorama is wrapped around the viewer, either on a computer screen or within a VR headset.
Creating panoramas in Enscape
Let's look at how easy it is to generate a panorama in Enscape. I will also share some preparation advice.
Setting up views
Since it is so easy to navigate a design model in real-time using Enscape, one might be tempted to go straight to the command to generate a panorama. However, it is a best practice to first create a saved view in Revit to facilitate creating this same view later, as the design progresses.
These views are often different from the ones used for regular renderings. For panoramas, it is better to be closer to the center of the room rather than starting with your back against a wall. When panorama views are close to a wall, it can feel restrictive with the wall being so close. Remember, these are static vantage points of the project, and the person viewing the design is not able to take a step back, away from the wall, as is possible in a full VR experience.
TIP: When saving the view in Revit, the direction the view is looking at is important. The autoexposure for the entire scene is based on where the rendering starts. So, some areas could be too dark or too washed out if this step is not considered.
Consider including a common prefix for all of your panorama views (see image below), so they are grouped together in Revit's project browser and when selecting for batch processing by Enscape.
How to generate a panorama in Enscape
While in Enscape, click the Panorama drop-down and select Mono Panorama or Stereo Panorama, as shown in the image below.
At Lake|Flato, we only create stereo panoramas to ensure the scale and depth are more accurate. This comes at a cost, as it can take several times longer to render stereo over mono panoramas.
We occasionally have stereo panoramas that take 15 – 20 minutes or more to process, and that is with powerful NVIDIA RTX Quadro 5000, A4500, or A5500 graphics cards.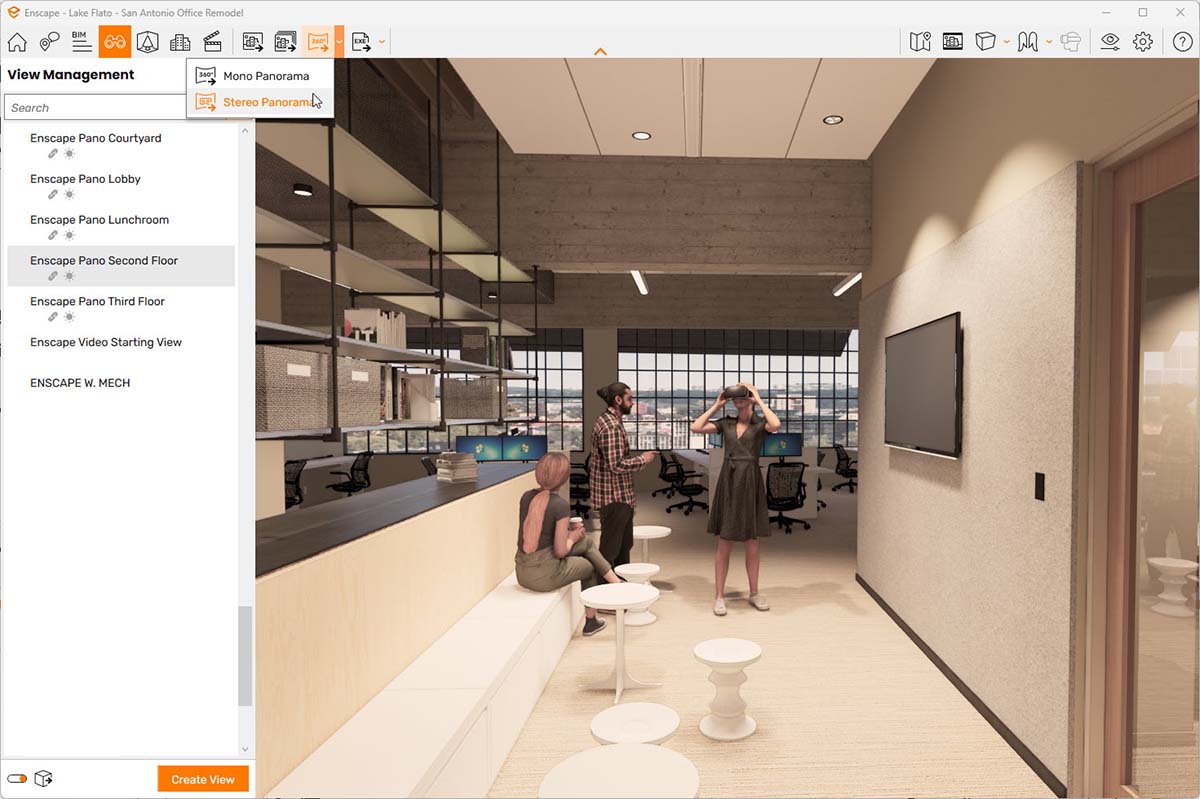 Batch export
When the views are set up in Revit, it is possible to batch render the views so you can step away from the computer or work on other tasks and not have to attend to the process. By the way, the five views rendered for this blog post took almost an hour to process at the default Enscape settings.
While in Enscape, click the Batch Rendering command, as shown in the following image.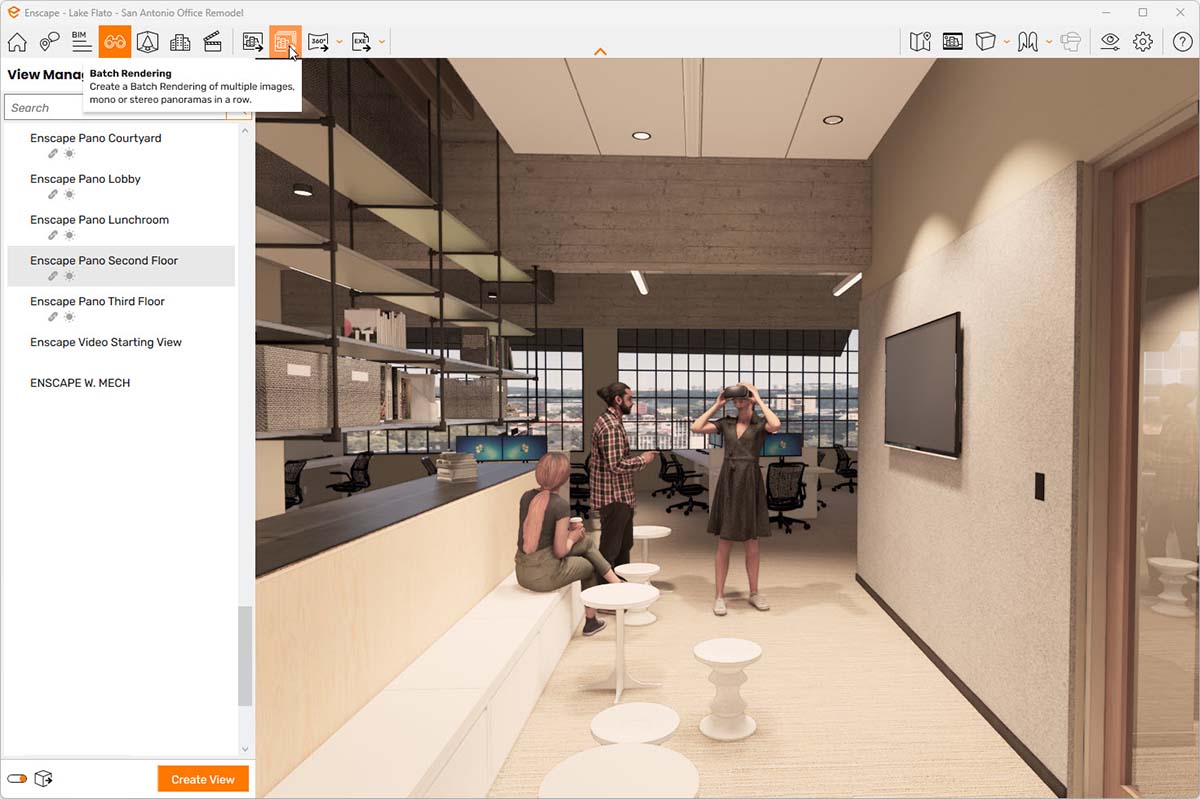 Within the batch render tool, select the views to be rendered as panoramas. Then, at the bottom, click the down arrow and select Render as Stereo Panoramas as shown here.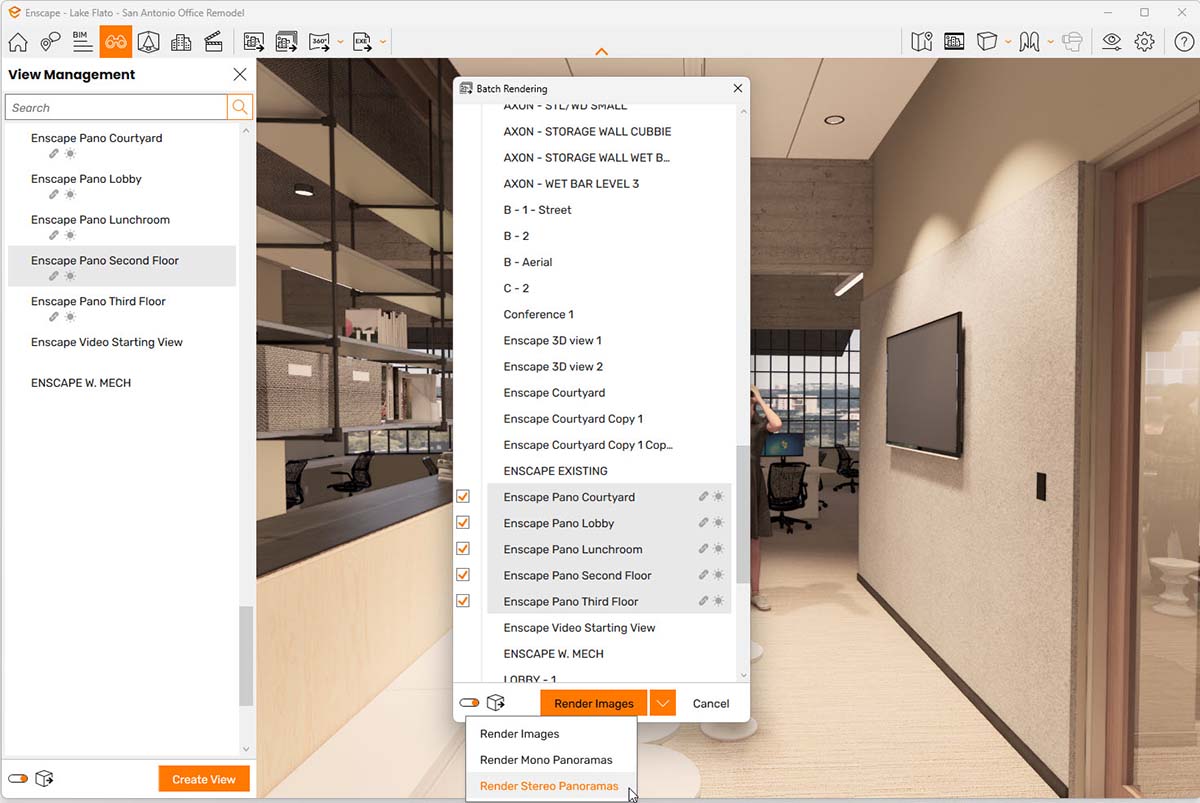 Rendering stereo panoramas is a resource-intensive process, as shown in this GPU-Z screenshot. Notice there is currently more than 9 GB of GPU memory in use, which is why it is important to have the right hardware. We have some large complex projects that use 14 – 15 GB of GPU memory!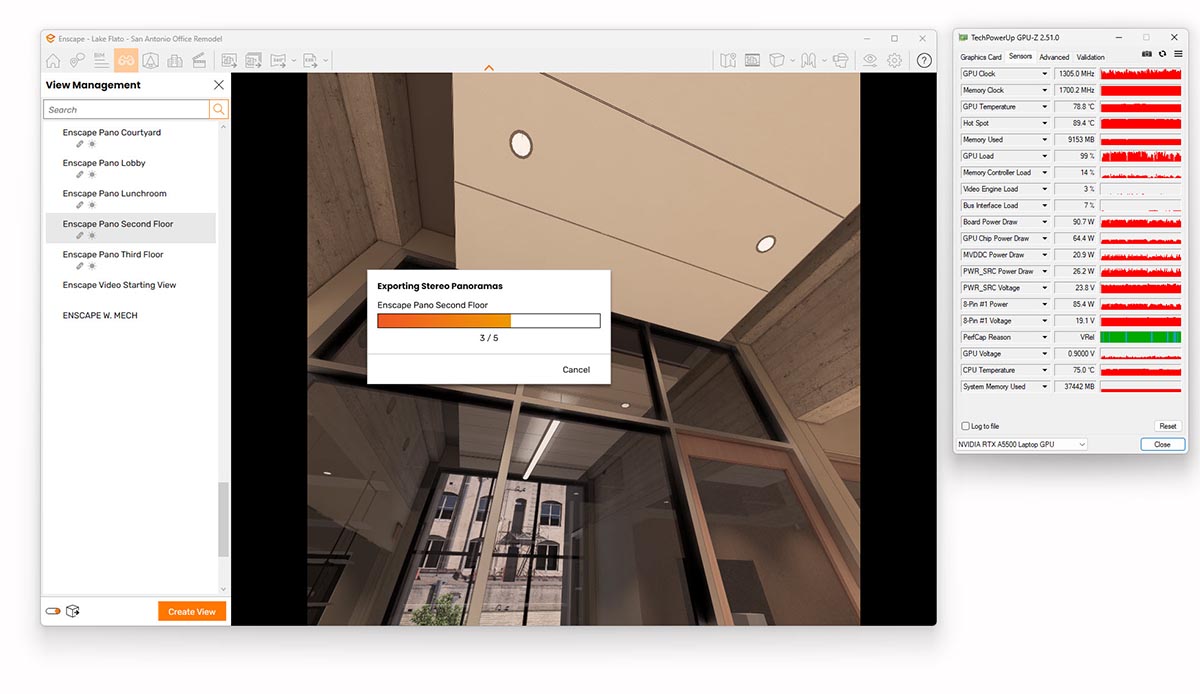 Saving panoramas

When a panorama is finished rendering, Enscape automatically saves it in a raw format in an intentionally hidden location. When you wish to save or upload the resultant panoramas, you use the Upload Management tool found on the Revit ribbon.

All of the panoramas created on this computer are listed here and grouped by project, as shown in the next image.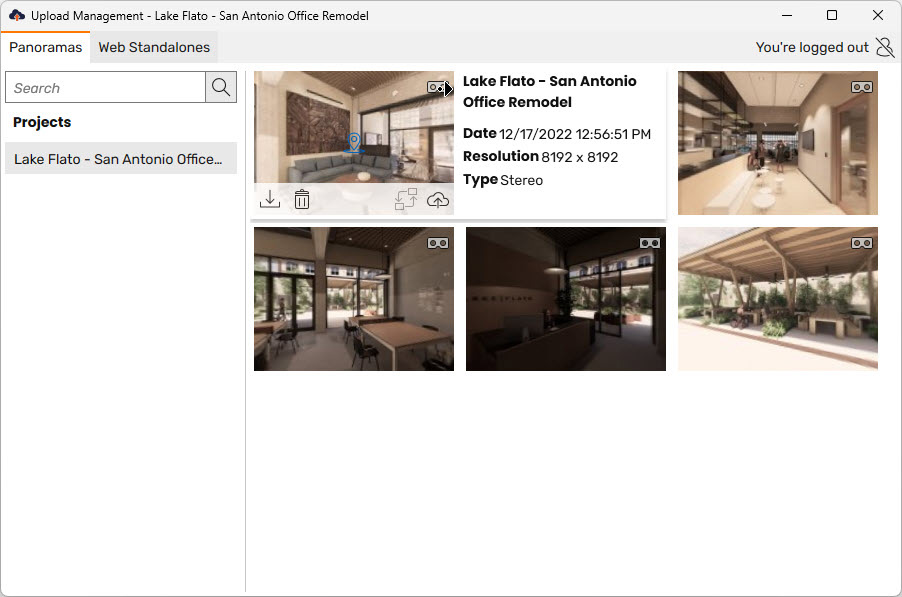 To take advantage of the online panorama gallery, you will need to log in. Your Enscape administrator can create a named user account for you, which can still use your floating licenses.
The named user, in this case, is just to manage the data you are uploading. You do not need to have a named user account to save the panorama as a JPG file locally, or to upload an individual panorama to Enscape's service to be viewed by a link or QR code.

Once you have a named user Enscape account, click the About command within Enscape to access the login button as shown in the following image.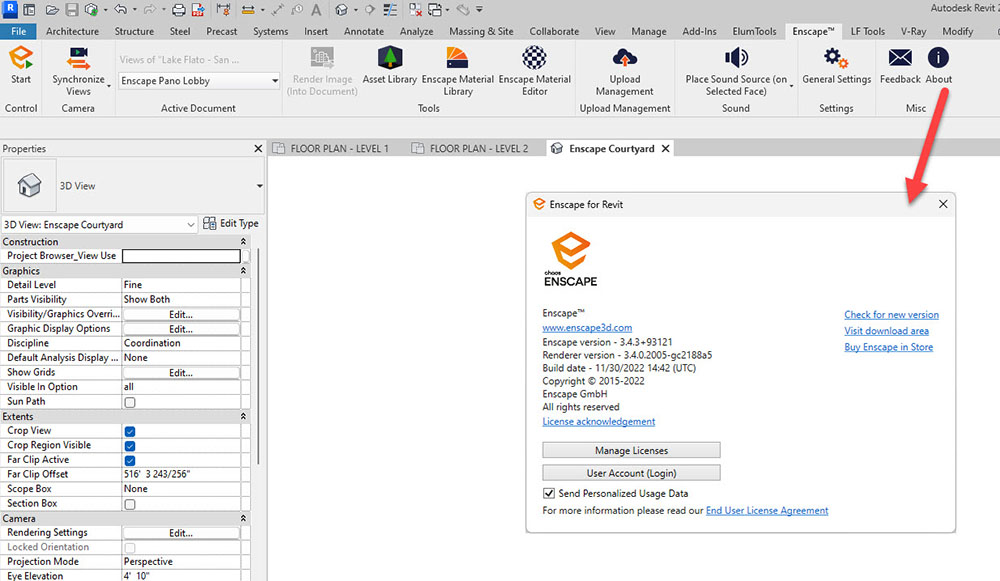 Once logged in, you will notice the Upload Management dialog indicates you are logged in. You also have options to upload and replace previously uploaded renderings.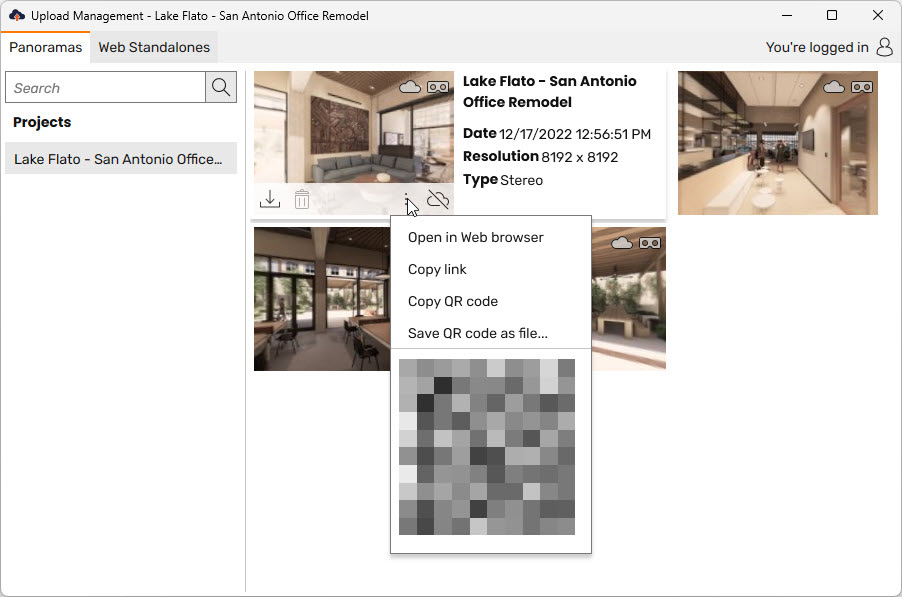 The uploaded panoramas can be viewed by anyone with the link or QR code. The panorama is viewed in a browser as shown in the following image. Simply click and drag with the mouse to look around.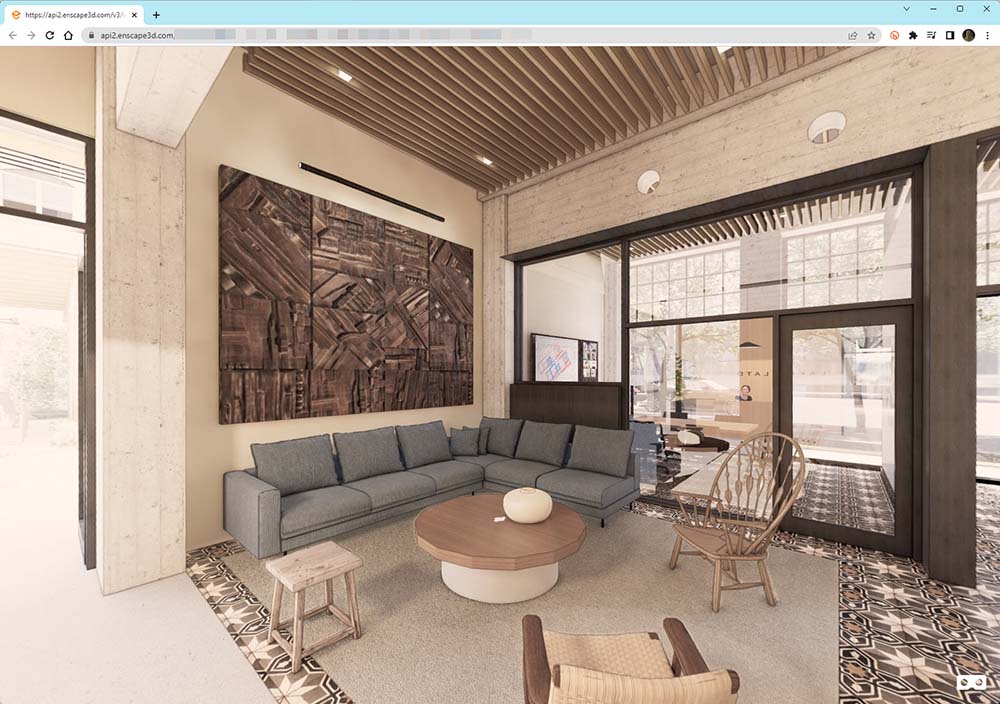 Additional viewing options
Enscape has a newer feature that groups panoramas together so they can all be viewed in a single experience, without having to open multiple tabs or close out of one to open another. You can learn about the panorama tour here.
There is also a third-party app Lake|Flato uses to easily offer up a lightweight VR experience to clients without the need for a high-powered computer. We'll cover that later on in this post.
The Enscape panorama gallery
When you have an Enscape user account, you can log in on Enscape's website.

All of the panoramas you have uploaded are listed here.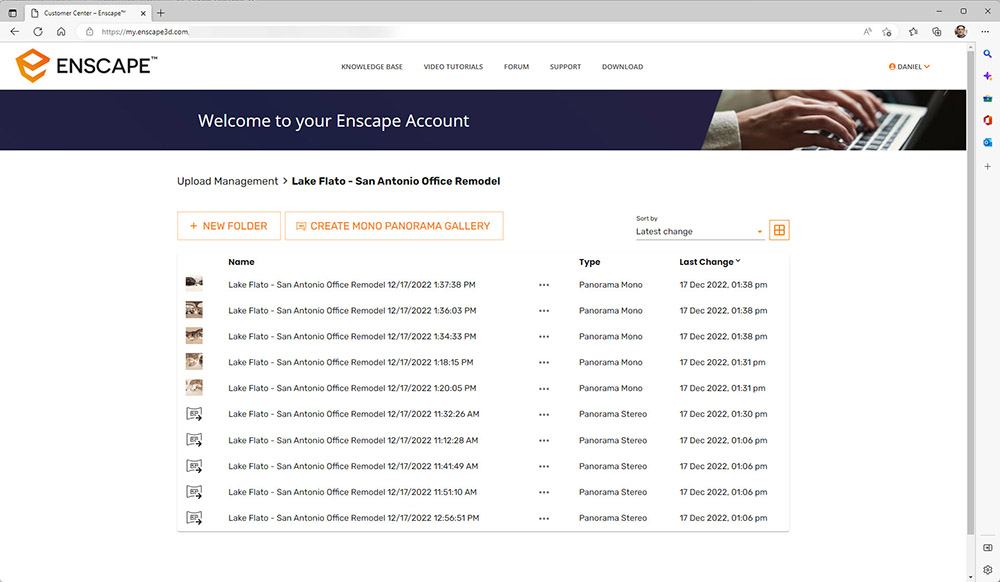 Clicking on the Create Mono Panorama Gallery button allows you to select two or more panoramas (this only works with mono panoramas).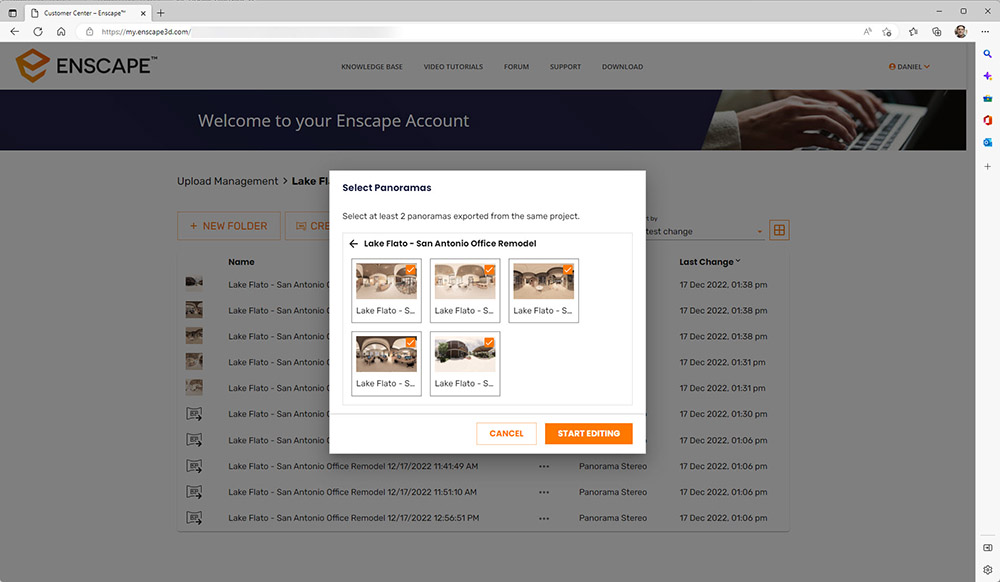 Next, you are in editor mode where you can rearrange the images shown at the bottom to curate the order in which the project is viewed/experienced. Once done, you can save and share the link with others.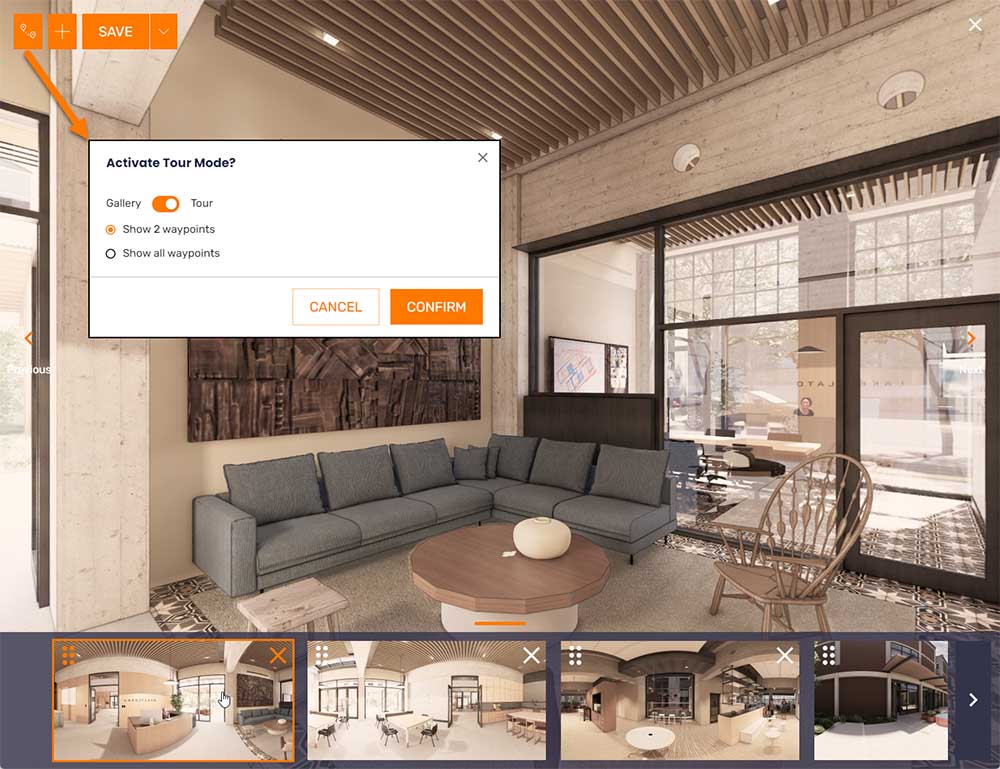 It is also possible to toggle into Tour Mode where Enscape automatically adds hotspots within each scene to make navigation more intuitive!
Since Enscape knows where each view was taken within the CAD/BIM application, it can automatically place the hotspots for you. You can keep things clean and only show two hotspots or all of them (i.e. the ones you selected for this gallery project).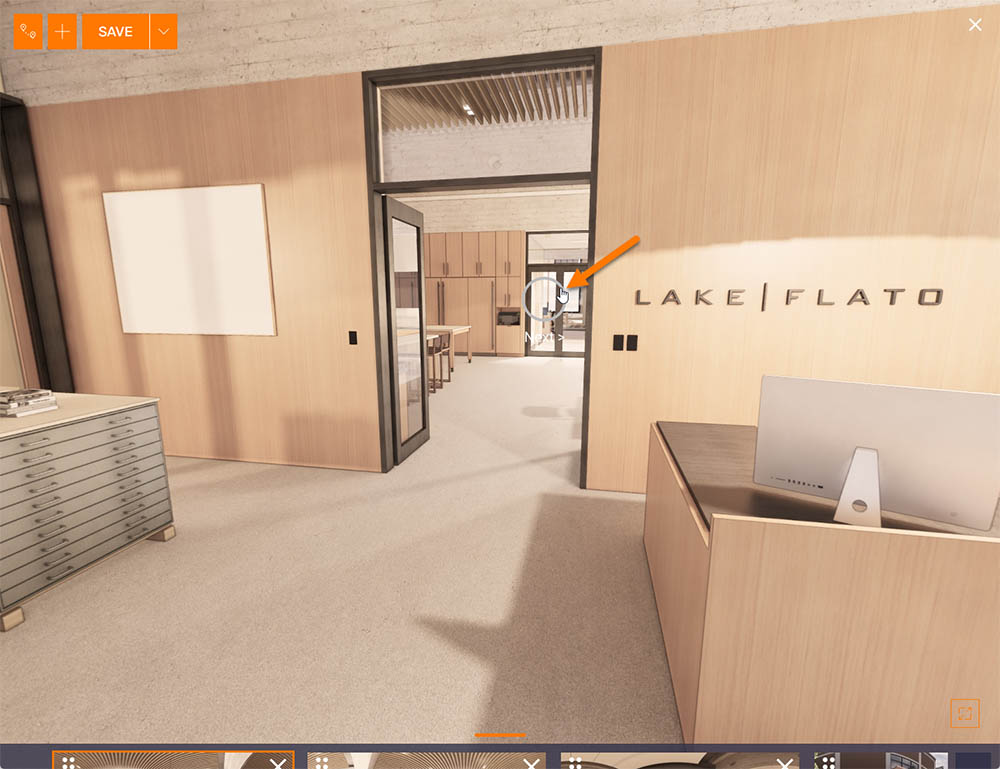 After clicking on the hotspot in the view above, you are automatically taken to the view in that area, as shown in the next image!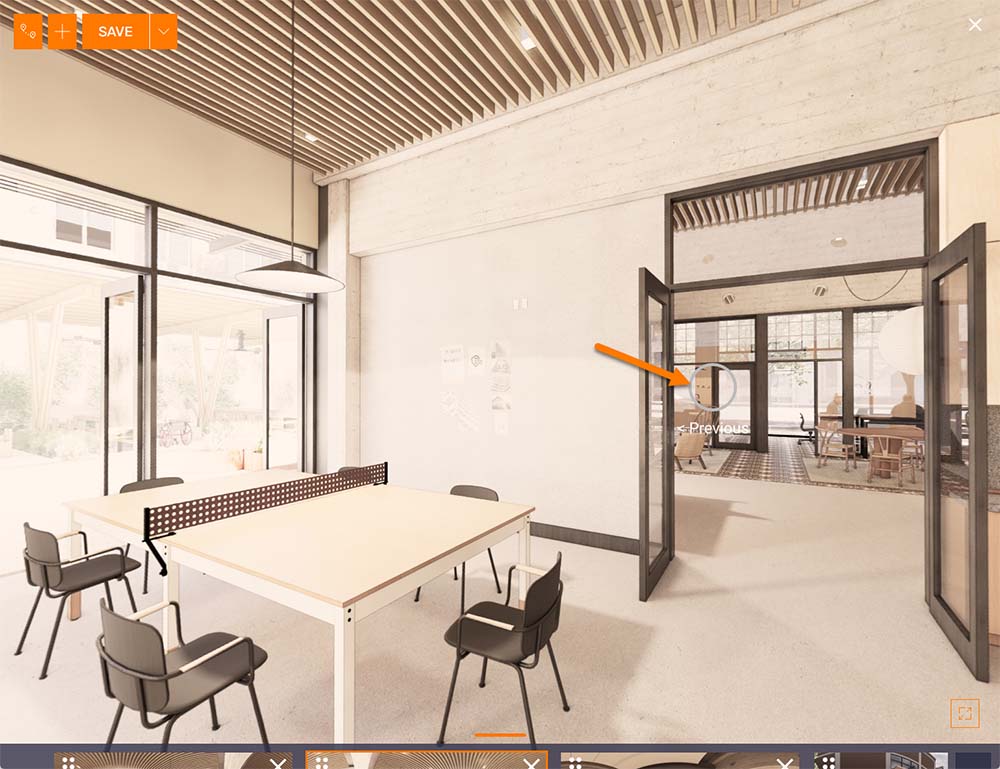 Finally, the gallery project can be saved. Back in the panorama list for this project, you can select Share Options, see image below, to get a URL you can share with anyone!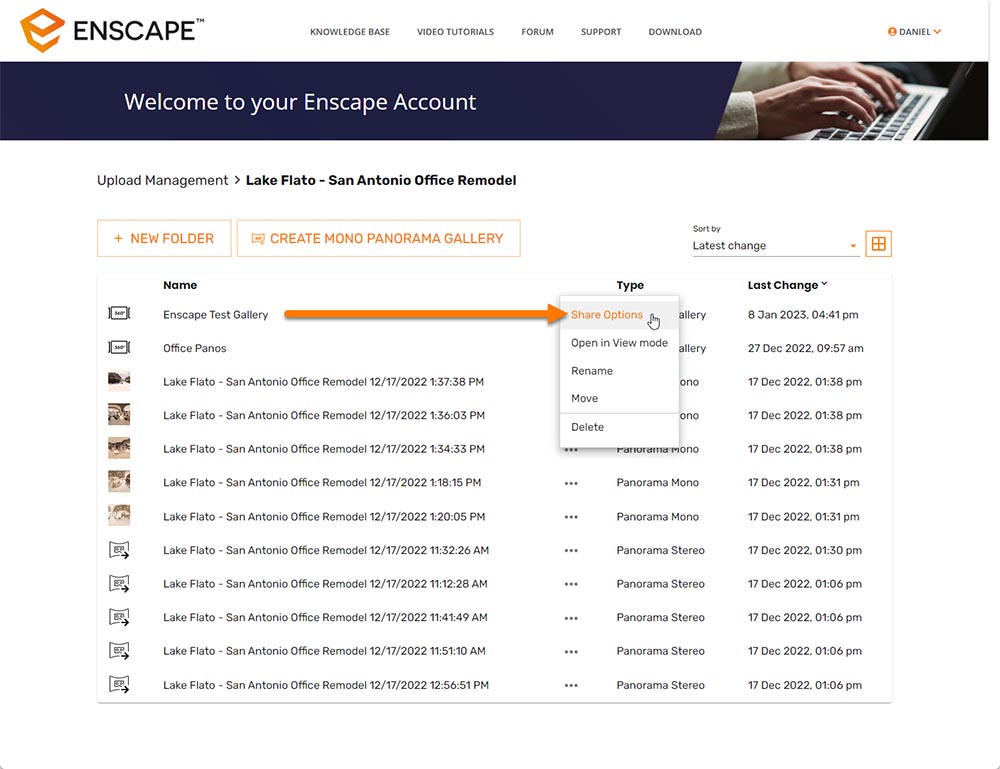 Third-party app: Yulio
In order to easily view the panorama on an Oculus Quest 2, Lake|Flato uses a paid third-party app called Yulio.
The process involves organizing Enscape-generated panorama renderings in the Yulio portal and then adding to a previously synced Quest 2 device. The design team, or the client, installs the free Yulio app from the store within the headset (at this point, the internet is required).
Once the views have been downloaded into the device/app, the internet is no longer required. This is a convenient, lightweight VR option to take in a carry-on and only requires minimal setup.
The main drawback compared to delivering full VR is the setup time. It takes time to render all the views, and when (not if) the design changes or you notice a mistake, you have to re-render every time.
By contrast, opening Enscape and just toggling on VR takes no time at all (but it does always require a high-powered computer). Designers at Lake|Flato use tablets to remote into high-powered computers, which does not facilitate VR, so we have a few capable check-out laptops.
Also, our new office has a semi-dedicated VR space on each floor. To learn more about our technology topology, check out this Dell blog post: Designing From the Home Office.
The first image below shows the main Yulio portal for a project. Enscape-rendered panoramas are dragged onto the screen and then rearranged for order. Hotspots may be manually added to each view to facilitate moving between scenes within the VR experience.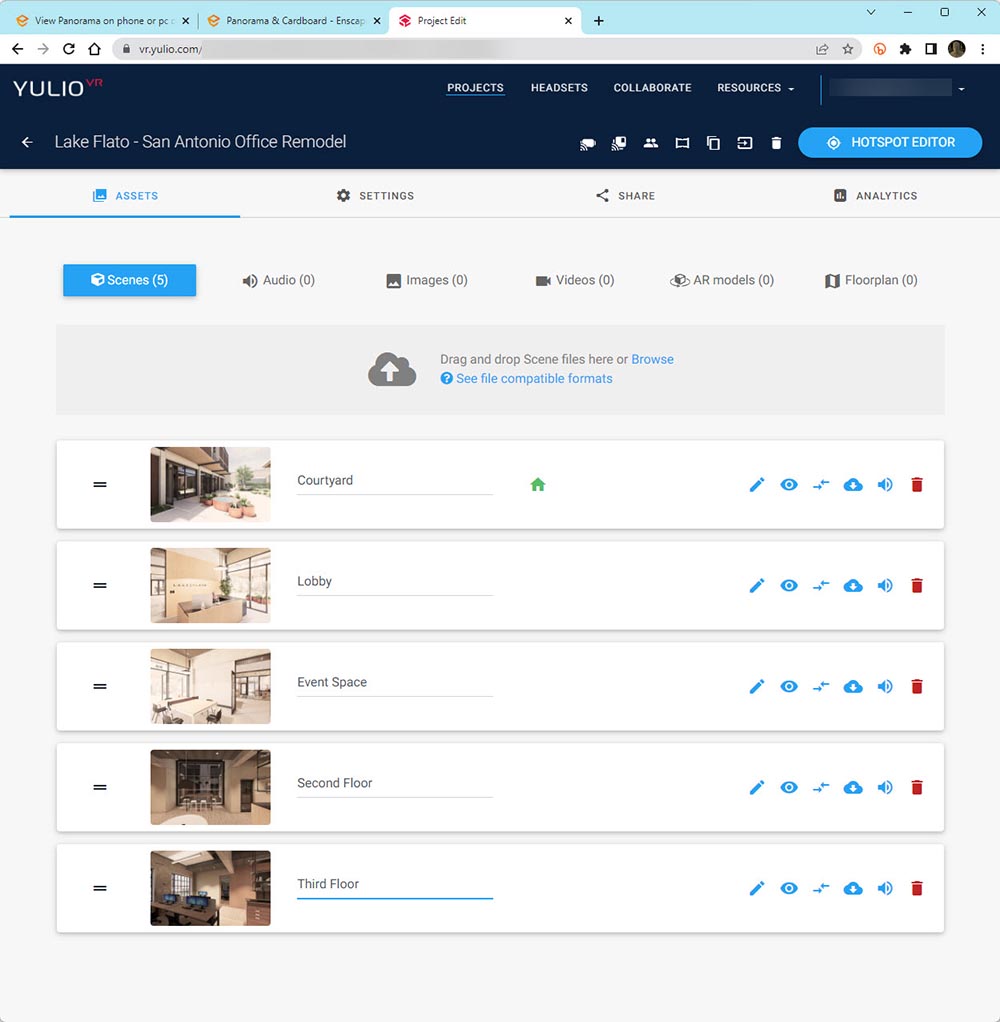 When in a panorama view, clicking a green plus icon for a view on the left adds a hotspot to the center of the current view. The hotspot can be moved around. Yulio also allows other file types to be linked and for the initial direction to be changed for the panorama.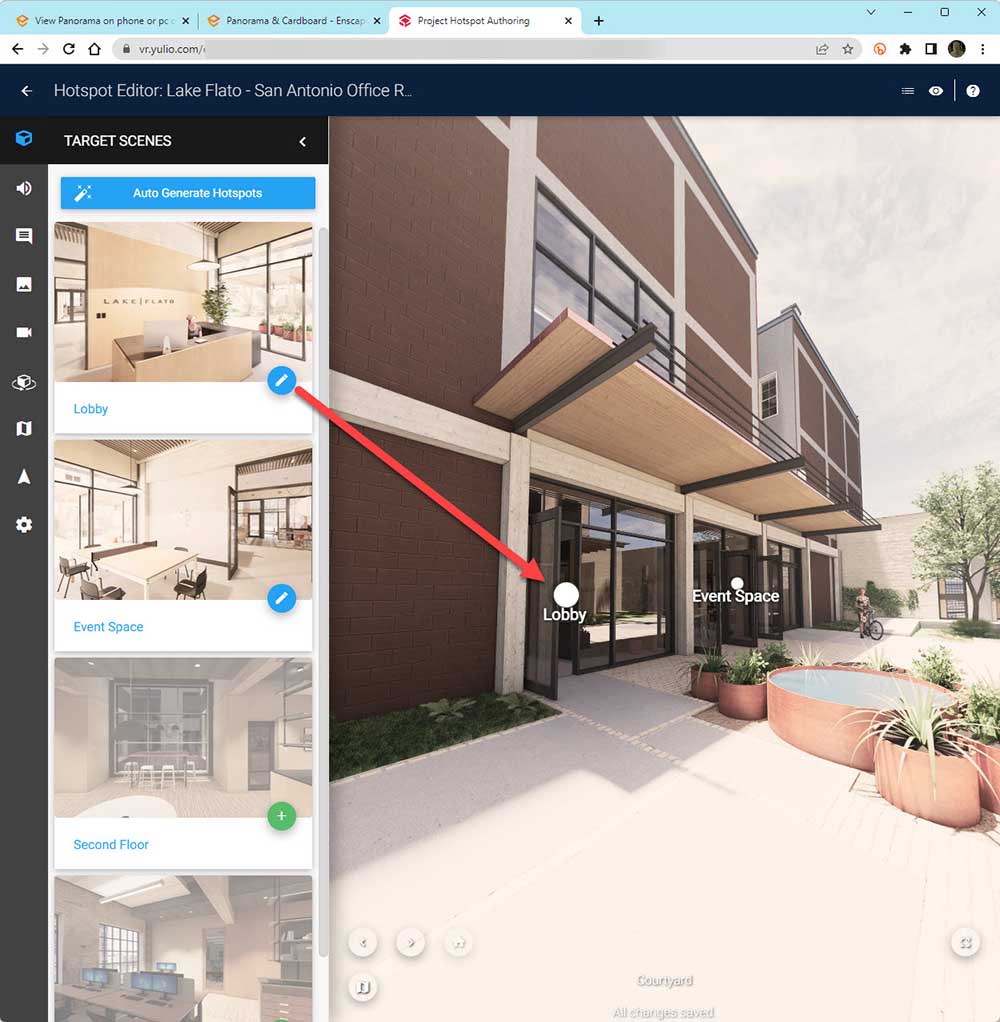 Each hotspot has a few properties we can adjust.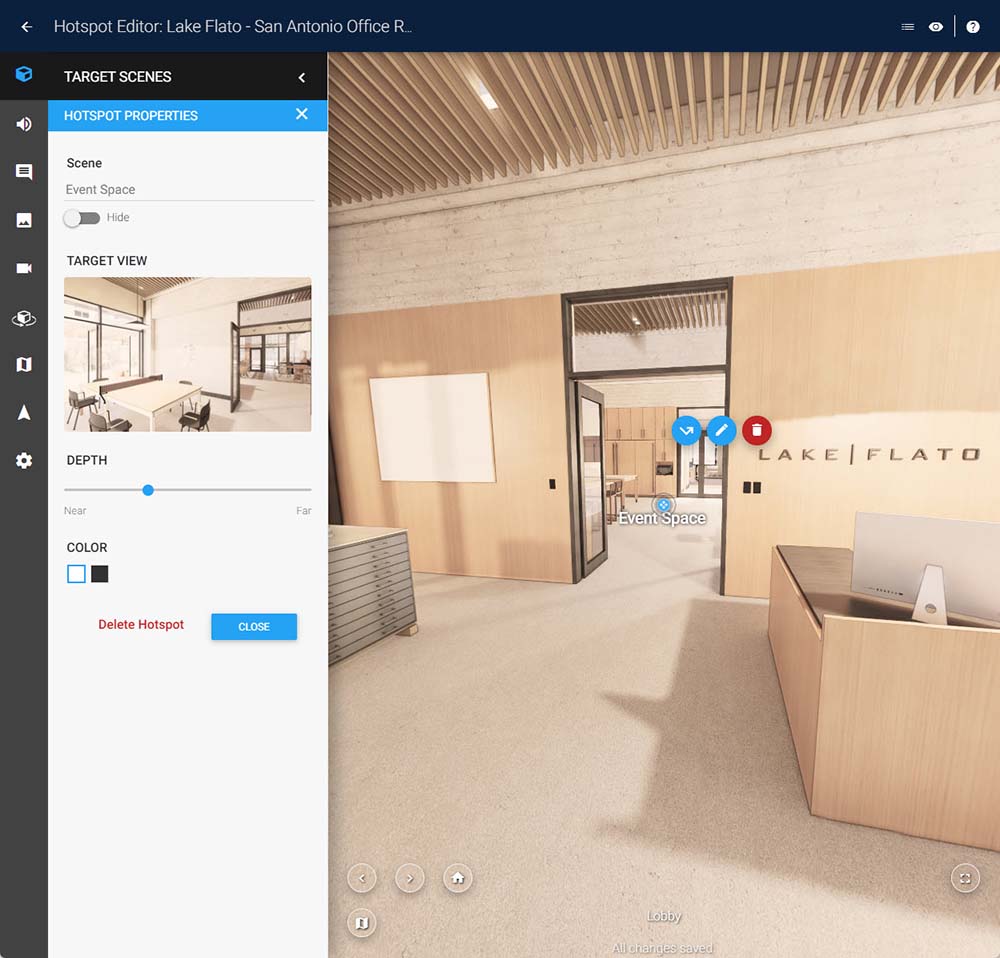 Although Enscape does not support 360 videos (yet, fingers crossed 😉) Yulio does (similar to YouTube). Here is a blog post I wrote about that, which includes a link to a sample project I created at our office using a 360 camera.
Conclusion
As you can see, there are several compelling reasons to create and use panoramas. The main one is the ease of delivery, either via a web link, QR code, or on a self-contained VR headset that does not require a high-powered computer or internet (at least during the presentation).
There is more that could be said about this topic. If interested, be sure to check out the other resources linked below!