Enscape and V-Ray are two industry-leading visualization tools enjoyed by architects, designers, and 3D artists all over the world.
Enscape is loved for its ability to rapidly render in real-time, directly within the design application. And V-Ray is renowned for its incredibly realistic rendering capabilities.
With the introduction of new compatibility between these two tools, it is now possible to enjoy the benefits of a fast and easy real-time workflow with beautiful photorealistic results 😍.
We recently hosted a webinar with The Archilime Academy to talk more about this new compatibility (also referred to as the Chaos Bridge), and demonstrate how to take an Enscape scene into V-Ray for the finishing touches.
This blog post highlights the key timestamps to watch, plus additional resources which explain the benefits of a more integrated workflow between designers and 3D visualization specialists. Let's dive in!
First, how to watch the webinar
To save you from having to go through a sign-up page, we've uploaded the webinar to YouTube (you're welcome! 😁). Here, you can see the timestamps and fast-forward to the sections you're most interested in watching.
⏱ Timestamps:
03:39: Bridging the gap in the visualization workflow
06:35: V-Ray, an award-winning rendering solution
07:22: Physically-accurate lighting with V-Ray
08:51: High-poly, high-quality 3D assets with Chaos Cosmos and V-Ray
10:51: The Archilime Academy introduction
13:21: How to open up a scene in Enscape
14:31: How to navigate a project in SketchUp and Enscape
18:06: Preparing a scene for render and using Enscape materials
24:16: Taking an Enscape scene into V-Ray and turning it into a photorealistic rendering


Bridging the gap from real time to photoreal
(03:39). In the webinar, Dan Monaghan, Director of Sales at Chaos for North America, explains how with Enscape and V-Ray compatibility, architects, designers, and 3D artists can take advantage of real-time rendering and photorealistic rendering in the same workflow—for the first time.
"Prior to this, there was a real gap between real time and photorealistic. There was simply no way to leverage the work from the design team and hand it over to the visualization team. And, if you needed a higher quality than your real-time rendering program could provide, you were stuck, your data was locked, there was simply no way to move your data or model from real time to photorealistic rendering", explains Dan.
But with the compatibility that has now been introduced between Enscape and V-Ray, we've bridged this gap. Now the work done in real time by architects and designers can be easily moved to the visualization team, for photorealistic rendering and broadcast-quality innovations.

(If you're not sure how to view your Enscape scenes in V-Ray, take a look at the support documentation at the end of this article).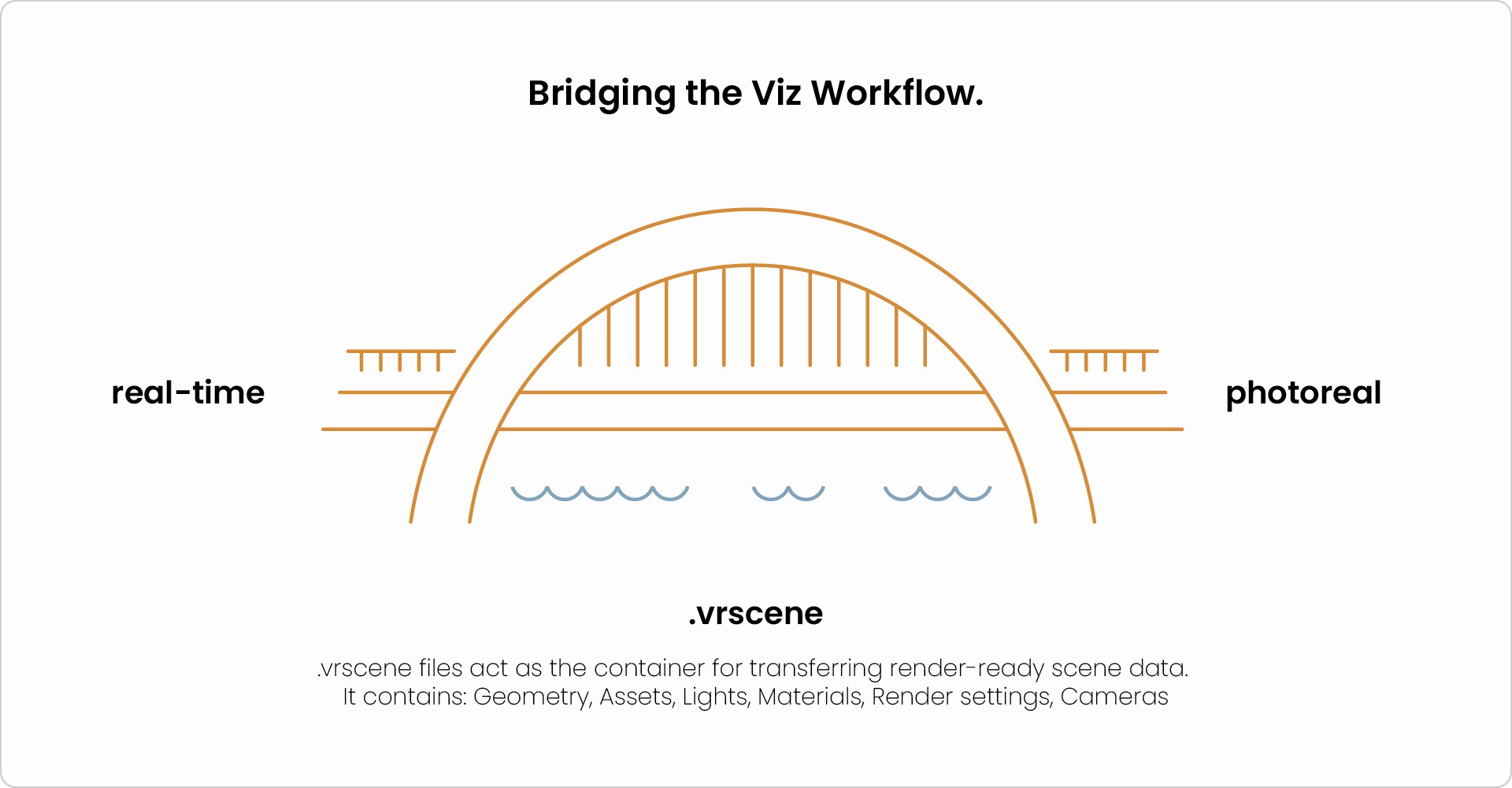 V-Ray's award-winning rendering solution for both design visualization and visual effects
(06:35). While Enscape is optimized for speed, ease of use, and interactivity, V-Ray is optimized for image quality.
The quality and innovation of V-Ray have been recognized by both the Academy of Motion Pictures and the Academy of Television Arts & Sciences.
It's this quality that has made V-Ray an industry standard for architects, designers, brands, and visual effects studios.
By adding V-Ray to your real-time workflow, you can take your real-time presentations to the next level of realism. Dan explains:
"Unlike real-time rendering, V-Ray is what we call a physically-based renderer, meaning it aims to simulate the behavior of light in a physically accurate manner. While other rendering programs simplify OR what we call "fake" the lighting, V-Ray takes into consideration the physics of how the light bounces around in a scene, and how that light interacts with objects and materials in the environment, before eventually decaying...This accurate representation of light and the fine level of control is what separates V-Ray, and allows you to create such high-quality visuals."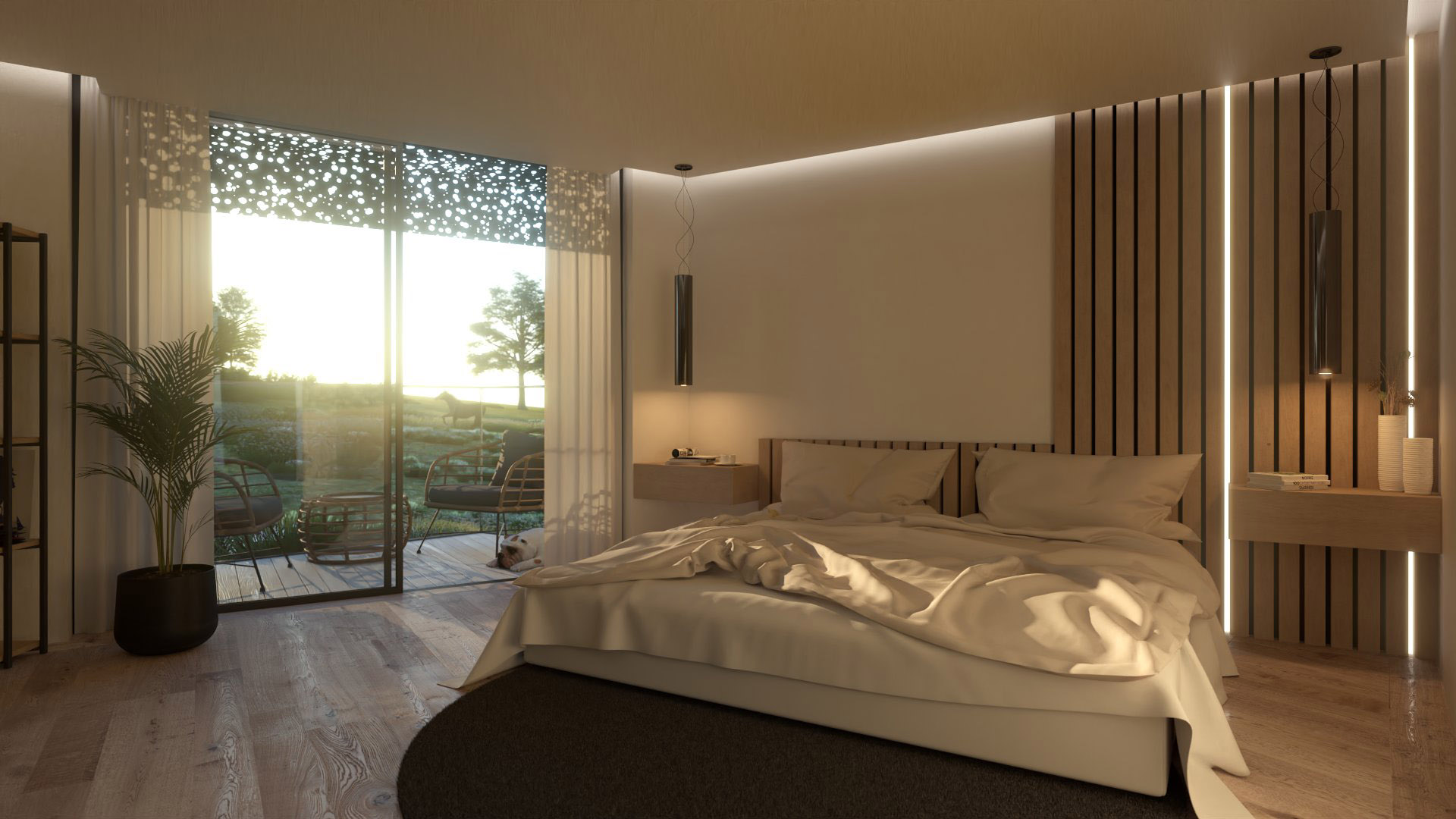 And interior scene designed in Enscape and rendered with V-Ray
Opening up a world of assets
(08:37). In Enscape, assets are optimized for real time. They are low-poly assets that render quickly. V-Ray, on the other hand, doesn't have this limitation which opens up a world of possibilities when it comes to assets and materials.

"With V-Ray, you have access to over 4,500 high-poly assets, plus access to unlimited amounts of 3D content coming from popular websites like TurboSquid and RenderPeople, without having to worry about those assets being 'real-time ready'." explains Dan.

And, (like Enscape), if you can't find what you're looking for or need a bespoke piece of content, you can even create your own custom assets. So your options are truly limitless.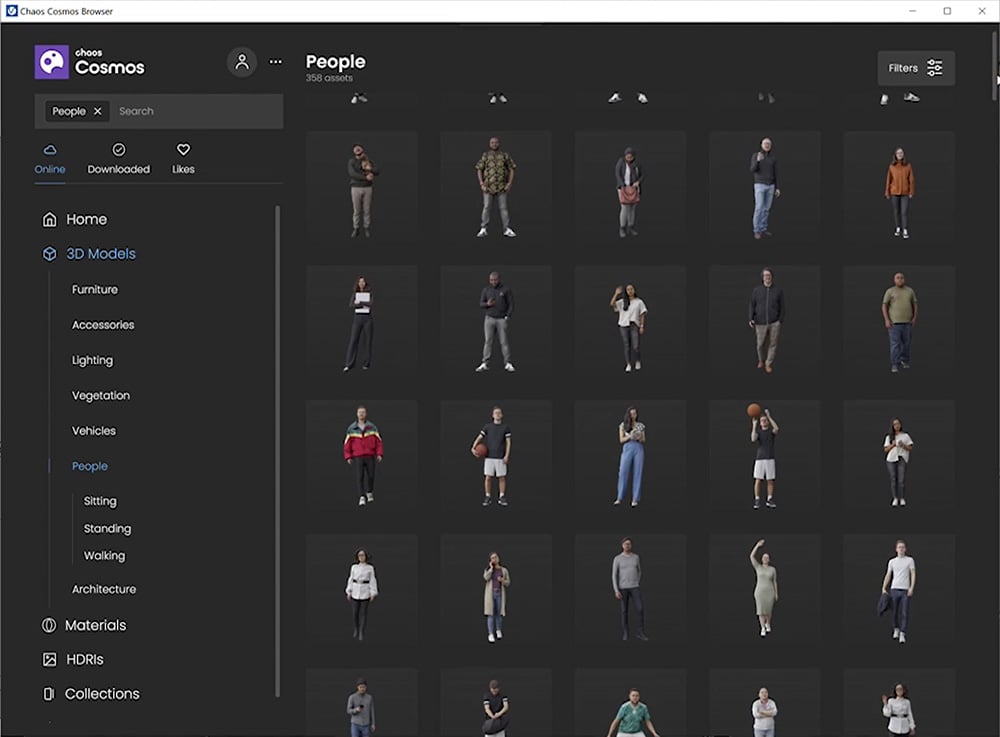 Large collection of high-quality assets available in V-Ray via Chaos Cosmos
Removing hardware limitations
(09:25). Enscape is a GPU real-time renderer with one of the lowest hardware requirements in the industry. You can render fairly large scenes quickly with Enscape, but the available memory on GPUs can sometimes limit the complexity and scale of the scenes that can be rendered in real time. Memory constraints can impact the number and size of assets you can use, the quality of textures, and lighting effects.
By adding V-Ray to your Enscape real-time workflow, you can take advantage of more flexible hardware options so you're not solely dependent on the GPU. You can take advantage of GPU, CPU, hybrid, and even Cloud rendering to render scenes of almost unlimited complexity.
The demo! From opening up a scene in Enscape to transforming it into a photoreal render in V-Ray
(13:21). Following Dan Monaghan's introduction to the bridge, V-Ray certified trainer Dan Stone, of The Archilime Academy provides a detailed demo in Enscape and V-Ray.
Dan starts off with the basics—showing how easy it is to open up a SketchUp project in Enscape and start exploring various elements of the design. Dan walks through some of the Visual Settings in Enscape, and shows how quick and easy it is to adjust the sun and place assets from the Enscape Asset Library.
Dan prepares the scene for render, and opens it up in V-Ray. We then see how we can fine-tune certain aspects of the scene, such as lighting, to transform it into a photoreal render.

To try V-Ray yourself, sign up for the free trial here.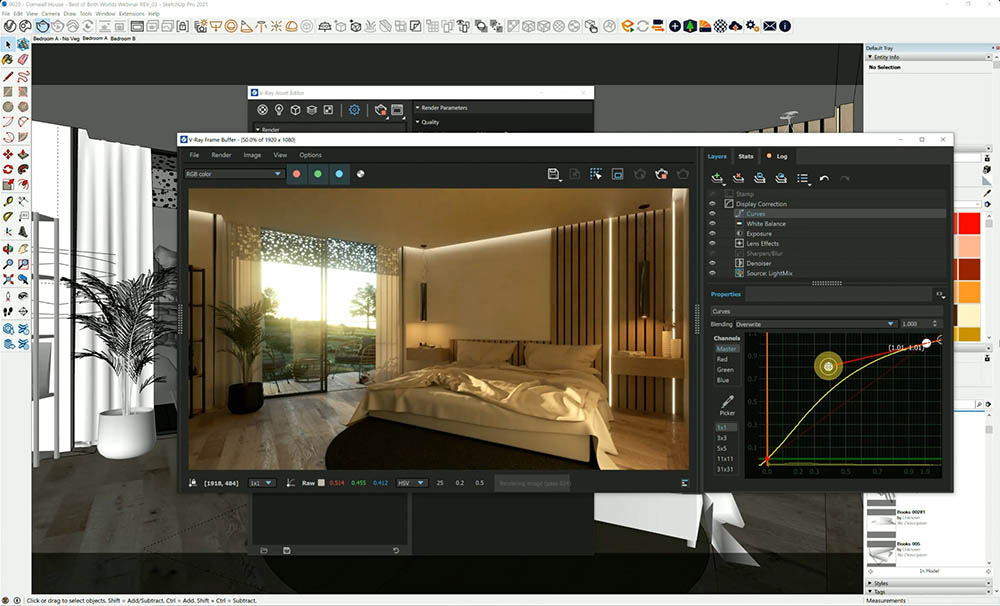 Adjusting lighting and materials in V-Ray
Support documentation and case studies
Here are some additional resources on this topic, including support documentation for SketchUp, Revit, and Rhino. You can also read how companies such as The Archilime Academy and architecture firm CPL are making use of the new connected workflow possibilities with Enscape and V-Ray.