In the final episode of the Art of Construction's real-time rendering podcast series, we hear from the inspirational team at Turner Fleischer Architects based in Toronto, Canada, about how they're using Enscape's real-time rendering solution to create a more collaborative design experience, and how they believe that transitioning to real-time rendering is simply inevitable.

Ellen Bensky, CEO & CFO. Steve Nonis, Principal. Kristian Pal, Digital Practice Lead. Nebojsa Milutinovic, Senior Designer/Technologist.
Why does real-time rendering matter?
Turner Fleischer were early adopters of real-time rendering, and utilizing a tool such as Enscape enabled them to not only keep up with the speed of change within the AEC industry, but also improve their workflows and save a considerable amount of time as renders are available instantly. It has also helped clients to better understand their design intent, and given their studio back a level of control that was lost when they outsourced their renderings in the past.
Senior Designer Nebojsa Milutinovic appreciates the fact that with Enscape, you don't need to wait until a project is complete before you visualize a building. Instead, you can instantly see what you're drawing in a rendering or virtual reality environment. This allows him to quickly check critical details such as proportions, and make sure that what he's designing, fits within the context of a surrounding city or neighborhood.
Kristian Pal, a Digital Practice Lead at Turner Fleischer, believes that real-time rendering is simply inevitable. Technology changes at such a rapid speed, and it was only a matter of time before they switched over to using a real-time rendering solution.
…we're capitalizing on the technology as it's developing around us in our industry, and we're really using it and leveraging it, where we can to get the best results for our clients and be able to produce quality products out of it.
Kristian Pal – Digital Practice Lead, Turner Fleischer Architects
Creating a collaborative design process
Steve Nonis, Principal at Turner Fleischer Architects, goes on to explain that by having the power to create renders in real-time, the practice managed to reduce the gap between the initial concepts and when they outline their vision to a client.
Quickly providing an initial idea to a client in a format that they comprehend, has allowed clients to participate in the design process at a much earlier stage.
Additionally, being able to share a set of realistic renders to a group of stakeholders around a table, and extract a link, providing it to a client so that they can walk around a model themselves, has led to working more collaboratively than ever before.
And this has not only benefited clients, but also the engineers and contractors that they work with. Being able to accurately show their design intent through detailed and accurate renders and virtual reality, leads to better collaboration and better co-ordination once you're further along on with a project.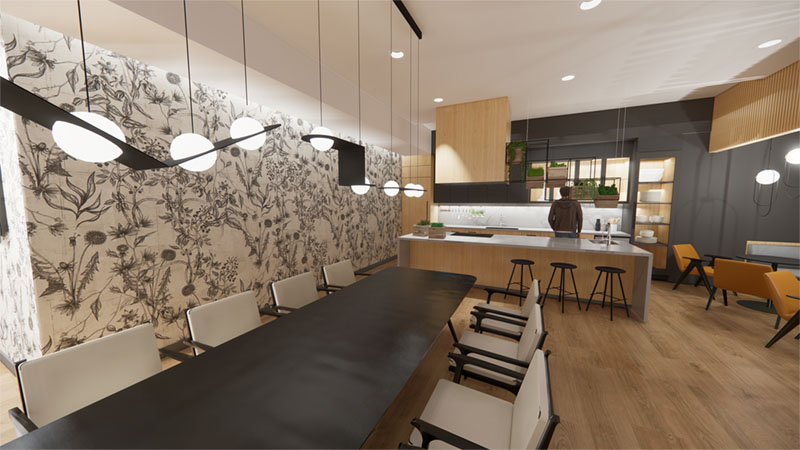 An example of a rendering created in Enscape by Turner Fleischer Architects
A simple and intuitive tool
Another tick in the box from Turner Fleischer is Enscape's simplicity.
They see Enscape as a stepping stone between a model and a client since it translates complex components into something a client will easily understand.
Being such a simple and intuitive real-time rendering tool has encouraged product adoption throughout their practice. Through Turner Fleischer's well-established training academy, which offers an array of in-house educational opportunities, employees are introduced to Enscape and shown how to get the most out of the product, so they feel confident in using the tool and implementing it within their workflows.
…once we find these tools, we want to put them in the hands of everybody. So we teach them in our academy so that people can easily adopt them into their workflow…
Ellen Bensky – CEO & CFO, Turner Fleischer Architects
Turner Fleischer Architects understands the importance of staying on top of technology trends to help improve their productivity and various aspects of their business. They also know that being able to adapt and find ways to be creative with the help of technology is essential to helping them deliver more than just great spaces.
Listen to Turner Fleischer's story in full on the Art of Construction podcast: Episode 174. Real-Time Rendering & Virtual Reality Series: A Collaborative Design Experience
Interested in creating your first render with Enscape? Take out a free 14-day trial today!