In residential design presentations, the façade is usually the first image to be presented, even before the plans. After all, this is how the project will appear once complete.
In Enscape, you have the possibility to create virtual tours rendered in real time, but when it comes to still renderings, what steps should you take to show the best first impression?
In today's guest post, architect and 3D artist, Pablo Correa, shares his tips on how to improve the quality of your building façade renderings.
1. Apply the right textures to your building façade
After 3D modeling your project, applying materials is an extremely important step. The textures used will showcase the finishes, coatings, and materials chosen for the project. That is why it is essential to choose quality textures.
A very common habit is to open the internet and randomly choose an image from Google Images. But this can be problematic and even delay your work. You could find yourself with:
Low-resolution textures;
Textures with watermarks;
Textures that do not work in a repeating pattern;
Images with the wrong lighting.
See the following example of a low-quality texture applied to a project: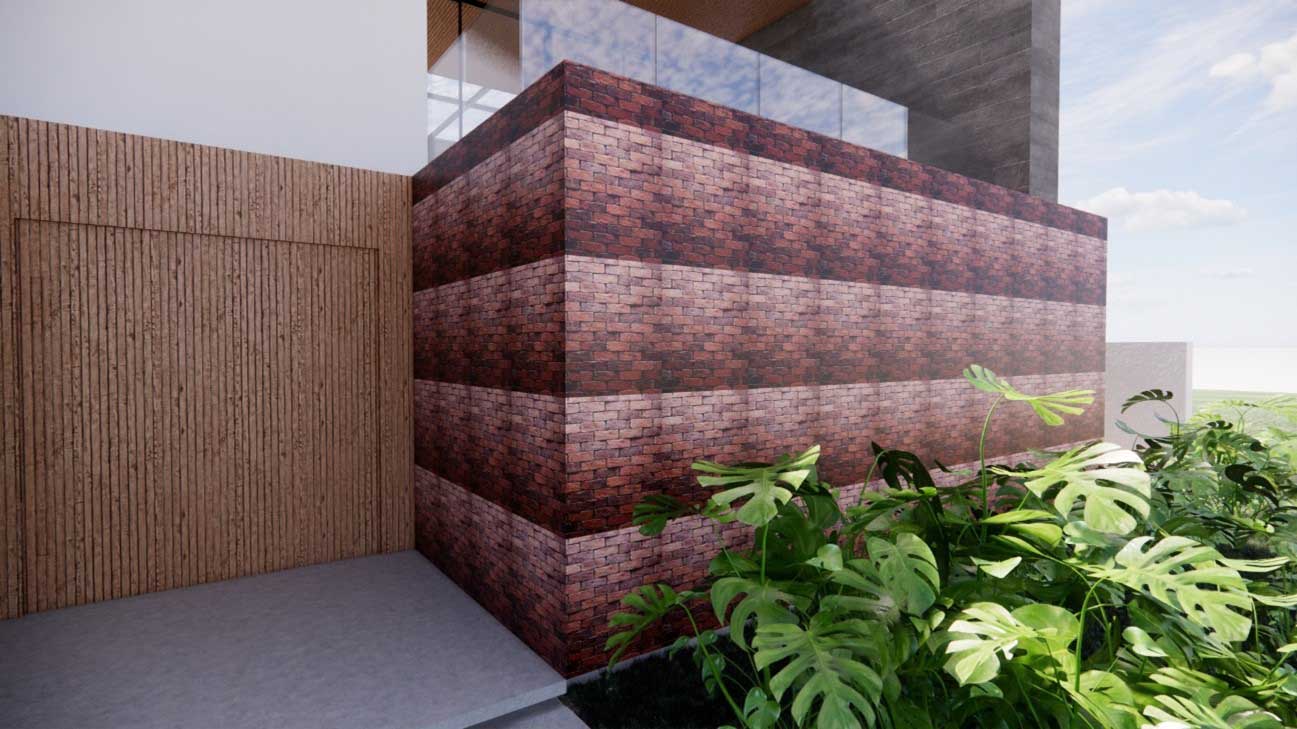 The brick texture is incorrectly lit and lacks continuity.
Recommendations for finding textures
Look at sites that specialize in texturing and architectural renderings such as

https://ambientcg.com/. You can find more sites listed here: 7 Great Places to Find Free Rendering Textures.

Give preference to PBR textures (PBR = Physically Based Rendering).

In short, PBR textures correctly simulate how light reacts on a surface, which is why they are the most suitable to represent a material with greater fidelity.

Find seamless textures, that is, textures that do not have visible edges when seaming each other.
Example of non-seamless (left) and seamless texture (right):

Use the Enscape Material Library; so far, in version 3.1, there are 244 PBR materials ready to use, already with bumps and reflections applied. And more materials will be added with future updates.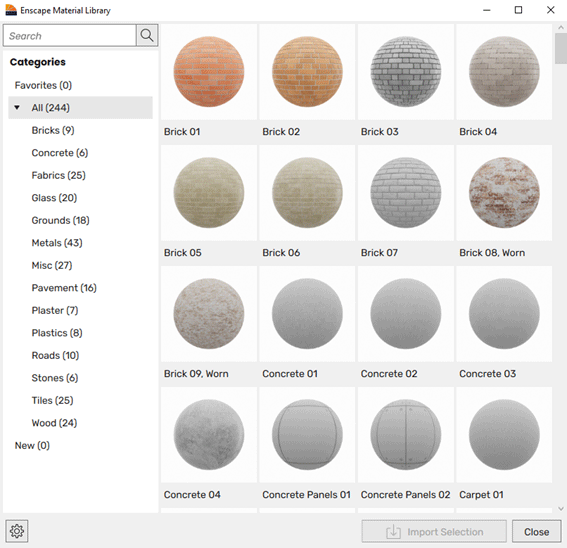 Enscape Material Library
Here's a good texture applied to the wall: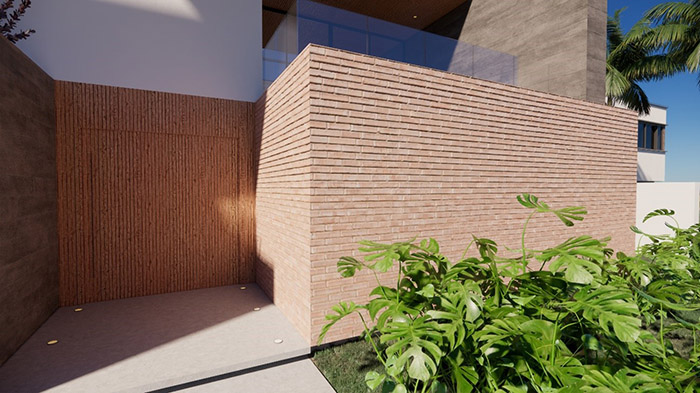 Select good textures not only for your buildings but also for other elements that make up the rendering, such as asphalt. Here is an example of a low-quality asphalt texture: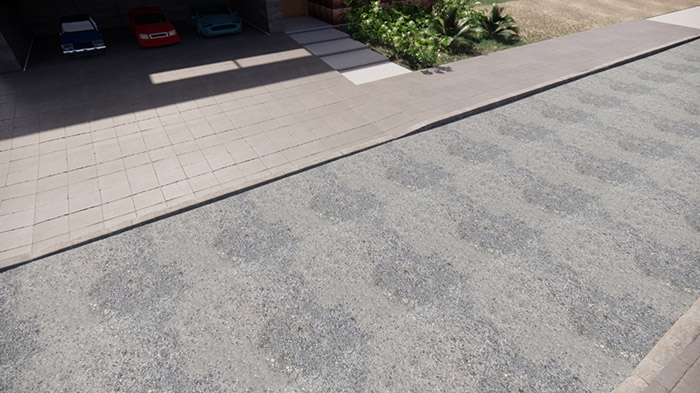 Below is an example of a good quality asphalt texture (this is from an old paid collection from Evermotion, but there is a very similar (free) texture here on ambientcg.com):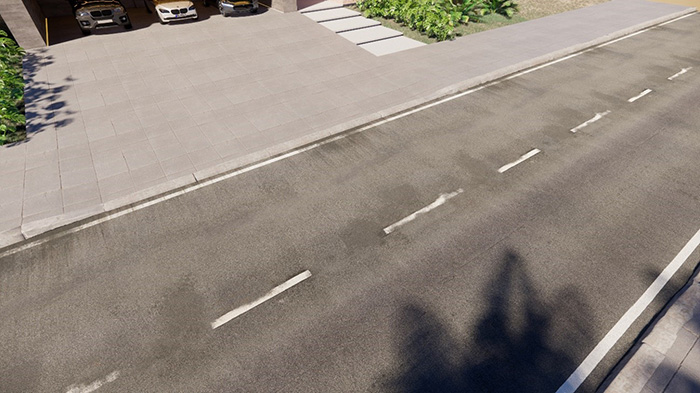 2. Use high-quality assets within your project
Many residential projects have a garage that forms part of their façade. In order to demonstrate the dimensions of the garage, it is a good idea to add some vehicles (if you know your customer's car and can find it in 3D, it would be a nice surprise for them when they view the render!). It's also important to use high-quality modeling vehicles.

Example of cars with low-quality modeling and texturing placed in the project: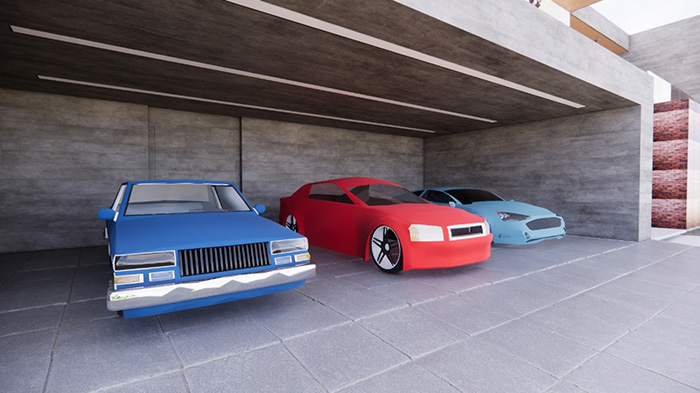 Example of cars with excellent modeling and texturing quality placed in the project: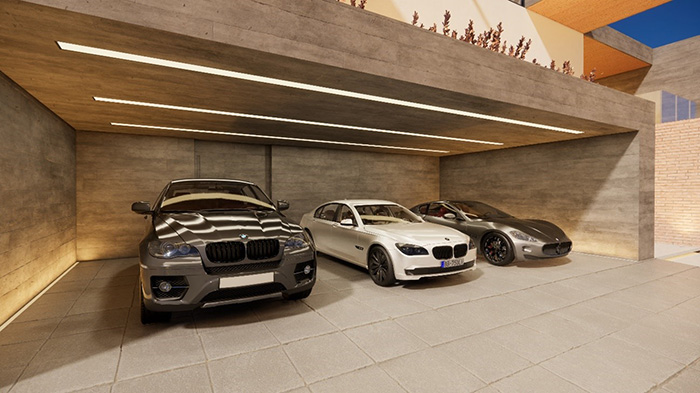 SketchUp 3D Warehouse
If you use SketchUp's 3D Warehouse and want to find good quality cars, here are some tips:
When searching within the site, change the category to Transportation, and the search result from Relevance to Likes;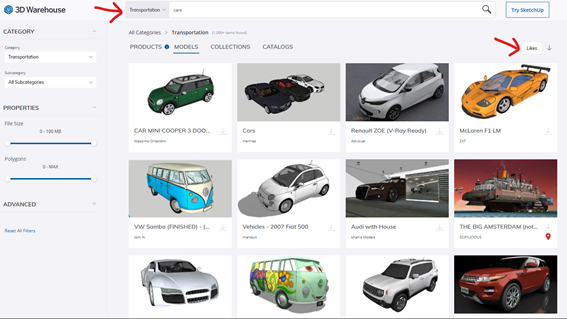 By changing from Relevance to Likes, the site will show you which models are most favored by the 3D community.
Enscape Asset Library
If you want even more speed and quality when choosing vehicles, use the Enscape Asset Library: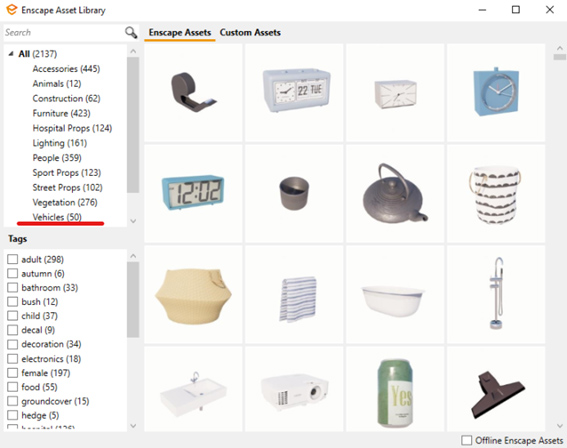 One of the advantages of the Enscape Asset Library is that the vehicles are low poly in the modeling but appear 100% rendered in Enscape.

Here on the left, you can see a low poly model placed in SketchUp. On the right, how the model appears in the Enscape rendering window.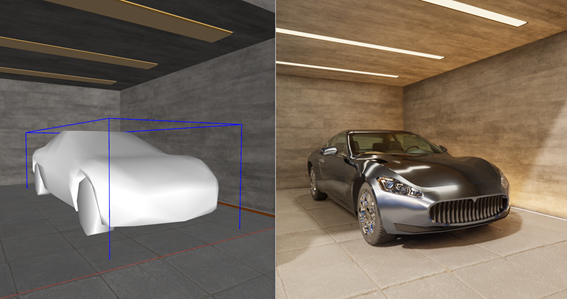 3. Think about your surroundings
A very interesting way to bring even more realism to the appearance of your façade is to place some elements around it, especially houses and vegetation, that closely reflect the actual location of the project.
The placement of the surrounding elements also helps people to understand the volume of the house in relation to the neighborhood, as well as predict possible shadows and visual interference.

In this example, nothing is placed next to the house – no trees or additional buildings. This makes it hard for the customer to understand what their house is like in relation to the neighborhood:

In this image, there are houses and vegetation surrounding the building, which simulate the real place where the project will be built: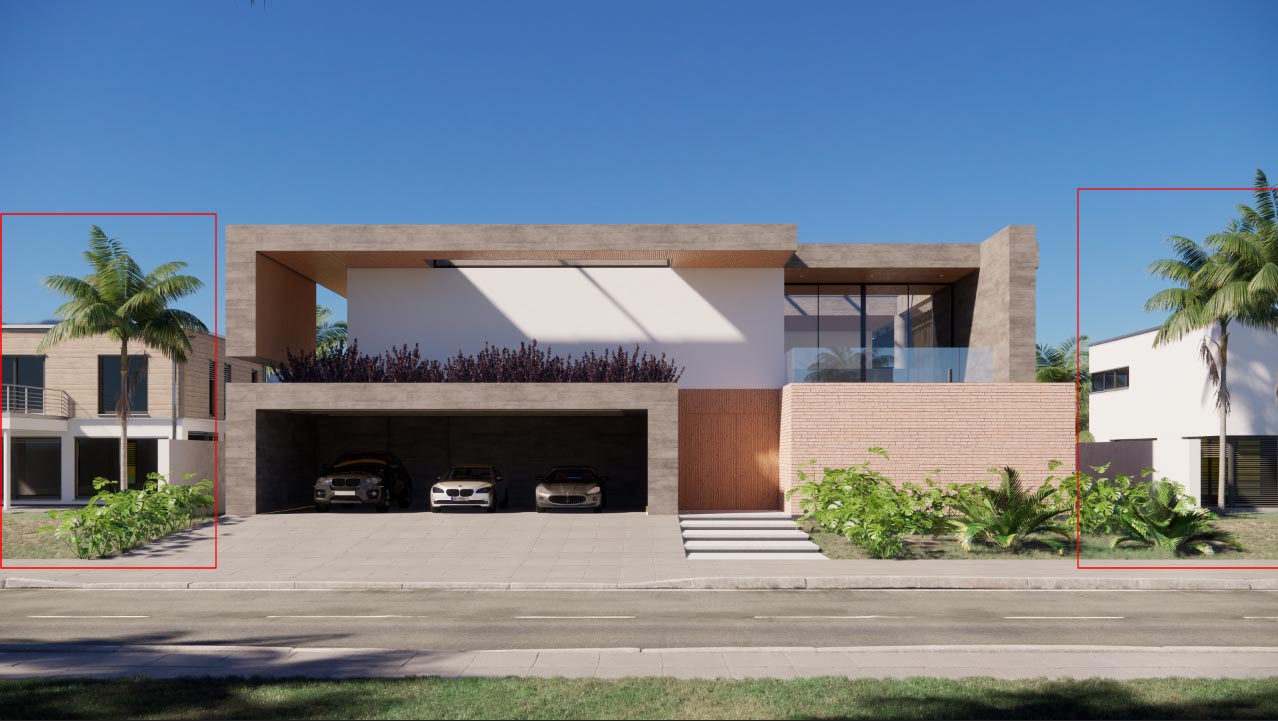 4. Enhance your image with sunlight
When showcasing an architecture façade, it is important that it is clearly visible, and this can be directly influenced by the position of the sun.

After georeferencing your project (important to obtain the correct solar position), find a time of day when the sun illuminates the façade, and have the sun facing the architectural volume so it becomes even more prominent.

See how the position of the sun behind the residence in this example does not favor the beauty of the façade; it is dark and difficult to see and understand: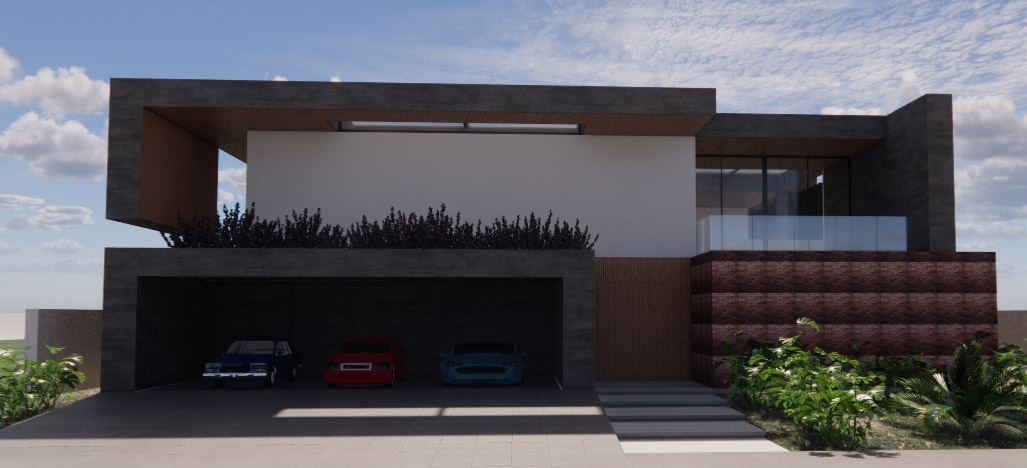 However, by positioning the sun in front of the residence, even if slightly to the side, see how it lights up and gains a beautiful volumetric highlight: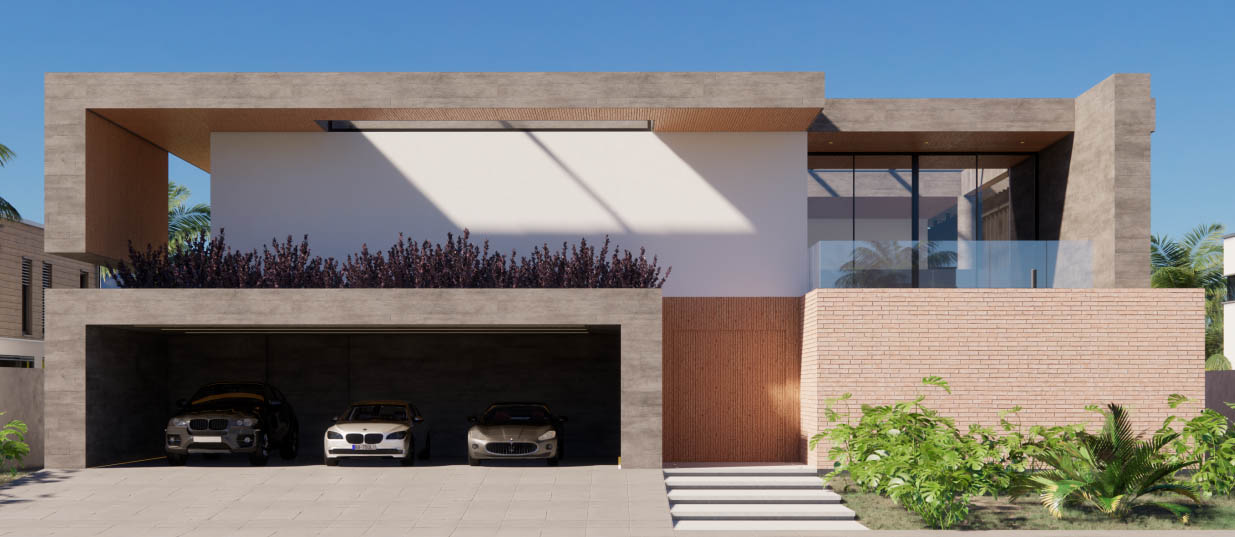 5. The importance of camera alignment
This may seem like an unnecessary detail; after all, we are showing a project in a virtual space, but as a rendering can be understood as a virtual photograph, we have to pay attention to some details that architectural photographers also use.

There are certain details that make a difference in real photographs, and we can use the same tricks in our renderings.

For this façade rendering, we can list two fundamental points:
Vertical alignment: can be activated through the Two Point perspective.
Example of misalignment: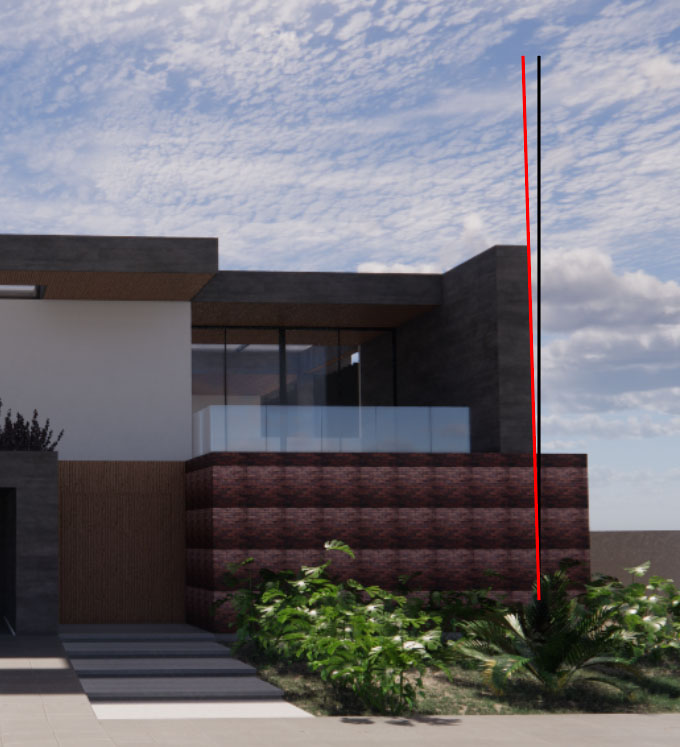 Black line: vertical alignment. Red line: wrong alignment rendered
Example of correct vertical alignment: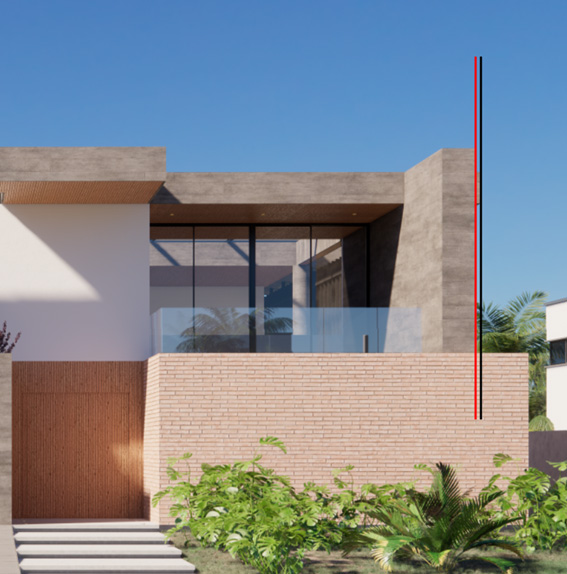 The red line shows that the rendering is correctly aligned
Horizontal alignment: try to align the horizontal lines of your design with standard views of SketchUp¹ or with Enscape² by using the numeric shortcut keys:


1. SketchUp views toolbar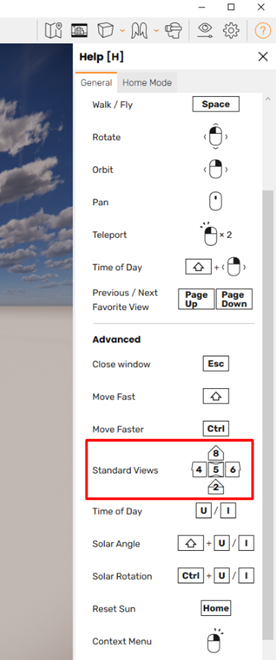 2. In the Enscape screen, hit H (help) to see the shortcuts
Tip: You can use the edges of the rendered image as a reference.
Example of misalignment – the red arrows show misalignment horizontally:
Horizontal alignment example – red arrows show the alignment: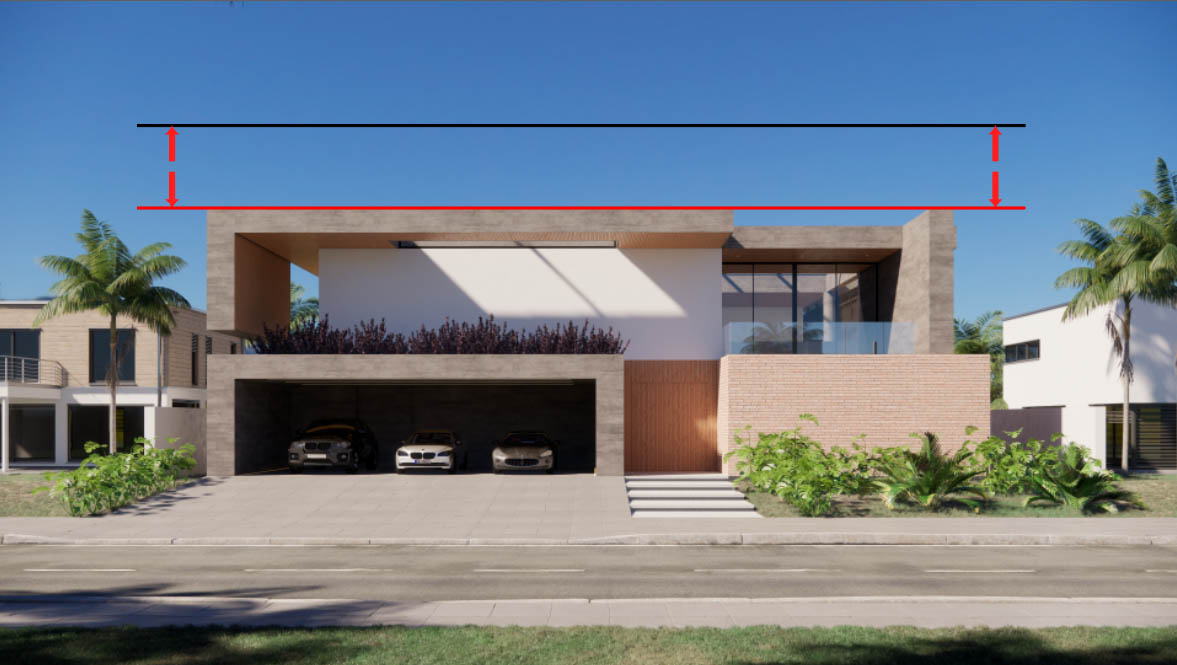 This is the result after applying these tips: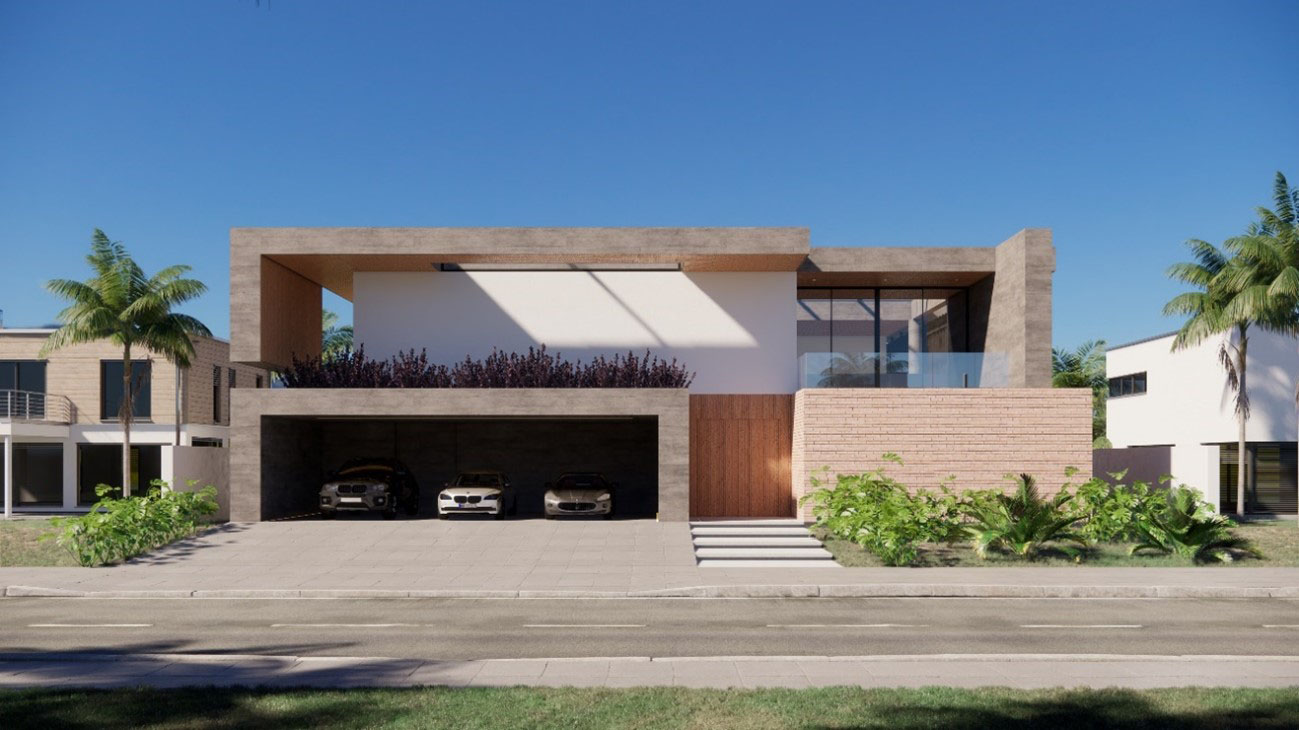 To achieve this result of sky and sun illumination, I used a skybox, an excellent option found in Enscape's Visual Settings. You can find free Enscape-ready HDRI skyboxes to download here.
Extra tip: Explore different moods and times of day
Try rendering at different angles, with different weather situations, and with the lights on! When the lights are turned on, in addition to making the project even more beautiful, it demonstrates that you paid full attention to the lighting of the project.
See some examples below: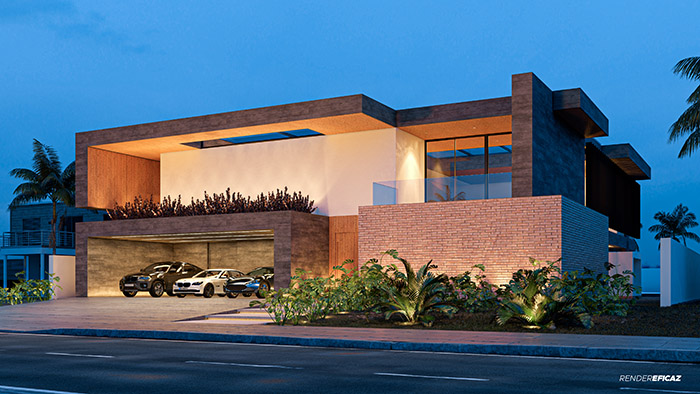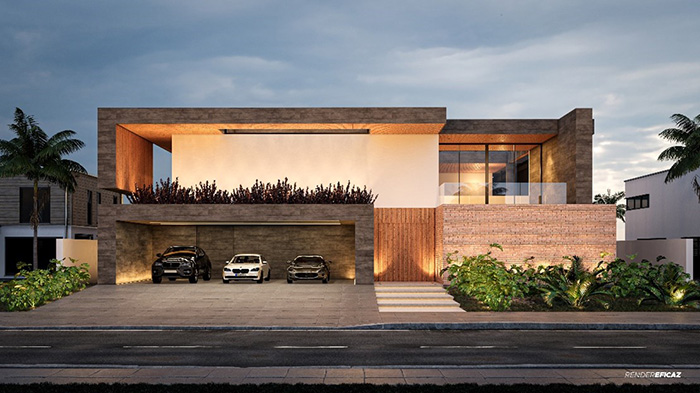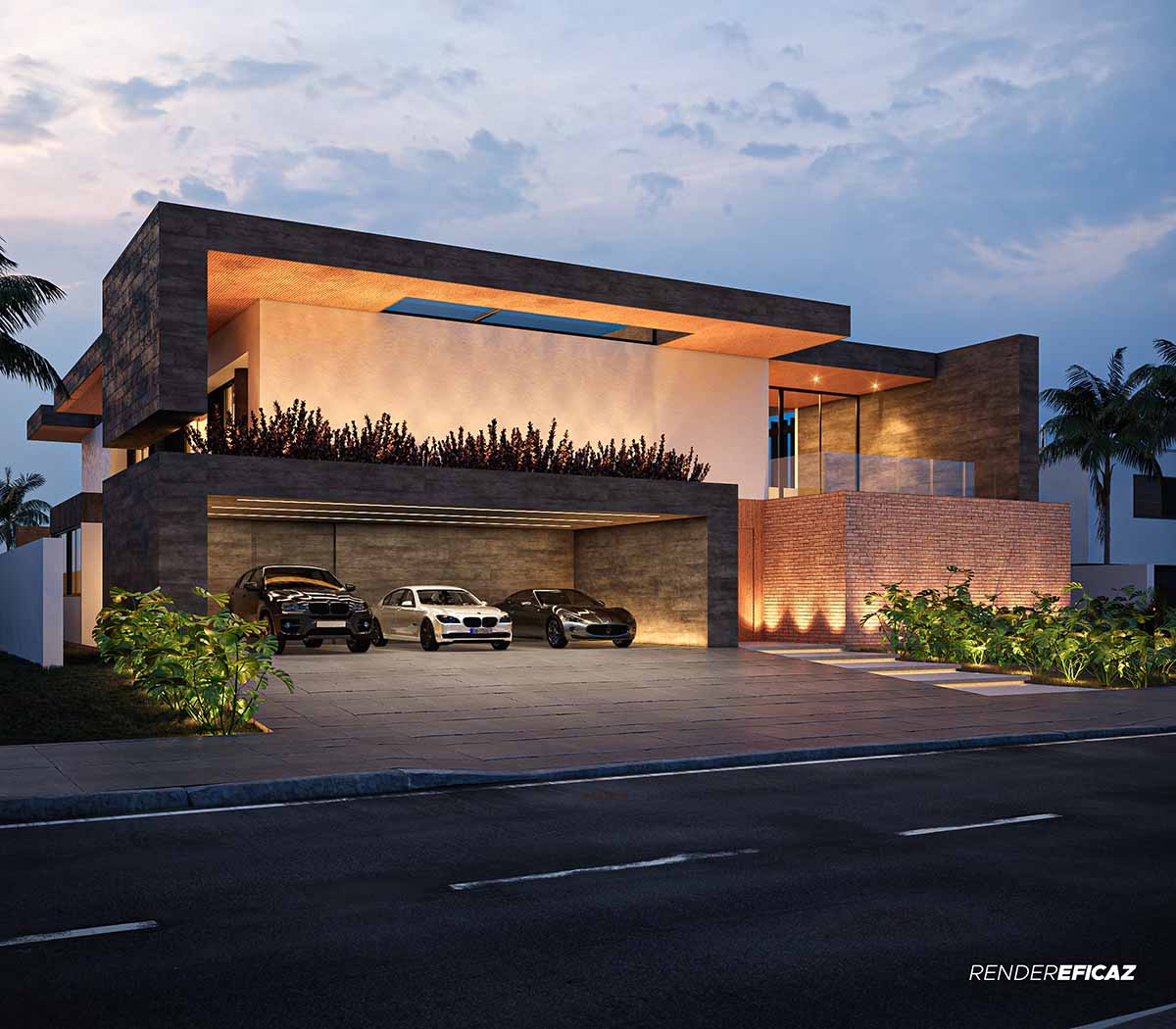 I hope these tips help you to present your building façades in an even more attractive and beautiful way.
If you have any of your own suggestions, be sure to share them with me via Instagram.