When teams and partners collaborate effectively, truly great things can happen.
That's why we're excited to announce that Enscape 2.8 comes with built-in collaborative functionality, helping you to work better together and bring your projects to life!
What's more, Enscape is now integrated with BIM Track, a world-leading web-based issue tracking platform, providing you with greater choice when it comes to deciding how you document, track, and resolve issues with your design models.
Read on to learn more about this exciting new partnership and what it means for you.
Bringing collaboration to real-time rendering
The new Enscape and BIM Track integration helps you to communicate your design changes and quickly receive feedback from both internal and external stakeholders.
It's now possible to raise, track, and resolve issues either in your browser, within Enscape or directly in Revit, SketchUp, ArchiCAD, Vectorworks, and other modeling tools, helping to simplify collaboration throughout the design workflow.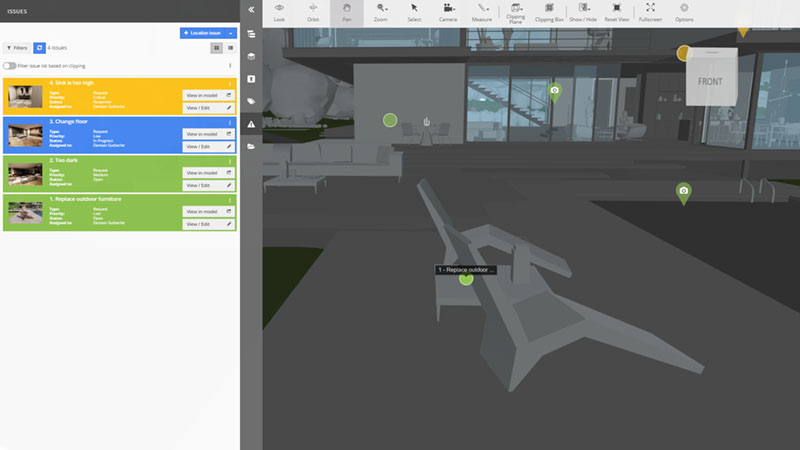 Whilst some other real-time renderers offer the option to export annotations back to your BIM software, Enscape together with BIM Track, is the first to offer a truly seamless collaborative experience, since all notes are automatically synced – no exporting required!
Being able to quickly identify and document issues from either your models or your renders, such as a missing fire exit sign, or the wrong type of lighting, helps to improve transparency and collaboration amongst all necessary parties, whilst also speeding up the design and decision-making process.
The BIM Track and Enscape integration is advancing how teams perform design review and coordination sessions today. Immersive meetings and efficient communication workflows are how firms differentiate their approach to collaboration in our competitive industry. This new integration truly is a symbol of innovation and will drive our common customers to be more efficient on their complex projects.
Carl Veillette, VP of Product, BIM Track
Track, assign and resolve issues with ease
When an issue is created within Enscape, BIM Track, or your BIM software (if it's supported by BIM Track integrations), you have the option to assign it to another member of your team, together with a screenshot and details relating to that specific issue.
And with the live sync between Enscape and BIM Track, all data is seamlessly passed from one platform to the other, allowing you to work in your tool of choice, rather than having to go back and forth between various systems which can be an inefficient use of your time.


This new integration enables you and your team to easily track issues relating to your projects and quickly resolve them, helping to speed up your workflows and deliver projects with greater accuracy. As project manager Joseph Kim says below, it's a real game-changer!
Enscape 2.8 includes a collaboration feature so that we can easily communicate with peers who are accessing the same file. We can now submit an issue with a title, description, and even Enscape's rendered image. This can then be addressed by different stakeholders which helps to streamline our processes since it avoids having so many scattered emails. And if you need more in-depth functionality, Enscape now integrates with BIM Track's issue tracking platform. What a game-changer!
Joseph Kim, Project Manager, MJM Architects
Take advantage of BIM Track's additional functionality
For those of you who love drilling into analytics, BIM Track comes with powerful reporting capabilities which enables you to better understand your data and easily identify trends.
And if you'd like to be automatically notified of any changes to your issues, simply add a user to the 'Notify' attribute and you can easily stay up to date with any changes made.
In future versions of Enscape, additional BIM Track functionality will be available, and you'll be able to choose from more attributes for your issues, including Zone, Phase, Type, Discipline, Priority, and Due Date.


Do I need a BIM Track license?
It is possible to use Enscape's Collaborative Annotation feature exclusively of BIM Track, which allows team members to capture and track issues within the same project.

You can also provide a view-only overview of your issues with external partners, without an Enscape or BIM Track license.
But if you want to take advantage of the additional functionality and capabilities that BIM Track offers, then yes, you will need a license to BIM Track. Visit bimtrack.co for licensing options (which includes a free plan offering 50 free tracking issues).
And if you're not already using Enscape, be sure to sign up for a free 14-day trial:


See Enscape and BIM Track in action
To better understand how to utilize Enscape's new collaborative annotation feature in conjunction with BIM Track, take a look at our best practice guide.

You can also watch an online session, where we will walk you through the new Enscape and BIM Track integration and showcase some great use cases.
Available now on-demand: