When using Autodesk Revit, it is very easy to open a 3D view and then start Enscape to begin exploring your project in a photorealistic real-time environment. To help you understand how to use Enscape in Revit from start to finish, this post will mention a few things you should consider for your Revit project and walk you through best practices for configuration, settings and options for realistic 3D views in Revit. These advanced Revit rendering tips will not only aid in your firm's internal Revit design process, but also facilitate smooth and effective meetings with your clients or project stakeholders.
Revit project setup from start to finish
To introduce you to the best practice Revit design options and settings, first, let's talk about some challenges we face using the default Revit settings. Using Revit's installed advanced sample project, we open the Default 3D view, as shown below, and start Enscape. Once in Enscape, the model looks nice; we see realistic reflections on the glass and interior lighting. We might use Shift + Right click & Drag to adjust the time of day to brighten things up a bit.
Sample project in Revit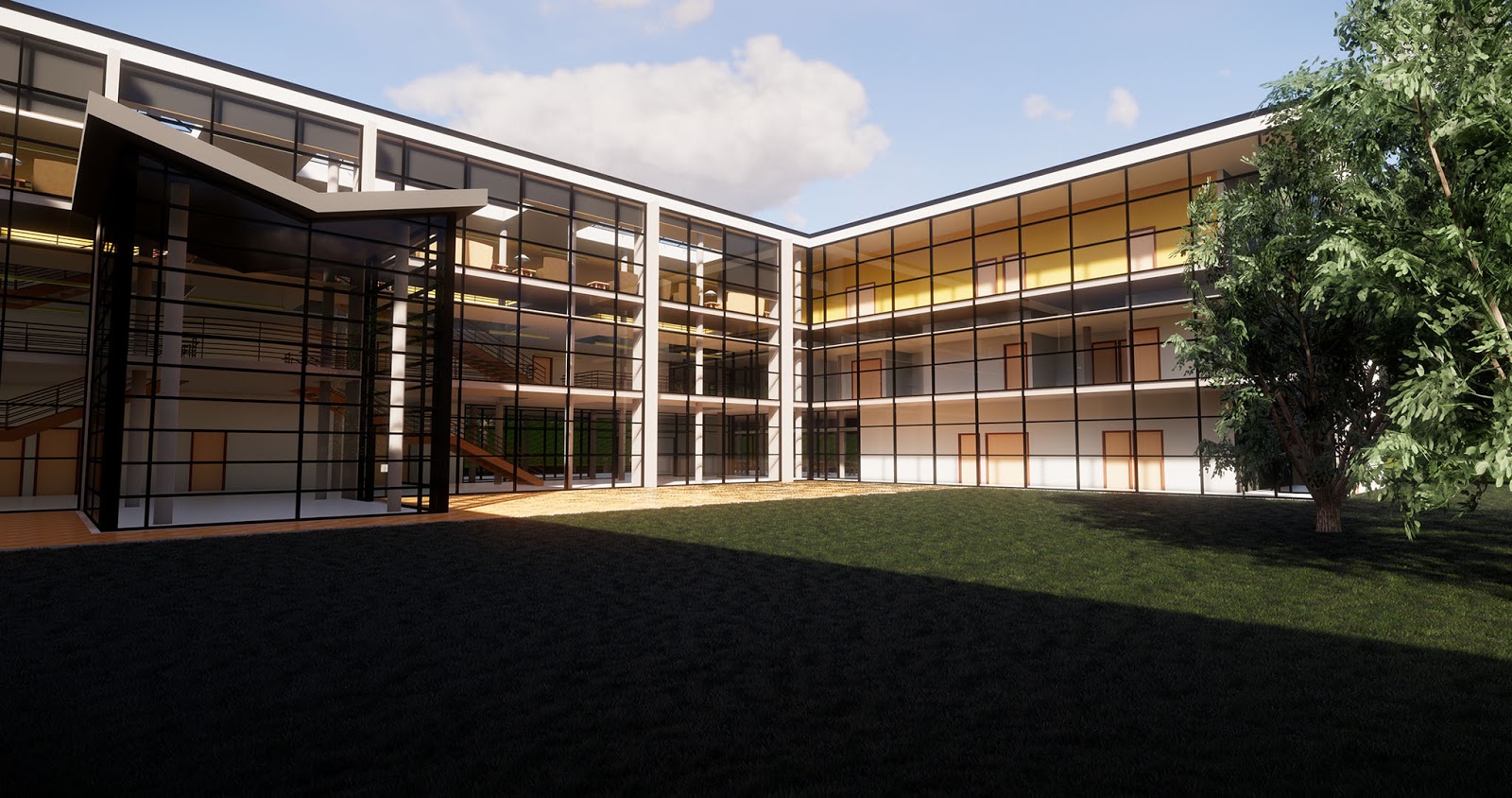 Sample project in Enscape with default settings
Depending on a few settings in Revit, we may notice some elements don't look quite right or are altogether missing. For example, as one approaches this entry canopy shown in the next image, the client might say "I love the cantilevered roof" while the structural engineer follows up with "where are my columns and bar joists?". At this point you must tell the client the project budget could not possibly afford such a design and let the structural engineer know your photorealistic portrayal of the design is missing elements. Revit's Detail Level for the view you started Enscape from influences what appears in the scene. If the Detail Level is set to Coarse, there may be many things missing throughout your model – just as they are in your Revit view. Let's see how the scene changes when we adjust the Revit view from Coarse to Medium.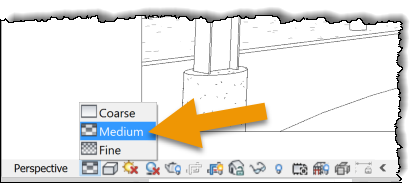 Coarse – structural elements missing
Change Revit's Detail Level to Medium
With the Detail Level in Revit set to Medium we can now see the columns, but the bar joists are missing the webbing. Now let's try changing the Detail Level from Medium to Fine. We can see all the structural components for the project; the columns, bar joists and joist webbing. Thus, it is important to set the Detail Level to Fine to ensure everything shows up in Enscape. Other than users having older graphics cards, I have not come across a project, in terms of size, geometry and textures used, where I had to use Detail Level at Coarse or Medium to manage system resources – Enscape does a great job at managing system resources itself.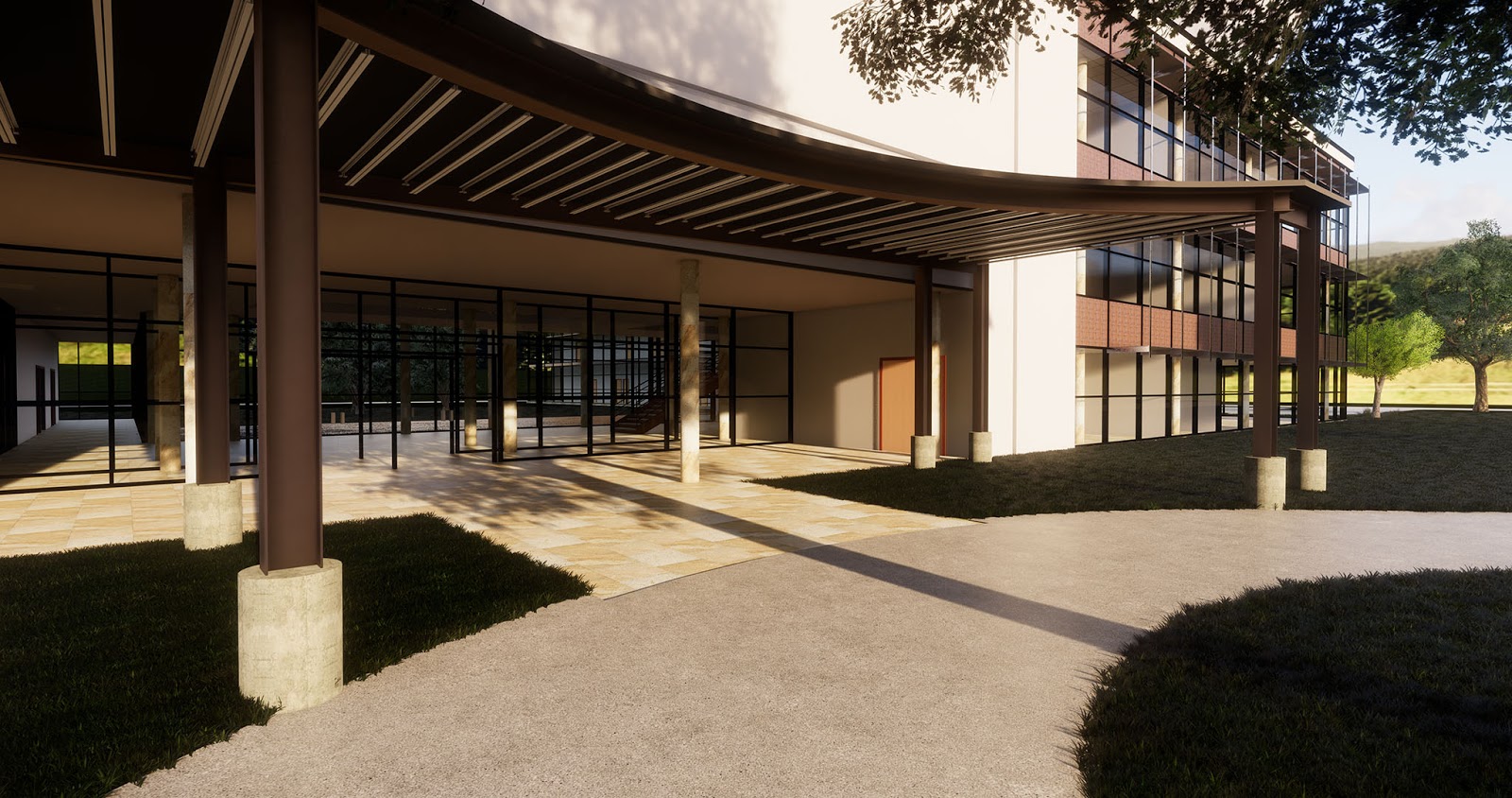 Medium – structural joist webbing missing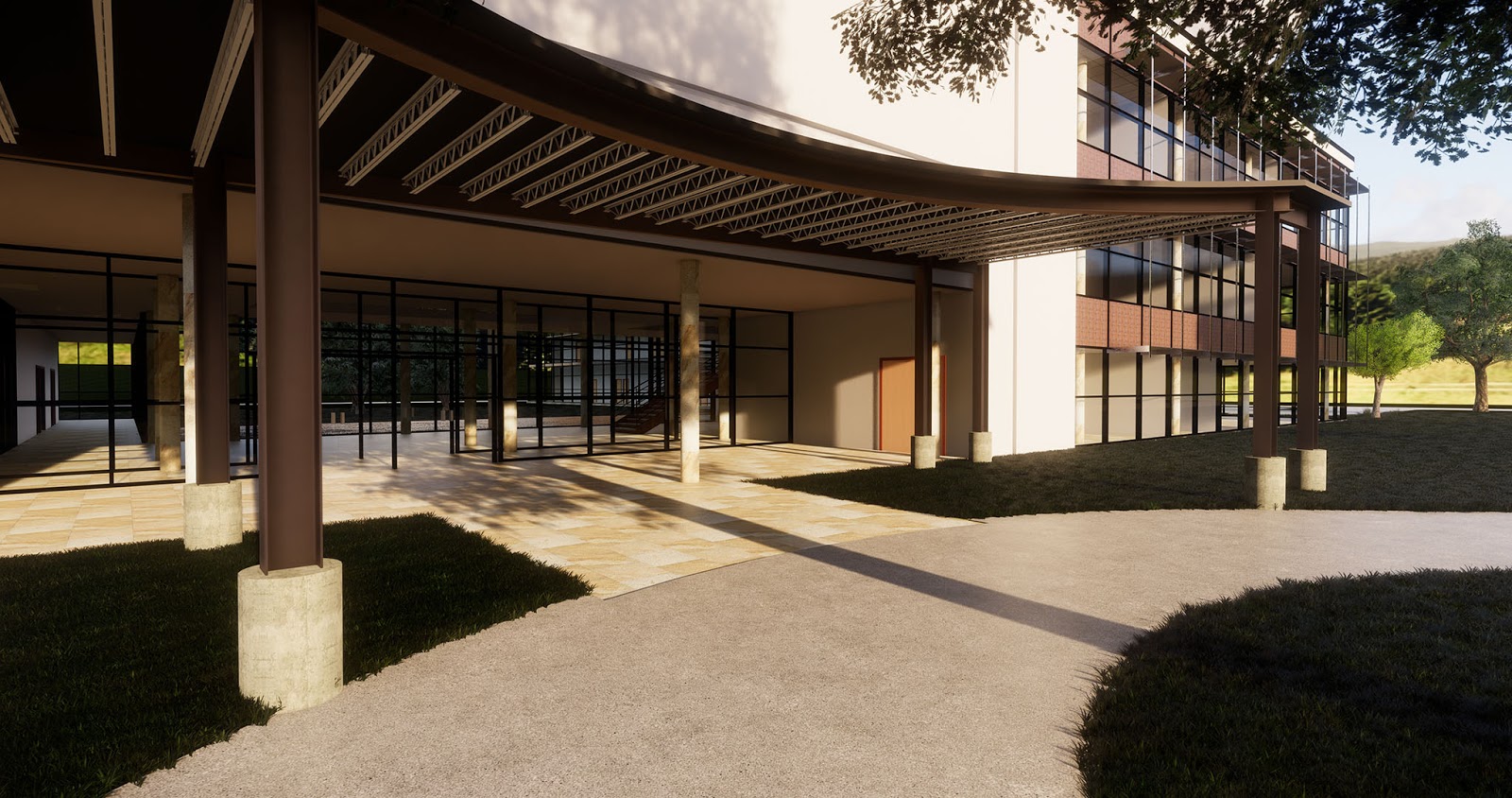 Fine – All elements now show properly
To save time and ensure all elements are visible in Enscape, consider creating a dedicated 3D view in Revit, from which to start Enscape. In this view, do the following:
Name it. For example: Enscape –Exterior – Main
Detail Level: Fine
Visual Style: Anything but Realistic

Realistic makes the view/Revit slow, and "realistic" is Enscape's job!

Sun Settings (see first image below):

Solar Study: Still
Settings:

Location: Select project location on Earth(see second image below)
Set Date and Time

Visibility/Graphic Overrides:

Model tab (see third image below);

Turn on, or off, what you want to appear in Enscape

Analytical tab (see fourth image below):

Turn off this entire section for this view
FYI: This is for structural analysis and energy modelling
Sun Settings to adjust for a given Revit view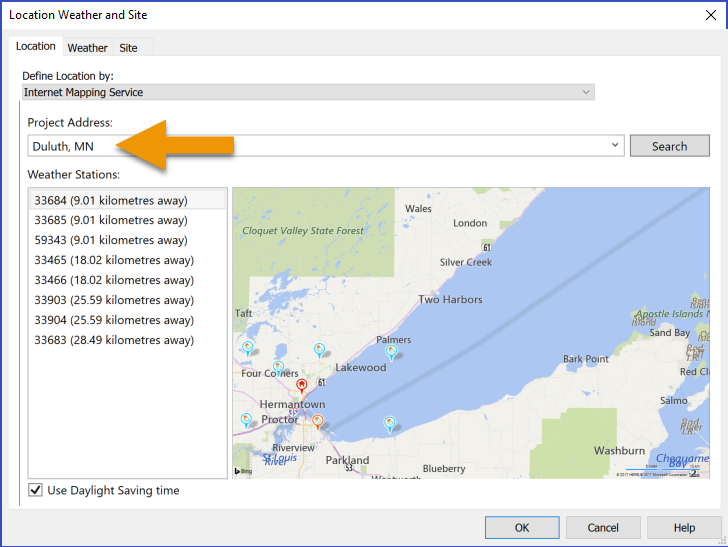 Setting location on Earth for Revit project
Element visibility control for a given Revit view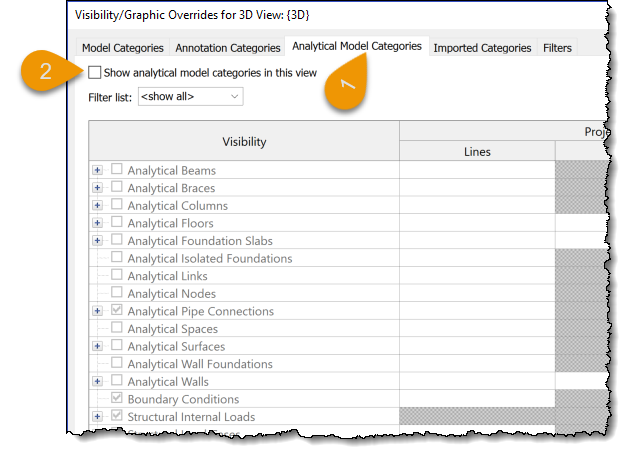 Analytical Element visibility control
In addition to the Location, which is a project-wide setting (not just a view setting) you must also set True North for Enscape to depict the sun and shadows accurately. This can be accomplished from any plan view as shown in the following image.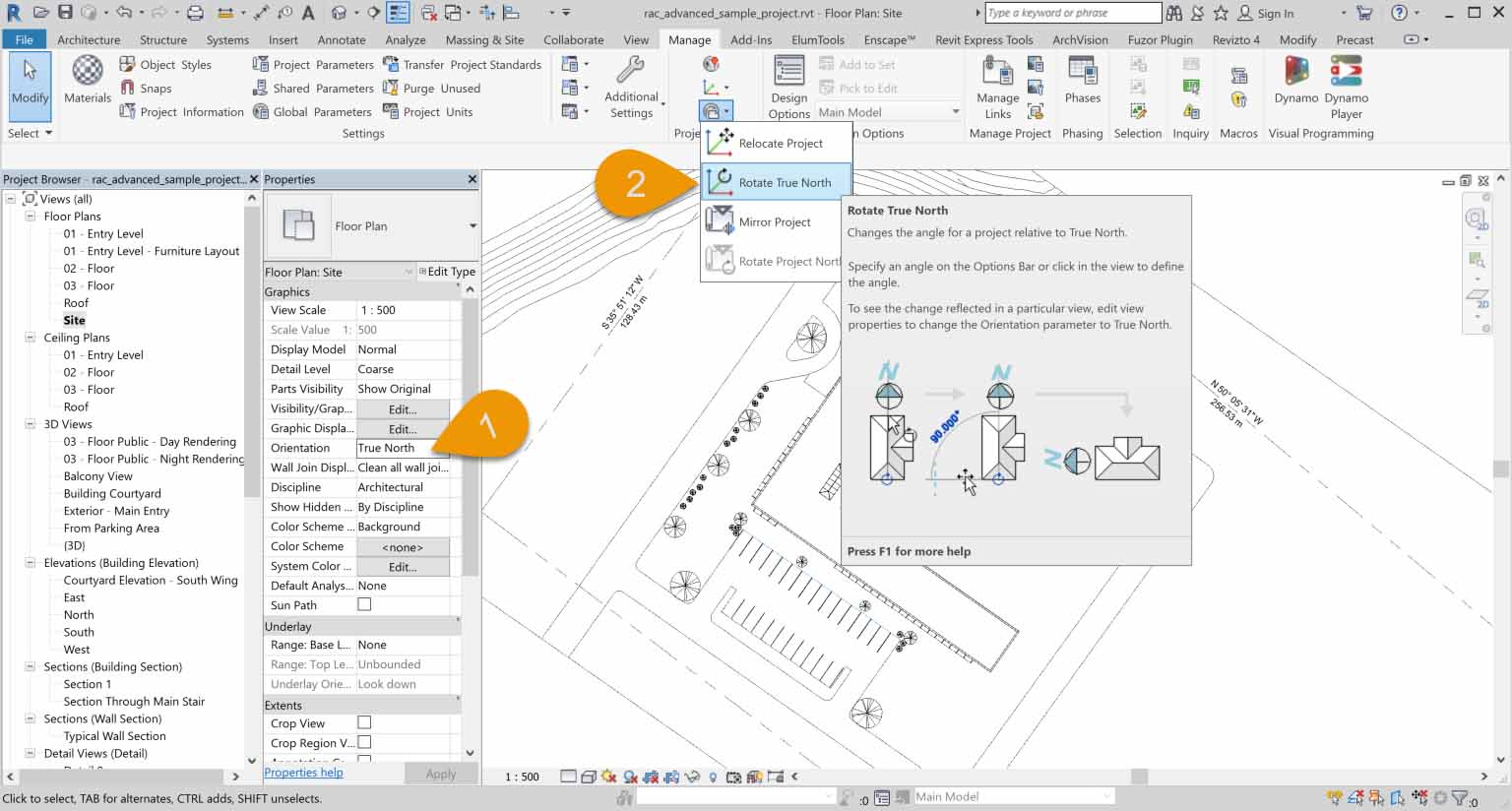 Once True North is adjusted, notice the shadows look a lot different in Enscape; notice the two side-by-side comparisons below. And if the main entry seems too dark for mid-June at noon, then perhaps the design needs to change. The designer nor the client would be able to make an informed decision unless they see the daylight, shade and shadow portrayed accurately. Not only is True North important for visualization, but it is also key in Revit and Autodesk Insight's energy modeling workflow.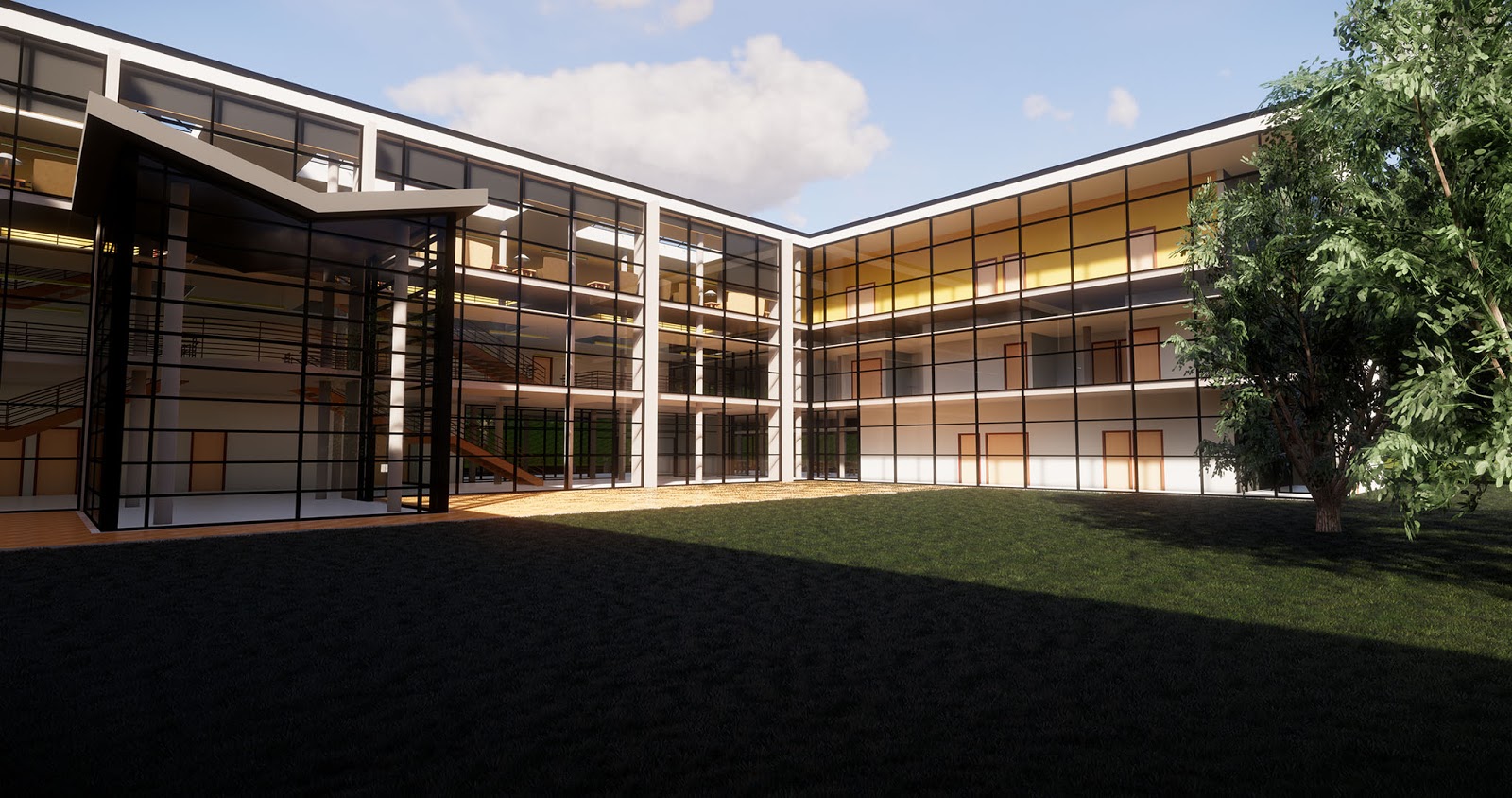 Original default settings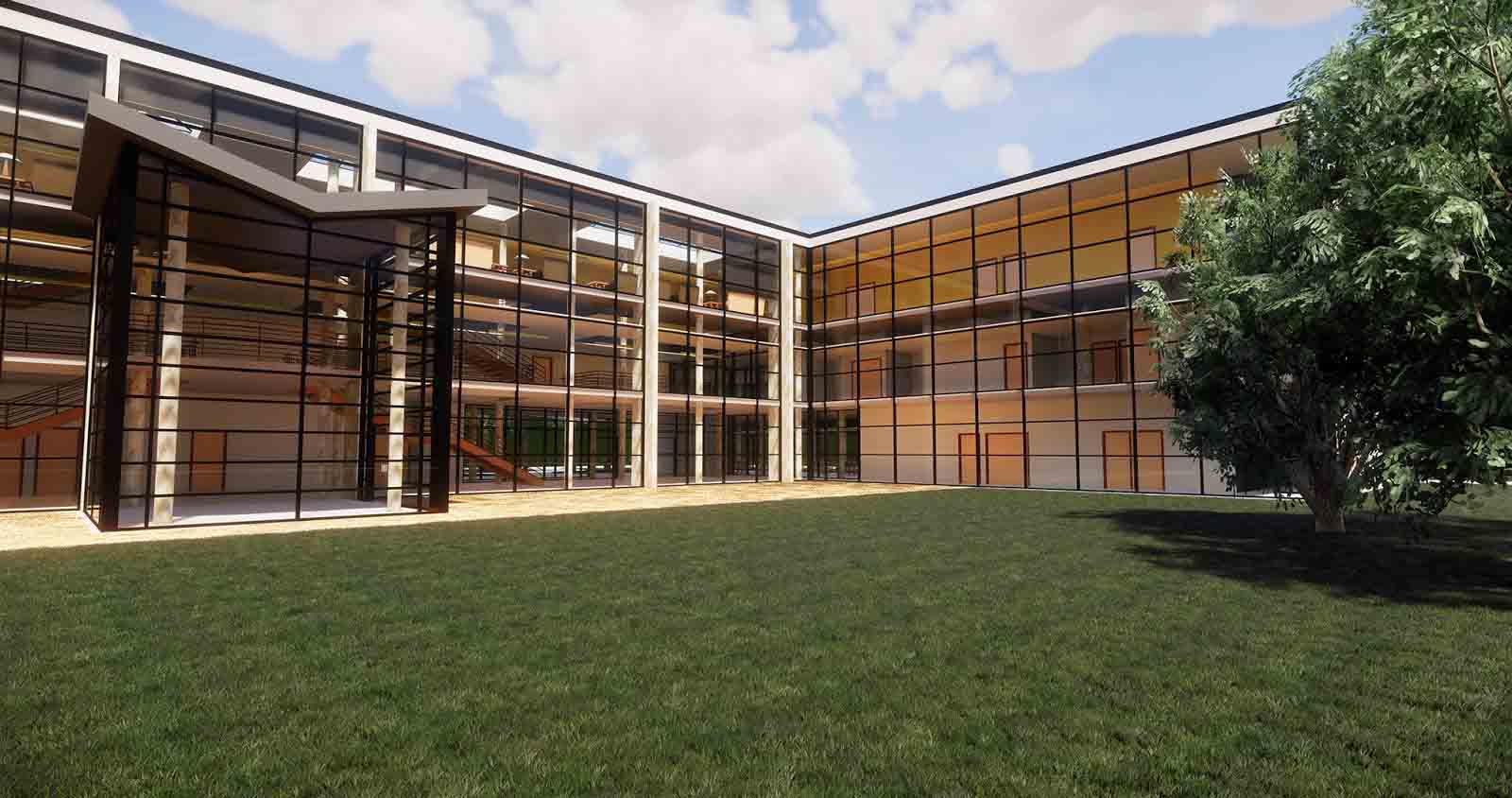 Shadows now accurate for project location and true north
Original default settings
Shadows now accurate for project location and true north
If your priority at some point is not concerned with true natural light angle, but on nice looks instead, you can also temporarily move the sun orthogonally to its natural trajectory. To do this, press Shift + U / I or CTRL + U / I. To reset its position, press [Pos1].
When creating a dedicated Enscape view with all the settings properly adjusted, you can confidently launch Enscape at any time for an internal design review or client meeting. Just agree within your team that the "Enscape" views should never be modified in Revit—meaning, someone should never use those special views to hide all the structure and roof elements to get a better look at the model in Revit.
Let's take a look at an interior example. When a Revit view has Detail Level set to Coarse, we notice the casework hardware is missing as seen in the Enscape-generated image below. When the same view has the Detail Level set to Fine, we see all the hardware appear in Enscape.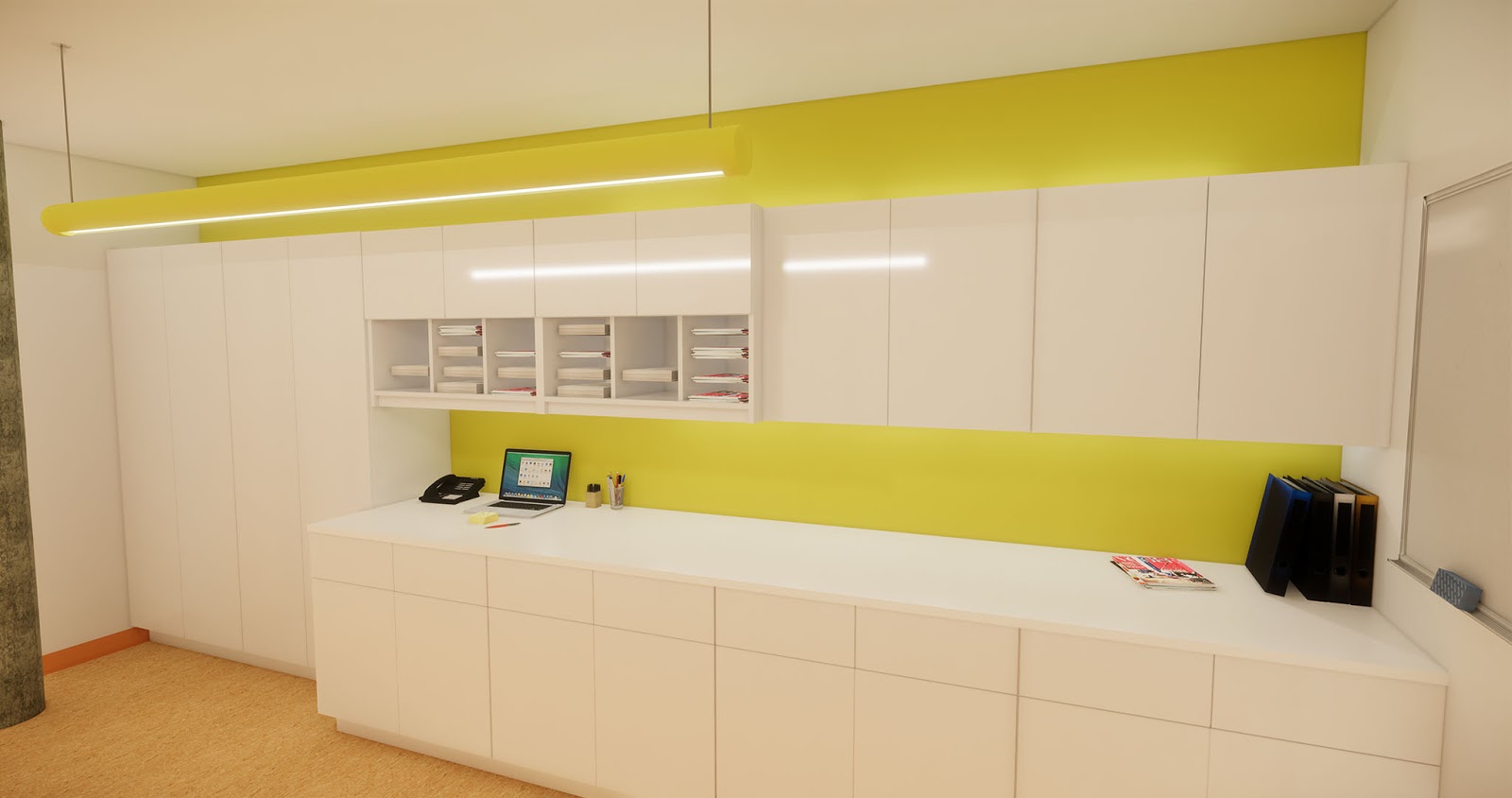 Coarse – Casework hardware missing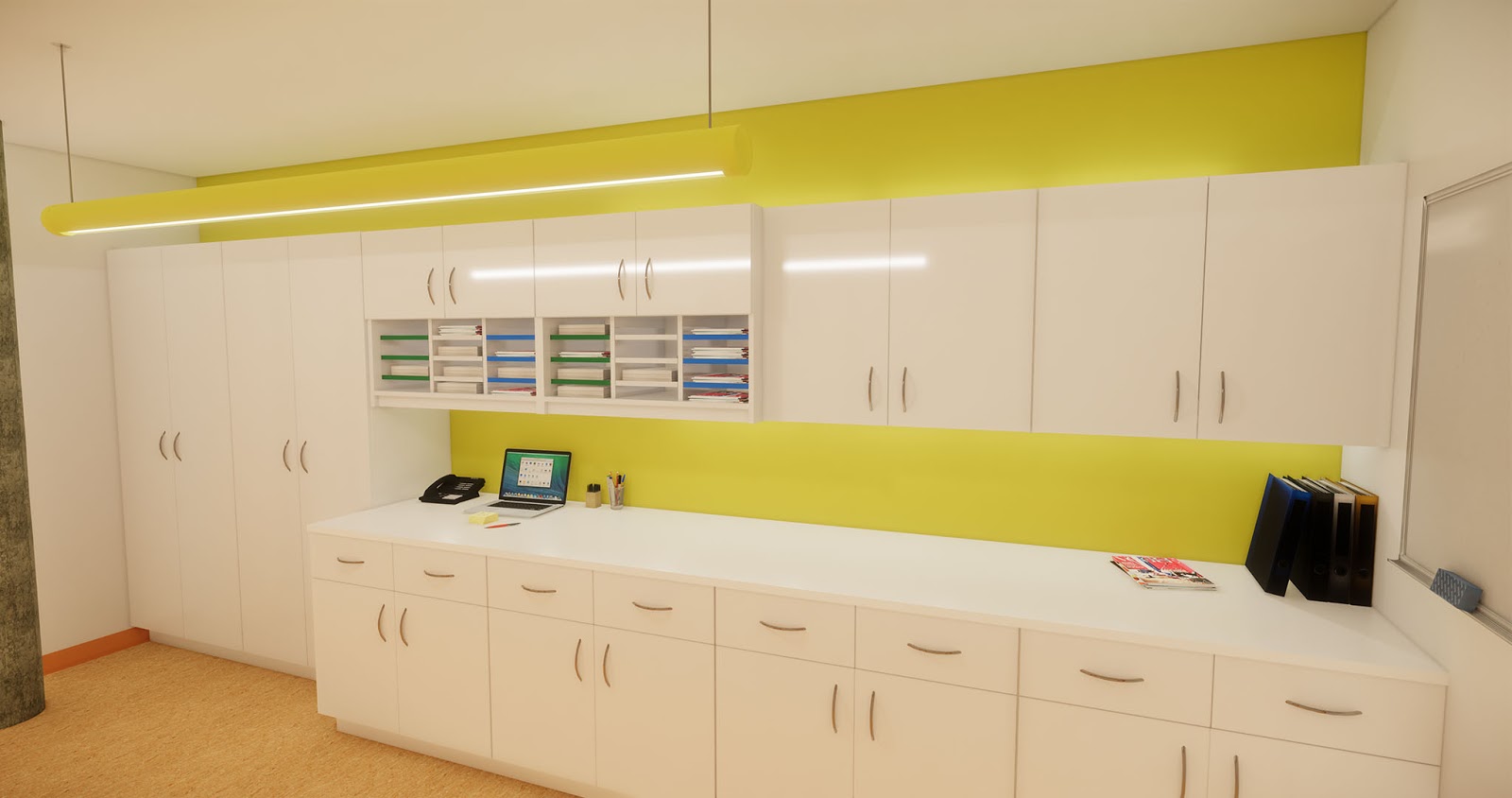 Fine – Casework hardware now showing
In case you are new to Revit, in the Family Editor, each 3D element can be tied to a specific Detail Level setting as shown in the next image.
Element Visibility Settings within Family Editor
In addition to having a primary view from which to launch Enscape, you can create additional convenience views. These views can be used to efficiently walk a client through a project; as quickly accessible waypoints. We can have camera views and cropped 3D views (using a Section Box). Again, including "Enscape" in the name will keep them organized, safe from modification and easy to use. The image below shows a possible naming convention for even greater view organization and ease of project navigation. With Enscape open, clicking a view from the Enscape tab in Revit, as shown below, the Enscape viewer will instantly update to that location.
TIP: Selecting the star next to a view(s) will include that view(s) in Enscape's Presentation Mode within the Enscape viewer.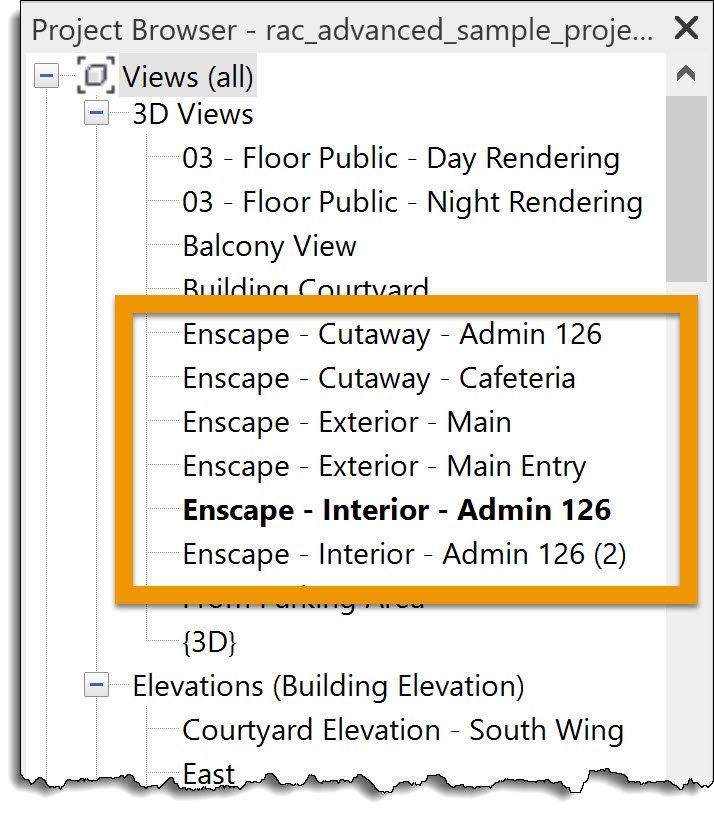 Saved Revit Views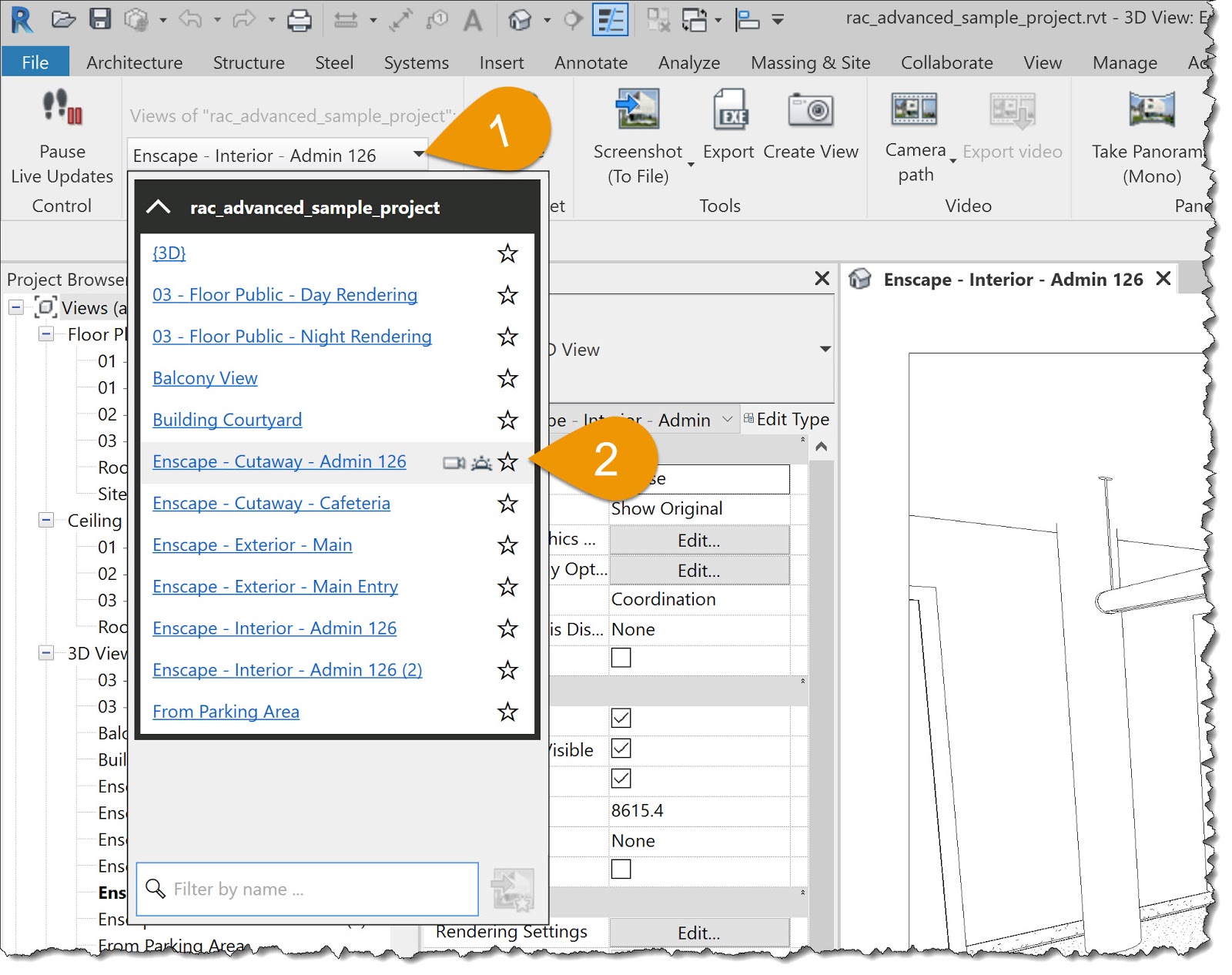 Same Views in Enscape
On the Enscape tab, selecting a View with a Section Box enabled will update the Enscape view to have the same crop. Not only is this a good way to discuss your talking points about this space with the client, but this can also enhance Enscape performance as there is less geometry and textures to process.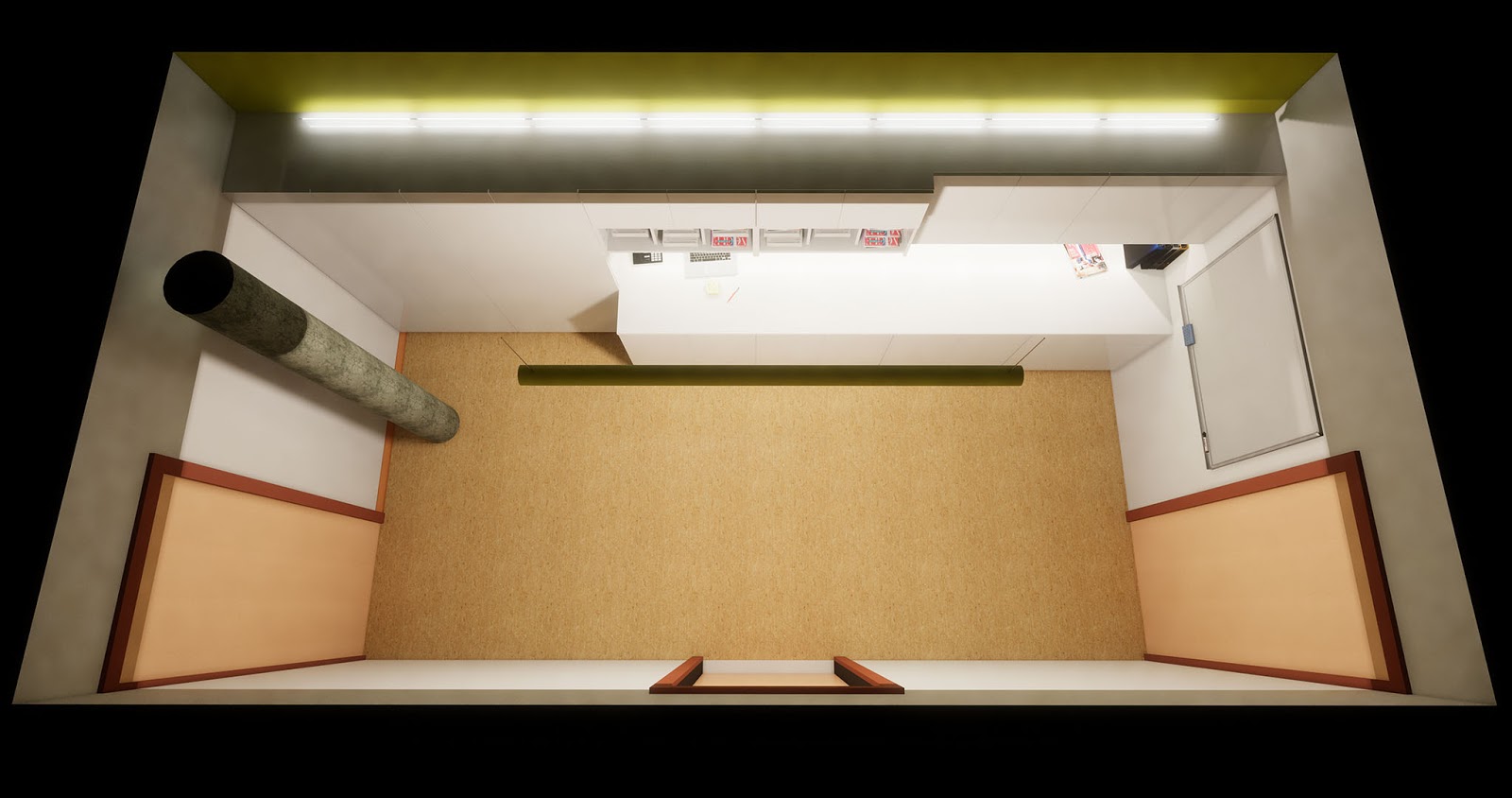 View cropped with section box in Enscape
Keep in mind that a Revit view's Phasing and Design Option settings will have an impact on what is displayed in Enscape, as well.
A final point about Revit views relates to ones created by Enscape. Clicking the Create View button on the Enscape tab results in a Revit view being created to match the currently composed Enscape view. Keep in mind, based on certain Revit settings, this view may not have the Detail Level and other settings discussed in this article, set properly. So, be sure to circle back into Revit and make those changes.
Creating a saved view in Revit based on current Enscape view
Conclusion

While it is certainly possible to enjoy your Revit project in Enscape with nearly zero effort, and generate realistic 3D views and renderings, there are a few steps you can take and settings and configurations you can optimize to make the process more predictable and accurate. A standard 3D view for Enscape can even be created in your Revit template to set a precedence for additional views once a project is started. Applying these simple techniques to your project will aid the entire design team when it comes to developing, reviewing and presenting the design.