For the first time ever, Autodesk University is going digital – opening this super-event to AEC professionals all over the world. 'Reimagine Possible' is the theme, and as a key sponsor, Enscape is very excited to be part of this year's event.
Over the course of four days from November 17-20, you have the chance to join fellow architects, designers, BIM managers and AEC professionals for inspirational keynotes, thought-provoking theater talks, and hundreds of educational on-demand and live classes. And the best thing is – it's all for free.
Enscape is not only presenting at a number of sessions throughout AU 2020 (including a much-anticipated technology talk from CEO Christian Lang), but we're also one of five global sponsors for the entire event.
Below, you can find out how to find us (be sure to stop by our virtual booth!), and which sessions we're participating in. We look forward to seeing you there!
Where

to

find

Enscape

at A

utodesk

U

niversity

20

20




Technology Trends: Living in the WFH Age



Available on-demand
Come and hear Christian Lang, CEO of Enscape, plus leaders from Lenovo, Intel and HP discuss the latest technology trends affecting consumers; COVID's impact on accelerating the need for real-time collaboration and what changes and innovations are on the horizon.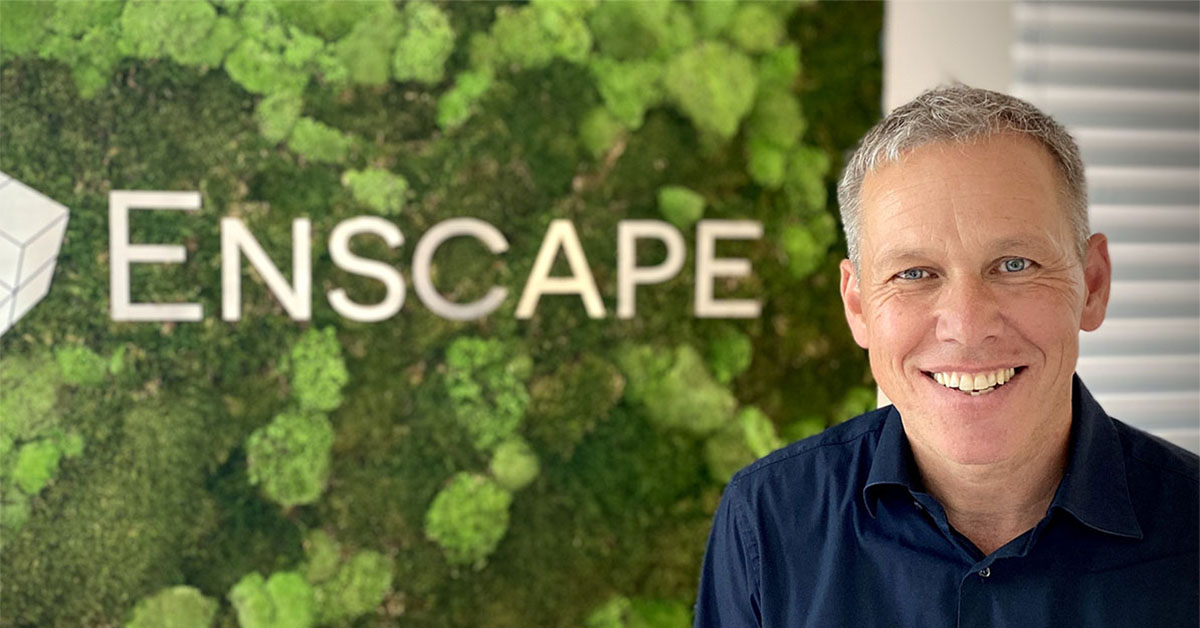 Christian Lang, CEO, Enscape
Integrating Visualization and Design with Real-Time Rendering

Join Petr Mitev, Head of AEC Technology at Enscape, for this insightful session on the advantages of integrating visualization into the design process.
Visual representation has always been a cornerstone of design practice; however, it has also been isolated and disconnected from design itself. Today's process is fractured. We stop design in order to represent, resume design with the feedback, and restart the cycle at the next project milestone. With the advent of real-time rendering we have an opportunity to integrate our visual exploration directly into our design process, allowing designers to instantly assess the impact of their design decisions as they iterate and refine.
How to Use Real-Time Visualizations Throughout the Architectural Workflow
Join Overland Partners and Phil Read of Read Thomas for this on-demand AU breakout session, where they will discuss how different aspects of Enscape are useful during the design lifecycle. They'll look at how Enscape can be used for design iteration with Revit, internal reviews, reviews with design partners, contractors, clients and customer and marketing presentations.
Changing the

Way

We Visualize Design




Available on-demand
Some architects and designers find traditional visual representation challenging, as it's often disconnected from the design process. But how we visualize design is changing thanks to advances in real-time 3D rendering. Join Dan Monaghan, Head of AMER Sales & Channel at Enscape, for a quick introduction to real-time rendering with Enscape. See how it plugs directly into Revit to give you instant visualizations and virtual reality experiences that seamlessly integrate into your design workflow.

Next-Level Visualizations with Revit Advanced Materials
In this class, Daniel Stine, Director of Design Technology at Lake|Flato Architects, will take you through how to use Revit's advanced materials and new realistic mode, together with Enscape's real-time rendering plugin to create still imagery, on-screen presentations and virtual reality experiences. This session will include how to create custom materials, managing shared libraries and more. More details to follow.

Enscape

2.9

and Revit

: Discover the Newest Features in Real-Time Rendering and V

R

Available on-demand
Come and see Enscape's newest real-time rendering and virtual reality features live in action in this demo. You'll see how Enscape is helping you to visualize tomorrow with the help of our workflow optimization and rendering features that plug directly into Revit and other popular modeling and BIM software. Discover the new Enscape Custom Asset Library, video textures, displacement maps, animated vegetation, collaboration capabilities, BIM mode, and more!

Article: Shaping a New Future with Real-Time Visualization
Architects, engineers, contractors and manufacturers are all working to tackle challenges affecting the build environment, such as climate change and urbanization. And real-time visualization is one tool that can significantly help. This article by Daniel Stine, Director of Design Technology at Lake | Flato, explains how. More details to follow.

The Enscape Booth

Visit our AU booth to learn more about Enscape. You can view our latest videos, download insightful articles, register for our AU webinars, meet the experts and request more information. Be sure to stop by!

See you at AU 2020!

At AU 2020, you'll have full access to talks and session designed to educate and inspire you. We look forward to seeing you in the virtual audience, and welcoming you to our booth and sessions. See you there!